Squatters 529
| Utah Brewers Cooperative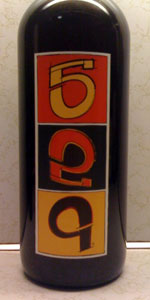 BEER INFO
Brewed by:
Utah Brewers Cooperative
|
website
Style:
Flanders Oud Bruin
Alcohol by volume (ABV):
7.15%
Availability:
Rotating
Notes / Commercial Description:
In 2004, a beer drinking adventure throughout Belgium inspired us to create a Flanders Style Oud Bruin. The quest to share the beauty and deliciousness of Flemish brown sours started off by filling our oak barrels with ale in July of 2008. After 529 days of barrel aging with lactobacillius, pedioccacus and wild yeast, we then kept with tradition by blending aged sour beer with the malty sweetness of a younger beer. 529 is re-fermented in the bottle with champagne yeast, so please pour slowly and enjoy.
Added by pokesbeerdude on 03-04-2010
Reviews: 32 | Ratings: 61

4.25
/5
rDev
+4.9%
look: 4 | smell: 4 | taste: 4.5 | feel: 3.5 | overall: 4.5
Thanks to pokesbeerdude for this one. Served in a tasting snifter.
A - This one is a slow gusher - have a glass ready. Pours with a finger-plus of foam that settles to a thick ring and leaves spotty lacing. The body is an slightly hazed orange-brown color with some reddish highlights.
S - Vanilla, cherry, light oak, lactic sourness, and a decent amount of sugary malt sweetness.
T - I like the taste a little better than the nose, but it doesn't quite warrant the bump to a 4.5 (docked appearance to offset). Definitely more sour than the nose, and gets increasingly sour as it warms up. Vinous notes, nice blend of cherries, fruits, and both acetic and lactic notes. Less oak than I expected for a beer aged 529 days. You can definitely perceive the young beer blended into this.
M - A little zestier and grittier than I prefer - you can definitely tell it was made with champagne yeast. Medium bodied, with a solid dry finish. Well-hidden 7.15%.
D - This was quite enjoyable. I refilled my glass and would definitely have this again. A pleasant surprise from Squatter's and competitive with other US Flanders Oud Bruins.
★
1,129 characters

4
/5
rDev
-1.2%
look: 4 | smell: 4 | taste: 4 | feel: 4 | overall: 4
750ml bottle.
A - pours a copper orange/red, thin ring around the cap, some lacing along the sides of the glass.
S - A nice tart/sour funk, some oak, vinegar, some sour fruitiness.
T - Cherries, funk/sour, oak. Very solid but I think I want more cherries and oak. I'm liking the level of tartness.
M - Light, champagne-esk carbonation, fizzy, semi-dry finish. Overall, very solid and holds it own against Red Poppy and the like.
★
436 characters
4.92
/5
rDev
+21.5%
look: 4.5 | smell: 5 | taste: 5 | feel: 4.5 | overall: 5
Got from Ummagum as part of our back and forth shipments- many thanks! Poured from a 750ml corked and caged bottle into a tulip glass. No dating info on the bottle but did a little research and found that it was a 2/10 limited release. It was a dark reddish brown color with excellent carb streams. It had a fair sized fizzy tan head that settled into a good collar and foam cap that was continually fed by the streams. Good sheeting that slowly slides back into the glass. Some sticking.
The aroma was outstanding. Funky, vinegary tart, sour cherries and sweet malt. So sour that it curls the nose hairs - hell yeah! One of the best smelling oud bruins that I've had. Definitely brings the sour and funk. Very reminiscent of the better AmWildAles out there. The taste was just as good as the aroma and more than delivered on the sour aroma promise. Tart and sour from the start and only lets up after the finish. Enough of the malt and fruit flavors to give a great balance and not make it too sour and tart. Really enjoyed this one. Mouthfeel was full with tongue shredding carbonation (good thing in my opinion in this style). Bit of a dry finish and aftertaste.
Overall, an exceptional Oud Bruin that I most highly recommend if you can find it. You always hear that Utah is a beer desert with the beer laws,etc but this blows that perception away. Hell it makes me want to do a road trip and soon! Excellent beer and look forward to the other Squatters brew that he sent me. Not available here in TX - got from Matt. Rotation - if here and not a limited release, it would be in the sour rotation as a regular. As is, I'll need to get some more shipped before they sell out. [R;Y;ship]
★
1,690 characters

4.32
/5
rDev
+6.7%
look: 3.5 | smell: 4 | taste: 4.5 | feel: 4.5 | overall: 4.5
Buckeyeboy brought this to a recent tasting... Footbalm was the Utah Pusher.. though I certainly need no coaxing on the new found Brewers' freedom from the Beehive State... Big props to Jeremy and Eric!!
Pours a slightly cloudy brown/amber... 1/2" tan head .. only hints and spots of lacing...
Nose shows a nice acetic fruitiness... sour cherries and bits of peach or apricot... pretty rich as some sweetness draws out misc maltiness...
flavor pretty much mirrors the nose yet is much more complex than my notes show... some oakiness shows as tannic elements and vanilla ... tannic apricot skin and sour cherry essence... lite balsamic presence.. pretty aggressive and still needs some time to meld.. all the funk is there, yet some bottle time will allow things to mesh and develop.
Good medium body gives the carbonation time to catch up.... good right now and will be excellent with time.... I appreciate the chance to try the 529 fresh and still have bottles for the future.... Appreciations galore to the fellas. Eric.. soooo... when are you coming back up to Boise???
3.5/4/4.5/4.5/4.5
★
1,098 characters

4.08
/5
rDev
+0.7%
look: 4 | smell: 3.5 | taste: 4.5 | feel: 4 | overall: 4
Tasted from 750mL bottle at Lush CBC event. Pours cloudy brown with sediment and a thin, lace white head. Nose is sour with some sulfur, brett funk, burnt rubber, and pitted fruit. Flavors are of sour apricot, peach, and red wine vinegar. Body and carbonation are medium with a great pitted fruit finish. The sulfur is a bit of a problem on the nose, but the fruitiness of this beer is awesome.
★
394 characters

3.88
/5
rDev
-4.2%
look: 4.5 | smell: 4 | taste: 4 | feel: 3.5 | overall: 3.5
A bit of a slow gusher, I look away for a second and am just able to get the beer into my large Tripel Karmeliet tulip without spilling a drop. A soft pour produces a two-finger thick, lightly amber tinged, tan colored head that leaves some thick lacing on the sides of my glass. The beer is a burnt plum color that shows a hazed, reddish hue when held up to the light. The aroma smells of berry-vinegar, rich toasted-caramelized malt, hibiscus, perhaps some tamarind aromatics, brown sugar glazed whole grain, a touch of cherry notes and a really rich, though non-descript, concentrated fruit character that leans towards darker fruit varieties (raisins, prunes, cherries, black-berries, etc, but without really being any of those). There is a general background mustiness to this beer as well as a base-funk that is slightly musky, reminds me a bit of damp granite, a sort of floral / fruity cheese quality,
This is lightly sweet feeling (it doesn't really taste sweet, but has a viscousness that sort of adds a perceived sweetness). As it first hits my tongue it really fizzes up quite a bit with excess carbonation. This is more lactic in its acidity than anything, but there is a piquant acetic character that is here just enough to spice up the flavor profile. The beer tastes of fermented, tart raisins, definite tamarind, raspberry-seed flavors and a touch tart cherry (without the sweetness though). There is a certain, not quite tin-like, sort of chalky, dusty, maybe musty note to the finish that mixes with a spicy, hint of balsamic vinegar richness. Subtle notes of toasted grain infuse the taste of this beer, not quite noticeable all the time and there is sometimes even a suggestion of rich caramelized malt sugars. This beer really is quite dry tasting, there is a certain viscousness to the palate presence that keeps this from being light bodied though; I think some of the body is due to tannins and oak extracts that are quite a bit more present than I initially realized. Actually oak really does play quite a role in this beer, I don't know how I missed it at first, but it contributes to the overall spiciness of this brew as well as to the woody oak flavor that tempers the tartness of this beer, there are also some touches of buttery oak and vanillin notes that softly influence the other flavors found here.
As the beer warms up a very soft sweetness starts to become noticeable, it is mostly dominated by the tartness here, but does help to boost the fruit character just a touch more. A second pour sees me noticing more raspberry flavors than I did before as well as some more non-descript berry flavors. I am finally noticing the oak character in the nose as well with a general spiciness as well as a nice oak-plank woodiness. This is quite tasty, it is perhaps lacking a touch more complexity, but this is certainly no slouch. I like the subtleness of the oak here, it is quite well integrated and really accentuates the other flavors as opposed to showing them up.
★
3,002 characters

4.57
/5
rDev
+12.8%
look: 4 | smell: 4.5 | taste: 4.5 | feel: 4.5 | overall: 5
Corked and Caged 750ml from the brewpub in Salt Lake City, $18. Barrel aged for 529 (Hence the name) days with Lactobacillus, Pediococcus, and wild yeast, then refermented in the bottle with champagne yeast.
A: Rich amber in color with some nice orange/red hints to it, off white head of about 1/4 an inch. Fairly cloudy and a few chunks of sediment in the bottom of the glass. Great head retention, excellent lacing. Nice.
S: Funky! Lots of sweaty feet, tart lemon like citrus, definite barnyard funk, has an interesting slightly sulfuric smell to it as well. Definite oak aspect as well, wood chips. A few brown malt smells as well.
T: Intense sourness followed by a huge caramel malt profile. Sour notes of lemon, crab apples, and lactic acid, definitely some funk in there too. The malt is an excellent darker crystal malt profile and appears slightly after the sour fades, quite sweet to balance out the sourness. Lastly there's just a slight little bit of spicy hops, very light but still detectable. Not much bitterness, but just enough. Fantastic.
M: Medium body, great carbonation, puckeringly sour, dry and quite lactic. Excellent here.
D: Wow, this beer is hard to not drink. I feel guilty for not sharing this with anyone, but at the same time will have no problem drinking the whole 750. The thing I like about this beer is that the sour is incredibly noticeable, but doesn't dominate the beer, the malt shines and you can even notice a few hops, which makes this incredible. Highly recommended, and I'm extremely happy I bought a second bottle to lay down. Great work Squatters!
★
1,612 characters
Squatters 529 from Utah Brewers Cooperative
89
out of
100
based on
32
ratings.