Urpils
| Karlsberg Brauerei
BA SCORE
82
good
12
Reviews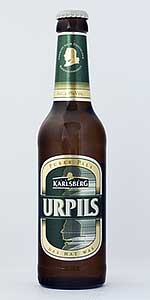 BEER INFO
Brewed by:
Karlsberg Brauerei
Germany
|
website
Style:
German Pilsener
Alcohol by volume (ABV):
4.80%
Availability:
Year-round
Notes / Commercial Description:
No notes at this time.
Added by paterlodie on 03-10-2005
Reviews: 12 | Ratings: 22

2.35
/5
rDev
-32.7%
look: 2.5 | smell: 2.5 | taste: 2.5 | feel: 2 | overall: 2
Clean, yellow color, some greenish edges. Not a great foam, and quickly disappearing.
Malty base in the smell, with a not too fresh hop.
At the taste definitely bitter, again with not too fresh hop.
But at least it is a pils.
Hoppy aftertaste, bitterness, but nothing to remember.
★
280 characters
2.96
/5
rDev
-15.2%
look: 4 | smell: 3 | taste: 3.5 | feel: 2 | overall: 2
12 oz bottle hand delivered from Germany served in a pint glass @ about 40 F
Nose: Mostly floral hop aroma with some grapefruit coming out, some grainyness, and some acidic qualities
Appearance: Brilliant yellow in color, minimum but lasting bright white head
Flavor: Good crisp hops up front (floral, orange), some acidity, followed by a good base of grainy maltyness, and a pleasant bitter finish.
Mouthfeel: Very dry, crisp, palate cleansing, but the excessive carbonation bite is a bit much, it literally attacked my gums.
Overall: Good aroma and flavor of a true pils, but the carbonation threw me off in the end.
★
623 characters
3.03
/5
rDev
-13.2%
look: 3.5 | smell: 3 | taste: 3 | feel: 3 | overall: 3
Pours a clear golden straw color with a big fluffy white head.
Aroma consists of hay, cooked grains and a bit of corn.
The flavor is very clean and crisp. A light bready malt flavor fades very quickly to dry finish.
There is nothing special about this brew, it's decent but that's all.
★
288 characters

3.11
/5
rDev
-10.9%
look: 3.5 | smell: 3 | taste: 3.25 | feel: 2.75 | overall: 3
Sampled this on tap from the brewery truck at an event, and it was much better than I expected. The head was thick and fluffy, and the taste was right on for a German pilsener. Just enough flavor, but nothing lingered on the palate afterwards. As it was a hot day, it was refreshing. Nothing remarkable. but easily drinkable.
★
325 characters

3.28
/5
rDev
-6%
look: 4 | smell: 3.5 | taste: 3 | feel: 3 | overall: 3.5
The colour is straw yellow; the foam slowly sinks down to a white uneven finger thick head, leaving lots of lacing.
The smell is fresh with lots of malt; notes of hay, chalk and white bread. There are some traces of chalk, butter and yeast - hardly any bitter flavours at all.
The taste is fresh and bitter as it should be. Mild buttery notes, some bread flavours. The bitterness grows slowly together with a somewhat chemical touch. The aftertaste is at first bitter, but it fades leaving room for some grassy buttery notes.
The carbonation is average – medium strong with medium sized bubbles. The liquid is a little bit thick – strange for a Pilsener.
An OK mixure of the Czech and German pilsener styles. Could be a bit cleaner.
★
742 characters

3.4
/5
rDev
-2.6%
look: 3 | smell: 3 | taste: 3.5 | feel: 4 | overall: 3.5
Beer is a golden yellow with a white head and good carbonation.
smell is that of grain and citrus. Taste is crisp with a fine bitterness. It has a medium body with a clean finish. Quite refreshing and better than I expected. A nice regional pilsner from outside of Frankfurt.
★
275 characters

3.58
/5
rDev
+2.6%
look: 3.75 | smell: 3.25 | taste: 3.75 | feel: 3.75 | overall: 3.5
Pours and looks like a typical pils. Average head which dissappears. Lacing in the glass.
Smell - not great for me.
Taste, pils bitter but balanced by quite sweet malt taste.
Nice aftertaste like old-fashioned orange marmalade with thick-cut peel in it - I also get this if I savour the beer a moment before swallowing.
I find it very drinkable.
(It's the best beer in my local supermarket, so I get it fairly often - still enjoying it 15 months after original review.)
500ml bottle. B.B. '01.13'
★
498 characters
3.75
/5
rDev
+7.4%
look: 4 | smell: 4 | taste: 3.5 | feel: 3.5 | overall: 4
I give the overall 4.5 because for this style it is quite nice. It's more of an Herbische Frische type "spicey" Pilsner. It has a very hoppy, dry finish that you'll either love or hate. Mouthfeel is okay, but it looks and tastes good. Very clean looking and clean tasting - refreshing. It's better than Jever in my opinion.
★
323 characters

3.85
/5
rDev
+10.3%
look: 3.5 | smell: 3.5 | taste: 4 | feel: 4 | overall: 4
A bright golden beer with an initial big head that settles into a lacing head of 1/2 inch.
Smell is malty and grainy and has some sulfur notes. Also some spent grains smell that seems to be working wonderfully well with the malt. A light hoppy smell is in the back.
Taste is again strong malty with lagermalt characteristics. Grainy and husky with the spent grain taste coming around the corner again. Still this sounds worse than it is. Bitterness is just at the right level and balances the beer. A good beer!
★
513 characters
4.05
/5
rDev
+16%
look: 4 | smell: 4 | taste: 4 | feel: 3.5 | overall: 4.5
Poured from a 5 liter mini-keg. It's dark straw to pale gold in color with a huge white head. It smells of light malt with more hop aroma than the normal German beer. It drinks really easy with a mild hop bitterness backed up by some nice malt touches.
★
252 characters

4.06
/5
rDev
+16.3%
look: 5 | smell: 4 | taste: 4 | feel: 4 | overall: 4
This brew pours a picture perfect presentation. The head is very tight with lots of ultra white foam and a golden clear body.
Aromas I detect are that of lemon and herbal fragrances.
The taste is also a bit herbal, with some straw like qualities.
This brew tastes great, and makes for a favorable session brew. Great with flamkuchen or pizza, to fish or burgers. If you find yourself in the Pfalz region of Germany, pick this brew up!
★
438 characters
4.6
/5
rDev
+31.8%
look: 4.5 | smell: 4.5 | taste: 4.5 | feel: 4.5 | overall: 5
Best before 06-05. Poors in with beautifull thick and well lasting snowwhite foam and a pale and cristal clear golden beercolor. Nose is very hoppy and litle yeastestery; just what you want for a pils. Taste is like a perfect pils should taste; dry, clean and bitter. Just litle maltyness and no off tastes noticeable. Mouthfeel is great too escpecially if you like hops and dry taste. Drinkabillity is that I would love to have a cellar full of this one but would be drunk every night.
★
486 characters
Urpils from Karlsberg Brauerei
82
out of
100
based on
12
ratings.