Newburgh Brown Ale
| Newburgh Brewing Company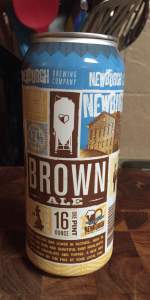 BEER INFO
Brewed by:
Newburgh Brewing Company
New York
,
United States
|
website
Style:
English Brown Ale
Alcohol by volume (ABV):
4.20%
Availability:
Year-round
Notes / Commercial Description:
Our version of a London Style Brown Ale. In the south of England, they prefer their brown ale maltier and lower in alcohol. Here in Newburgh, we tend to agree. Verging on black, this beer pours with a light tan head and beautiful ruby highlights in the glass. The flavor is dominated by malty sweetness and gentle hints of chocolate and toffee. A nice and sessionable 4.2% alcohol content and medium to light body begs for an evening by the fire at your local pub.
Added by Jason on 07-14-2012
Reviews: 12 | Ratings: 71

4.1
/5
rDev
-1.9%
look: 4 | smell: 4 | taste: 4 | feel: 4.5 | overall: 4.25
From 07/08/13 notes. Had this on tap at Gingerman in NYC.
a - Pours a deep mahogany brown color with one inch of lightly tan head and light carbonation evident. Lots of lacing on the glass.
s - Smells of coffee, roasted malts, nuts, toasted malts, caramel malts, and light dark chocolate. Nose is a tiny but Guinness-like almost. Pretty nice.
t - Tastes of coffee, cream, roasted malts, light vanilla, light dark chocolate, caramel malts, toasted malts, and burnt malts. More coffee and cream here than the nose; a tiny step up for me.
m - Medium body and low carbonation. Body is super smooth and creamy; awesome mouthfeel. Could definitely drink a few of these.
o - Overall 3 for 3 for me with Newburgh beers; another good example of the style and another good beer. Nose and taste has lots of coffee and roasted notes, and it is crazy easy to drink. I like their gose and stout a little bit better, but this is very good and I could see a lot of non-craft drinkers liking this one. Would definitely have it again.
★
1,021 characters

4.3
/5
rDev
+2.9%
look: 4 | smell: 4 | taste: 4.5 | feel: 4 | overall: 4.5
On tap at the brewery. Pours very, very dark brown, nearly black, so much so that it was almost mistaken for the Peat Smoked Stout by the bartender. Small off-white head that settles down quickly, a bit of creamy lace on the glass.
Toasted malt aroma with notes of coffee, cream, and caramel. The flavor follows suit; there's a gentle, appealing sweetness, again of caramel, with prominent coffee and cream notes. Toasty and tasty, lots of bready malt; all elements are well balanced. Very mildly hopped with just the faintest bitterness in the finish, which is semi-dry, and has a slowly fading, coffee with milk and sugar flavor. Less chocolate than expected but the coffee more than makes up for it.
Medium body, moderate carbonation, very smooth and tremendously drinkable. Brown ales may not be the sexiest or most exciting style but they can be fantastic when well done and this one is just that. Exceptionally enjoyable.
★
931 characters

4.37
/5
rDev
+4.5%
look: 4.5 | smell: 4.25 | taste: 4.5 | feel: 4.25 | overall: 4.25
This beer has a transparent copper color. The aroma is of roasted malt with a bit of hops.
The beer in general reminds me of a better version of Sam Smith's Brown. The flavor is nutty with roasted malts. It has a bigger body than the aforementioned beer with an easy finish.
I've been loving brown ales and I would love to session this. Good example to compete with Sam Smith's.
★
380 characters

4.43
/5
rDev
+6%
look: 4.5 | smell: 4.5 | taste: 4.25 | feel: 4.75 | overall: 4.5
From BeerAdvocate magazine Issue #68 (Spetember 2012):
LOOK: Dark brown, ruby highlights, stellar head
SMELL: Toasted bread, mildly biscuity, herbal, woody, hop spice, yeast, nutty grain, dried grass
TASTE: Divine smoothness, medium bodied, hint of caramel, big bready character, deep subtle hoppiness, nutty grain, yeast, balanced bitterness,
Here we go, looks like someone is taking us back in time … England 1989, fully in love with the pub culture and drinking epic session ales. This is what this Brown ale tastes like, ale to be enjoyed in copious amounts and never think twice about ordering something different for the night.
STYLE: English Brown Ale
ABV: 4.2%
AVAILABILITY: Year-round
★
701 characters

4.35
/5
rDev
+4.1%
look: 4.25 | smell: 4.25 | taste: 4.5 | feel: 4.25 | overall: 4.25
Got this on tap at the Hill Street Cafe in Albany - they seem to carry it regularly, so whenever I'm there I get a pint. It may be my favorite Brown Ale, hands down, and the fact that it's (relatively) local is just icing on the cake.
A: Body is dark brown with a small tannish head on top. Leaves a little bit of lace in the pint glass.
S: Caramel malt, touch of brown bread and molasses - sweet malt scents dominate.
T: This is a near-perfect example of a full-flavored Brown Ale. Caramel malt, molasses, toasted malt and chocolate/cocoa all come to mind. Hint of modest light hops at the finish provide a decent balance.
M: Light to medium in heft - some browns are a tad bit too light for me, but this one carries with it a decent body. Carbonation is smooth.
O: As I noted above, this is one of my favorite Brown Ales. Either Newburgh was inside my head when it formulated this beer, or my idea of the "to-spec" Brown Ale is the same as theirs.
★
955 characters
4.05
/5
rDev
-3.1%
I had this at Boulevard Tavern in Williamsburg, Brooklyn.
A. A deep reddish brown color with some tannish head and some lacing. Opaque.
S. has a sweet malt scent.
T. It has an alcohol taste despite low abv. It is nutty and malty. A bit sour underneath and carbonated.
O. It is flavorful. A bit soapy. Nice and refreshing but not astounding...not that there is anything wrong with that.
★
388 characters

4.19
/5
rDev
+0.2%
look: 4 | smell: 4.25 | taste: 4.25 | feel: 4.25 | overall: 4
Poured from 16 oz can dated 3/17/2016.
A: Murky dark brown with 2 finger light tan head. Decent retention and leaving some light lacing.
S: Roasted malts, caramel and brown sugar, nutty grains.
T: Toasted bread with caramel and molasses. Faint hints of nuts and vanilla.
M: Medium body but with average carbonation. Lightly creamy mouthfeel.
O: Very well executed brown ale. My first beer from Newburgh and hopefully not my last.
★
443 characters

3.89
/5
rDev
-6.9%
look: 3.5 | smell: 3.75 | taste: 4 | feel: 3.75 | overall: 4
Poured from a growler filled at DeCicco's in Brewster, N.Y. into a Newburgh Brewing nonic pint glass.
A: Pours a cola-like black color with garnet highlights and a thin, creamy head of light tan foam.
S: Roasted malts, a bit of coffee grounds, hazelnuts and some mild, grassy hops.
T: Mellow, mild and earthy roasted malts throw some nutty, bittersweetness onto the palate backed by a dose of milk chocolate.
M: Light-medium bodied mouthfeel with a semisweet and cloying feel, but very drinkable given the low ABV and warm, mild flavors.
O: A nice English session brown ale at 4.2% ABV, Newburgh Brown Ale is a welcome addition to a cold winter night. Not the most outstanding brew, but tasty enough and very drinkable enough to session for a night. I'd get a pint again, but maybe not invest in a whole growler.
★
817 characters
4.29
/5
rDev
+2.6%
look: 4.25 | smell: 4 | taste: 4.5 | feel: 4.25 | overall: 4.25
L: Dark Brown to Black. Pours with about two fingers of tan head which dissipates rather quickly lining the top the whole way down the glass. Some patchy lacing.
S: Nutty biscuity.
T: Nutty, biscuity, with a little chocolate.
F: Moderate to lightly carbonated. Medium bodied. Went down smooth.
O: English is how I like my browns. I'm a hop head, but not when it comes to Browns. When the malts are up front there are almost no beers better than this.
★
468 characters

4.2
/5
rDev
+0.5%
look: 3.75 | smell: 4.25 | taste: 4.25 | feel: 4 | overall: 4.25
A pint can with no apparent date received in a recent BIF poured in a pint glass.
Look- Pours a cola brown leaving a small amount of quickly settling tan foam.
Smell- Hot maple syrup, toffee, brown sugar, bark and mild tobacco.
Taste- Caramel, toffee, brown sugar, maple sap, leather and a hint of tobacco.
Feel- Slick and very easy to drink.
Overall- I'm not a fan of the style because quite frankly, too many suck. I was skeptical once again looking at this boring label and the low abv. It screamed bland, but it was a pleasant surprise! Not the prettiest beer to look at, but complex aroma and flavor make up for it's lack of appearance. The flavor coupled with the modest abv. makes this a tasty alternative to a higher abv. stout. Maybe the best I've had since Tumbler?
★
786 characters
4.13
/5
rDev
-1.2%
look: 3.5 | smell: 3.5 | taste: 4.5 | feel: 4.25 | overall: 4.25
Obtained bottles of 2 Newburgh brews in a trade. Both the IPA and this Brown Ale were very pleasant surprises as I'd never had a Newburgh product before. I think the brewery's own description of the product is just about a perfect summary and there's not much I need to add to it. I initially thought the very sessionable ABV might weaken the taste but that concern was quickly put to rest. If this were available in my area, I think it might replace Smuttynose's Old Brown Dog as my favorite Brown Ale. I'll be looking for it on my next trip to the Hudson Valley.
★
565 characters
4.33
/5
rDev
+3.6%
look: 4.5 | smell: 4 | taste: 4.5 | feel: 4 | overall: 4.5
A - Definitely a "darker" brown ale with an off white head and more than a finger of foam.
S - Chocolaty aroma with a more maltier presence
T - As described it is more maltier than hoppy which falls right into what you would expect. A semi-sweet taste with good balance.
M - This beer is medium bodied, very smooth and really drinkable.
O - Very well designed to provide the perfect amount of flavor for a brown sessionable beer. Don't let the color fool you, this beer goes down very well in the summer. A great beer year around.
★
535 characters
Newburgh Brown Ale from Newburgh Brewing Company
89
out of
100
based on
12
ratings.