Dismiss Notice
Dismiss Notice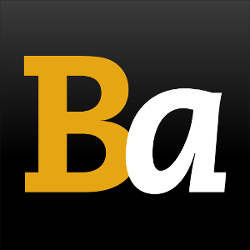 Join Our Email List →
And we'll send you the latest updates and offers from BeerAdvocate, because knowing is half the battle.
Dismiss Notice
Imperial Stout
- Camba Bavaria
| | |
| --- | --- |
| Educational use only; do not reuse. | |
Reviews: 5 | Hads: 14
Reviews by Bierman9:

4
/5
rDev
+8.4%
look: 4 | smell: 4 | taste: 4 | feel: 4 | overall: 4
I picked up a 0.33l bottle of this at Liebick in Germering, Germany. Opted to quaff it as a nightcap on 02OCT13 during my stay in Prague. Best by date of 07FEB14.
Poured a deep dark brown/mahogany; dense and opaque. Had minimal head, mostly some light tan rim bubbles, with scarce lacing. Lots of coffee and roasty choco was evident in the nose. Medium bodied, and it was medium smooth feelwise. Wish it were thicker, though.
Flavor had roasty choco and some bitter dark choco. Add in a hint of caramel and some cocoa action. Finish came around with a bit of florality, and it was dry at the end, which was more hoppy than malty at that point. Not a killer bier, but still solid! Prosit!
4/5  rDev 0%
look: 4 | smell: 4 | taste: 4 | feel: 4 | overall: 4
1603
★
764 characters
More User Reviews:


2.81
/5
rDev
-23.8%
look: 2.5 | smell: 2.75 | taste: 2.75 | feel: 2.5 | overall: 3.25

3.94
/5
rDev
+6.8%
look: 4 | smell: 3.75 | taste: 4 | feel: 4 | overall: 4
Picked this up at a great beer shop in Darmstadt, Germany, Maruhn Welt der Getränke. Dark brown, nearly black pour with a nice two finger caramel head with great retention and lacing. Roasty and subtly sweet nose with hints of dark chocolate, coffee, cocoa, vanilla, and leather. The taste has a bit more depth with lots of roasty malt up front along with hints of coffee, dark chocolate, vanilla, licorice, brown bread, milk chocolate, and tobacco. The mouthfeel is thick and slightly oily with perfect carbonation and a dry, bittersweet finish. Overall, nothing spectacular, but a really solid, flavorful, and drinkable Imperial Stout which are few and far between in the German craft beer world.
★
705 characters

3.44
/5
rDev
-6.8%
look: 3.75 | smell: 3.5 | taste: 3.5 | feel: 3.25 | overall: 3.25


2.59
/5
rDev
-29.8%
look: 3 | smell: 2.75 | taste: 2.5 | feel: 2.5 | overall: 2.5
I picked up this 33cl brown glass bottle with appealing blue label art and a branded white pry-off pressure cap a couple days ago at Hopfen Und Malz in Berlin, Germany. Reviewed live in my friend's gaff. I've already reviewed the milk stout and dry stout I got from this same brewery at the same shop, and both were severely disappointing, so expectations for any beer from this brewery are now very low. 9.8% ABV per the label. Gravity: 21.5%. BB: 07.08.2014.
Served cold and allowed to warm over the course of consumption. Side-poured into a Berliner Kindl Weisse glass.
No bubble show forms as it's poured.
HEAD: Pours a poor excuse for a head which recedes inside 10 seconds, leaving no lacing and no time for me to note its characteristics. It didn't seem too thin and I thought I saw some fair creaminess, but the retention is shite
BODY: Solid opaque dark brown-black. No yeast particulate or hop sediment is visible. This isn't the jet black I look for in a good imperial stout, and I fear like this brewery's other stouts that this will take a sharp turn into schwarzbier territory, abandoning the purported style.
Far from unique or special, but average looking for an imperial stout.
AROMA: Dark malts, chocolate malts, a kiss of roasted barley (always something I look for in a good stout of any type), and more mild cola notes - especially faint herbal touches. Sassafras, perhaps.
Overall, it does seem like a split between an imperial stout and a schwarzbier, but it's generally appealing. I'm not detecting much complexity, and it lacks notes I always find in the best examples of the style (e.g. cream or true chocolate). A pleasant aroma of average strength. Underwhelming overall.
TASTE: Dark malts, chocolate malts, hints of herbal notes (especially sassafras and faint anise), and malty sweetness. That's about it. It's a painfully simple - dareisay boring - build for an imperial stout, and is fairly incohesive. Certainly not a gestalt build; there are definite improvements to be made here and I could easily change aspects of the beer without ruining the whole. Below average depth, duration, and intensity of flavour for the style. It's just so rudimentary for the style. You've got to bring far more to the table in terms of complexity and intricacy to stand out with this beer style in particular, and there's a notable lack of balance and subtlety as well. It's just so boring and generic for an imperial stout. The schwarzbier leanings aren't helping it either.
No yeast character, hop character, overt alcohol, or off-notes come through.
I can't say I really like it all that much.
TEXTURE: Lightly coarse and dry. Overcarbonated. Medium-bodied. Too thin for an imperial stout, lacking the assertive weighty hefty presence on the palate beers in this style require to succeed. It's weak, and as a result it doesn't complement the taste all that well - let alone the style.
Not oily, gushed, hot, boozy, astringent, harsh, or scratchy. I do find it a bit rough on the palate, aggravating the roof of the mouth and tanking drinkability unnecessarily. Additionally, a good beer in this style should be creamier and fuller.
OVERALL: Another subpar stout from Camba. It's a piss-poor attempt at an imperial stout that I wouldn't touch again or recommend to friends. While I'll finish the bottle and I do think it's pretty drinkable for the ABV, I can't say it's really worth trying - especially at its above average price point. I applaud breweries trying new things - especially in tradition-centric places like Germany, let alone Bavaria - but this makes a good counterargument; maybe Bavarian breweries should stick to what they're good at. This one is best left on the shelf. But maybe this will help ease Germans into trying real imperial stouts?
Low C-
★
3,798 characters
4.02
/5
rDev
+8.9%
look: 4.25 | smell: 4 | taste: 4 | feel: 4 | overall: 4

3
/5
rDev
-18.7%
look: 3 | smell: 3 | taste: 3 | feel: 3 | overall: 3

4
/5
rDev
+8.4%
look: 4 | smell: 4 | taste: 4 | feel: 4 | overall: 4
OK imperial stout, but one of those that are quite one-dimensional, mostly coffeish.
84 characters

3.92
/5
rDev
+6.2%
look: 4.25 | smell: 4 | taste: 4 | feel: 3.5 | overall: 3.75
Dark brown, almost black, finger and a half fluffy beige head, slowly receding and leaving nice waves of lace on the glass.
Rich roasted malts with black coffee, bit of smoke, touch of oxidation, dark licorice, chocolate, subtle herbal notes, faint fresh fig, faint lemon zest.
Bitter dark chocolate and rich roasted malts, more than mildly smoked. A short flash of citrus immediately obliterated by almost burnt malts, with some hints of deeply toasted wholegrain bread. Some licorice, burnt spruce tips, and bitter green hops, strong enough to break through the burnt finish.
Aftertaste has coffee dregs, ashy malts and bitter hops. Medium body, medium carbonation, alcohol barely showing up. Not too smooth.
A strong, dense imperial stout, maybe a bit too simple, but compensates in intensity. Maybe a bit too clumsily.
★
822 characters

3.5
/5
rDev
-5.1%
look: 3.5 | smell: 3.5 | taste: 3.5 | feel: 3.5 | overall: 3.5

4.05
/5
rDev
+9.8%
look: 3.75 | smell: 3.75 | taste: 4.25 | feel: 4.25 | overall: 4

4.09
/5
rDev
+10.8%
look: 4.5 | smell: 4.25 | taste: 4 | feel: 4 | overall: 4
Almost black color, with a huge, froth dark-brown color, leaving a spider web lacing.
Aromas a full of scorched malts, roasted coffee beans and a huge load of licorice chocolate with sweet toffee notes to it.
Taste reflects basically the smell, but in a changed order. Begins with unsweetened chocolate, very smooth and creamy, accompanied by unexpected earthy, burned malts. Those also reveal the sweeter components of the brew, mainly mousse au chocolate, molasse and cane sugar. This uprising sweetness then gets countered by a slick coffee bitterness, which hits the palate in a very smooth fashion. The cream impression remains, and while the coffee does not lead to a dominating bitterness, it adds a gentle bread note to the beer with a herbal tobacco infusion, giving this a great balance, with a really dark, roasty character. Finishes slightly bitter, with hops being detectable for a short glance, while earthy, almost smoked malts remain commanding. Surprisingly good, alcohol is perfectly hidden, very bold, as this dares to be bitter and malt defined in a very dark, roasted fashion - different to german stouts I've had so far.
★
1,147 characters
Imperial Stout from Camba Bavaria
-
out of
100
based on
5
ratings.