Dismiss Notice
Get 12 monthly issues of BeerAdvocate magazine and save $5 when you select "auto-renew."

Subscribe now →
Dismiss Notice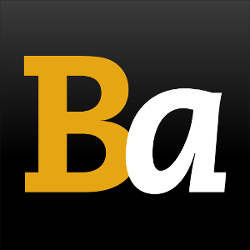 Join our email list →

And we'll send you the latest updates and offers from BeerAdvocate, because knowing is half the battle.
La Salamandre
- BFM (Brasserie des Franches-Montagnes)
| | |
| --- | --- |
| Educational use only; do not reuse. | |
Reviews: 14 | Hads: 23

3.76
/5
rDev
+3%
look: 3.5 | smell: 3.75 | taste: 4 | feel: 3.5 | overall: 3.5
On tap at the Blue Monk in Buffalo. Arrived in what appeared to be a tulip-snifter hybrid.
Appearance: Hazy orange-gold, capped with a thin head of white foam that lingered a bit. Spotty lacing.
Smell: Funky, musty grass, laden with tart light fruits - pears, oranges, and melon.
Taste: That musty, mildewy funk comes through loud and clear on each sip, leading a procession of vaguely tart light fruits. Orange and tangerine are both present, mildly tart and somewhat moldy, followed by pear and melon flavors, both cantaloupe and honeydew. A grassy, hay-like tone hangs in the background throughout, and here and there, some bits of fermented white grape manifest.
Mouthfeel: Medium of body and moderate of carbonation.
Overall: The bar, and Untappd, both listed this as a biere de garde, and for one of those, it was acceptable. For a witbier, this is an interesting take on the style, with much more funk and much less spice than I'd expect. Either way, I'd consider drinking it again.
★
994 characters

3.94
/5
rDev
+7.9%
look: 4 | smell: 4.25 | taste: 3.75 | feel: 3.75 | overall: 4
The beer is familiar with a really well done and spiced witbier. It hits of spice, coriander, light crackery malts with a light dry finish crisp. Tons of floral and coriander on this one.
★
188 characters
2.75
/5
rDev
-24.7%
Yellow, very bubbly, hazy, light foam, looks like champagne. Tangy, lightly fruity scent with hints of malt. Very light mouth, crisp finish. Extremely carbonated which unfortunately wipes out a lot of the flavor. Tastes like a much maltier Belgian-style ale with seltzer water mixed in! Very crisp and drinkable but ultimately not a lot of flavor.
★
347 characters
3.7
/5
rDev
+1.4%
look: 3.5 | smell: 3.5 | taste: 3.5 | feel: 4.5 | overall: 4
Big thanks to Beermasons for bringing this to Oz.
Relatively clear apricot with a decent, milkshakey white head. Falls quietly to a respectable raised ring.
Interesting sweaty, lactic funkiness initially that bearsa strong resemblance to salt and vinegar chips! With it are preserved lemon, cassia and a mild nuttiness. Quite a spunky nose all up.
Flavours have a sweet and sour tanginess to them. Wheaty lemon domimates, with heather, white pepper and grape behind it.
Just above light-bodied with an almost creamy quality to the carbonation. Very shmick.
Great Witbier that has plenty of bold characteristics to separate itself from the field. Hope I can get hold of it again.
★
683 characters
3.85
/5
rDev
+5.5%
look: 4 | smell: 4 | taste: 3.5 | feel: 4.5 | overall: 4
Pours hazy amber with a small, white head.
Nose shows acidic funky notes, doughy wheat, lemon and orange peel.
Very refreshing flavours, with some sourness, a bit of wheat and lemon.
Well-suited high carbonation and light body.
Very refreshing stuff.
★
254 characters

3.5
/5
rDev
-4.1%
look: 3.5 | smell: 3.5 | taste: 3.5 | feel: 3.5 | overall: 3.5
Another brew with thanks to beermasons and pours a murky honey hue which leaves a two finger head that stays and some clingy lacing,the smell is sour cranberries,sweaty socks,lemongrass and candied wheat,the mouthfeel is just above light bodied and very sessionable with tastes of lemongrass,herbal hops,lavender,candied wheat,sour white grapes and finished with a earthy dry sourness and overall its nice for a hot summers day when your craving a Witbier as it definately has the nice taste with the drinkability of a nice sessionable drop.
★
541 characters

3.82
/5
rDev
+4.7%
look: 3 | smell: 3.5 | taste: 4 | feel: 4 | overall: 4
330ml bottle poured in a small BFM snifter glass. Enjoyed at "La Ferme du Château", Lausanne region.
A: Pours a very pale yellow cloudy color. Forms a big creamy white head. Retention is low and some lacings are formed and left in the glass. A lot of sendiment floating around
S: Spicy and tart in the nose. Wheat and yeast. Pepper and coriander. Grassy hops
T: Follows the nose: wheat, yeasts, pepper, coriander. A bit acid. Nice hoppy grassy bitterness
M: Light body and medium carbonation
O: Another good BFM specimen. Very drinkable. A very good example of "home made" beer
★
584 characters

3.85
/5
rDev
+5.5%
look: 4 | smell: 4 | taste: 4 | feel: 3.5 | overall: 3.5
Picked up by a buddy in Zurich. The cap says something about June 2013 (best by date I would assume) and L: 3. Don't know what that one is. It says something about Biere de Garde on the bottle.
A: Very nice swing bottle gives way to a cloudy yellow pour and a big white head. Lacing is great.
S: Tons of candied sugar, belgian yeast, and booze on this one. Really smells a lot more like a tripel than a witbier. Maybe some Brett? I can't really tell. The smell surprised me so much considering I was thinking witbier.
T: Now the taste brings beer style #3 to the mix, Biere de Garde, like it says on the label. Definitely getting some brett, wheat, and lighter fruits like banana and coriander. A boozy backend.
MF: Light to medium body with a lot of carbonation.
O: This was a roller coaster ride of a beer, I had no idea what to expect. Decently drinkable, but the taste really got on my nerves after a while.
★
916 characters
4.2
/5
rDev
+15.1%
look: 4 | smell: 4 | taste: 4.5 | feel: 4 | overall: 4
Not necessarily a witbier, on the label there is an indication of it being a Biere de Garde. Although, that is an awefully generic term for old French Table beer. If you go in expecting it to be slightly sour/tart, then it will not disappoint!
Looks great, bright orange with some nice "floaties" as a result of some of the yeast.
Aroma is fresh citrus with a lingering acidic tartness.
Medium thin body, slightly slick and frothy, nice carbonation.
Nice citrus presence upfront; solid lemonzest, grapefruit, and a hint of orange.
Mild sourness throughout with a lingering floral undertone.
Finishes with a great grapefruit bitter-sweetness and a dry lingering herbal hop note.
Overall; complex and interesting, very juicy citrus notes with a nice sourness throughout.
Between the dryness as well as the sourness, it leaves you wanting more after every sip.
★
867 characters
4
/5
rDev
+9.6%
look: 4 | smell: 4 | taste: 4 | feel: 4 | overall: 4
A - Pours with a thinner pure white head; very hazy light orange-yellow color
S - Is there Brett in this? Maybe as it's a little acidic, light fruits, slight funky in an Orval kind of way
T - Hint of citrus up front, green apples, a little sour and I swear there's a bit of funk hiding in there as well. A little floral...several layers going on here.
M - Lightish, carbonation was fairly soft; a little silky
D - Nice drinking, and paired up well with prosciutto and gruyere
Overall, I really enjoyed this brew and it was a bit pricey, but tasty. Worth a look.
★
567 characters
3.13
/5
rDev
-14.2%
look: 3 | smell: 2.5 | taste: 3.5 | feel: 3.5 | overall: 3
Pours pale yellow with white patches, no lacing. Aroma is rather weak sourish citrus.
Taste is quite astringent lemon, some orange and spices with dry finish and long lasting clean citrus and yeast aftertaste. Mouthfeel is light with about moderate/high carbonation.
Overall, the beer was refreshing, but I found it to be too sour. I love sour beers in general, but I am not too fond of very pronounced sourness in Witbiers.
★
426 characters
4.27
/5
rDev
+17%
look: 4 | smell: 4.5 | taste: 4 | feel: 4.5 | overall: 4.5
My wife and I picked up a few bottles of this while visiting BFM for their 10th anniversary party.
The beer poured a fairly clear, brilliant yellow color with a slightly thick white head, giving way quickly to a ring on the edge, not much else. The nose is a bit peppery, ginger maybe as bov mentioned and some definite yeast and citrus notes. The taste has some sublte malt notes, very lemony, earthy, wheat, overall very pleasing and has a dry finish. Easy to drink.
★
470 characters
2.53
/5
rDev
-30.7%
look: 3 | smell: 2.5 | taste: 2.5 | feel: 2.5 | overall: 2.5
Bottle courtesy of mgermani: Poured a medium yellow color ale with a pure white bubbly head with average retention but no lacing. Aroma of light wheat malt is not the most interesting. Taste is a mix between some light wheat malt notes with no spices really discernable and some traces of sourness. Full body with some limited filtration and some medium carbonation. Definitely not the best beer fro this usually fine brewery.
★
426 characters
4.18
/5
rDev
+14.5%
look: 4 | smell: 3.5 | taste: 4.5 | feel: 4 | overall: 4.5
hazy orangeish colour under a little stable white head; spicy (ginger comes to mind) and honeyish aroma (I'm not sure if honey was part of the original recipe ?!); lot of carbonation and a nice, robust acidity which is held up by a clean and regular maltiness; the finish is moderately dry with more fruity (lemon/orange) and spicy notes - a beautiful witbier which is back at its best !
★
388 characters
La Salamandre from BFM (Brasserie des Franches-Montagnes)
83
out of
100
based on
14
ratings.