River Water IPA
| The Front Brewing Company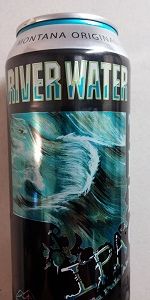 BEER INFO
Brewed by:
The Front Brewing Company
Montana
,
United States
|
website
Style:
American IPA
Alcohol by volume (ABV):
6.90%
Availability:
Rotating
Notes / Commercial Description:
No notes at this time.
Added by BillRoth on 10-20-2013
Reviews: 5 | Ratings: 24

4.12
/5
rDev
+6.7%
look: 4.25 | smell: 4 | taste: 4.25 | feel: 4 | overall: 4
Had from the can, poured into a glass at Copper Horse in the Bozeman, MT airport. Canned date of 03/14/16
Appearance - Pours somewhat clear and golden orange in color with a sandstone colored, solid finger width head. Good retention, eventually settling to a thin, consistent layer of surface suds. Good lacing, with broken sheets decorating most of the glass along with a fair amount of spotting.
Smell - Hoppy notes of citrus, floral and slightly herbal character. Light breadiness can be found under the hop aroma.
Taste - Follows the nose. Great balance of hop character, exhibiting citrus and floral notes with slightly leafy freshness. Touches of bready malt sit beneath. Finishes with a touch of fresh minty leaf and fair citrus pith bitterness.
Mouthfeel - Medium-bodied with fair carbonation. Slick on the tongue with a crisp, dry finish.
Overall - Easily the best new beer I had on this trip up to Montana. I saw this at the store but passed it up, and now regretfully so, because I would've loved to have taken a few cans home with me.
★
1,051 characters
3.8
/5
rDev
-1.6%
look: 3.25 | smell: 3.75 | taste: 4 | feel: 3.5 | overall: 3.75
A nice, hoppy beer with some good malt flavor. Very old school IPA in the vein of SN Celebration and LC Tumbleweed but less refined. Montana in general seems behind the times with IPAs, opting for substantial caramel flavor to balance big bitterness rather than focus on big hop flavor. I think this would be a solid choice for an outdoor excursion due to the bad ass cans, but there are plenty of IPA options out there that I would take over this on an every day basis. Nice tasty beer.
★
493 characters
3.62
/5
rDev
-6.2%
look: 4 | smell: 3.75 | taste: 3.5 | feel: 3.75 | overall: 3.5
the packaging on this beer is awesome. a cool portrait on a pint can with one of those pull tab tops that opens the whole lid of the can for drinking, turning it into a glass of sorts. asian in origin i think, maybe japanese, what do i know... the beer in the can isnt bad either, but in the context of several local ipas, this is the one we all sort of liked the least. nothing wrong with it, just a bit more of a crystal malt balancing act than i care for in american versions of the style, and not quite as pungent and high dosed on the hops as it might be. the flavor of the hops that is there though is excellent, but it smells more aggressive than it is, sort of setting me up and then letting me down. the feel works though, a little extra body from all the malt, and lots of bubbles. its a refreshing but satisfying beverage in cold fall weather. i enjoyed a few while preparing the thanksgiving bird. it has that late season vibe to it, but a cleaner overall beer where the hops stood out more would be an improvement in my opinion. those who like a little more grain flavor may really dig this one, as its quite well made. i prefer their mountain man scotch ale (the unofficial style of montana), but this is worth picking up too. affordable four packs of pint cans are always in vogue...
★
1,298 characters

4.04
/5
rDev
+4.7%
look: 4 | smell: 4.25 | taste: 4 | feel: 3.75 | overall: 4
Poured from cool riptop can into a pint glass
Appearance – The beer pours a hazed, deep golden-orange color with a huge head of fizzy off white foam. The head has a fantastic level of retention, slowly fading over time to leave a tons of foamy lace on the sides of the glass.
Smell – The aroma hits you with a great showing of a grapefruit citrus hop smell which has some sweeter citrus fruit (tangerine and orange) aromas mixed within. Along with these citrus based aromas comes some light bready smells as well as a moderate showing of a pine aroma, overall producing a rather smooth and present smell.
Taste – The taste begins with a bready flavor mixed with a rather strong showing of a grapefruit hop. As the taste advances it initially sweetens as some orange and tangerine as well as a little bit of apricot fruit work their way onto the tongue. All the while the grapefruit, gets even more potent in nature and brings with it some other hop tastes of pine and earth. With the sweeter flavors losing power at the end of the taste, and all the hop increasing theirs, one is left with a somewhat crisp mixed hoppy flavor to linger on the tongue.
Mouthfeel – The beer is medium bodied with a rather mid-level carbonation. For the mix of danker and citrus hop as well as the bready and the sweeter flavors that are there at times in the flavor profile, the feel is rather nice and creates a rather easy sipping IPA.
Overall – I very much enjoyed this brew. It has a very nice blend of hops balanced by a good level of malt and some lighter sweet flavors. Quite nice.
★
1,592 characters

4.06
/5
rDev
+5.2%
look: 3.75 | smell: 4 | taste: 4.25 | feel: 3.75 | overall: 4
This beer comes in a newfangled can that removes the entire top of the can so you can smell the beer- pretty cool! This might be just the thing for camping and rafting...
The aroma is rather subdued from the can, but definitely more than you would get from a standard can. You can smell some hops suggestive of citrus. As the can empties, you can slosh the beer around and get a pretty good nose full. It's quite easy to drink from the can. The flavor is also quite subdued for an American IPA but it's still pretty tasty. Light citrus and just a touch of juniper berry meld well with a very malty base that suggests a touch of molasses and maybe a little ginger.
A moderate pour into a shaker pint yields a frothy one inch head that proves fairly sticky. The beer is a hazy amber with sediment that floats around for awhile before settling. Carbonation is on the high side. The aroma isn't much more than sniffing from the can. Nevertheless, the overall flavor is quite good, with a nice balance between malt and hops. A creamy, sudsy mouth feel leads to some lingering orange pith on the tongue and roof of the mouth.
This beer is nicely balanced with nice hop flavors, but without insane bitterness. Kudos for the cool can! I hate trying to suck beer through that little hole and this new opening harkens back to the Schmidt "Big Mouth" and Mickeys grenades type of bottle, which was an awesome innovation that unfortunately never quite caught on. I think canned craft beer, especially with this large opening, will sell like hotcakes in the summer months.
★
1,575 characters
River Water IPA from The Front Brewing Company
-
out of
100
based on
5
ratings.