Dismiss Notice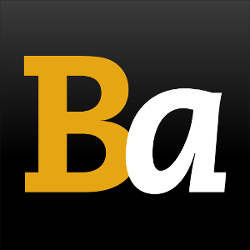 Site Performance Updates: We're aware of the nightly site outage, and working on resolving the issue.
Barrett's Farmhouse Ale
| Battle Road Brewing Company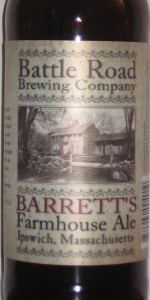 BEER INFO
Brewed by:
Battle Road Brewing Company
Massachusetts
,
United States
|
website
Style:
Saison / Farmhouse Ale
Alcohol by volume (ABV):
5.50%
Availability:
Year-round
Notes / Commercial Description:
No notes at this time.
Added by rab53 on 04-08-2013
Reviews: 6 | Ratings: 45

3.4
/5
rDev
-4.8%
look: 3 | smell: 3 | taste: 3.5 | feel: 4 | overall: 3.5
Mild bread and lemon aroma. Hazy yellow body with a hint of a golden hue. Thick cloudy head that lingers a lot. The taste is like the aroma as it is lemon like bread with a hint of mild spice. Mild bitterness and a light peppery feel on the tongue. Finish is wet and sweet.
★
274 characters

3.42
/5
rDev
-4.2%
look: 4 | smell: 3.25 | taste: 3.25 | feel: 4 | overall: 3.5
ACBF pour; assuming it was from a bottle.
A-Pours a lightly (chill?) hazed yellow color. Even in the sample cup, the head was thick.
S-Soft, rustic yeast note. Pale sweetness. The lightest hint of grass. Slightly spicy.
T-The yeast is mildly spicy. No funkiness, it's pretty clean. Pale sweetness and grains. Some grassy hops.
M-Light bodied. I imagine a larger portion would be easy to drink. Moderate carbonation.
O-Very mellow, very forgettable. Probably would be very drinkable if sampled in greater volume.
★
516 characters

3.79
/5
rDev
+6.2%
look: 3.75 | smell: 4 | taste: 3.75 | feel: 3.5 | overall: 3.75
I was excited for this brewery, liked the first two I had when I tried them at a tasting, and was glad to see them reach me in bottle form. Now another to try, a Farmhouse, which could be good, or bad if not done correctly.
Pours a large 2 finger fizzy head that collapses in on itself a bit and fades semi quickly at first, but gets reinforced by many streaming bubbles in the crystal clear straw slight honey orange colored beer, whisps of lacing are left.
Nose smells like a typical mild saison, a little farmhouse like aroma but not a ton, mostly grains, some mild straw and toastiness, little grainy bready like, some cracked wheat dust, just a hint of that farmhouse funk but yeast brings more of the mild saison spices, some citrusy lemon zest, little lemongrass too, and hints of esters. Seems like the malts might be a little on the sweet side.
Taste starts a little sweet as expected, some sweet malts with a bit too much on the malt side overall, little blond toasty malt, mild candy syrup effect, into again that cracked wheat, little straw and toasty character, a light grainy taste but not much, and despite that sweet syrupy like effect it seems quite dry actually. The effervescence of the carbonation really pulls the malty sweetness away from the tongue and really adds to the drying, which adds to a mild to fair bitterness, lemon zest bitterness and mild grassy hop that eventually turns a little spicy. Saison characters are mild, a very light farmhouse character, mild saison spices, more lemon zest and mild citrus, hints of esters, etc, but too mild IMO. Still fairly tasty and drinkable though, for an American farmhouse saison, and they didn't try to dumb it down too much like many American saisons that are just wheat, citrus, and candy. Finish is a bit on the sticky side though, despite being really dry it seems like ti should be sweet, more lemon zest and mild saison spices lingering, hint of esters and phenols too, more grassy spicy hops and bitterness all lingering.
Mouth is med to lighter bod, tons of effervescent carb that seems to get a little too busy and takes away from the beer a little.
Overall not bad, as mentioned in the taste profile I like that they kept it more like a farmhouse saison, just not enough of the farmhouse portion, but at least it's not a candy wheat blond ale trying to pull off as a saison. Also as this style becomes more and more popular, it's seeming to become the next IPA as everyone is doing one these days. I've loved the style for a long time, and it seems to be drifting away from its core the more brewers that make it, and this is closer to the norm but still a little off, but still quite nice.
★
2,679 characters

3.34
/5
rDev
-6.4%
look: 3 | smell: 3.25 | taste: 3.5 | feel: 3.25 | overall: 3.25
22oz bottle poured into an oversized pilsner glass, first beer from this company. Color is hazy almost a light reddish definetley darker then expected. Smell is yeasty but otherwise bland, first taste solid decent mouthfeel, not overly carbonated maltiness comes through aswell an earthiness which I expect from this style. It drinks clean. unlike better representations there really isn't much in underlying flavors. Over all a decent easy drinking beer, I would have again but not up there with the bests.
★
507 characters
3.89
/5
rDev
+9%
look: 3.75 | smell: 4 | taste: 3.75 | feel: 4 | overall: 4
Pours cloudy gold with a moderate head. No lace. I was hoping for a bit more foamy structure here.
Sweet wheat, yeast, musty notes, some spice, a little white pepper in the nose. More wheat heavy though.
Sweet wheat forward, with some yeastiness and moderate bitterness. Grain husk, a Not super complex, but it works. If drinking for taste, this works great. If critiquing for style, this just missed.
Lighter bodied. Good carbonation.
I liked this beer. Not quite true to style, but brewing is as much art as it is science. An ok interpretation of style, with a final product that is very drinkable.
★
604 characters

3.36
/5
rDev
-5.9%
look: 4 | smell: 3 | taste: 3.5 | feel: 3 | overall: 3.5
New arrival at Boston area shop.
Pours golden yellow with moderate white head. Foam dissipates quickly.
Aromas of toasted corn, wheat and mild smoke.
Taste follows suit, with the addition of spicy yeast.
Mouthfeel is a bit thin for a saison.
Overall, not bad, but would not purchase again.
★
296 characters
Barrett's Farmhouse Ale from Battle Road Brewing Company
-
out of
100
based on
6
ratings.