Dismiss Notice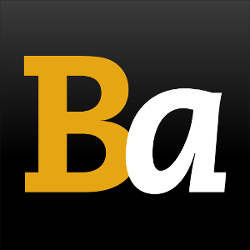 Site Performance Updates: We're aware of the nightly site outage, and working on resolving the issue.
Municipal India Pale Ale
| Ale Syndicate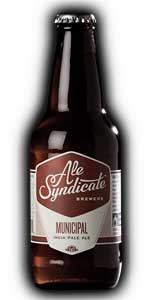 BEER INFO
Brewed by:
Ale Syndicate
Illinois
,
United States
|
website
Style:
American IPA
Alcohol by volume (ABV):
6.20%
Availability:
Year-round
Notes / Commercial Description:
Municipal IPA is is an all-Cascade ale, giving it a tangy aroma and citrusy flavor. Resiny, yet refreshing.
50 IBU
Added by Jason on 02-26-2013
Reviews: 15 | Ratings: 149

3.4
/5
rDev
-11.7%
look: 3.5 | smell: 3.5 | taste: 3.25 | feel: 3.5 | overall: 3.5
On tap. Look is a light yellow orange more like an APA. Smell doesn't deliver much for me. Taste is pleasant but not spectacular. I love my hop bombs, while this one is more restrained. It does have good hop/malt balance and some lingering bitterness. Feel is similarly restrained. Overall this might be a good session IPA, but not one that would excite me on a tap list
★
370 characters

3.97
/5
rDev
+3.1%
look: 4.25 | smell: 4 | taste: 4 | feel: 3.5 | overall: 4
Pours a hazy, copper color. 1/3 inch head of an off-white color. Great retention and good lacing. Smells of sweet malt, piney hops, hint of caramel malt, slight alcohol, and a hint of rye. Fits the style of an American IPA. Mouth feel is sharp and crisp, with an average carbonation level. Tastes of sweet malt, piney hops, slight citrus hops, hint of caramel malt, and a hint of alcohol. Overall, good body, aroma, appearance, blend is not as smooth as I would wish, but still a decent IPA.
★
498 characters

3.75
/5
rDev
-2.6%
look: 3 | smell: 3.5 | taste: 3.75 | feel: 4.25 | overall: 4
On tap, poured into a shaker. The beer is clear and oily with an orange orange amber hue topped by a dense, white head that lightly laces the glass and has a moderate retention. The aromas are grassy with supporting orange zest notes and a light crust and caramel that starts mellow, but strengthens late. In the end, it settles on oranges, clove, and bread crust. The taste is a balanced bitter and sweet at levels slightly higher than medium. The beer is smooth and slick with a soft fuzz head and a medium caramel-honey body with supporting notes of citrus zest that finishes grassy and slight burnt with a cloying caramel and toast character that cleans up quickly to leave a clean resin and light orange aftertaste.
★
720 characters

3.78
/5
rDev
-1.8%
look: 3.75 | smell: 3.75 | taste: 3.75 | feel: 4 | overall: 3.75
On tap at Miller's, into a shaker
A: bright rich amber, thin off-white head that leaves some nice lacing
S: medium nose: bready and caramel malts, nice balance between floral and piney hop notes
T: again, well balanced that follows the nose, though I get a bit more citrus on the back end.
M: maybe the best part of this beer: medium to high carbonation, fairly light mouthful but still substantial flavors. Very quaffable.
Overall: a good choice that I would drink again. In a sea of IPAs, it doesn't distinguish itself, at all. Taken on its own, though, it's good.
★
573 characters

4.22
/5
rDev
+9.6%
look: 4 | smell: 4.5 | taste: 4.25 | feel: 4 | overall: 4
Ripe tropical melon with a bready backbone and floral notes. The hops are the star here, and this beer allows them to take control without leaving the beer unbalanced. At 6%+ this is very sessionable.
★
200 characters

3.55
/5
rDev
-7.8%
look: 3.5 | smell: 3.5 | taste: 3.5 | feel: 3.5 | overall: 3.75
Served in a tumbler.
After narrowly missing this stuff at a few nearby venues, I'm finally getting a chance thanks to the bottles. It pours a partly-hazy sunrise amber topped by a finger of lightly off-white foam. The nose comprises grass, mild pine resin, light mixed greens, lightly-toasted biscuit, and a hint of flowers. The taste brings in more of the same, the flowers coming through stronger, along with a bit of lemon peel. The body is a light medium, with a light moderate carbonation and a drying finish. Overall, a pretty solid IPA. 'Nuff said.
★
556 characters

3.74
/5
rDev
-2.9%
look: 4 | smell: 3.75 | taste: 3.75 | feel: 3.5 | overall: 3.75
A: cloudy, shimmering orange body, finger white head
fantastic lacing in glass
S: lemon peel, hint of pine and grass, sweet malt
T: mild grapefruit, lemon peel, firm malt
solid pine bitter finish
M: med/light body, mild oily/sticky mouth
O: New to this brewery, rather enjoyed it.
Would buy again and share. Between session
and stand alone IPA. Love supporting local/regional
breweries.
QUITE GOOD; NOT MUST HAVE!
★
419 characters

4.01
/5
rDev
+4.2%
look: 4 | smell: 4.25 | taste: 4.25 | feel: 3.5 | overall: 3.5
12oz bottle, stamped on neck: 064 2014
Crystal hopped
6.2% ABV
50ibu
This seems to be a new recipe for the same beer that made its debut not that long ago using Cascade hops. Not sure why the change; maybe a continuously changing hop variety? Change of heart? Nothing noted on the website, other than that this is Municipal IPA. No word of its previous form.
L - hazed amber color with a creamy off-white head that slowly fades leaving some lacing
S - fresh floral, citric, earthy, piny hops - smells delicious. Caramel malt, bread, and toasted grain in there as well
T - bold flavors of pine, grapefruit pith, earth, caramel, bread crust, toasted grain
F - fuller bodied and creamy, finishes semi-dry with lingering pine; alcohol is hot at times, even though it's only 6.2% ABV
O - I really like this version, but will it be available indefinitely? Will the recipe change again? At least they do have parameters and a description on the bottle of what it is for future considerations. I would get this particular recipe again, but probably wouldn't venture out if the recipe changes a second time (at least without an explanation).
★
1,133 characters
3.85
/5
rDev 0%
look: 3.5 | smell: 3.5 | taste: 4 | feel: 4 | overall: 4
I like the Municipal IPA from Ale Syndicate. The beer poured a hazy yellow with thin white head that is not leaving much of a lace. The scent carries a fresh slightly floral leaning hop. The taste is very well balanced...enough hop to be bitter, but finishes very smooth. The mouthfeel is medium in body with good carbonation. Overall the beer is definitely sessionable and worth the try.
★
388 characters
3.62
/5
rDev
-6%
look: 4 | smell: 3.75 | taste: 3.5 | feel: 3.25 | overall: 3.75
Appearance- Poured a burnt brown orange, seemed like a nice citrusy IPA solely based on color. A orange laden tan froth sat atop.
Nose- After pouring, an intense rush of hop oils with some sweet grass. Some sour grapefruit notes linger as well. A backbone of malt rounded out the smell. Nose slightly diminished with intensity after initial pour.
Taste- More grapefruit, with some herbal hop elements, a very nice hop expression indeed. Fairly sweet and malty compared to other IPAs, a welcome change. I wonder if this might detract for the "hop-heads" out there though. Faint dried fruits and esters on the finish.
Mouthfeel- Fairly heavy and chewy for a pale ale but a tad bit watery beyond the resin-like thickness, I like a little more density of carbonation usually. Syrupy stickiness at the finish made me hankering for another sip. Slightly puckering.
Overall- A tasty take on a well-versed style. Perhaps a little untraditional compared to your typical IPA but in a good way, I enjoyed every drop. Ale Syndicate will be a staple for years to come!
★
1,063 characters

3.63
/5
rDev
-5.7%
look: 4 | smell: 3.5 | taste: 3.5 | feel: 4.5 | overall: 3.5
12 oz. bottle, with no apparent bottled on date present. My second beer from Ale Syndicate, acquired as part of a mixed six pack at the local beer store. My bottle lists a 6.20% abv.
Poured into a clear balloon snifter.
A - Pours a nice bright juicy caramel orange colored body, typical of an IPA. Little over a finger of fluffy creamy off-white head. Nice sheets of sticky lacing.
S - Smell is light, but nice. Floral, grassy, and earthy hops, but not what I would call citric. Perhaps just a hint of orange. Soapiness / creaminess. Layer of honeyed biscuit malts in the background.
T - Taste is pleasant, but much more malt forward than I've come to expect from many IPA's. Bready honeyed biscuit malts, and grassy, piney, grapefruit hop presence. Bitterness is light at only 50 IBU. Nicely balanced.
M - Feel is very nice. Light piney / fruity bitterness, and some sticky bready malt lingering on the palate. Light-bodied, easy drinking, and with excellent carbonation.
Overall, I definitely enjoyed it, but it seems like more of a pale ale than an IPA to me. This doesn't mean that the quality isn't there, I'm just saying. Extremely drinkable and well-balanced. I would have it again, and I continue to look forward to more from these guys.
Ale Syndicate Municipal India Pale Ale ---3.5/5
★
1,300 characters
4.46
/5
rDev
+15.8%
look: 4.75 | smell: 4.25 | taste: 4.75 | feel: 3.5 | overall: 4.5
Outstanding IPA that is extremely well balanced and supremely sessionable. A nice grapefruit hop with a dry crisp finish and excellent mouthfeel. Not super resinous and drinks more like a traditional pale ale or APA rather then the likes of your traditional big WIPA. Get it if you see it, especially on draft. Another great beer from the unmatched Chicago stable!
★
364 characters
3.83
/5
rDev
-0.5%
look: 4 | smell: 4 | taste: 3.75 | feel: 3.75 | overall: 3.75
Appearance: Nice amber color. White head with decent head retention and good lacing. An appealing looking IPA.
Smell: Huge grapefruit aroma from the Cascade hops dominates everything. Not unpleasant though.
Taste: Grapefruit, not surprisingly. Bitter finish but not exceedingly so.
Mouthfeel: Very light. Refreshing but highly carbonated. Almost over carbonated...
Overall: Good grapefruity IPA. Slight sweetness and lightly bitter at the finish. A little light on the flavor and definitely one-dimensional due to the use of Cascade exclusively. Still, you could do worse.
★
579 characters
4.15
/5
rDev
+7.8%
look: 4 | smell: 4 | taste: 4.25 | feel: 4.5 | overall: 4
Had this on tap at Monk's. Hazy orange-gold appearance with a pretty frothy head. On the slightly lighter side for IPAs. Very drinkable, with citrusy hops and a resiny mouthfeel and a good amount of carbonation. Hoppier than the stated 40 IBUs would infer. Really enjoyed this--will seek it out again.
★
301 characters
4.35
/5
rDev
+13%
look: 4.25 | smell: 4.25 | taste: 4.5 | feel: 4.25 | overall: 4.25
Had a 4 ounce pour at Beer Under Glass. I had no expectations as I don't know much about these folks yet. The beer was a bright orange/yellow with the requisitie white head. The smell was citrusy and grassy. This beer was impressive. This is a sessionable IPA with full flavor that I would seek out on draft next time I'm downtown Chicago. Impressed with Ale Syndicate in an environment with many great beers. Well done.
★
420 characters
Municipal India Pale Ale from Ale Syndicate
86
out of
100
based on
15
ratings.