Emerson
| Alpine Beer Company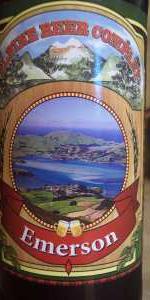 BEER INFO
Brewed by:
Alpine Beer Company
California
,
United States
|
website
Style:
German Pilsener
Alcohol by volume (ABV):
6.00%
Availability:
Rotating
Notes / Commercial Description:
Inspired by owner/brewer Pat McIllhenneys travels to New Zealand, this beer uses imported New Zealand organic hops.
Added by xlperro on 06-17-2005
This beer is retired; no longer brewed.
Reviews: 40 | Ratings: 49

3.5
/5
rDev
-9.8%
look: 3.5 | smell: 3.5 | taste: 3.5 | feel: 3.5 | overall: 3.5
Thanks to badboyrsl84 for sending this bottle out my way. Served in a Hill Farmstead long-stem tulip.
Pours a clear golden color with a thin white head and only a spot or two of lacing on the way down. Very thin collar throughout. The nose carries floral hops and a bit of a tropical character in the background. There's some light bready malt as well. The flavor is malty with bread, and there's actually a surprising amount of alcohol. Hops are there, with the floral ones dominating. Medium body with moderate carbonation. Dry finish with a bit of bitterness. Not bad, but not something I'd go after again.
★
610 characters

4.21
/5
rDev
+8.5%
look: 4.5 | smell: 3.5 | taste: 4.5 | feel: 4 | overall: 4.5
Poured into a Town Hall Brewery stemware glass.
Pours a clear golden straw color with tons of fluffy white head that dissipates leaving moderate lacing on the glass. I would have like to see a little more lacing on the glass but this beers appearance is right on for the style.
Smell is subdued but I am smelling some earthy and grass hops, maybe some citrus in the back. I would liked to have seen a stronger aroma profile but good none the less.
Taste is slightly malt heavy with a hop balance that just falls short. What can I say its a pils, perfectly balanced with a nice bitterness that goes all through the pallet. I would love to have more of this on hand to help my BMC buds to move toward craft.
Mouthfeel is medium in weight with some nice resin that sits with its pilsner bitterness on the pallet.
Overall this is one of the best pilsner's I have ever had. Like most BA's I am not a fan of the style because it doesn't really have a characteristic that totally dominates the pallet (ie DIPA'S and RIS's). What it is, is an awesome example of the style. Great summer beer and I wish I had more for the humid Minnesota months.
★
1,152 characters
3.85
/5
rDev
-0.8%
look: 4 | smell: 4 | taste: 3.5 | feel: 3.5 | overall: 4.5
A - Apricot, slightly murkey, stark white head, leaves to disk. Lots of cling.
S - Bright fruit, esp mango, tropical, orange, and some malt.
T - Malt and almost juicy fruit, or a variation there of.
M - Fair balance, good carb, not too taxing.
D - Easy to drink for sure!
★
276 characters

4.05
/5
rDev
+4.4%
look: 4 | smell: 4 | taste: 4 | feel: 4.5 | overall: 4
Reviewed from notes. Bomber was purchased at the brewery bar very late May, 2011. Drank it that night.
Nice golden yellow, not really orange at all. Lots of fluffy head that leaves great lacing. It really smells hoppy on the nose. Grassy and hints of citrus and white wine tang (I think thats the NZ hop variety Alpine uses in their brews). Enough malt to help sweeten the brew a bit, but it still finishes very dry. Light enough in body to drink a whole bomber rather quickly! Nicely carbonated to allow the flavors to stay light.
Great brew, but not at all a traditional pilsener. My father thought it was one of the better beers he has tried since I got into craft beer.
★
675 characters
3.73
/5
rDev
-3.9%
look: 4 | smell: 3.5 | taste: 4 | feel: 3.5 | overall: 3.5
542nd Review on BA
Bottle to Pils
22oz
Purchased from Alpine Brew Pub
App- Big fluffy two finger white head with a clearer yellow color. Nice spiderweb of lace down the glass.
Smell- Fresh cut grass with damp citrus. Its a little bit of awkward fruits and malts with a good hop bite.
Taste- It's a good pilsner. Nice balanced flavors with a citrus punch, a little hops and some tasty malts. The spice isnt all that abundant but rounds out the profile with a little yeasty bread.
Mouth- medium bodied and it borders on high carbed. Nice citrusy, piney, bread taste.
Drink- Hmmm... Tasty pilsner. Big flavorful and clean. I'd have this one again. I like a lot of what Alpine does and this does it again.
★
706 characters

4.7
/5
rDev
+21.1%
look: 4.5 | smell: 4.5 | taste: 5 | feel: 4.5 | overall: 4.5
This is a revelation for me. I sure heard of well crafted pilsner and lager of all types. But this one is a slap in my hophead face.
Amazing color after a heavy poor into a pint glass. Golden tones with some light coppery shadows.
One finger head with no retention. Some great lacing and citrusy ,piney aromas right up front.
I suspect Nelson hops and some specialty wheat grain were used.
I can't be sure, and I love that! Really surprising brew.
Light to medium body. Hop bite join the aromas up front. Slightly sour and tangy in the middle. extra dry finish.
Thirst quencher for the big dudes:)
I wish I could find this easily in LA.
A MUST TRY!!!
★
654 characters

4.33
/5
rDev
+11.6%
look: 4.5 | smell: 4 | taste: 4.5 | feel: 4 | overall: 4.5
A- Clear golden color with a tall white head that sticks around and clings to the sides of the glass.
N- Pretty bitter aroma at first with grapefruit rind and pine resin. Also some spice in there, and a hint of purple grapes. There is somewhat of a saison character to it. No malt in the nose.
T- There's an unexpected purple grape flavor that I assume is from the hops. Very vinous. The malt is very light and crisp, letting the hops command your attention. Bitter pine resin and grapefruit rind compliment the grape fruitiness while juicy citrus quenches the thirst. Fairly long fruity finish with bitter resins acting as hoppy time release capsules. Again, there is something saison-like about the finish. Light grain comes out a little in the aftertaste.
M- Light-bodied, moderate carbonation, with a crisp, semidry finish.
D- Overall, this is a sessionable dose of hops to the dome. The use of hops from New Zealand introduces some fresh flavors that any hophead will appreciate. To me, this is a cross between a light lager, an IPA, and a saison.
★
1,056 characters

4.22
/5
rDev
+8.8%
look: 4 | smell: 4.5 | taste: 4 | feel: 4 | overall: 4.5
A: The pour is a slightly hazed golden orange color with a finger of white foam.
S: Smells almost like an Alpine IPA. Big citrus and pineapple aromas to it initially. The floral hops start to come through more as the beers sits, and the bready malt and yeast also make their presence known.
T: A solid bread and malt base to the beer gives a touch of sweetness. The hops really carry it, however, and there is a nice mix of floral, earthy, and spicy hops with just a hint of citrus and grass.
M: Medium in body with a moderate carbonation.
O: A very well made and easy to drink beer from Alpine. Nice to see this one being bottled.
★
635 characters
2.84
/5
rDev
-26.8%
look: 4 | smell: 2.5 | taste: 3 | feel: 3 | overall: 2.5
Chilled bottle into a glass.
A: Pours a hazy apricot body with a finger of well-retaining off-white head. It leaves huge swaths of sticky lace down the sides of the glass.
S: As with other Alpine beers, this is hop-forward: fruits (orange peel, tangerine) and herbs define the nose. The malt is understated; I was hoping to smell some distinct pilsner malt, but it's instead an indeterminate doughiness that I find unremarkable.
T: The taste also lacks any distinct malt flavors. It's bready with a faint taste of yeast. The flavor is mostly left to the hop profile, which doesn't pop as much as their other beers. Maybe it's an old/faded bottle. But anyway, there's a fruity touch that reminds me of orange peel and tangerine. It's lightly herbal, even spicy in the finish.
M: Light-medium bodied, but the flavors meander a bit and lack punch. It's not as dry as Alpine's other beers (seems like there is some residual sweetness that accentuates the fruity hops), but there's a mild bitterness in the finish that imparts that impression.
O: Unremarkable. For Alpine, this is a surprise.
★
1,097 characters

4.1
/5
rDev
+5.7%
look: 4 | smell: 4 | taste: 4 | feel: 4 | overall: 4.5
Newly bottled, this Emerson pours a hazed goldenrod and with a dense inch or so of white foam. Offers good retention and some speckled lace.
Nose of yeast and some odd hop flavors. Somewhat earthy yet with a citrus twang. An odd cat from New Zealand as the story goes. A bit vinous in nature with a touch of lemon nonetheless.
Flavor is bready and full of malt yet there is no sweetness upon the palate. Touch of lemon and lavender. Floral spices overwhelm the palate, albeit in a good way. Yeast and spice notes are present yet not. An interesting brew to say the least.
Offers notes of a spicy saison mixed with a summer beer yet with a pils backdrop.
★
656 characters
3.58
/5
rDev
-7.7%
look: 4 | smell: 3.5 | taste: 3.5 | feel: 4 | overall: 3.5
Thanks to dyan for sharing this growler courtesy of ArthurPendragon. The growler came complete with his old avatar pasted to the lid.
The color is copper-hued amber, slightly hazed from the shipping/travel (it arrived just before dyan drove up with it), and the body is topped off by a huge 3-finger sticky and fluffy head that leaves huge thick clumps of foam smattered all over the sides of the tulip from which I drink.
Spicy, earthy, and funky hops from New Zealand remind me of a Czech pils. There are some bready and earthy notes from the yeast and breadyness from the malts round it out. The taste is pretty much an extension of the aroma, with some welcome additions. Grassy hops augment the spicier ones from the aroma, and the mid palate is extremely herbal, bringing on even minty hints. Bready malts again play a large role.
There is a bit too much unpolished yeast character, in my opinion, as the earthy and bready character detracts from the clean feel and aroma that I feel should accompany a great pils. Really glad I got to enjoy this with some great company.
★
1,080 characters

3.73
/5
rDev
-3.9%
look: 4.5 | smell: 4 | taste: 3.5 | feel: 4 | overall: 3.5
A wonderful surprise, courtesy of ArthurPendragon, that I shared with the guys on the first night of our tasting.
Light orange with a dense, white head with excellent retention and beautiful lacing, this is a gorgeous pilsner. The nose is rather intensely hoppy with a fruity, herbal hop character with mint being most noticeable. A little citrus as well. A moderate undermodified malt character is present, with some bready, doughy character, this is clean with a definite aroma of yeast.
The palate opens intensely hoppy with moderate green, herbal hop character, minty and even a little parsley? Mild sweetness, raw malt, a little caramel, fresh baked bread, this is drying and spicy on the finish. Uniquely hoppy with spices, mint and some fruit. Medium-light in body and moderately carbonated, this is moderately bitter on the finish. Enjoyable stuff.
★
858 characters

4
/5
rDev
+3.1%
look: 4 | smell: 4 | taste: 4 | feel: 4 | overall: 4
Growler from ArthurPendragon. Cheers.
The body is a hazy amber-gold, topped by two inches of lasting head.
There's quite a bit of musty white wine fruitiness on the nose, along with more earthy/grassy notes typical of the style and a touch of citrus fruit. A bready malt profile resides beneath. Quite hoppy for a pils, but it's not in the same league as Alpine's IPAs. The overall hop profile here is unique, definitely not traditional for the style.
The flavor profile is similar, with a lot of earthy, grassy hops supported by a fairly substantial but dry bready malt backbone. White wine grapes comes to mind again. There's a touch of citrus, a bit orange-like. The finish is dry, exhibiting a firm bitterness. Fairly full-bodied, this is somewhere between a traditional German pils and an American imperial pilsner/IPL.
★
827 characters

4.27
/5
rDev
+10.1%
look: 4 | smell: 4.5 | taste: 4 | feel: 4.5 | overall: 4.5
3/18/11
Growler shared by ArthurPendragon, thanks! Snifter.
A: Hazy yellowish orange with a prodigious frothy white cap which exhibits excellent retention and wicked lacing.
S: Hops are bright, vibrant, and lightly spicy, imparting notes of grass, orange, grapefruit, lemon, and tangerine. Malt is reminiscent of graham cracker. There's a faint sulfur note. Clean, with no noticeable esters or diacetyl. Very nice aroma.
T: Firm upper moderate bitterness up front with big grassy notes accompanied by sulfur and a touch of mineral. I detect light citrus in the form of lemon and orange. Malt is cracker-like. Bitterness waxes as the flavor progresses toward the finish. No evident alcohol. Finish is clean, crisp, bitter, and dry. Hops impart nice fruit notes, but the beer is very clean.
M: Medium light in body with upper moderate carbonation. Mouthfeel is dry, crisp, and sticky.
Overall: A well done pilsner. Refreshing and clean, with great hop flavor and aroma.
★
973 characters
4.07
/5
rDev
+4.9%
look: 3.5 | smell: 4 | taste: 4 | feel: 4 | overall: 4.5
Presentation: After a whole day at the nearby Palomar Power Station in Escondido it seemed too good an opportunity to pass on the chance to share a brew or two with my good friends xlperro and AleOha at the equally friendly O'Briens. I avoided opting for a 'de rigueur' IPA and thanks to xlperro's guidance I managed to try the latest and greatest from Alpine, a brewery I have a lot of respect for.
Appearance: First inspection had me thinking that it had a very mild milky tone to it. Yet as the Pint warmed and the condensation was absorbed by the sweaty palms, the turbidity seemed to magically disappear to reveal a very sharp looking Pilsner-like body with a distilled pale golden torso. Talcum white head wasn't large, but it lasted for a decent amount of time and did leave a minimal amount of discreet lacing.
Nose: One of the best parts of this brew. I love Pilsners and Lagers on hot days, but often the nose on many Teutonic and Czech offerings can be aggressive and gregarious and even worse have annoying cabbage, metallic and acrid sulfur tones. The Emerson has a much softer aroma, which benefits from a lovely hop and fruity character with some bold floral aspects which all meld into a light toasted malt background. Exceptionally easy on the nasal passages, and very inviting. Nicely done.
Taste: As with the nose, equally the best part of this brew, for want of a better description; it has all the best parts of a tasty Euro Pilsner/Lager without any of its aggressive over the top sharpness and is bettered with a lovely well attenuated hop bitterness. The edges are smooth, the character is aerodynamic and the profile has no sharp edges whatsoever. Very clean and incredibly well put together. Very tasty……I'm sure the fact that I needed a quick first pint I missed more of the subtle complexities of this one, but that is its bonus, it is one of those that beers that drinks well and sits in the back rows when needed, but when put into the limelight, it can manage the stage with equal aplomb. I love the way that this Lager breaks new ground, quite something in the seemingly borderless beery region of SoCal.
Mouthfeel: The carbonation was just enough. Enough to support this brew, but not enough to blow you up or detract from its fine drinkability. Perfectly balanced and wholesome.
Drinkability: Highly Quaffable. I managed the first Pint in no time at all. A simple enough brew, not complex, what it does do - it does well. Clean and simplistic, yet highly effective lines and exceptionally refreshing. The soft edges on this Lager make for a great Session brew. Only my Car and the long drive home prevented me from sinking these all night.
Overall: No beer stained illegible tasting notes on this one, I'll be honest enough to say that it is all from memory, but this is a very memorable brew, the ones from Alpine usually are. A very clean crisp refreshing Lager with a tasty palate that is softer than most Pilsners. Well worth trying if seen. Props to Alpine again, the one craft Brewery overlooked by its bigger and more famous neighbors. Don't make the mistake of overlooking this one if you see it.
★
3,166 characters
Emerson from Alpine Beer Company
87
out of
100
based on
40
ratings.