Dismiss Notice
Dismiss Notice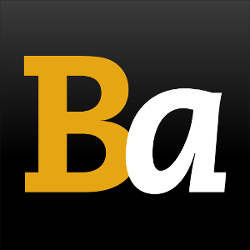 Join Our Email List →
And we'll send you the latest updates and offers from BeerAdvocate, because knowing is half the battle.
Dismiss Notice
Blu Bu
- de Garde Brewing
| | |
| --- | --- |
| Educational use only; do not reuse. | |
Reviews: 15 | Hads: 182

4.26
/5
rDev
+3.1%
look: 4.75 | smell: 4.25 | taste: 4.25 | feel: 4 | overall: 4.25
The aroma hits of tart Warheads, blueberry.
The flavor follows with medium tart, blueberry candy, blueberry peel, and a familiar Berliner sharpness of tart flavors.
★
165 characters

4.3
/5
rDev
+4.1%
look: 5 | smell: 4.25 | taste: 4.25 | feel: 4.25 | overall: 4.25
750 mL bottle poured into a nonic pint glass.
Pours light purple with a ton of fizziness. A noisy head develops but rapidly dissipates, leaving a lively looking beer with a bubbly top. Carbonation is immense and relentless. This looks something deliciously fruity. 5
Smells jammy, rich with tart, acidic fruit, and some lemon. 4.25
Taste carries over the nose's offerings. Jammy and tart fruit flavor that is intense and similar to biting into a an underripe raspberry or blueberry. Lemon citric notes carry things out. It's a simple recipe but nice. 4.25
Tart and acidic with a light, well-carbonated body. Drinks like a charm, tart, but incredibly sippable. You'll want to keep drinking. Refreshing to boot. 4.25
Great fruit character and a good mid-Sunday beer if you are planning lots of new beers for New Beer Sunday.
★
828 characters

4.58
/5
rDev
+10.9%
look: 4.75 | smell: 4.75 | taste: 4.5 | feel: 4.5 | overall: 4.5
Another great one from de Garde.
Jammy and funky not too sour and not too sweet, nice carbonation.
Overall this was pretty decent and would recommend.
★
153 characters

4
/5
rDev
-3.1%
look: 4 | smell: 4 | taste: 4 | feel: 4 | overall: 4
I really do enjoy de garde beers. After having so many tho it is hard to keep them totally enjoyable. The sourness is off the charts and makes it very hard to finish a bottle on your own. Blu bu was a bit of a disappointment. I am a hige fan of blueberry everything and this tasted like all the other de gardes for me. . . . just sour
★
334 characters
4.31
/5
rDev
+4.4%
look: 4.75 | smell: 4.25 | taste: 4.25 | feel: 4.5 | overall: 4.25
Not as much blueberry scent in the nose or body. Color is great, I'm just use to the body and finish being full of more fruit flavor. Do not age this beer! Drink soon before fruit flavor tapers off! "In my opinion"
★
214 characters

4.4
/5
rDev
+6.5%
look: 5 | smell: 4.25 | taste: 4.25 | feel: 4.75 | overall: 4.5
Holy gorgeousness this is straight blueberry jam in a glass, hazy and needs to be on my pb&j sandwich. Aroma is Blu and berry - combined. it smells almost as good as it looks, tons of fruit and tons of tartness. Blueberry for sure but it's a light - just a bit of fruit tartness. Taste is a nice blend of tart blueberries and sweet fruit sugars. Feel is light and crisp, awesome carbonation - goes down a little too easily. Overall a really delicious beer that I would love to revisit again
★
490 characters

3.41
/5
rDev
-17.4%
look: 4 | smell: 3.5 | taste: 3.25 | feel: 3.25 | overall: 3.5
750 mL bottle poured into a snifter.
Appearance - Very pretty red body. Medium white head.
Smell - There's that classic de Garde yeast. Strong yeast. Some fruitiness. Lots of acidity.
Taste - Man it's sour. Seltzer like flavor. Lemon and lime and aciditity. A little bit of blueberry flavor in the back end.
Mouthfeel - Very light. High carbonated.
Overall - Overwhelmingly sour without the flavor to back it up.
★
425 characters

3.43
/5
rDev
-16.9%
look: 4 | smell: 3.5 | taste: 3.25 | feel: 3.5 | overall: 3.5
750ml bottle. Poured into a Toppling Goliath snifter 9/28/2014.
A- Dark purple-reddish body. If it were lighter in body, I'd say it was quite hazy, almost pulpy. Not much head to go around, and what does show up is has a dark pinkish hue that disappears quite quickly. No lacing. [4]
S- Quite odd, hard to describe but I'll try my best. There is a odd funk, like rotting fruit, which could very well be the blueberries; complemented by the grainy wheat sweetness that has a bit of sharpness to it, some oak and a good bit of yogurt. I'm not sure what to make of the fruit contribution here, but it doesn't appeal to my senses as much as I expected it to. [3.5]
F- A bit more of blueberry flavour shows up here, mostly a lot of tart yogurty lactate and a bit of oak. And not a lot else. Flavour profile lacks depth- it essentially transitions into a watery, tasteless profile on the back-end which was quite a surprise. [3.25]
M- On the thinner side, not a ton of substance. Carbonation is light. It does have a nice dry oak finish that plays well with the initial yogurt lactate. [3.5]
O- For my first taste of De Garde, this was pretty disappointing. But I already knew this is considered one of the lesser rated ones. Got to start somewhere, right? [3.5]
★
1,261 characters

4.24
/5
rDev
+2.7%
look: 4.5 | smell: 4.25 | taste: 4.25 | feel: 4 | overall: 4.25
Shared with JLindros and Threelions.
A - Poured into a Kate the Great tulip a beautiful light violet hue, with next to no head that leaves faint wisps. 4.5
S - Aromas of blueberries in a pint, light sweetness, good Berliner notes, no wheat, light skins, not sour more so sweet. 4.25
T - Taste is lightly sour, great blueberry skin, not really sour, sweet blueberry, floral, delicious blueberry flesh. More like a blueberry wild or sour than a Berliner. Interesting that how little it tastes like a Berliner. Light buttery oak. 4.25
M - Mouthfeel is a little light on the carbonation. 4
O - Overall this beer was super blueberry colour with lovely notes of blueberry. Not quite a Berliner but yeah, quite tasty. 4.25
Serving Type: Bottle
★
742 characters

3.5
/5
rDev
-15.3%
Pour is dark maroon with a lot of pink head. Nose has a moderate blueberry, yeast presence, faint plastic, dusty notes and a touch of lactic. Taste is fairly assertive blueberry, a hint of plastic, vanilla lacto, notes of yeast, strong sourness and a bit of acetic acid. Typical de garde body, lighter with a strong carb and a bit prickly and puckering in the back.
★
368 characters

4.23
/5
rDev
+2.4%
look: 4.25 | smell: 4.25 | taste: 4.25 | feel: 4 | overall: 4.25
Another thanks to rudzud for sharing.
Dark blueish purple, murky, no head. 4.25
Nose is lighter than I expected, mild blueberry skin and little flesh, mild baking spices, little cardamom etc, deep blueberry skin, mild sour wheat and funk. Faint oak. 4.25
Taste semi sweet but dry, tart blueberry skin, big tart blueberry, flesh, green fruit like, mild bitter note. Some creamy lactose, tart, creamy wheat, big buttery oak, little floral blueberry. Finish sticky flemmy mild tasty acidity, more blueberry skin, juicy blueberry, plenty buttery oak lingering. 4.25
Mouth lighter bod, little flemmy creamy, big acidity, light carb. 4
Overall pretty nice. 4.25
★
660 characters

3.52
/5
rDev
-14.8%
look: 3 | smell: 3.5 | taste: 3.5 | feel: 4 | overall: 3.5
Bottle pour at Woodshop 8 held at The Hermosillo in Los Angeles, CA.
Pours a murky light red with a foamy off-white head that settles to wisps of film on top of the beer. Small dots of lace slowly drip into the remaining beer on the drink down. Smell is slightly sour and tart with malt, grain, and slight blueberry aromas. Taste is much the same with sour and tart grain and subdued blueberry flavors on the finish. There is a medium amount of acidity on the palate with each sip. This beer has a good level of carbonation with a crisp mouthfeel. Overall, this is a pretty good beer that is tasty but the blueberry presence in this one is fairly subtle.
★
655 characters

4.5
/5
rDev
+9%
look: 3.5 | smell: 4.75 | taste: 4.5 | feel: 4.5 | overall: 4.5
Wow, no reviews yet? Thank you, Brian.
Pouring a mildly hazy crimson with a thin, pink head that recedes rapidly, this looks pretty good! The nose is a riot of fruit and the base beer. The blueberries are expressed exceptionally well, bright, jammy, fragrant and with a mild skin tannin note. Heck, the depth and nuance here is what you'd expect from a top notch lambic. The Berliner base is clear, wheaty and yogurty, with some husk as well. A moderate funk is also present,a blend of clove, must, sweat and blue cheese. Excellent.
The palate opens with a big fruity flavor, bright, jammy blueberries, mildly tart and with a blend of skin bitterness and seed tannins. The Berliner base follows, with a very yogurty and mildly buttermilk-like flavor. Wheat is pronounced on the finish, with a blend of grain, bread and husk. Drying and fruity on the finish, the lingering blueberry flavor is amazing. Sourness is moderate, clean, lactic and refreshing. The funk I picked up on the nose is present to a milder degree, lending a touch of spice to complement the lactic sourness and the fruit. Excellent stuff. Oregon has the best blueberries I've ever had, and this beer captures their essence marvelously. Head and shoulders above other fruited Berliners I've had recently.
★
1,276 characters
4.73
/5
rDev
+14.5%
look: 5 | smell: 4.5 | taste: 4.75 | feel: 4.5 | overall: 5
So much blueberry. Very pretty. Smells like barrels and funky yeast. Not too sour. Not sweet. Easy to drink and to have a few glasses of. Very dry tasting and feeling.
★
167 characters

4.5
/5
rDev
+9%
look: 4.5 | smell: 4.5 | taste: 4.5 | feel: 4.5 | overall: 4.5
Batch 3
A: Brilliant red color with a pink head.
S: Light sour bu aroma. The base beer actually still comes through in this variant. Grassy.
T: Lightly fruity. Blueberry.
M: Moderate acid.
★
194 characters
Blu Bu from de Garde Brewing
89
out of
100
based on
15
ratings.