Dismiss Notice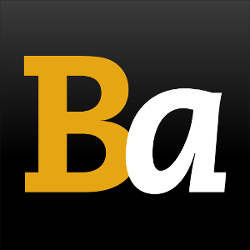 Site Performance Updates: We're aware of the nightly site outage, and working on resolving the issue.
Sierra Blanca Alien Wheat
| Sierra Blanca Brewing Company (Rio Grande)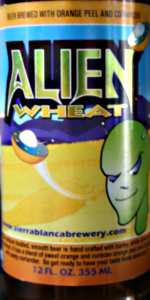 BEER INFO
Brewed by:
Sierra Blanca Brewing Company (Rio Grande)
New Mexico
,
United States
|
website
Style:
American Pale Wheat Ale
Alcohol by volume (ABV):
4.60%
Availability:
Year-round
Notes / Commercial Description:
This medium bodied, smooth brew is hand crafted with barley, white wheat, red wheat and Czech Noble hops. It has a blend of sweet orange and curacao orange peel and finishes with zesty coriander. So get ready to have your taste buds abducted!
12 IBU
Added by ZenAgnostic on 03-15-2011
Reviews: 8 | Ratings: 25
3.87
/5
rDev
+25.2%
look: 3.5 | smell: 4 | taste: 4 | feel: 4 | overall: 3.5
This beer is somewhere between a hefeweizen and a marzen. The label states it is brewed with orange peel and coriander, and the orange is barely noticeable, but the coriander is strong. The beer is orangish in color, has a nice mix of carbonation and head, and not too bitter for a citrus beer. Picked this one up on a whim and it definitely delivered. Not bad, worth a try, one of the best and coolest labels for a beer ever.
★
426 characters

3.42
/5
rDev
+10.7%
look: 3 | smell: 3.5 | taste: 3.5 | feel: 3 | overall: 3.5
Poured from a bottle into a pint glass.
Look – light golden color, slightly hazy, with about half a finger's worth of off-white colored slightly frothy foam that dissipates somewhat slowly.
Smell – very refreshing smelling. I can only barely make out the orange peel touted on the label, but the coriander comes off pretty distinctly.
Taste – much like the smell, the coriander comes off pretty prominently, but also does the wheat taste in general. I still couldn't be able to pinpoint the orange peel if I had to. Barely no bitterness to the brew.
Mouthfeel – definitely leans more toward the watery side, but not absurdly so.
Overall – not a bad brew at all. Not terribly intriguing, but not boring either.
★
728 characters
2.58
/5
rDev
-16.5%
look: 3 | smell: 2.5 | taste: 2.5 | feel: 3 | overall: 2.5
Poured from a 12 oz. bottle into a pint glass. It pours clean and light yellow. About an inch of bright white foam sits on top and disappears quickly with no lacing to speak of. Very mild aroma. Some orange and crackers. So light in taste it made me look again at the bottle to make sure it didn't say Topo-Chico on it. Good carbonation and light bodied. This is a good beer to have in the fridge when it's 100 degrees outside. Unfortunately it's early December in northern New Mexico and about 30 degrees.
★
506 characters

2.81
/5
rDev
-9.1%
look: 3 | smell: 2 | taste: 3 | feel: 3.5 | overall: 3
Medium white head over a clear golden colored wheat beer.
Weak scents coming off this beer, but they are there; weak sour citrus, weak grains, light yeast.
Light taste with a light grain malt mostly, with maybe grass, something weak in the background that gives it a light bitterness.
Finishes with a light dry sourish aftertaste.
Nothing bad, should just have been richer, more of what it offered.
★
402 characters
2.76
/5
rDev
-10.7%
look: 3.5 | smell: 2.5 | taste: 2.5 | feel: 3.5 | overall: 3
A: Good head, lacing, clear yellow tint. Looks like a typical mostly filtered wheat beer.
S: Oranges, generic air freshener, some weak bread like aromas.
T: Watered down orange juice, mild sour wheat tang.
M: Well-carbonated & quaffable, no big flavors getting in the way here.
O: A very generic wheat beer. Aside from the spices, there are no memorable malt or hop flavors.
★
382 characters

3.11
/5
rDev
+0.6%
look: 4 | smell: 3 | taste: 3 | feel: 3.5 | overall: 3
Strange, acidic wheaty beer. Hard to say what's going on here, but a faint hint of Hefeweizen flavors surfaces on the occasional sip. Quite sharp with citrus, but tails off into a woody yet chalky flavor. Nose is orange with a touch of perfume or rose water. Very thin, a golden color in the glass. I thought it was clean but there does seem to be a few dabs of sediment well settled at the bottom for the final pour.
Nothing to seek out, but drinkable if you are in the mood for a sharp rather than mellow lager, preferably without much in the way of hops.
★
558 characters
3
/5
rDev
-2.9%
look: 3 | smell: 3 | taste: 3 | feel: 3 | overall: 3
(12oz. Bottle from Total Wine Desert Ridge). I'm not sure what an "American Pale Wheat is; this is a witbier. Pours a hazy golden color with white head and moderate carbonation. Aroma has juicy orange, coriander, and wheat. Taste is semi-sweet with some bitterness. Medium bodied with slick texture. Slightly bitter finish. Nondescript beer.
★
341 characters
3.13
/5
rDev
+1.3%
look: 3.5 | smell: 3 | taste: 3.5 | feel: 4 | overall: 2
Appearance - Crystal straw body with some visible carbonation. Thick white head with decent retention. Some hazy sediment at the bottom of the bottle.
Smell - Lots of grassy notes. Wheat. Small hints of citrus peel.
Taste - Even more grass. A bit spicy. Extremely dry to the point that it's almost bitter. Slight metallic aftertaste begins to develop. Definitely interesting, and if I got used to the style I might rate it higher.
Mouthfeel - Very smooth from the carbonation.
Drinkability - This stuff is so bone dry that it's almost undrinkable by itself. However, after rating this beer, I paired it with Tilapia with capers on curry rice and the beer does an good job cutting through the oil.
★
708 characters
Sierra Blanca Alien Wheat from Sierra Blanca Brewing Company (Rio Grande)
-
out of
100
based on
8
ratings.