Dismiss Notice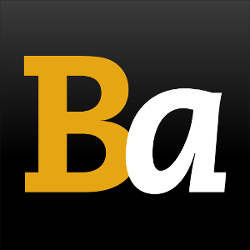 Site Performance Updates: We're aware of the nightly site outage, and working on resolving the issue.
All My Tomorrows
| Great Raft Brewing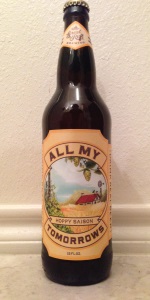 BEER INFO
Brewed by:
Great Raft Brewing
Louisiana
,
United States
|
website
Style:
Saison / Farmhouse Ale
Alcohol by volume (ABV):
7.00%
Availability:
Year-round
Notes / Commercial Description:
A modern interpretation of a classic farmhouse ale that celebrates American innovation. We kicked tradition to the curb, adding a generous amount of rye and American Mosaic hops to create a rustic Saison that's earthy & fruity, with intense aromatics of juicy citrus.
Added by bmwats on 06-07-2014
Reviews: 10 | Ratings: 63

4.21
/5
rDev
+1.7%
look: 4.5 | smell: 4 | taste: 4.25 | feel: 4.25 | overall: 4.25
Bomber. Pours hazy medium gold with tall white fluffy head that lasts. Grain, light fruit, yeast in the aroma. Soft saison taste with a lil peppery citrusy hop bite, flavors come together very nicely. Sweet and hoppy and buttery with medium slippery mouthfeel. Very good saison, will get this one again.
★
308 characters

4.11
/5
rDev
-0.7%
look: 4 | smell: 4.25 | taste: 4 | feel: 4.5 | overall: 4
Rustic, Bitter, Yeasty, Crackers
A trio of hops to elevate this brew, Bravo, Citra, & Mosaic ... all of which add just enough bitterness though the depth of flavor is the real show. A little rough around the edges though crisp and snappy, just what we look for in a Sasion. The extra hoppiness and grainy rye character are a bonus. Exceptional.
STYLE: Saison | ABV: 7.0% | AVAILABILITY: Year-round
Review from BeerAdvocate magazine issue #92 (Sep 2014)
★
457 characters

4.22
/5
rDev
+1.9%
look: 4.25 | smell: 4 | taste: 4.25 | feel: 4.5 | overall: 4.25
A - Pours an orange/citrus body with a frothy two finger head. The body is slightly opaque and the head leaves a bit of retention.
S - A whiff of citrus and earthiness. Yeast & white pepper as well.
T - The taste follows the nose. The citrus and pepper spices play well together. Backed up by the earthiness and a a bitter finish.
F - Light bodied and medium to high carbonation. Has a dry, effervescent mouthfeel, not cloying and a dry finish.
O - Very impressed with this beer. Just a straightforward citrusy saison with an earthy backbone.
★
550 characters

4.29
/5
rDev
+3.6%
look: 4.25 | smell: 4.5 | taste: 4.25 | feel: 4 | overall: 4.25
Poured into tulip from growler, nice 2 finger head. Hazy golden, nice head retention. Smells Belgian, nice yeast profile even with the hop editions. Citrus to the nose along with standard Belgian yeast esters. Taste of citrus, mango and then a mild peppery finish. Semi dry finish with a great mouthfeel. This is one of my favorites from great raft. This and grit and grace need to be canned
★
398 characters

4.02
/5
rDev
-2.9%
look: 4 | smell: 4.5 | taste: 3.75 | feel: 4 | overall: 4
A: Hazy golden blush, with a small, quickly dissipating head. Slight lacing.
S: Mango meets Sour Skittles, lemon juice concentrate, and grapefruit with other citrus. Deliciously tantalizing and very nontraditional.
T: Flavors of fruit are a bit more muted. More of a generic (but pleasant) citrusy flavor on the front of the tongue, followed by a forest-like fresh wood taste, and ending off-dry with just the right amount of spiciness to tie it all together into a pleasant experience. Ends slightly sweeter than I'd expect in a saison, but pleasant nonetheless.
M: Nice level of carbonation; goes down as a shower of bubbles. Medium feel in the mouth.
O: Best Louisiana saison I've found in my time here, and a pain in the ass to get on the North Shore - but worth it nonetheless! The Mosaic hops add a novel element, making this a decidedly American take on the style. Only knock I have on this is the slight residual sweetness.
★
946 characters
3.73
/5
rDev
-9.9%
look: 4 | smell: 3.5 | taste: 3.75 | feel: 4 | overall: 3.75
A: poured into an Ommegang Tulip to a slightly hazy straw yellow topped by a three finger dense white head that retains well and leaves excellent lacing
S: smells of tropical fruits, some phenols, spicy yeast and a little citrus
T: taste is tropical fruits, citrus, some honey like sweetness, some earthiness, fruity esters, and spicy yeast. swallow is more spicy yeast, slight fruity esters, some dry maltyness and a little lingering citrus
M: lighter side of medium on the palate with soft and slightly prickly carbonation. this beer has a semidry finish
O: Overall a pretty good beer. Not sure how I feel about it being called a Saison but it's pretty solid. It has good flavors and complexity along with some nice yeast driven notes but I don't get the idea of making it hoppy.
★
790 characters

4.22
/5
rDev
+1.9%
look: 4.25 | smell: 4 | taste: 4.25 | feel: 4.5 | overall: 4.25
look: wonderful light golden color with a think pillowy head.
aroma: flowery saison smell
taste: lightly bitter and flowery. Effervescent and light.
Overall: excellently drinkable beer.
★
188 characters
3.9
/5
rDev
-5.8%
look: 4 | smell: 4 | taste: 3.75 | feel: 4 | overall: 4
I love what Great Raft is doing for North Louisiana and quite a fan of their beers. All My Tomorrows lets me down a little in that it strikes me more as an IPA, though a good one. It pours a beautiful bright orange with a white, rocky head. Nose is all hop and orange peel and quite nice, but missing the floral and spice that I love about saisons. Taste follows the nose rather closely, nice balance of hop and citrus, but again just missing on the malt end. If you told me it was an IPA, I'd say it was a good one, as are Commotion and Grace and Grit.
★
558 characters
3.89
/5
rDev
-6%
look: 4 | smell: 3.75 | taste: 4 | feel: 4 | overall: 3.75
Poured into a snifter from 22oz
A- poured a hazy, straw-yellow with a huge foamy head that fades fairly quickly. Medium amount of lace left behind.
S- a little breadiness, some grass, honey, mild floral hop aroma
T- some more bread from the rye I presume, cracker, lemon peel and other citrus varietals.
M- huge carbonation, prickly finish.
O- nice farmhouse style ale with some added American hops to punch it up.
★
417 characters
4.77
/5
rDev
+15.2%
look: 4.5 | smell: 5 | taste: 5 | feel: 4 | overall: 4.5
Juicy Mosaic hops dominate the nose along with some esters from the Saison yeast. Very, very juicy mouthfeel from the hops with tropical fruit and grapefruit dominating. This dries out quite nicely and leaves just a touch of rye in the back. Loved it.
★
251 characters
All My Tomorrows from Great Raft Brewing
88
out of
100
based on
10
ratings.