Grand Arbor
| Southern Tier Brewing Company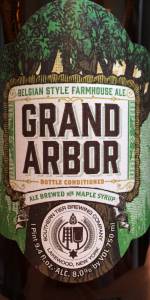 BEER INFO
Brewed by:
Southern Tier Brewing Company
New York
,
United States
|
website
Style:
Saison / Farmhouse Ale
Alcohol by volume (ABV):
8.00%
Availability:
Winter
Notes / Commercial Description:
No notes at this time.
Added by JimmyFlatRock on 01-10-2014
This beer is retired; no longer brewed.
Reviews: 55 | Ratings: 286

4.07
/5
rDev
+6.8%
look: 4.25 | smell: 4 | taste: 4 | feel: 4 | overall: 4.25
750ml poured into a snifter. DOB 12/04/13
A: Pours a hazy golden orange with a fluffy white head on top. Leaves some solid lacing along the sides of the glass. Too opaque to see any visible carbonation.
S: Loads of Belgian qualities right off the bat on this one. Banana and clove are dominant along with a bit of orange peel. Slight peppery spice in the backend. Maple syrup is detectable but would be difficult without knowing it was there.
T: Reminds me a bit of a banana split, with the combination of yeast and sweetness of the maple syrup. Isnt overly sweet but instead compliment the Belgian qualities. Hops do assert themselves adding a bit of uniqueness to the beer.
M: Medium to full body with a solid creaminess to it. Low to moderate carbonation. Alcohol is well hidden on the palate. Finish is mostly crisp with a touch of stickiness.
Overall nice to see Southern Tier bottling some of the Belgian one offs they have brewed recently. This is a good start in the Belgian arena and I look forward to trying more.
★
1,031 characters

4.43
/5
rDev
+16.3%
look: 4.25 | smell: 4.25 | taste: 4.5 | feel: 4.5 | overall: 4.5
We crack a bottle, pouring a murky, muddy-orange brew into our Founders snifters. A solid two and a half finger tall tower is created to match, consisting of massive milk bubbles suspended in an indiscernibly finite latticework of cork colored foam. This shows excellent retention, leaving thick, organic patterns of lacing around our glasses. A chill haze cuts clarity, but no sediment is noted through the first half of the bottle. Carbonation appears to be active. The aroma offers bright esters, dank vinyl resins, clean Belgian yeastiness, soft pale, wheaty, and Munich maltiness, lemon and orange peel effervescence, brown sugar sweetness, vanilla and candied maple sugars, cloven and peppery phenols, sticky nougat chew, raw honey, lavender florals, and light but spicy and grassy hops. Booze becomes more pervasive with warmth, but is at no point overwhelming. Our first impression is that the flavoring is wildly robust, vegetal, and earthy, with nice crispness and dryness to offer an abrupt but satisfying finish. As we sip, the taste begins with bittering and biting citric orange rind, musk, sawdust, black pepper and nutmeg spiciness, cedar earthiness, subtle maple sugars, sourdough breadiness, white sugar sweetness, generic chemical phenols, and bright banana esters. The middle hits with the highest peak of booze in the sip, accompanied by bubblegum and banana bread esters, brown sugar sweetness, faint maple syrup sugariness, earthen clay, airs of vegetal metallics, salted grain, and chlorine fumes. The end arrives with mild floral and earthen hoppiness, mineral-laden well water, mildly solventy booziness, plastic phenols, tin, spice of curry, marjoram, sage, and thyme, basement mustiness, earthy barnyard essence, continued sweet estery airs, lemon zest, orange pulp, and bittered, drying yeatiness. The aftertaste breathes of browned bananas, peppery booze, chemical phenol bite, dirty pale and pilsner grain, gravel, pencil lead, crisp mineral water cleanse, bitter wheaty graininess, floral and lightly soapy hops, and distant echoes of those aromatic clovey phenols. The body is on the full side of medium, and the carbonation is solidly medium. Each sip gives nice slurp and smack, but a more watery cream, froth, foam, and glug. Finishing pop is curt and crisp. The mouth is initially slicked and coated, but this softly puckers away into bone dry astringency, with a fleeting acidic tartness to the tongue. The abv is stronger for the style, but the beer drinks nicely.
Overall, what we found to be the most enjoyable aspect of this beer was its big, big flavoring. Actually, we were quite surprised that this beer came from the Southern Tier camp. In our minds they have traditionally churned out deliciously suitable stouts and IPAs, but this seems to mark a veritable transition for them into more versatile and masterful brewery. The flavoring was spot on stylistically, hitting all of the right stops, while keeping the bitterness and overt acidity at bay. The maple sugars, while present, were a bit subtle, and more of a novelty as a selling point. They did add a bit more earthiness and spice, so they weren't a complete waste of the effort. With a higher abv it does deviate from the saison template a bit as well, but in no way does it take away from the tasting in the end. By keeping it dry and biting to the far reaches of the tongue it helps keep you coming back for more, and maintains a level of freshness and crispness throughout. This is truly a fantastic beer, but what makes it so fun is that it is from an American brewery, and they really make it their own by making it so robust and bold in each aspect of its being. We will be searching for a few more bottles of this tomorrow.
★
3,740 characters

3.73
/5
rDev
-2.1%
look: 4.25 | smell: 3.75 | taste: 3.75 | feel: 3.25 | overall: 3.75
Lots of naughty haze in a straw gold beer. The head is whipped up like egg whites; big and fluffy. Monstrous height in a pint glass, no less. Lacing is pretty.
Sponge-y breadiness with sweet pale malts and light funk. Light fruitiness with dry pear and tangerine and a hint of maple. Saison yeast has light nuttiness and a crude earthy aroma that works well. Enjoyable.
Retains sweetness and tanginess from the farmhouse yeast and malt combo. Belgian tartness is tight and gets pulverized by a big powdery yeast finish. Lots of dryness late, despite the sweet opening. Tinges of maple are late leftovers in the mouth. Alcohol is sweet, too, and cuts through mild bitterness. A little too romped with booze, but it's not arguing with me. It could use some oakiness, or something else to dry out the front half--not leave it up to the chalky yeast to do all the work. Still, it's unique and successful.
Mouthfeel is a little greasy and full. It's not your light and fluffy saison of typical measure. Booze is alarming in the headiness, and on the palate. It's okay.
I think this comes together just fine, even though it's not as delicate as I need it to be. Not bold, either, just heavy-duty. I'll let the Belgians brew the 8%-and-up saisons.
★
1,252 characters

4.1
/5
rDev
+7.6%
look: 4 | smell: 4 | taste: 4.25 | feel: 4 | overall: 4
On draft into a goblet at Aurora Brew Works. Poured a cloudy yellow/golden color with an off white head taking up the top 1/2inch of the goblet. Some earthy malt smells come from the glass as well as a sweetness. The Maple syrup that is added adds to the smoothness of the beer lightly and is not at all overpowering making this very easy to sip. As a Saison should be this has a very light feel to each drink. Wish I would have had time to have a second glass. It is interesting with the Belgian flavor and the maple syrup and I will certainly be picking one or two more of these up again.
★
590 characters

3.96
/5
rDev
+3.9%
look: 4.25 | smell: 3.75 | taste: 4 | feel: 4 | overall: 4
On tap at the George Street Ale House in New Brunswick, NJ. Served in a goblet.
Appearance: Straw yellow with about one half finger of white foam.
Smell: Yeasty spice with sweetness and a bit of hops.
Taste: What you would expect from the smell. Nice and sweet, with yeast and earthy oak and spice in the background. Some fruit and hops too.
Mouthfeel: Medium bodied with a crisp taste and finish.
Overall: Very nice. Would definitely drink again.
★
471 characters
Grand Arbor from Southern Tier Brewing Company
86
out of
100
based on
55
ratings.