Second Hand Smoke
| Midnight Sun Brewing Co.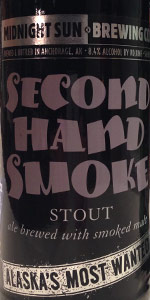 BEER INFO
Brewed by:
Midnight Sun Brewing Co.
Alaska
,
United States
|
website
Style:
American Double / Imperial Stout
Alcohol by volume (ABV):
8.40%
Availability:
Limited (brewed once)
Notes / Commercial Description:
No notes at this time.
Added by Kuaff on 10-13-2013
This beer is retired; no longer brewed.
Reviews: 11 | Ratings: 58
3.62
/5
rDev
-8.4%
look: 3.25 | smell: 3.75 | taste: 3.75 | feel: 3.25 | overall: 3.5
Not the best imperial stout I have ever had, but this one does have a few nice characteristics in it's favor.
A pitch black beer with no head after resting for 5 minutes. Body is somewhat thin; more of a drinker than a sipper. As the beer warms you can really enjoy the balanced smoke and malt flavors. I would consider this very lightly smoked, which I tend to prefer.
★
373 characters

4
/5
rDev
+1.3%
look: 4 | smell: 4 | taste: 4 | feel: 4 | overall: 4
Sat on this for just over a year, which I assume has mellowed it just a bit.
The beer pours a blackish brown color with good head retention and lacing. The nose is interesting, as I pick up an aroma of smoked meats, vanilla, dark chocolate and licorice, The flavor profile replicates the nose pretty quickly, though there's something of a burnt toast and dry bitterness in the finish. Mouthfeel is fairly full, though the beer is not at all heavy on the palate. The beer is fairly smooth otherwise, and the alcohol is well integrated into the flavor profile.
An interesting beer, for sure, but probably not something I could ever see myself ordering again. The licorice and hoppy bitterness combination is a bit much, and it seems to give the beer a slightly medicinal quality on the finish.
★
798 characters

3.89
/5
rDev
-1.5%
look: 4 | smell: 3.75 | taste: 4 | feel: 3.5 | overall: 4
A: The beer is essentially jet black in color; when held up to a bright light only ever so slight hints of redfish brown are visible at the extreme edge of the glass. It poured with a dark tan head that quickly died down, leaving only a minuscule ring of bubbles as a collar around the edge of the glass.
S: Moderate aromas of charred leather are present in the nose.
T: Like the smell, the taste is dominated by strong flavors of burnt and charred malts and also has notes of leather.
M: It feels medium- to full-bodied on the palate and has a low to moderate amount of carbonation.
O: This is not a beer for the faint of heart—in some aspects it seems even more intense than a rauchbier. The beer manages to hide its alcohol very well.
Serving type: bottle
★
766 characters

3.95
/5
rDev 0%
look: 4.5 | smell: 3.75 | taste: 4 | feel: 3.75 | overall: 4
Served in a snifter glass straight from a 22oz. bomber.
Appearance: Thick black color, almost like motor oil. Light bubble on the head maybe rising to a quarter inch tan.
Smell: Light chocolate scent, smells really good but too light. Roasted feel almost like a hot cocoa made with dark chocolate.
Taste: Dark chocolate feel with hints of BBQ, almost a smoked wood taste complimented with hard notes of chocolate.
Mouth: Chewy feel, definitely thicker than most stouts including the many imperial stouts that I have had. Not very sticky as I would like it to be but very passable.
Overall: This brew delivers...slight tweaking can be done and I am guessing that is where Barfliy might come in. A little pricey but still recommended. Enjoy with love my friends. Saud!
★
776 characters

3.93
/5
rDev
-0.5%
look: 4.5 | smell: 4 | taste: 4 | feel: 3 | overall: 4
Doopie brought this one out on beer night a couple weeks back. Cheers dude!
From a bomber into a snifter
IBU: 56
Second runnings of Barfly
APPEARANCE: Pours out black and yields a two finger, medium looking, creamy, dark tan or mocha colored head with good retention. Black body with no real carbonation evident. Head fades to a ring and a dotty wisp. Only the ring remains until the end and leaves some falling dots of lacing down the glass. Classic blacker-than-black Midnight Sun stout look, even on a medium ABV brew. Excellent.
SMELL: Bold nose of roasted malts, dark chocolate, smoked malt, sweet cream and some light caramel. Roasted and slightly burnt with some well measured smoked aromas worth well.
TASTE: Smoky and roasted malts up front. Burnt flavors and more smoked grain at the swallow with a bold and lingering finish is roasted and slightly burnt, with some bitter dark chocolate, sweet cream, a touch of leather, and some well measured though restrained smoked characteristics. Quality.
PALATE: Medium-thinner body and a touch watery on the palate perhaps. Goes down a touch prickly at the back and finishes somewhat sticky. Enough weight, but not quite creamy enough for the style.
OVERALL: Good stuff. Plenty roasted and flavorful for sure, with some well measured smoked nuances working well with the stout base. You can definitely tell this is Barfly's little brother; a weaker, non-barrel aged relative of equal but different character. The feel could be fuller, but that didn't take away from the enjoyment for me. Cheers doopie!
★
1,570 characters

4.25
/5
rDev
+7.6%
Thanks to Craft Shack for this bottle.
Pitch black the colour is, 2 finger head of tan, lacing...fine it tis.
Deeply malty, a mix of caramel and milk chocolate. Smoke? Sure is light in the nose.
Wow. The 2 malty tastes I get in the smell are greeted by a healthy smokey flavour that blends SO well with the malt both sweet and roasted. Some of that chocolate must be dark as I get some bitter notes in the finish and the long lasting aftertaste.
Medium body, ditto for the co2.
This is delicious. I see it is 56 IBUs, that explains the bitterness. The 8.4% abv is hidden rather well.
★
590 characters

4.5
/5
rDev
+13.9%
Poured from bottle into pint glass
Pours a dark almost black color with a brown head
Smokey, BBQ type smell
Taste does not let you down, chocolate, smoke, coffee flavor
Great beer, I wish there was more than 22oz in this bottle
★
233 characters

3.48
/5
rDev
-11.9%
look: 3.75 | smell: 3.25 | taste: 3.5 | feel: 3.75 | overall: 3.5
Bottle opened on 4.22.14
A - Pours a dark brown with a silky fine dark tan head that fades slowly to clumps on the edges.
S - Snokey, soy sauce, teriyaki.
T - Smooth chocolate, then a huge smokey finish.
D - Good carbonation with a medium body.
O - Smoke isn't my thing, but this one is lake fakey then most.
★
313 characters
3.95
/5
rDev 0%
look: 4 | smell: 4 | taste: 4 | feel: 3.5 | overall: 4
Poured from the bottle into a snifter glass.
Very deep walnut brown and almost black pitched body, very opaque and dark. Head makes about a light chocolate brown finger tall head. Settles to a good thick tan collar, and a very full puck if thin, but not oily or weak.
Classic smoked malts. Hints of beechwood, light smoke bbq and jerky like meats. A real nice hint of sweet coffee like cream roast, maybe even a bit of vanilla poking out on this too. Good balance as well.
A good interesting mix. Controlled tasting smoke in the palate, with some mixing classic large roasted malt. Slightly hot, and also a bit wet, but the flavors still carry. Some light coffee angles mix with the smoke and rich malt sweetness.
Overall a very neat stout in the realm, and the smoke character is also very well balanced and integrated in the beer. It just requires a little more depth.
★
875 characters
4.16
/5
rDev
+5.3%
look: 4.25 | smell: 4.5 | taste: 4 | feel: 3.75 | overall: 4.25
Poured from a bottle into a pint glass - I think I poured too vigorously on this one, the head took up nearly half the glass... it's delightfully dark, and the head is tinged a dark brown; if swirled, there remains a caramelly residue on the glass. The head was frothy and dissipated relatively quickly.
For the smell, I'm getting smokiness, certainly, but also a fruitiness that is primarily dates. Perhaps hints of chocolate. The taste also has the pungent fruitiness, but tempered by flavors of smoke and a dry coffee taste that lingers in the mouth. The body is relatively light on the tongue.
Overall, a very fine stout that blends a variety of flavors well - though I do keep coming back to the dates.
★
711 characters
4.6
/5
rDev
+16.5%
look: 4.5 | smell: 4.5 | taste: 4.75 | feel: 4.5 | overall: 4.5
A new imperial stout I found upon visiting Midnight Sun's brewery. I bought it, brought it home, and poured it into my snifter at cellar temperature.
I has a half-finger, creamy mocha-brown head that settles down quickly. Like Midnight Sun's other imperial stouts, it's unbelievably black.
The aroma has molasses, vanilla, coffee, milk chocolate, raisins, prunes, and just a sublte hint of smokiness. It's kind of yeasty-smelling, like dark rye bread dough. Smells very similar to Moscow RIS, actually, and that is a VEEERRRRY good thing.
Early in a sip, I taste molasses, bittersweet chocolate, and coffee, transitioning into a finish of earthy roasted malts that becomes increasingly smoky the longer I let it unfold. Indeed, it could be said that the aftertaste is a crecendo a smokiness. It is smooth and satisfying for sure. And after drinking it for a while, I find that the smokiness starts doing this little thing with vanilla... the two go off on their own and perform a little harmonized side-show number to my palate's pleasure. I applaud the performance, and an encore leads to another sip.
The feel is between medium and thick, I would say. And the carbonation is fairly high. It allows the flavors to come through splendidly, so I'm happy with it.
A seductively smoky stout.
★
1,294 characters
Second Hand Smoke from Midnight Sun Brewing Co.
86
out of
100
based on
11
ratings.