Dismiss Notice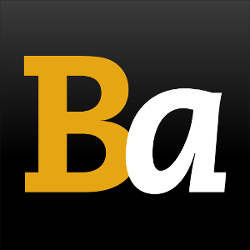 Site Performance Updates: We're aware of the nightly site outage, and working on resolving the issue.
König Ludwig Dunkel
| Kaltenberg International / König Ludwig International GmbH & Co.KG
BA SCORE
84
good
60
Reviews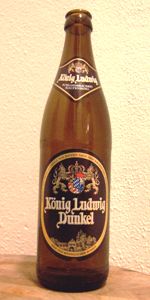 BEER INFO
Brewed by:
Kaltenberg International / König Ludwig International GmbH & Co.KG
Germany
|
website
Style:
Munich Dunkel Lager
Alcohol by volume (ABV):
5.10%
Availability:
Year-round
Notes / Commercial Description:
No notes at this time.
Added by BeerAdvocate on 12-15-2002
Reviews: 60 | Ratings: 183
4.41
/5
rDev
+18.5%
look: 4.5 | smell: 3.5 | taste: 5 | feel: 5 | overall: 4
The beer has a surprising white head for a Dunkles and a red-brown cola-like color with bordeaux-red reflections.
The mouthfeel is exact the right balance between creamy and sparkling.
The smell isn't too obvious, but if you search for it you recognize the smell of chocolate and a very hidden banana-like flavour.
The taste is of solid malt with a medium note of caramel and a slight note of eucalyptus.
Once poured it takes relatively long to get moldy. ( but it is a steady, almost linear progress - so drinking it fresh is always the best option)
It is absolutely drinkable in relative masses, but it has the slight over-average noticeable aftermath which is typical for Dunkel.
All in all, I like it very much - it's my standard afterwork-beer after all!
★
767 characters
3.68
/5
rDev
-1.1%
look: 4 | smell: 3.5 | taste: 3.5 | feel: 3 | overall: 4.5
Found notes on this brew from my winter trip to Germany while cleaning out my bag!
I got this brew in a cafe at the foot of Neuschwanstein castle.
Because of the cold and altitude, mugs of this were a welcome sight, hence why they likely had ads for it on all of the outdoor menus.
Came in a small (10 oz?) mug.
It's a dark brown color, nearly black, but still clear enough to see through. Minimal head on this one, which is rare in Bavaria, even for a dunkel.
Flavors are crisp and husky. A little bit of dark chocolate, but not that strong. Nothing special, but not bad either. Nothing off plus some pleasant (but mild) flavors thrown in can be the best thing in the world depending on the situation. Might make a good session brew.
Mouthfeel is very thin. This might be where the lack of head comes from. Keeps the drinkability high, but it's a little too thin compared to some of the best of the style.
This seems to be a pretty common brew as you head into this area of Bavaira. I see more ads and crates for Kaltenberg along the trainlines near the alps. The Neuschwanstein area is VERY touristy, so don't expect any bargains but this beer would make a good session brew if you picked up a 6'er around town.
(EDIT: On a later trip I found this to be much better. Perhaps the tourist trap I bought this one at just had an old keg)
★
1,337 characters
4.03
/5
rDev
+8.3%
look: 4 | smell: 3.5 | taste: 4 | feel: 4.5 | overall: 4.5
lovely malty dark lager from the brewery of the ancient bavarian kings ... classy dark brown colour, the head is not too foamy nor firm, the malty smell is matched by the palate which ends in a dark coffee like aftertaste ... the brew is remarkably dry (for a dark lager) and has a light to medium body, which makes is very accesible
★
333 characters
3.51
/5
rDev
-5.6%
look: 4 | smell: 3 | taste: 3.5 | feel: 3.5 | overall: 4
Paid .70EUR + .08EUR glass deposit for a 500mL bottle.
*Reviewed on 24.04.2005
The beer pours a classic chocolatey base with a medium white head, solid retention and some nice lacing to follow. One-dimensional smell of toasted malts…
The taste has a bit roasted malt depth than the smell, maybe a light touch of caramel but nothing more. The aftertaste is a bit weird of this one, but other than that it feels great in the mouth and delivery. It's a nice session dunkel, but I'd prefer Hofbrauhaus brand…
Final Thought: This is a solid dunkel with a little more depth than a Warsteiner's version…
★
612 characters
4.68
/5
rDev
+25.8%
look: 4.5 | smell: 4 | taste: 5 | feel: 4.5 | overall: 5
The appearance is a dark black just like a coca-cola. The smell is a great dark beer smell but not very noticeable unless you are really searching for it. This beer is a very addictive one you drink it get the bitterness the wetness then it dries out and you just want more and keep drinking it I always have to put just one or two in the fridge at a time or else it all disappears. The only downfall is it is only available in my region ounce a year on tap and is like searching for a needle in the haystack to find it bottled. The mouthfeel is pleasant and smooth with the bitterness leaving you addicted to it. For the german dunkel beers I have found few as strong of flavor as this.
★
687 characters
3.75
/5
rDev
+0.8%
look: 3.5 | smell: 3.5 | taste: 4 | feel: 3 | overall: 4
A transparent mahogony - soft cola color. Head comes up - head falls down leaving not much behing. Slight collar and decent beading. Nose is caramel - unsweet cola. Not much hops. Very appatising smell.
Taste is all present. Very malty with a roasted caramel aftertaste. Very drinkable with an OK mouthfeel.
★
308 characters

2.53
/5
rDev
-32%
look: 3 | smell: 2.5 | taste: 2.5 | feel: 2.5 | overall: 2.5
Coca cola - like colour, with dark reflexes. Decent foam, medium in compactness, with low persistence.
The smell is malty, with plums, very very light toasted, maybe a hint of citrus fruit, but in the end, not partularly conspicuous.
The taste is malty, and fruity (black cherry over all). Lightly toasted, and a hint of acidity. Some woody-bitter-astringency notes.
Medium body.
Bitter aftertaste, and malty, not very pleasant. (and with some astringency and citric again).
In the end, it is a bit heavy...
★
507 characters

3.56
/5
rDev
-4.3%
look: 4.5 | smell: 3.5 | taste: 3.5 | feel: 3.5 | overall: 3.5
I quaffed a 1/2 litre of this while at a restaurant called Deutsche Eiche, in the München suburb of Lochhausen.
The König poured a medium brown color, was clear, and had a lasting, creamy tan head. It left behind very nice lacing, and was an attractive looking Bier altogether. Aroma was semi-malty, with some caramel and roasty notes, yet mild. Body was a bit thinner than medium, though it was still nice on the tongue. Flavor-wise, it was roasty, with light caramel again and dark malt flavors throughout. Finishing, though, with a mild bitterness, it is a decent Bier, yet one I found a bit too mild in most all categories save for appearance. Zum Wohl!!
overall: 3.7
appearance: 4.5 | smell: 3.5 | taste: 3.5 | mouthfeel: 3.5 | drinkability: 3.5
620
★
759 characters

4.23
/5
rDev
+13.7%
look: 4.5 | smell: 4 | taste: 4.5 | feel: 4 | overall: 4
The waitress brought over the dunkel in a nice Kaltenberg glass. Nice thick head adorned the dark copper liquid. The head slowly drifted away to the sides of the glass. Great malt aroma. The taste was wonderful, matching what I have expected in a well made dunkel. No adverse bitterness and a smooth malt aftertaste that lingered softly on the tongue. The alcohol level was perfect. One of the better dunkels I have experienced on tap.
★
435 characters
3.55
/5
rDev
-4.6%
look: 3.5 | smell: 3.5 | taste: 4 | feel: 3 | overall: 3
Medium dark clear brown color. Foamy cream colored head. Stays around nicely. Mostly carmel smell matched with some hoppy bitterness. Taste is mild, mostly carmel malt. Sourness, very beerlike. After carmel malt taste, super shot of bitterness on the finish. Bitter finish is almost painful. Coffe undertones. Unexepected thin feel for a dark beer. Almost watery. Still very good, sweet start and bitter finish, not bad for the style. Cheers to my friend Heinz from Munich for bringing it all the way across the pond.
★
517 characters
König Ludwig Dunkel from Kaltenberg International / König Ludwig International GmbH & Co.KG
84
out of
100
based on
60
ratings.