Dismiss Notice
Get 12 monthly issues of BeerAdvocate magazine and save $5 when you select "auto-renew."

Subscribe now →
Dismiss Notice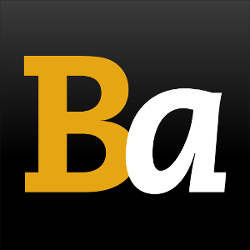 Join our email list →

And we'll send you the latest updates and offers from BeerAdvocate, because knowing is half the battle.
Blasphemy
- Weyerbacher Brewing Co.
| | |
| --- | --- |
| Educational use only; do not reuse. | |
Reviews: 360 | Hads: 883
4.11
/5
rDev
+5.1%
look: 4 | smell: 3 | taste: 4.5 | feel: 4.5 | overall: 4.5
Bottle. Tremendous tasting beer. Chewy dark fruit flavors, with hints of vanilla and a lovely sweetness overall. The oak component is nearly undetectable. It provides an extremely light toasted wood flavor, hints of vanilla, but no bourbon. In fact, I wouldn't think this was oak aged if they didn't mention it. Unfortunately, it's not the most aromatic brew, but it's still great. Weyerbacher is a really great brewery, imho.
★
430 characters
4.08
/5
rDev
+4.3%
look: 5 | smell: 4.5 | taste: 4 | feel: 4 | overall: 3.5
Appearance - Poured into my Stoudt's Y2K Ipa Tulip glass. Fleecy but massive head that evolves into a moderate 2 finger head that allows a decent skirt of lace. Brilliant deep garnet with a copious amount of bubbles that rise and settle into a band of pin sized globular bodies. A smooth tan head adorns the liquid resembling frosting.
Aroma - Subdued at first, the smell over overripe bananas and caramelized sugar is evident. Boozy, slightly woody sweetness pervades.
Taste - Estery, creamy and spicy roundness in the first sips leads to a relaxed smooth maltiness. Creamy and syrupy as oak seeps from the nose of this fine ale while it begins to warm. Slightly sour cherry acidity, and somewhat tannic qualities with hints of light brown sugar. A tinge of saltiness is felt along with alcoholic warmth in the finish.
Mouthfeel - Chewy, round, warming booziness. Mellow spiciness with a subtle creamy quality. The alcohol is evident coating the mouth with a sugary dryness. Incredible feel with above average carbonation to match the strength.
Drinkability - A blend of sweetness and booziness dominate this fruity and slightly spicy quad. A subtle woody effect and pleasant mouthfeel allow this strong ale to unleash the vigor and suppleness in equal measure. A very drinkable beer that lets you know it is a contender up front.
★
1,343 characters
3.41
/5
rDev
-12.8%
look: 4.5 | smell: 3.5 | taste: 3.5 | feel: 3 | overall: 3
V.07
Very nice look - medium head that quickly finds resolve. Light perpetual carbonation, with a beautiful deep bloody amber resin-esque look, much like a barleywine/olde ale.
Nose is lacking, but I can't detect 11.8%, so that's a plus. Earth, fruit, bread - with hints of butter & vanilla.
Tongue is lead by the nose - sweet, but not overtly. Smooth, rich appeal, with a nice oak backbone.
At $8/22oz, far from outstanding. As a drink alone, it's just okay. Nothing to gush over, and nothing to run out and get. I was expecting a bit more from this troupe.
★
562 characters
4.22
/5
rDev
+7.9%
look: 4 | smell: 4.5 | taste: 4.5 | feel: 4 | overall: 3.5
App: Pours from a 12oz. bottle into a wide bowl-shaped margarita glass. I know, maybe not the best vessel for this beast but it definitely allows for the full body of the beer to waft throughout my face. Rich, coppery and dark; this quad glows from deep within a reddish belly. Head stands up tall and proud, doesn't settle for several minutes and provdes an active lacing through the drink.
Aroma: Big, alcohol, fruity, noxious and sweet. Belgian strong? Triple? Doppel? Oh yeah, BARREL AGED QUADRUPEL!!
Taste: Starts out strong like upripe fruit, slightly tart and bold. Aggressive. Simmers down to enormous raisin. Yup, big. Follows through candy sweet and like an after dinner drink happy.
Mouth: Light and snappy for the size of this beer. Oh damn, it pours over my entire mouth coating everything. Despite drinking a Stoudts Mai Bock, Ommegang Abbey, Anchor Steam Bock, and Arcdia Double IPA this beer holds tough and dominates.
Drink: Hm. It's good. I'd like more. But that's the problem.
★
1,008 characters

4.28
/5
rDev
+9.5%
look: 5 | smell: 4.5 | taste: 4.5 | feel: 4 | overall: 3.5
Appearance: a lot of high alcohol beers usually pour with a short and brief-lived head. But this one is different. Nice reddish orange color with a one finger head that lasts several minutes. Mild lacing developed during the session.
Smell: big vanilla, oak, candy sweetness, and alcohol are bold and easy to detect well outside the glass.
Taste: this follows the nose as vanilla, oak, candy sugars, overripe plums, prunes, cherries, and nice bitterness are wrapped in a warming alcohol blanket. Improves as it warms.
Mouthfeel: heavy in body. Smooth from start to finish with a long flavorful aftertaste.
Drinkability: definite a slow sipping beer. One bottle was slow to finish on my own, I wish this was in 12 oz bottles. I think this may mellow nicely in the cellar.
★
783 characters

3.97
/5
rDev
+1.5%
look: 3.5 | smell: 4 | taste: 4 | feel: 4 | overall: 4
Pours brownish copper, mostly clear, with a small cream colored head that fades quickly. Aroma is soft and sweet, like a nice banana custard, some spices and bread, and a dose of alcohol. Taste is at first soft and sweet up front, spiced dessert bread. A slightly tannic oak comes in and mixes into the drying finish along with a major bite of alcohol that is warming and somewhat harsh. Medium to heavy in body, the beer is easily cut through by the large alcohol presence and the dry oak character. I enjoyed this beer, I liked its large bite of alcohol although its richness and strength would prohibit too much. Will definitely like to see if age mellows this or if it thins out.
★
683 characters
3.58
/5
rDev
-8.4%
look: 4.5 | smell: 4 | taste: 3.5 | feel: 3.5 | overall: 3
3/19/2007 $6.99 22 oz. 11.80% No best by date.
Appearance:
Pours a beautiful clear brown with ruby red highlights. Topped by a thin wispy film of tan head that rapidly settles.
Aroma:
Rich heady, overripe dark/tropical fruit. Hints of cherries, figs, raisins with a whiff of alcohol, and just a touch of oak.
Taste/Mouthfeel:
Chewy mouthfeel accompanies intense vanilla and oaky flavors alongside a burst of ridiculously hot alcohol. Ripe cherries appear in the finish, but the fruitiness is dominated by the alcohol and a touch of wood.
This ones needs a while to settle down. It's not undrinkable as it is now, but it will definitely improve by some softening, which only age can provide. I picked up a few bottles, and I'll give this one another go next year.
★
787 characters
3.9
/5
rDev
-0.3%
look: 4 | smell: 4 | taste: 4 | feel: 4 | overall: 3.5
We were told in the tasting room at the brewery that the barrels used to oak age this beer were from Jack Daniels. Poured from a 12oz. brown bottle purchased fresh from the brewery. Poured into a snifter glass. Appears a dark mahogany toned amber with about a finger of fluffy off-white head. Smells of whiskey soaked oak, sweet caramel, and vanilla. Tastes of whiskey soaked cherries, vanilla, candy, crisp fruit and alcohol. Rich and full bodied with nice carbonation. A very warming beer that is certainly a sipper. Well done Weyerbacher.
★
541 characters
3.85
/5
rDev
-1.5%
look: 4 | smell: 4 | taste: 4 | feel: 3.5 | overall: 3.5
Executive Summary: I was one of the first at the brewery on Saturday to get my hands on Blasphemy straight from the blasphemers...and I wasn't disappointed. We did some side-by-side tastings with the Quad there, and - simply put - holy crap, Blasphemy is some tasty stuff. Beautiful display of what barrel-aging can do. I'd say this one rates up there with Insanity in terms of best Oaked Weyerbacher (Heresy is close behind, with Prophecy trailing the pack).
This review is done using one of the 12 oz. bottles I purchased, not from the tasting itself.
Appearance: Copper/ruby pour into my tulip glass. Moderately fluffy head that's only about a finger thick at its peak, rather quickly dying back to a film. Lacing is pretty, but not overly clingy.
Smell: Bourbon, oak, Belgian yeast notes, cherries. Some alcohol in the nose as well, but it doesn't detract.
Taste: Initial sweetness never really disappears; rather, it is swarmed by a deep malt profile, characteristic yeast flavors, oak/vanilla notes and a heck of a swell of alcoholic warmth at the conclusion of each sip. The oak and vanilla linger nicely well afterward. There is an element of bitterness here that I would hope to see erode with age. I'll definitely be setting a few down for at least 8-12 months.
Mouthfeel: Slightly thick, pretty sticky. Moderate carbonation - in fact, I would have preferred a little less fizz here.
Drinkability: The intensity of aroma and flavor in this one makes it a great afterdinner drink (let's make it "Blasphemy and cigars" after dinner), but you probably wouldn't have more than one of these in a sitting.
★
1,627 characters

3.6
/5
rDev
-7.9%
look: 4 | smell: 4 | taste: 3.5 | feel: 4 | overall: 3
beer math for today:
Quad + Oak barrels = Blasphemy
eyes...
sizzle is audible on this belgian fajita, off white head rises to one full finger in my trusty duvel tulip, good steady flow of carbonation takes it's time wandering up from the depths, light chestnut in hue with hints of burnt orange. pretty nice...
nose...
first hint is alcohol, there is also a fruity character in there, something like pears or a mild apple scent, in the mix is a bit of a doughy character, even deeper is just traces of some sourness (like a lambic actually). this smells really nice, nothing is totally dominant and after sniffing it now for some minutes the alcohol punch I originally sensed has faded, this belies the alcohol content, if you can try hard enough you can pick up a pinch of the oak.
taste etc...
very sweet on the first try, and the alcohol makes itself known down the gullet, hell, this is already warming my entire digestive tract, woah boy! the carbonation is pretty prickly here, almost distracting for the style, because as soon as the prickle exits mouth left you are barraged with the sweetness, this is pretty thick, actually thicker than you think it is while you are sipping it, it leaves behind syrup on your tongue, I find the flavor perhaps a bit too aggressive, this one needs to mellow out, right now it drinks like a tidal wave, sure, you like water but not 30 feet of it.
verdict?
the oak is there so it adds a nice touch but this is a tough one to handle right now. I'd pick up another bottle and sit it down for another year.
★
1,561 characters
Blasphemy from Weyerbacher Brewing Co.
88
out of
100
based on
360
ratings.