Karnival Kolsch
| Stoudts Brewing Co.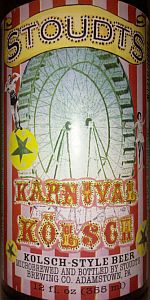 BEER INFO
Brewed by:
Stoudts Brewing Co.
Pennsylvania
,
United States
|
website
Style:
Kölsch
Alcohol by volume (ABV):
4.80%
Availability:
Spring
Notes / Commercial Description:
No notes at this time.
Added by bbeane on 02-27-2010
Reviews: 163 | Ratings: 350

4.16
/5
rDev
+8.3%
look: 5 | smell: 4 | taste: 4 | feel: 4 | overall: 4.5
The first nice hot spring day, time to try a nice koslch.
A: Pours a huge fizzy 2.5 finger head that is full of large bubbles and pasty white colored, supplemented by many bubbles floating to the top. It's a brilliantly clear golden yellow color. The head leaves a very slight lacing on the sides.
N: A nice toasty slightly malty sweet lager aroma. Very much so lager, and nice smelling too. Some light wheat and even a touch of banana.
T: Starts with a really nice crisp lager taste. Some light toasty malts, slightly sweet lager malts and definite nice lager flavor. Light, crisp and refreshing. SOme light wheat, very light citrus and banana. A little juicy and fruity too. A nice fresh grassy and slight citrus fresh hop flavor and slight bitterness comes through. A nice one too.
M: Medium body and it feels like it has some viscosity to it. Good carbonation.
F: Semi crisp on the finish, not as much as I expected though. Slightly dry too, but not that much. A slight bitter hop presence comes through on the finish, a nice grassy spicy hop flavor. More lingering lager malts and slight fruit too. A nice long finish for being a crisp clean lager koslch.
Reminds me a lot of my fav lager, Pretty Thing's American Darling, just slightly less hoppy. I really liked this one and it would be delicious on a hot summer's day.
★
1,333 characters
3.85
/5
rDev
+0.3%
look: 3.5 | smell: 3.5 | taste: 4 | feel: 4 | overall: 4
12oz bottle with a circus-like label. No freshness dating but given the season, this is fresh.
Appearance in-line with the style: a pale straw color with decent amount of head, leaving a faint ring of lace.
Lots of breaded malt, grass and grain to the nose, reminding me of a quality pilsner.
Sweet breaded malt with hints of sugar and grape, vegetal grain and hint of floral hop make up the flavor. Light and crisp on the palate.
Enjoyable easy-drinker; it's tough to find a truly fresh German kolsch over this side, so I'm glad to see American brewers succeeding with their take on the style.
★
595 characters

4.2
/5
rDev
+9.4%
look: 4 | smell: 4 | taste: 4 | feel: 4 | overall: 5
Great interpretation of a classic German style. But would you expect anything less from Stoudts? Crisp, well balanced, and enough going on flavor wise to keep it interesting. Perfect clarity and hue for the style, with a modest head. Some may find Kolsch beers boring, but I find them to be excellent daily drinkers for those warm summer days. And Stoudts did a fine job on their's!
★
382 characters
4.3
/5
rDev
+12%
look: 4 | smell: 4 | taste: 4.5 | feel: 4 | overall: 4.5
12oz bottle served in a stange-type glass.
L - clear golden yellow color with a fluffy white head that left good lacing.
S - grassy hops smell is very much like a German pilsner.
T - very good balance of bitter hops and sweet malt with a slightly sweet yet dry finish.
F - lighter bodied, crisp and refreshing.
D - goes down very easy.
★
336 characters

3.4
/5
rDev
-11.5%
look: 3 | smell: 3 | taste: 3.5 | feel: 3 | overall: 4
Poured from a brown 12 oz. bottle. Has a pale yellow color with a small head. Smell is mild, a bit of malts. Taste is crisp, malty and a tad sweet, fairly light. Feels light in the mouth and is highly drinkable. Overall this is a pretty good quality brew.
★
255 characters
4
/5
rDev
+4.2%
look: 4 | smell: 4 | taste: 4 | feel: 4 | overall: 4
. A clear golden straw color pour with a small frothy white head , jagged lacing, lively carbonation . Aroma of citrus ,honey ,bread dough and spicy hops . Flavor is peppery , citrus ,and grassy hops , honey candy sugar and bread dough , crisp clean mouthfeel , short hoppy dry finish , light to medium bitterness , light body , quite sessionable and good , a nice try and a good beer .
★
386 characters

4.38
/5
rDev
+14.1%
look: 4.5 | smell: 4 | taste: 4.5 | feel: 4.5 | overall: 4.5
This is a style that does not get enough respect. Amongst all the barrel aged imperial stouts, it's hard for the subtle refreshing flavor of a nice Kolsch to shine through. Despite the fact that each beer is supposed to be scored based on the style, there is certainly a bias towards bigger/more bold beers. As much as I enjoy each of those bold styles, I do love a crisp and refreshing Kolsch. I saw this on the shelf and had to grab one to see if I enjoyed this version. Not only did this not disappoint, I think I am going to make this my spring beer of choice. This is the type that I keep a six pack in the fridge for neighbors and the wife.
The beer poured with a fluffy/light white head that showed nice retention. Copious amounts of lacing cling to the inside of the glass. The beer is a nice bright straw color with some gold tones. Some light visible carbonation.
Aroma is nice and reveals a higher hop presence than I imagined. Plenty of bread dough aroma along with some light grain and a whiff of floral hops.
Excellent balance here and a great combination of fresh bready flavor along with a nice hop bitterness. Continue to taste some bread dough and a light biscuity malt. The subtle sweetness is balanced perfectly with a nice hop bitterness. Great session beer in the making.
Carbonation is light and mouth feel is very smooth. Crisp finish due to the nice hop bitterness and the wonderful bread like flavor.
This is a very nice beer and one the fits the style spot on, in my opinion. As mentioned above, I'll have a six pack in the fridge for the next several months.
★
1,591 characters
4.13
/5
rDev
+7.6%
look: 4.5 | smell: 4 | taste: 4 | feel: 4 | overall: 4.5
Bought a single 12 oz. bottle on a recent trip to the brewery. Poured into a snifter.
A: Pours a brilliantly clear straw gold color. Nice white head that clings to the glass a little and then fades.
S: Definite fruity notes - banana, maybe a hint of clove. A little vanilla, also. I wonder what kind of yeast they used. Some floral notes.
T: Fruity and toasty, again w/the banana. Finishes dry and a tad bitter with a lemon-like taste.
M: A nice light beer w/adequate carbonation. Somewhat frothy.
D: Excellent warm weather beer. Nice and refreshing.
★
556 characters

3.38
/5
rDev
-12%
look: 3.5 | smell: 3 | taste: 3.5 | feel: 3.5 | overall: 3.5
Pours a a golden straw color with active, fluffy white head. Decent retention, some sticky lacing. Smell is of sweet biscuity malts with a noticeable lemony hop presence. Taste is slightly sweet, bready malts and faint lemony hops again - not really saying Kolsch to me. Almost medium bodied - again out of style, adequate carbonation. Ok beer, definitely not a Kolsch in scent, taste or body.
★
393 characters

4.1
/5
rDev
+6.8%
look: 4 | smell: 4 | taste: 4 | feel: 4 | overall: 4.5
a: This was a bright, clear golden straw color. It poured with a large, rocky head that faded to clumpy lace.
s: Lots of bready, biscuity malts, a hint of grape, and some faint floral hops.
t: Not as sweet as the Brewmaster's Select version as I recall. Dry overall, I tasted bready grains and biscuits, light grape flavors and a touch of lemon rind.
m: Crisply carbonated and refreshing.
d: A very good offering from Stoudt's, but I prefer their pils for something sessionable. Still, I'll definitely mix things up with a six pack every now and then.
★
555 characters
4.15
/5
rDev
+8.1%
look: 4 | smell: 4 | taste: 4 | feel: 4.5 | overall: 4.5
Had this on tap at MaHafffey's. Poured a hazy straw colow, a bit darker than what I expect from a Kolsch. Medium white head.
The aroma was bread dough and grain, but not roasted agressively. Mild hop presence, not very floral, not a lot of fruit notes.
The taste was dominated by very lightly roasted malt and sweet fruits, with a minor citrus and floral hop presence.
This was a light-bodied beer but slightly heavier than most Kolsch beers I've had. Smooth and crisp with a nice clean and sweet finish.
Overlal very drinkable, refreshing and another good one from Stoudt's. Hats off.
★
587 characters

3.93
/5
rDev
+2.3%
look: 4 | smell: 3.5 | taste: 4 | feel: 3.5 | overall: 4.5
Look: Pale golden body with a great two finger white pillowy head with good retention. Really high carbonation.
Smell: Bready, faint citrus. Really nothing stands out. Grainy.
Taste: The malty, bready mix stands out the most. Hops are there but you really got to be looking for them. This isn't an offensive beer at all.
Mouth/Drink: Mouth is thin but this is a great session brew.
★
384 characters

4.27
/5
rDev
+11.2%
look: 3.5 | smell: 4 | taste: 4.5 | feel: 4 | overall: 4.5
A- Poured into a snifter... starts with a decent white head, maybe 1/4" thick that eventually disappears leaving a tiny bit of lacing. Beer is crisp golden straw color with medium activity
S- Smells nice. Citrus, maybe a hint of banana, blended with bread and grains
T- The medium bitterness mixes with some sweet cirtusy notes to create a very nicely balanced and delicious beer
M- Light/medium body with medium carbonation... leaves a hint of bitter aftertaste
D- Very. A great session beer IMO. This might be my new favorite from Stoudts excluding the BIG BEERS
CHEERS!!
★
588 characters
Karnival Kolsch from Stoudts Brewing Co.
86
out of
100
based on
163
ratings.