Dismiss Notice
Get FREE shipping on all US orders of $25 or more from the BeerAdvocate Store.
No promo code required. Offer valid through 4/30.
Ready to gear up? Start shopping →
Rosie Parks Oyster Stout
| Fordham Brewing Company
BA SCORE
82
good
14
Reviews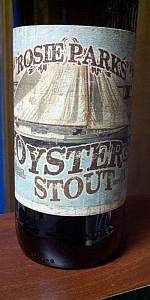 BEER INFO
Brewed by:
Fordham Brewing Company
Delaware
,
United States
|
website
Style:
English Stout
Alcohol by volume (ABV):
5.00%
Availability:
Year-round
Notes / Commercial Description:
The legendary skipjack Rosie Parks once dredged for oysters on the Chesapeake Bay. Formerly the fasted of the fleet and a beauty to behold, she underwent construction and was relaunched on November 2, 2013.
This 5.0% stout contains Chesapeake Bay Oyster shells.
Added by jmdrpi on 11-18-2012
Reviews: 14 | Ratings: 92

3.57
/5
rDev
+0.6%
look: 3.75 | smell: 3.5 | taste: 3.5 | feel: 3.5 | overall: 3.75
A: The beer appears black when viewed from after, but when held up to a bright light traces of dark red is visible near the edge of the glass. It poured with a short tan head that died down, leaving a patch of bubbles in the center, a collar around the edge, and bits of lacing down the sides.
S: Light aromas of dark chocolate malts are present in the nose along with some hints of lactose.
T: The taste is generally similar to the smell, but doesn't have any flavors of lactose. Instead, there are light amounts of cola and salty brine from the oysters.
M: It feels a bit shy of being medium-bodied on the palate and is airy with a moderate amount of carbonation.
O: This stout is easy to drink and the use of oysters adds an interesting bit of saltiness that lends complexity to the taste.
Serving type: bottle
★
816 characters

3.41
/5
rDev
-3.9%
look: 4 | smell: 3 | taste: 3.5 | feel: 3.5 | overall: 3.5
This poured out as a solid looking black color with a decent looking brown head on top. The head is foamy looking with a decent retention and lacing. The smell of the beer is earthy and lightly roasted. The taste of the beer is earthy, roasted and has a subtle tanginess to it. The mouthfeel of the beer pretty smooth, the carbonation is minimal but still strong enough to keep the beer interesting. It's not overly thick or heavy, it's actually quite drinkable. Overall this beer is good. Worth checking out in my opinion.
★
523 characters

3.55
/5
rDev 0%
look: 4.25 | smell: 3.5 | taste: 3.5 | feel: 3.5 | overall: 3.5
12oz brown bottle, sample from the brewery.
Superb looking head, dark as night. Roasted grain and faint mineral briny nose. Smooth with a slightly thin body, dry and roasty with an obvious briny flavor. Well put together but is just lands a bit two dimensional. Decent drinking.
★
280 characters

3.04
/5
rDev
-14.4%
look: 3 | smell: 3.25 | taste: 3 | feel: 2.75 | overall: 3
Thanks to Aaron for sharing.
The beer is cola brown with a beige head of broken bubbles. The aroma is of roast, brown bread, sea salt? Oyster character comes through fairly well. The feel is a bit thin and weak. Flavor is mediocre. Ok. ---Rated via Beer Buddy for iPhone
★
271 characters
3.71
/5
rDev
+4.5%
look: 3.5 | smell: 3.75 | taste: 3.75 | feel: 3.5 | overall: 3.75
I thought the Oyster Stout from Fordham was very easy drinking. The beer poured a opaque black with thin ecru head and no lace. The scent had roast much like the taste. It was very evenly balanced with hints of coffee being present as well. The mouthfeel was medium in body with some carbonation. Overall it was a good stout.
★
330 characters

3.07
/5
rDev
-13.5%
look: 3 | smell: 3.5 | taste: 3 | feel: 2.5 | overall: 3
22 oz bottle, bottling date of "Oct '12" listed on the label.
pours opaque black in color, just a little off-white head. a few ruby highlights. Pretty mild aroma, a little coffee-like smell.
taste has a bit of cola flavor, caramel. slightly sweet, just slightly roasty. lingering aftertaste. thin to medium body, lower carbonation. Could definitely be a bit thicker to improve the mouthfeel.
overall - not bad, but I like my stouts to have a bit more aggressive roasty flavors.
★
489 characters

3.18
/5
rDev
-10.4%
look: 3.75 | smell: 3.25 | taste: 3 | feel: 3.25 | overall: 3.25
Pours a very dark ruby color. The head is a finger high, and khaki in shade. Retention is average for the style, and its texture is fairly thin. However, some lacing sticks to the glass nicely.
This aroma features a healthy salinity from the oyster presence. The stout itself errs closer to a sweeter, brown sugar-esque profile over a roasty, chocolaty one. There are gentle hints of cherry and molasses also appearing. A fine nose, but all the elements aren't coexisting perfectly.
There seems to be more of a coffee flavor here than the aroma may have suggested, especially on the back end. The flavor profile starts off with touches of salinity and Irish cream. However, its aforementioned finish is a little heavy on acrid char for me. Tastes alright, but it seems uni-dimensional all around.
The mouthfeel is thin and a bit sharp from the carbonation. On the other hand, this beer is quite dry, almost like an Irish stout. Because of that, the drinkability is quite good.
Not bad - it's a decent enough stout that's food-friendly and easy to drink. It's pretty unmemorable otherwise, and I wouldn't personally seek it out. But hey, I'm just glad to see more oyster stouts on the shelves regardless...
3.18/5: Nothing that stands out, but it does work well with oysters
★
1,278 characters

3.5
/5
rDev
-1.4%
look: 3.5 | smell: 3.5 | taste: 3.5 | feel: 3.5 | overall: 3.5
Enjoyed this bottle out of a standard pint glass.
A: Pours a dark black hue with a very thin brown ½-finger head that quickly dissipates and leaves no lace or trail.
S: Not a huge nose here – toasted malts and chocolate aroma.
T: Smooth mild roasted malts and background tastes of coffee, caramel, and chocolate.
M: Very smooth, medium body and minimal carbonation.
O: Decent stout. No one flavor or aroma stands out and takes control of this brew.
★
457 characters

4.21
/5
rDev
+18.6%
look: 4.5 | smell: 4 | taste: 4.25 | feel: 4.25 | overall: 4.25
Poured from a 12 OZ bottle into a pint glass. appearance- looks like used motor oil, I love the look. The aroma is a good blend of malt, cocoa and salt. The taste follows the aroma and I found the flavor unique and very appealing. A very enjoyable beer.
★
256 characters
3.78
/5
rDev
+6.5%
look: 4.25 | smell: 3.75 | taste: 3.75 | feel: 3.75 | overall: 3.75
Poured from a bottle into a pint glass. Pours pitch black with a large fluffy off white head. Smells of chocolate and coffee. Tastes of coffee with slight chocolate and very slight fruit; rich but not overly so. Beer is light/medium bodied, nicely carbonated, clean finish. Overall, an above average beer.
★
310 characters

3.49
/5
rDev
-1.7%
look: 3.25 | smell: 3.5 | taste: 3.5 | feel: 3.5 | overall: 3.5
Deep brown with a faint ring of head around the edge - surprised how little there is here. Pretty unassuming.
Malty, roasty, with just a hint of salty brine.
Like you'd expect from a relatively stout, but with the added interest of the oysters - they add a salty brininess that can likely only come from an oyster stout. It's a unique addition, one that might be better suited when paired with a bowl of oyster stew than a cold November night.
Very little carbonation jumped out at me early on - just enough to spark the tongue and leave it to soak in the saltiness.
Take it or leave it. Having never had an oyster stout in the past, I can't tell whether I just don't like the style or this particular beer. Either way, I can do better.
★
744 characters

3.79
/5
rDev
+6.8%
look: 3.75 | smell: 3.5 | taste: 4 | feel: 3.75 | overall: 3.75
App: Pours reddish brown with small off white head, at first glance more akin to a porter than stout.
Smell: slight roasted malts, sweet almost metallic smell (not unpleasant – just different); more pronounced as it warms
Taste: sweet, malty with a pleasant contrast of saltiness and a fairly clean finish
Mouthfeel: a bit of salty, tingling carbonation at first sip, light to medium bodied, make the tongue tingle in a not unpleasant manner
Overall: a peculiar beer, enjoyable and definitely a beer I wouldn't shy away from if it were on tap. An easily quaffable beer, a far cry from the aggressive, coffee/chocolate stouts and perhaps could be enjoyed with a seafood bisque or lobster to complement and contrast flavors.
★
727 characters

4
/5
rDev
+12.7%
look: 4.25 | smell: 3.5 | taste: 4 | feel: 4 | overall: 4.5
'stout' .... Everything I wanted it to be. Completely well rounded in all aspects. Pretty great. The worst thing about it is the name. "Rosie Parks" means nothing to me. "Oyster Stout" didn't reflect anything about it. Would love to find this again.
★
249 characters
4.08
/5
rDev
+14.9%
look: 4.5 | smell: 4 | taste: 4 | feel: 4.5 | overall: 4
pretty delicious. well balanced. the oyster bit adds an interesting palate but nothing over the top. no syrupy texture and flavor, which is something I can dislike about porters or stouts
★
187 characters
Rosie Parks Oyster Stout from Fordham Brewing Company
82
out of
100
based on
14
ratings.