Dismiss Notice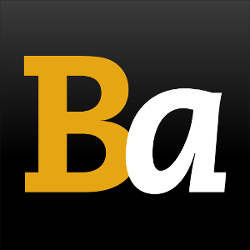 Site Performance Updates: We're aware of the nightly site outage, and working on resolving the issue.
Pintail Pale Ale
| Karl Strauss Brewing Company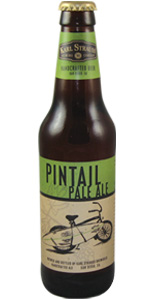 BEER INFO
Brewed by:
Karl Strauss Brewing Company
California
,
United States
|
website
Style:
American Pale Ale (APA)
Alcohol by volume (ABV):
5.30%
Availability:
Rotating
Notes / Commercial Description:
No notes at this time.
Added by tonistruth on 10-01-2007
Reviews: 46 | Ratings: 173
4.39
/5
rDev
+16.4%
look: 3.5 | smell: 4.5 | taste: 4.5 | feel: 4 | overall: 4.5
Appearance: pours with a nice golden amber hue
Smell: smells absolutely wonderful. Clearly dry-hopped, this beer runs a fine line between pale ale and ipa.
Taste: taste very similar to its smell. Again, a very hopped pale ale. Copious amounts of citrus and pine like flavors. Sits very nicely on the palate.
Drink ability: very drinkable. Moderate abv makes for a great session beer. Hop linger on the tongue makes me want more
Overall: solid
★
447 characters
3.59
/5
rDev
-4.8%
look: 4 | smell: 3.75 | taste: 3.5 | feel: 3.5 | overall: 3.5
Looks the part of a good pale beer, amber colored, thin head. Aroma was very pleasant, good dry hopping here.
Taste, a solid beer, especially from a brewery I've never been a big fan of. Great summer sipper. Citrus hops, snippet of pine even. Nothing too crazy, holds its own. Does recede downhill though, everything that stood out diminishes. Man, if they only served this 5 oz. at a time, it would be excellent. . .
As always, about $1-2 more than superior products in the same category SNPA. . .
★
502 characters
4
/5
rDev
+6.1%
look: 4 | smell: 4 | taste: 4 | feel: 4 | overall: 4
A - Poured a copper color with a white head that leaves some lacing behind
S - Is mostly of citrus hops on caramel malt
T - Starts off with grapefruit hops finishes with a touch of caramel malt
M - This beer has a medium body with higher carbonation to it
D - This was a pretty good pale thats easy to drink with its good taste I could probably drink a few of these in a sitting worth picking up sometime to give it a try
★
426 characters

4.15
/5
rDev
+10.1%
look: 4 | smell: 4 | taste: 4 | feel: 4.5 | overall: 4.5
12oz brown bottle with a code on the neck.
Clear and brassy, thin but impressive lacing. APA nose with floral and citric hop notes with bready and biscuity malt. Somewhat deep smoothness develops into a quick snap of crispness. Medium body. Citric hop flavor runs from pulp to zest to a little bit of rind with a bitterness that sticks. Maltiness holds together well, a good base with biscuity and bread flavors that meld with yeasty undertones. Finishes malt and bitter at the same time, semi-dry though.
A stellar example of the APA style, nothing crazy ... to style.
★
571 characters
3.41
/5
rDev
-9.5%
look: 4 | smell: 3 | taste: 3.5 | feel: 3.5 | overall: 3.5
Consumed 6/8
Poured in to a pint glass
A: This beer pours crystal clear copper color with a 1/2 inch of off white head. Head recedes relatively quickly leaving spots of wispy lacing on the glass.
S: Nose is really rather malt forward, caramel malts really dominate, some breadiness and a hint of hops.
T: Taste is likened to the nose, very malt forward. Caramel malts in the forefront moving to a slight breadiness. The hop flavoring really comes out toward the finish with some nice citrus hop notes.
M: Medium body, medium carbonation, oily mouthfeel with a slightly dry finish.
D: Not a bad beer, but could have been blended better, goes down pretty easily and is not too filling. You could sit with this for the night, though I would opt for other APA's if available.
★
778 characters
3.38
/5
rDev
-10.3%
look: 4 | smell: 3.5 | taste: 3 | feel: 4 | overall: 3.5
Calling this American Pale Ale "average" does no justice to the wonderful amalgam of caramel maltiness, light and balanced bitterness, an inviting grassy-citrus hop aroma, and a nicely-carbonated feel.
Karl Strauss' Pintail Pale Ale just works -- it goes down smoothly, leaves a pleasant aftertaste, and is the perfect accompaniment to a nice summer day.
★
356 characters

4.33
/5
rDev
+14.9%
look: 4.5 | smell: 4 | taste: 4.5 | feel: 4 | overall: 4.5
Appearance: My bottle of Pintail Pale Ale poured a rich golden amber color. Decent head. Had a really clean look.
Smell: A pleasant aroma, hints of citrus (maybe grapefruit?)
Taste: Wow - this ale delivers big on the citrus with the first sip. Pretty cool. I think my favorite thing about the Pintail is the malts I get mid-sip. Creates a nice balance with the vibrant hops.
Mouthfeel: My bottle had a fairly ale-standard medium body. Nothing crazy.
Drinkability: This is a smooth pale ale with an interesting hoppiness. I'd totally recommend this. Can't wait for a hot San Diego day to enjoy a couple more.
★
611 characters
4.42
/5
rDev
+17.2%
look: 4 | smell: 4.5 | taste: 4.5 | feel: 4 | overall: 4.5
This beer was copper-colored with a nice white head and great lace on the glass. It smelled like grapefruit juice mingled with a little bit of pine. Great aroma! It tasted dry - which is good - with slight notes of caramel. The beer was super hoppy without being very bitter. The mouthfeel was light to medium-bodied. This is definitely a sessionable pale ale. I could drink alot of this one.
★
392 characters
4.5
/5
rDev
+19.4%
look: 4.5 | smell: 4.5 | taste: 4.5 | feel: 4.5 | overall: 4.5
Not sure if there was a reformulation to this recipe because there is no way this beer deserves anything less than a solid A. I sampled Pintail several times last night at a charity event for the San Diego History Center and was very very impressed. Ryan, the KS rep, mentioned it will be available in six-packs here in a few weeks and I definitely plan to pick some up when that become a reality.
A- Poured a clear bright golden orange with a 1/2" white head.
S- Prominent clean floral citrus aroma of grapefruit zest with some fruity notes.
T- Lots of hop flavor of grapfruit, orange, and meyer lemon. Some caramel malt contrasts nicely with the forward hoppiness.
M- Medium bodied and very very easy to drink.
D- This PA is clean, super flavorful, and incredibly easy to drink. This may very well become my go-to beer. I am seriously impressed by the new beers KS has been putting out lately.
★
905 characters
3.3
/5
rDev
-12.5%
look: 3 | smell: 3 | taste: 3.5 | feel: 3 | overall: 3.5
Poured a clear gold with a bubbly white head. Thin lacing. Metallic malt-and-grassy hops combo typical of the style; nothing outstanding. Carbonated mouthfeel, dry finish. Crystal malt bite with slightly piney hops. Smooth, and refreshing, but not a lot of substance.
★
267 characters
3.01
/5
rDev
-20.2%
look: 4 | smell: 3 | taste: 3 | feel: 3.5 | overall: 2.5
on cask @ Churchill's in San Marcos, CA
A- pours a cloudy, unfiltered straw color, with a silky two finger white head and lace, great retent on both
S- fresh citrus and bready
T- dry toasted malts, bready, citrus, leafy, burnt cardboard flavor in background
M- silky, smooth, dry and somewhat sticky after
D- burnt flavor can be harsh and a brew from cask is a love or hate situation, but not to shabby, probably be better off on tap
★
438 characters
Pintail Pale Ale from Karl Strauss Brewing Company
85
out of
100
based on
46
ratings.