Dismiss Notice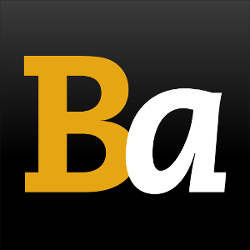 Site Performance Updates: We're aware of the nightly site outage, and working on resolving the issue.
Neumarkter Lammsbräu Weisse
| Neumarkter Lammsbräu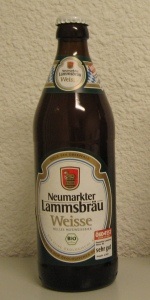 BEER INFO
Brewed by:
Neumarkter Lammsbräu
Germany
|
website
Style:
Hefeweizen
Alcohol by volume (ABV):
5.10%
Availability:
Year-round
Notes / Commercial Description:
No notes at this time.
Added by BeerAdvocate on 04-29-2003
Reviews: 7 | Ratings: 14
3.3
/5
rDev
-8.8%
look: 4 | smell: 4 | taste: 3 | feel: 3 | overall: 3
Reviewing now. ,5L bottle poured into a proper weizen glass. And a note, I'm not the biggest weizen fan in the world.
Pours a nice hazy golden with a solid white head. Head has pretty decent retention. Appealing, really. Glass is specked on the way down, but not really what you'd call proper lacing.
Smells like... potpourri. Not quite what I was expecting. A bit yeasty and spicy. Actually makes me wonder what it will taste like. The nose is truly unique. It's a far cry from other wheat beers (like the ubiquitous Franziskaner Weissbier which you can't get away from in Deutschland). It's... so incredibly strange. Not really skunky but not incredibly appealing (unless you really love sniffing potourri and allspice all day long). Every time you go to take a sip, it hits you like a two-ton hammer. Reminds me of the 2005 Shantell Pinot Noir, which smelled like a bouquet of roses. Don't drink too much of it or you'll be sick to death of flowers by the end. (Shantell is an Australian vineyard and winery in the Yarra Valley region, which is east of Melbourne.)
First taste: wait, this is a wheat beer? It doesn't bite like one. Up front, the flavour is pretty mild. Nothing like the other flavourful beers I've been reviewing from Neumarkter Lammsbräu or like other wheat beers I've tasted. Let's give it some time and see what comes of it. If I had to give one word to it, it's banana. Lots of banana, but not sweet like a banana. Somewhat spicy. Bit of hops here and there. Not crazy about it. Relatively unremarkable, but not unpleasant. A decent wheat bear, but nothing to write home about.
The beer doesn't seem all that substantial. A bit carbonated as it is. Not bitter at all.
★
1,696 characters
More User Reviews:

3.32
/5
rDev
-8.3%
look: 3 | smell: 3.5 | taste: 3.25 | feel: 3.5 | overall: 3.25

3.81
/5
rDev
+5.2%
look: 3.5 | smell: 3.75 | taste: 4 | feel: 3.5 | overall: 3.75
A yellow beer with a velvety head which settles into a small layer.
The beer smells very fresh with green apples and lemon, backed up by a light grainy base smell.
The taste is fresh with the green apples being very apparent, the yeast seems to add a very fresh, almost witbier like taste, that has some spicy notes. The hops add a light herbal taste. The mouthfeel is light and improves the drinkability of the beer. This is a rather uncharacteristic weizen, it does not have the dank, spicy, banana and clove character, which they all seem to have, or at least much less.
★
575 characters


3.87
/5
rDev
+6.9%
look: 3.5 | smell: 4 | taste: 4 | feel: 3 | overall: 4
Hazy golden beer holds a storm of quickly rising bubbles. A slightly above average off-white head fades quickly for a weizen. Mild aroma of banana and yeast smells refreshing. Soft, fluffy body is hit with a dash of fizzy carbonation just before the finish. Mild, yet full flavor is a mix of banana and dough with an underlying citrus zest. Almost a top notch weizen. A bit fizzy on the carbonation and a strangely weak head, but otherwise it tastes and smells great.
★
467 characters
3.92
/5
rDev
+8.3%
look: 3.5 | smell: 4 | taste: 4 | feel: 3.5 | overall: 4
500ml bottle from eco shop in Bern, Switzerland
Pours cloudy golden with large white head that very slowly fades to thin layer, almost no lacing. Aroma is wheat, some yeast and spices, mostly coriander.
Taste is mild, but pleasant mix of wheat and banana, tends to become more sweeter as it warms up. Quite spicy with hints of citrus. Mouthfeel is medium/full with high carbonation.
Slightly unusual, but not in a bad sense.
★
427 characters

3.98
/5
rDev
+9.9%
look: 4.5 | smell: 4 | taste: 4 | feel: 3.5 | overall: 4
it poured kinda clear, which i attribute to it's tap serving; i guess some of my sediment ended up compacted in the bottom of the cask. either that or the beer just isn't very cloudy to begin with. the head is the tighstest i've ever seen, and procduced some fine lacing. this despite reasonably low carbonation sensation (though it looks nice and spritzy)
slightly tart up front and spicy—not just from clove...allspice? the aroma reflects your standard hefe aroma plus some earthiness and coriander
pretty tasty
★
520 characters

3.07
/5
rDev
-15.2%
look: 3.5 | smell: 4 | taste: 2.5 | feel: 4 | overall: 2.5
Tried this one in Vienna around late August 2004. I've never gone organic before, and I'm not a much of a hefeweisse fan, but I figured it was worth a try.
It's not an easy find at all. The only place I saw it was in a small grocery booth/store in the outdoor food market. "Das feine ökologische Bier" - the fine ecological beer. The "Dinkel" I believe is for the dinkelmalz.
It poured a good head, straw yellow over unfiltered rusty-orange brown. First taste part was smooth and then the weisse beer hops really kicked in. As I said, not a big fan of this style and the hoppy aftertaste seemed to even stronger and richer.
The only beer I wasn't crazy for on my trip. I'm glad I tried it, but I won't be trying Sam Smith organic anytime soon.
★
752 characters


3.49
/5
rDev
-3.6%
look: 3.5 | smell: 4.5 | taste: 3 | feel: 4 | overall: 3
.5L, best before 6/6/11.
Pours a glowing, cloudy burnt-orange with a huge, fantastic head. Good lacing. Unfortunately there's some large chunkies floating around, a flaw for a Hefeweizen.
The aroma is excellent, with notes of vanilla, clove, bubblegum and banana.
The flavor is decent. There's more of a citrus thing going on rather than the customary banana. Definitely on the spicy side of the Hefeweizen spectrum. Sweet wheat flavor. The only problem is that this beer tastes a bit "dirty" like there's something slightly off with the yeast. Not a huge deal however. The mouthfeel is spot-on for the style, with large, soft bubbles.
Clean up the yeast flavors and those large chunks of sediment in the appearance, and this would be a fine Hefe.
★
753 characters

Neumarkter Lammsbräu Weisse from Neumarkter Lammsbräu
-
out of
100
based on
7
ratings.