Chili Pepper Ale
| Six Rivers Brewery
BA SCORE
76
okay
32
Reviews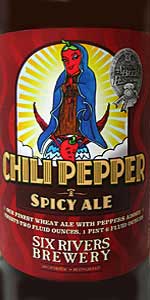 BEER INFO
Brewed by:
Six Rivers Brewery
California
,
United States
|
website
Style:
Chile Beer
Alcohol by volume (ABV):
6.00%
Availability:
Year-round
Notes / Commercial Description:
"Chile Pepper Ale - Alcohol content 6.0%
HOT! Spicy ale made with assorted chilies blended with our wheat ale."
Added by rkuhnel on 09-28-2007
Reviews: 32 | Ratings: 66

1.52
/5
rDev
-52.2%
look: 4 | smell: 2 | taste: 1 | feel: 1 | overall: 1.5
Part of the blind BIF, this was one of the kill shots and it nearly killed two of us.
Beer poured into a tulip, it is yellow and hazy with a diffuse white head of small bubbles, no lacing, low carbonation.
Aroma smells like a vegetable garden, seriously, strong chili aroma coming off of this thing, I am worried / scared now.
The beginning isn't horrible but your relief only lasts for one second. It feels like someone stuck their hand down your throat and pulled on your tonsils with a chili pepper glove. The finish is so dry, leaving you with this mouth of residue and horribleness that left me coughing, seriuosly. Never again, oh cruel cruel world why does this exist?
★
678 characters

1.15
/5
rDev
-63.8%
look: 3.5 | smell: 1 | taste: 1 | feel: 1 | overall: 1
Thanks to dougofthefuture for providing this "kill shot" as part of Blind BIF 5. Served in a Cantillon tulip.
Pours a bright, hazy dark straw color. Very thin head that nearly-immediately dissipates. Thin white collar. Kill shot for sure. The nose is a mess of bell peppers and jalapenos. Amyliz4 says it smells like tater tots. Who can argue? It's bad. Damnit, this better be a chili beer. Loads of spicy jalapeno and green pepper skin. Thin body and moderate carbonation. Really disgusting. Awful. Horrible. Disgusting. Unbearable. Nearly everyone consuming this almost vomited. F.
★
584 characters

1.53
/5
rDev
-51.9%
look: 2.5 | smell: 2 | taste: 1 | feel: 2 | overall: 1.5
Why have I been forsaken? Palate annihilation. Rancid salsa. Sweet potato. Pepper and more pepper. Garbage disposal. Gagging. Wretching. Decay.
I like spicy things. I like peppers. I like beer. This is not a graceful creation combining the "good" of any of these things. If you seek the novelty of this, strain some rancid salsa and splash some MGD64 in for a "beer" presence. Blargh.
★
385 characters
3.66
/5
rDev
+15.1%
look: 5 | smell: 4 | taste: 3.5 | feel: 3 | overall: 3.5
Appearance: Cloudy orange haze
Head: Fluffy cream head that dissipates quickly
Smell: Super earthy, grass and a very large chili pepper on the nose
Taste: Super spice all over and hot chili pepper
Weight: Medium to light body and low carbonation
Finish: Spices, spice and more spice
Over all this is almost like drinking liquid hot sauce
P.S. I don't like hot foods with my beer because it tarnishes my palate, but what happens if my beer tarnishes my palate, if you would to ask me for another Six Rivers Chili Pepper Ale I would say no thank you.
★
558 characters

3.97
/5
rDev
+24.8%
look: 3.5 | smell: 4 | taste: 4 | feel: 4 | overall: 4
I picked this up at Monument Wines and Spirits the other day.
Appearance- yellow color, thin head that dissipates quickly
Smell- peppers, wheat, very nice smell, I love peppers
Taste- peppers, very nice and refreshing, very good flavor(at least to me)
Mouthfeel- light to medium bodied
Drinkability- I thought this was very good. It has a great pepper smell and flavor to it. I would love to have this again.
★
413 characters
4.5
/5
rDev
+41.5%
look: 4.5 | smell: 4.5 | taste: 4.5 | feel: 4.5 | overall: 4.5
What a surprise this was. When the waitress set down our samples, we started going around the tray trying each one. I had forgotten that they had a chili beer, then the first sip WHAT!? This was the first chili beer ive ever had, but damn I want more of this one.
Look: slight yellow, brownish, little head
Smell: habenero, green chilies, wheat with spice, almost like smelling someone cook very spicy tacos
Taste peppers or all sorts, a whole garden full, spicy very spicy, low hop taste
Drink would be great with a contrasting dinner, something not spicy honestly. But I could only imagine what this would taste like if it came back up.
This was very very good, I love spice so I would love this beer. I understand not everyone loves the burn of peppers when drinking a beverage, but I am one of those people I guess. It is different, very different, but this is one that deserves a try. I have friends who think they are big bad manly men and they drink keystone LIGHT like it shows how manly they are. They would cry there little eyes drinking this beer, now this right here, Is a real mans beer.
★
1,105 characters
3
/5
rDev
-5.7%
look: 3 | smell: 3 | taste: 3 | feel: 3 | overall: 3
This is a bit of a shock to the senses. Looks like a normal yellow beer until you put it under your nose. Then there is no question this is a pepper beer. Mouthfeel is actually quite decent, however and pepper is what this tastes like. You are not even sure it is beer. Remarkable for its type, however, and while it is a bit of a novelty, it is actually decent to drink.
★
371 characters
Chili Pepper Ale from Six Rivers Brewery
76
out of
100
based on
32
ratings.