Dismiss Notice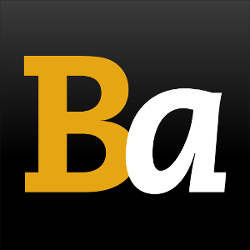 Site Performance Updates: We're aware of the nightly site outage, and working on resolving the issue.
Boxer Lager
| Minhas Craft Brewery
BA SCORE
65
poor
37
Reviews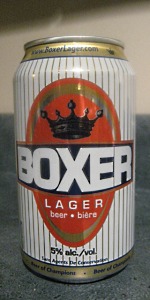 BEER INFO
Brewed by:
Minhas Craft Brewery
Wisconsin
,
United States
|
website
Style:
American Adjunct Lager
Alcohol by volume (ABV):
5.00%
Availability:
Year-round
Notes / Commercial Description:
No notes at this time.
Added by biggred1 on 09-25-2010
Reviews: 37 | Ratings: 113

2.85
/5
rDev
+12.6%
look: 3 | smell: 3 | taste: 2.5 | feel: 2.5 | overall: 3.5
12oz can care of Eric. Thanks for sharing another one of these "you gotta try this one" beers. Strange suspicion here but im guessing this one retails about 50 cents a can.
Poured into a pint (I dont even know why I bothered.) It appears a perfectly clear gold color from a distance. Closer inspection reveals spots of particulate hanging in suspension. A white head initially appeared across the top but it rapidly dissolved to nothing fairly quickly. Some swirls of the glass release some bubbles but they fail to formulate a head outside of just a ring around the outside edge of the glass.
The smell of this brew initially is pretty bad, im not gonna lie. It smells a bit like dirty diaper mixed with sulfur and not in a good way. A little bit of funky cheese and stinky floor malted pilsner maybe even. As it opens up in my glass after getting slightly warmer, it takes on a sweetness to the aroma that is like pink bubblegum and a bit of fruit character. Talk about a ridiculous change of pace from shit nose to candy... so strange.
The taste is all candy corn sweetness (wow this is almost fitting for the upcoming Halloween.) Very artificial tasting with a sweetness that is almost like splenda mixed with the likes of pink original bubblegum and even more sweetness with more candy notes. There is the faintest inclusion of grain present lightly on the back of the palate. No hops to be found but sulfur makes itself lightly known.
This is a light bodied brew with a very low level of carbonation that makes the feel quite watery. I am actually a bit surprised to see this listed as 5%. To this brew's credit the alcohol is well integrated under the dominating sweetness. Worth a try just to try for the sake of trying. I guess this is a hell of a bargain at 50 cents a can if you want to get shittered on a budget... however, it is too sweet for me to have more than a couple of sips.
★
1,898 characters

2.97
/5
rDev
+17.4%
look: 2.5 | smell: 3 | taste: 3 | feel: 3 | overall: 3
A- Pours a mid-golden with a short lived small fizzy white head. Got a few streams of carbonation floating upward. No lacing, below average head retention.
S- Smells of sweet malt.
T- Follows the nose. Had to ponder what it tastes like because it was distinct although unknown to me...have to agree with the two reviewers below me, green apple and Cheerios. What an odd combo...but somehow it works, kinda.
M- Full, syrupy-feeling for the style.
D/O- Nothing to write home about but could be a lot worse. Per the style I'd have to say it's middle of the pack.
★
563 characters

1.92
/5
rDev
-24.1%
look: 1.5 | smell: 2 | taste: 2 | feel: 1.5 | overall: 2
pours out of the can a hazed darker yellow colour with no head and lace. quite fizzy and carbonated. sweet adjunct aroma...a bit of green apples and sugar come to mind. the sweet green apples come through in the taste, sort of like a liquid green apple jolly rancher. some adjunct off notes flow through lightly, also. tastes pretty cheap and watery, just as the price suggests. limited body; mouthfeel is fizzy and watered down. poor drinkability and overall another crappy cheap ass beer. might go well with some tomato juice and other garnishments. probably best to boil brats in.
★
583 characters
2.66
/5
rDev
+5.1%
look: 3 | smell: 2 | taste: 2.5 | feel: 4 | overall: 3
Picked this up for a night with BMC friends at the suggestion of my friendly liquor store manager. It did not go over well with them. Poured 12oz can first into mouth then into a glass to see what I had consumed.
A- Pours a pale gold straw color. Has a three second fizzy white head that vanishes. It would be fun to compare lagers to see which has the quickest dissipating head. No lacing on the glass, but that could be due to how quickly the beer was consumed.
S- Smells like week old Cheerio's that were left in the sun and had a tiny drip of water hitting it every few hours. Maybe a hint of sweetness.
T- It has some taste! It is like eating the aforementioned Cheerio's. You can do it if pressed, can recognize what you are eating, and would do so if hungry. I actually thought the taste made up for the lack of smell. After the initial cereal taste, it is beyond smooth with out much more than a twinge of sweetness.
M- Light to dry body with a nice fizzy level of carbonation. Fizziness doesn't get in the way of drinking.
O- 50 cents a can makes this my new go to drink when I am asked to bring beer to house parties full of BMC drinkers. It is easy to drink and has a nice 5 abv.
★
1,196 characters
3.67
/5
rDev
+45.1%
look: 3 | smell: 3.5 | taste: 4 | feel: 3.5 | overall: 3.5
The 5.0% ABV beer pours golden in color with a slight head. The aroma is light, slightly sweet, slightly tart and lightly fruity. The taste is very light grain, slightly sweet and tart, with a bit of a hop bite on the finish. This was less than $17 for 36 cans. It is not as good as the various Pabst owned lagers, but it is strong for its price range, and very drinkable.
★
372 characters

1.52
/5
rDev
-39.9%
look: 3 | smell: 1 | taste: 1.5 | feel: 2 | overall: 1.5
Oh man, another CAN from Minhas to make me wish that I had never begun The CANQuest (TM)! I kid you not, their beers leave me sadder than any AmeriCAN Malt Liquor ever has.
The Crack & Glug came off without a hitch and I had over a finger of foamy bone-white head briefly until it just passed over like a cloud on a windy day. Color was a deep golden-yellow with NE-quality clarity. Nose smelled like green apples. That's it. Acetaldehyde and probably due to their yeast strain. Mouthfeel was fizzy like pop and had a bunch of bubble gum-like flavors on the tongue, including apple and grape. Jeez-O, man, but this bordered on flat out disgusting. Finish was Gag City Central, leaving me thankful for something to eat to kill the taste. My oh my, but Minhas never fails to disappoint. I wanted a beer real bad and I got a real bad beer, as is their standard. This is not going in my cooler or in the cooler of anyone with whom I am associated if I CAN help it!
★
962 characters

3.3
/5
rDev
+30.4%
look: 3.5 | smell: 3.5 | taste: 3.5 | feel: 2.5 | overall: 3
Appearance: Not bad. Pretty thick and pale (very pale) yellow. Great foam that sticks around a bit.
Smell: Pretty good. Definitely sweet, with very few (but some) hops. Normally I might find something like this gross, but there's something endearing here.
Taste/Mouthfeel: Taste is like sweet corn, actually kind of good. The thick syrupy feel makes this a little less than average.
Drinkability: The sweetness could make this difficult to pound. That said, I actually find this pretty enjoyable.
Overall: I'm rather impressed, as I did not expect much. I would definitely drink this over some alternatives.
★
611 characters

2.71
/5
rDev
+7.1%
look: 3 | smell: 2 | taste: 3 | feel: 2.5 | overall: 3
Since the can says "Imported for..", I'm going to go ahead and put this in the Wisconsin listing for everybody's favorite panderer to the lowest common beer denominator. Commercials for this beer plastered my television a year or so ago, looking all local and shit. Would have fooled me, but...
This beer pours a slightly hazy pale straw colour, with two fingers of unbrowned meringue-like white lace, which leaves some surprising swaths of inkblot lace around the glass as it recedes. It smells metallic, grassy, and faintly grainy. The taste is sweet adjunct grains - more rice than corn, which is weird, given that the place where they make this stuff loves all things corn. Also swimming around in there are some faint citrus esters, mild sour, grassy hops, and soft fusel alcohol. The carbonation is on the low side, the body medium weight, slick, a bit oily, and only a tad cloying. It finishes more or less clean, the malt and hops doing their small part amongst a growing hollow booze edginess.
I'll grant that my initial disposition towards this particular offering was not good. Having actually now consumed it, to use a version of the tired axiom, it's just not as bad as I had assumed. Average at best, to be sure, and too sweet, but nothing overly offensive either.
★
1,281 characters
3.65
/5
rDev
+44.3%
look: 3.5 | smell: 3.5 | taste: 3.5 | feel: 4 | overall: 4
A - Clear light gold. Brittle white head drops quickly.
S - Nose is slightly lemony with light grassy hop.
T - Lightly hopped, as expected. Slightly sweet with a faint lemon-citrus. Very clean.
M - A little bit of slickness in the body is nice - not watery nor overly carbonated. Manages to be refreshing without being too wimpy.
D - Drinkable, chuggable, whatever. No complaints in this department, and appropriate for the style.
★
434 characters
3.25
/5
rDev
+28.5%
look: 3 | smell: 3 | taste: 3 | feel: 3.5 | overall: 4
Poured from 12oz can.
A- Pours a pale golden yellow color. One finger fizzy white head that dies down almost right away. No real lacing on the sides of the glass.
S- Heavy cereal grains in the front. Light green apple aroma in the middle hints from time to time. Sweet malts in the ending make this beer simple and to the point.
T- Sweet cereal grains in the front shows up loud and clear. There is a light sourness in the middle of beer that goes with another blast of sweetness. The ending of this is fried veggies with one last blast of sweetness.
M- Light mouthfeel. Carbonation is fizzy but fits the beer. Sweet malts and veggies left on the palate with a light alcohol in the aftertaste. Crisp and clean tasting. Light alcohol drying on the palate. Flavor is balanced well for the style.
D- This one is easy to put down. A little on the sweet side but it tastes like a Bud with a little extra sweet side to it. ABV is low enough to drink a sixer or more of this no problem. NOt good but not bad...pretty average.
★
1,026 characters
3.72
/5
rDev
+47%
look: 3 | smell: 3.5 | taste: 4 | feel: 3 | overall: 4
This is an inexpensive beer that doesn't taste like it. Probably the best beer to come from Minhas' Monroe operations. It could be a lot worse but it isn't. So I consider this beer a solid victory for them. If you can find it then buy a sixer and give it a try. Chances are you will be impressed, if not impressed then at least not disappointed.
★
345 characters
2.55
/5
rDev
+0.8%
look: 2.5 | smell: 2.5 | taste: 2.5 | feel: 3 | overall: 2.5
The latest "cheapo" brew to hit the market, a 36-pack of 12oz. cans retails around $11.99 in Indy or .50¢ a can.
Clear, pale yellow with an off white finger of fizz that burns off quickly and shrinks to a skim of foam. Corn grits, green apple skin and sweet smelling barley make up the aroma. Sweet and corny with a touch of raw grain. Light and fizzy bodied. This is a pretty bad beer but I'm not sure it's any worse than the "premium" light macro lagers that cost three times as much.
★
488 characters
Boxer Lager from Minhas Craft Brewery
65
out of
100
based on
37
ratings.