Dismiss Notice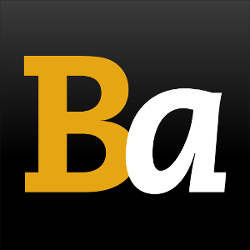 Site Performance Updates: We're aware of the nightly site outage, and working on resolving the issue.
Shore Break India Pale Ale
| Minhas Craft Brewery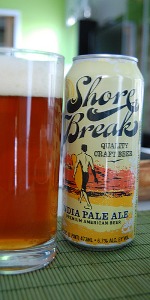 BEER INFO
Brewed by:
Minhas Craft Brewery
Wisconsin
,
United States
|
website
Style:
English India Pale Ale (IPA)
Alcohol by volume (ABV):
6.70%
Availability:
Year-round
Notes / Commercial Description:
No notes at this time.
Added by Zorro on 08-05-2012
Reviews: 8 | Ratings: 14
None found.
More User Reviews:

2.17
/5
rDev
-17.5%
look: 3.5 | smell: 2 | taste: 2 | feel: 2.25 | overall: 2.25
473ml can. This entry should exist under the Rhinelander page, even if the production does occur at the Minhas factory of horrors in Monroe, WI. I do like how it says "Bottled and produced by..." on the side of a CAN.
This beer pours a hazy medium golden amber colour, with two broad fingers of puffy, loosely foamy off-white head, which leaves some random splotches of bubbly lace around the glass as it quickly sinks away.
It smells of sweet, sugary, grainy corn malt, herbal, musky perfumed hops, and a tame, only somewhat off-putting medicinal, stewed veggie essence. The taste is gritty, blandly grainy pale malt, some corn kernel astringency, a pithy dry woodiness, softer cheap floral perfume than that of the nose (small miracles), and a dead weed, vegetal skankiness.
The bubbles are a tad too edgy, and high-palate stickers at that, the body medium-light in weight, and only kind of smooth, a clammy dullness seeing to that. It finishes off-dry, barely, the graininess ceding most of its gamey sweetness to the charms of the lingering acrid perfumed 'hops', and a growing metallic nature.
Just another gravely uninspired, barely above total fail offering from Minhas, through this holding company/family reunion thing of theirs. Nothing resembling American or English IPA hop profiles here whatsoever, just a moderately sickly rendition of cheap sugar sources and unpleasant flowerbed esters. And as for the name - how much surfer culture is there in forest-bound Northern Wisconsin, really?
★
1,505 characters

3.21
/5
rDev
+22.1%
look: 4 | smell: 3.5 | taste: 3 | feel: 3.25 | overall: 3
This beer was purchased at the Minhas brewery. Poured from a 16 oz. can. Has a golden/orange color with a 1/2 inch head. Smell is floral, herbal. Taste is herbal, tea, malts,melon, a bit of an unusual aftertaste. Feels medium/light bodied inm the mouth and overall, not horrible, but I won't be drinking this one again.
★
319 characters


3.3
/5
rDev
+25.5%
look: 3.75 | smell: 3 | taste: 3.25 | feel: 3.5 | overall: 3.5
Appearance- dark amber color, half inch head, decent lacing
Smell- malt mostly
Taste- malt mostly, some minimal hops
Mouthfeel- medium bodied
Drinkability- It was ok but it definitely needed more hops.
★
201 characters
3.93
/5
rDev
+49.4%
look: 2.5 | smell: 3.75 | taste: 4.25 | feel: 4.25 | overall: 3.75
This is not a bad IPA at all but nothing outstanding about it. It just taste a bit better than you would think from its appearance. A bit cloudy in appearance, smell is ok very mild, smooth woody taste, mellow IPA, feels good in the mouth with very little after-taste or bite. Lacks any character and very safe personality. Tasted a lot better than expected!
★
358 characters

3
/5
rDev
+14.1%
look: 3 | smell: 3 | taste: 3 | feel: 3 | overall: 3
A new beer at Fresh and Easy.
The can says "Bottled and Produced by: Rhinelander Brewing Company, LLC Monroe, WI 53566."
Right, only brewery there is Minhas and they brew lots of contract beers under many names.
Chill hazed amber colored beet with a small tan colored head. Dark enough that this could be called a red beer.
Smell is herbal and hoppy with a distinct medicinal scent like formaldehyde. Little bit of corn in the aroma.
Starts out dry and bitter. Flavors are mostly woody. Little bit of caramel in the taste. Just not a lot happening here.
Mouthfeel is average.
Overall this is a Blah beer. It is actually closer to a English IPA than an American one. I will not be buying more of this.
★
707 characters




1.22
/5
rDev
-53.6%
look: 3 | smell: 1 | taste: 1 | feel: 2 | overall: 1
Awful! Not even an IPA. It's a cheap lager. I bought it at fresh and easy thinking 'a new ipa in a cool cardboard case, I'll try it!'. Waste of money. It has a cheap caramel finish with no flavor and no hop. I'm currently washing the taste out of my mouth with a stone IPA. Now I have no idea what to do with the other 5!
★
321 characters
2.63
/5
rDev 0%
look: 2.5 | smell: 2.5 | taste: 2.75 | feel: 2.75 | overall: 2.5
It's an ok beer. Usually IPAs have a very strong taste, this one was like a regular beer. It's not a craft quality beer, but among the Shore Break beers this is the best one.
★
176 characters

2.45
/5
rDev
-6.8%
look: 4 | smell: 2 | taste: 2.25 | feel: 3.25 | overall: 2.5
Trying to save a buck or two, I purchased this one at Fresh and Easy. $7 for 6, 16oz cans. Can't beat the price. I'm trying to find more canned beer that I like, so it seemed like a good idea.
Poured into a pint glass, lots of white foam. Looks good with a thick white head atop nicely colored dark orange beer. Head dissipated after a few minutes however.
As much as the appearance had me thinking I'd found a hidden gem, alas, the smell gave it away. It has that corn/rice smell reminding me of Bud or Coors. I didn't get any piney/florals expected from IPA. Just kinda grassy, dirty, corn smell.
The taste is equally disappointing. Too sweet, no hops to speak of, a bit metallic. It is as if St. Ides or Mickeys decided they wanted to make an IPA. You can tell what they were trying for, but in the end, that cheap, bad flavor and aftertaste come through.
Won't be buying this one again.
★
894 characters
Shore Break India Pale Ale from Minhas Craft Brewery
-
out of
100
based on
8
ratings.