Dismiss Notice
Dismiss Notice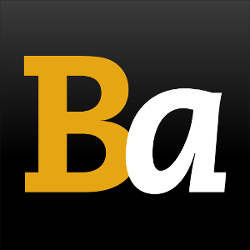 Join Our Email List →
And we'll send you the latest updates and offers from BeerAdvocate, because knowing is half the battle.
Dismiss Notice
Bourbon Barrel Doppelbock
- Hinterland Brewery Restaurant
| | |
| --- | --- |
| Educational use only; do not reuse. | |
Reviews: 31 | Hads: 105

3.92
/5
rDev
+8.9%
look: 3.5 | smell: 4 | taste: 4 | feel: 3.5 | overall: 4
$7.99 for a half liter Euro style bottle.
I agree with BeerFMAndy -- the waxed cap is attractive but was a dog to get off. I nearly impaled myself several times with a knife trying to chip away at the brittle plastic wax. Skip the wax next time.
A: nice, nearly clear, mahogany color, poured with a decent head that dissipated to a thin wisp of bubbles around the glass
S: definitely malty doppelbock with bourbon barrel noticeable but not overwhelming
T: I didn't think this would be a good mix but Hinterland did a decent job, the heavy malt backbone is still there with a decent and noticeable amount of bourbon barrel throughout
M: very smooth and drinkable for its ABV, but I couldn't see drinking more than a bottle or two at a setting
★
743 characters

4.12
/5
rDev
+14.4%
look: 4 | smell: 4.5 | taste: 4 | feel: 4 | overall: 4
16 oz wax-dipped bottle poured into a Hinterland tulip.
No date or info.
A - While wax-dipping a bottle can certainly increase it's attraction, it can also hinder the beer. Case in point; this wax is so brittle it chips and breaks, nearly falling into the beer. My recommendation? Use a knife (carefully!) to cut around the base of the cap, then pry off. Once safely aside, the beer pours a gorgeous deep mahogany color which, despite it's dark nature is clear. A short-lived tan head caps the pour and dots the tulip in specks of lace.
S - Bourbon is immediately apparent through this beer but by no means is it boozy, in fact, Bourbon Barrel Doppelbock uses it's time in the barrels to juxtapose the malt's interaction. Rich caramel and Munich sweetness dwell in the background of this smooth lager but become more open as it warms, blending wonderfully with the charred oak and alcohol warmth.
T - Lost in translation, the rich maltiness of the aroma thins out considerably in flavor, imparting it's nuances but not the full breadth of their capabilities. Amber-like toasted malts trickle in some breadiness while light caramel and Munich sweetness barely come through. Wood paneling is a bit more reminiscent of an old basement rather than typical barrel aging, though this seems to have spend much less time in barrels judging by it's respectably light traces of the spirit.
M - Hinterland's Doppelbock does a fantastic job of minimally aging the base beer for an outcome that's not a pure booze-bomb rife with alcohol heat. But what's not so fantastic is the thin feel of the base doppelbock which would normally be a rich, malty, and sweet German lager. Hinterland get's it right with the crispness and cleanliness of lagering though, and that's quite admirable. I just wish the beer had a fuller body.
O - There's a fine line to walk when one barrel ages beer. To be too thin? Or to sway into utter booziness... It becomes hard to please everyone, but Hinterland does a great job at walking that line down the center, letting their doppelbock breathe and open with an aromatic spirit nose but the base beer just seems rather...flat, regardless of barrel aging. A doppelbock is a rich, hearty style; "liquid bread" to the monks, and while this beer is very nice, it doesn't quite reach that status. Look for this version to be much more drinkable and less filling, a terrific fall treat!
★
2,399 characters

3.92
/5
rDev
+8.9%
look: 3.5 | smell: 4 | taste: 4 | feel: 3.5 | overall: 4
Served in a Chimay chalice, cellar temp
A - pours a cola brown with off-white head
S - bourbon, malt, toffee, vanilla
T - good amount of the bourbon comes through, then some sweet toffee, malt
M - fairly thin, a bit of alcohol burn in the end
O - this is a nice offering from Hinterland, glad I got a hold of a bottle. This makes me want to try more of what they have to offer.
★
383 characters
3.4
/5
rDev
-5.6%
look: 3.5 | smell: 3.5 | taste: 3.5 | feel: 2.5 | overall: 3.5
Ok, so before reviewing anything, I've got to agree with the other guy who made the comment about the wax. THEY. USED. WAY. TOO. MUCH. The thing took me probably 10 minutes just to get the cap off, and now I've got all these little black wax shavings on my desk. Sure, it's a nice touch, but jesus jones back it down, Hinterland.
As for the beer when I was actually able to pour it...
Appearance: Deep dark copper brown, with maybe a finger of thin white head. Minimal lacing.
Smell: Definitely get a lot of bourbon straight out the gates, followed by the standard barrel smells of vanilla and oak. A little bit of syrupy smell too.
Taste: Less bourbon than the nose, but definitely present. Sweet and malty, but not as flavorful as I'd like. I mean I really like the flavor, but it's a little weak, almost watery.
Mouthfeel: Too thin. The carbonation is fizzy, not rich, and overall it is lacking in body. I think this is the most disappointing part of this beer - it's like I'm drinking a really really tasty Coors Light or something.
Overall: Good, not great. I'd certainly drink it again, but I doubt I'd buy it again for $6 a pint. Although, this might be a really good session beer - you have to spend so much time fiddling with the wax that there's no way you could get hammered on it.
★
1,298 characters
3.63
/5
rDev
+0.8%
look: 4 | smell: 3.5 | taste: 3.5 | feel: 3.5 | overall: 4
A - Auburn, brown with a tan head and small spotty lacing.
S - Wet oak, vanilla, light bourbon notes and sweet caramel malts.
T - Toasted bread with sweet caramel malts, hint of brown sugar, vanilla and light bourbon notes.
M - On the thin side of medium with light carbonation.
D - Need to work on the waxing of the bottle. Took me almost 10 minutes to pry the wax off. Seems a little thin and watery for a doppelbock and could use a little more complexity from the bourbon aging.
★
486 characters
3.65
/5
rDev
+1.4%
look: 3.5 | smell: 3.5 | taste: 3.75 | feel: 3.5 | overall: 3.75
Pint bottle poured into a Brewers pint glass
Appearance- Copper color with a small amount of white head that dissipates quickly into a small film above the beer.
Smell- I get a sweet cherry smell with a small amount of a charing smell and a slight hint of bourbon.
Taste- Similar to the nose minus the cherry. Very nice toasty/roasty flavor with a bourbon finish. They do a very good job of making the Doppelbock the star of the show, with a small but great supporting role played by the bourbon.
Mouthfeel- Medium body with light carbonation, very easy on the palate.
Overall- They did a nice job here incorporating classic doppelbock flavors with the bourbon barrel twist. If this was not barrel aged it would be a run of the mill doppelbock, but the bourbon barrel aging does just enough to make this a good complex beer.
★
829 characters
Bourbon Barrel Doppelbock from Hinterland Brewery Restaurant
82
out of
100
based on
31
ratings.