Brooklyn American Ale
| Brooklyn Brewery
BA SCORE
79
okay
10
Reviews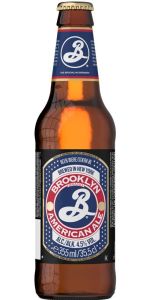 BEER INFO
Brewed by:
Brooklyn Brewery
New York
,
United States
|
website
Style:
American Pale Ale (APA)
Alcohol by volume (ABV):
4.50%
Availability:
Year-round
Notes / Commercial Description:
No notes at this time.
Added by tempest on 05-02-2009
Reviews: 10 | Ratings: 68
2.11
/5
rDev
-34.5%
look: 3 | smell: 2 | taste: 2 | feel: 2.5 | overall: 2
Got this in a rare beer swap courtesy of Jay. Don't know what the American ale is supposed to be. I know Budweiser has one. Poured out like a deep orange amber color. Aroma was not there. No hops no malt it was like smelling water. Taste was the same. What was the goal here? Seems like it was to make a universal beer. It did not impress me. It looked like Brooklyn Lager but tasted like nothing. Glad I tried it but glad it's over too.
THANKS BUT NO THANKS
★
459 characters
2.29
/5
rDev
-28.9%
look: 3 | smell: 1.5 | taste: 2.5 | feel: 2.5 | overall: 2.5
This was clearly a dissapointment. I like other Brooklyn products I've tasted and Local 2 is one of my favourites.
Appearance is not that bad, little haziness copperish color. I didn't get much foam after pouring.
Smell is rather unappealing, sort of damp. I can't quite locate the smell, but somehow it's not that great. Sure, some hops but frankly - IMO it smells bad.
Taste is also very unappealing. It's somehow metallic and very mild. No hops, malt, booze. Nothing. Very bland. Mouthfeel goes to same direction.
So, this beer probably goes nicely in bar with having nice time with friends and perhaps straight from the bottle. But from the "serious" beer tasting point of view, this is at most average beer.
★
716 characters
2.91
/5
rDev
-9.6%
look: 3.75 | smell: 3.25 | taste: 2.75 | feel: 2.5 | overall: 2.75
355 ml bottle, BB date 01/05/16, bought in a supermarket in Helsinki.
Clear, yellow; this is pale ale. Nice moderately persistent head. Pouring, the sound is perfect.
The smell is pleasant but not very strong, herbs and some citrus.
The taste is there, but not sufficiently strong. Hoppiness comes through rather blandly, but continues smoothly.
Feels slightly thin, perhaps watery.
Overall, a good start but disappointing finish.
★
434 characters

3.2
/5
rDev
-0.6%
look: 3.5 | smell: 3.5 | taste: 3 | feel: 3.5 | overall: 3
Pours transparent orange with white head. Aroma of subtle spicy hop character, barley, and grain. Sweet malt towards the finish and a note in that malt that I am not a fan of. Maybe some adjunct possibly. Light in body and mouthfeel. Brooklyn's take on the American Ale is worth noting but I don't quite understand its purpose. A craft brewery putting money to make their product worse. Macro drinkers will keep reaching for Bud/Coors and Craft drinkers will try this once and then shy away from it.
★
499 characters

3.3
/5
rDev
+2.5%
look: 3 | smell: 3.5 | taste: 3.25 | feel: 3.25 | overall: 3.25
Appearance: Pale yellow, bubbly. Pours a small one finger head that recedes very quickly.
Aroma: Flowery hops with a hint of honey sweetness. Refreshing.
Taste: Quite light, but rather drinkable. Has characteristics of a hoppy lager rather than an APA in fact. The hops give way to a light malty sweetness, with some citrus undertones.
Mouthfeel: Light to medium body, medium carbonation
Overall: It's okay, but nothing amazing. A nice session ale, which I've in fact often had in bars in Helsinki, as you can get it in quite a few places. Decent value for money.
★
567 characters

3.31
/5
rDev
+2.8%
look: 3.5 | smell: 3.75 | taste: 3.25 | feel: 2.5 | overall: 3.25
Bottled
Golden body, white surface bubble head that covers about 90%
Nice citra/citrus sherbert aroma
There is a hoppy citrus start and then malt body then it goes watery
it's thin
Not terrible but as unbalanced as your average Jack Nicholson character
★
255 characters

3.5
/5
rDev
+8.7%
look: 3.5 | smell: 3.5 | taste: 3.5 | feel: 3.5 | overall: 3.5
Brooklyn American Ale is a super smooth, crushable treat. As soon as I popped the can and poured this yummy treat, I noticed a super golden color, with a nice amount of carbonation. In fact half way through the can I still see bubbles rising from the bottom up. A nice citrusy hop taste in conjunction with the light malt makes this bad boy an easy drinking treat. I am a big fan of just about anything this brewery puts out. This is not a complex beer for sure. Getting ready to sit down and slam down a few pizzas, with some old college buds, while watching some NCAA basketball and this will enhance the experience for sure. Glad we have a case of this treat . BTW, that pic is ages old. The can is red white and blue ! Super crisp and clean for sure ! This beer goes down nice and easy, as intended by the Brooklyn brew crew.
★
830 characters

3.59
/5
rDev
+11.5%
look: 3.75 | smell: 3.5 | taste: 3.5 | feel: 3.75 | overall: 3.75
Golden liquid with a Huge white head and a ton of lace. Lovely. Nose is earthy and citrus. Light sweetness. Taste is light malt sweetnes with an earthy and citrusy hop combination. Notes of caramel and bread. Feel is crisply carbonated and refreshing. An easy drinking brew with a low abv that allows long hours of session drinking. An excellent beer for days when things have to get done, you're hangin' in the backyard grilling, or as a hot day thirst quencher. Not earth shaking but solid brew that you can hand to a macro swilling friend and watch the lights go on. Nice.
★
575 characters

3.66
/5
rDev
+13.7%
look: 3.5 | smell: 3.75 | taste: 3.5 | feel: 4 | overall: 3.75
This is quite a decent beer that Brooklyn has made.
The hop profile is quite smooth, so it almost seems like it adjunct with wheat. There is a light hop start and then it has a bread and caramel profile and has a really good smooth malty finish. The malty clean finish is quite nice.
This is a great summer beer. I do prefer more hoppy beers, but the smooth and wonderful malty clean finish is done really well.
★
413 characters

3.83
/5
rDev
+18.9%
look: 4 | smell: 3.5 | taste: 3.5 | feel: 4.5 | overall: 4.5
A friend shared a few bottles of this export-only beer. The label reads it's a mix of chinook and cascade hops for Sinebrychoffin in Finland. This beer reminds me of an English ESB (with American hops). There's a mellow caramel and bread crust malt profile followed by bigger pine and citrus hops with a herbal twist from the chinook. Very tasty and drinkable. This a great session ale I wish we had in the U.S.
★
411 characters
Brooklyn American Ale from Brooklyn Brewery
79
out of
100
based on
10
ratings.