Dismiss Notice
Dismiss Notice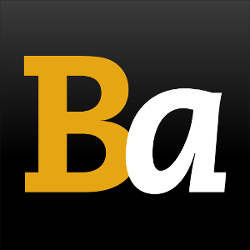 Join Our Email List →
And we'll send you the latest updates and offers from BeerAdvocate, because knowing is half the battle.
Dismiss Notice
Augustijn Brune
- Brouwerij Van Steenberge N.V.
| | |
| --- | --- |
| Educational use only; do not reuse. | |
Reviews: 63 | Hads: 205
3.95
/5
rDev
+5.6%
look: 4 | smell: 4 | taste: 4 | feel: 3.5 | overall: 4
This is my final beer from the Van Steenberge mixed 6-pack. I saved it for last largely because it seemed the least interesting to me. That said, I have been very impressed with the other peers in the pack, and I doubt this will be an exception.
It pours a hazy reddish-brown with a large fluffy light toffee coloured head.
Banana comes through quite prominently in the aroma. This mingles with some flowery aspects and belgian yeasty smells and a hint of tartness.
The flavour is full and quite sweet. Brown sugar mixes with some hoppy bite and aromatic floral aspects. It finishes with a nice rounded malty note.
Overall, another nice offering from van Steenberge. It's not the most outstanding Belgian dark, but a good beer nonetheless.
★
744 characters
4.15
/5
rDev
+11%
look: 4 | smell: 4 | taste: 4.5 | feel: 3.5 | overall: 4
This is a dark amber beer with a nice ratio of foam. This is beer has a non-eventful smell, some what disapointing. Mouthfeel is full of bubbles and that is being proper. The taste is very, well, nice. There are hints of roasting and a nice hoppy mix. We like it! Overall the smell and taste do not match, but do not let that get in the way of having one.
★
355 characters

4
/5
rDev
+7%
look: 4 | smell: 4 | taste: 4 | feel: 4 | overall: 4
Pours a cola brown color with modest sized head, and surprisingly modest compared to many Belgians. Nose has some dark toffee, figs, brownbread, and a nice musty quality. On the palate a black tea element is there, some light caramel, and a light body. Finish is light with more black tea, and I find this ale is very drinkable.
★
328 characters

3.77
/5
rDev
+0.8%
look: 3 | smell: 3.5 | taste: 4 | feel: 3.5 | overall: 4
Yet another new addition to the Van Steenberge sample pack; again, at least it is new to me. In a previous review, I was uncertain as to whether or not the beer that particular beer replaced in the sample pack was simply the same beer with a different name. This is definitely NOT the case with this beer. This is not the same beer as the Bornem Dubble, which is darker with larger carbonation bubbles.
Poured from a bottle into a wide-mouthed glass.
-Appearance 3.0: Average looking, dark brown color. Opaque. Small head that stayed about the same level (1/5"). Small bubbled carbonation.
-Smell 3.5: Strong barley smell with a hint of chocolate. Slightly sour smelling with some hoppy accents.
-Taste 4.0: Very, very smooth. It is slightly sweet and smoky, like a porter. There is a kind of "dead space" in the middle of the taste, that is quite refreshing; just cool liquid. Very clean aftertaste with just a hint of yeast and toasted malts remaining in the mouth. Nice.
-Mouthfeel 3.5: Bottle conditioned carbonation is not distracting at all. Small bubbles that are refreshing. Very light and refreshing in the mouth, not syrupy at all despite its relatively high ABV (7.5%).
-Overall 4.0: Another very good Van Steenberge beer. This is refreshing and quite a difference from the golden "dubbles" that so many of us are accustomed to. Worth sampling when you find it.
★
1,379 characters

3.58
/5
rDev
-4.3%
look: 4 | smell: 3.5 | taste: 3.5 | feel: 4 | overall: 3.5
Pours a hazy orange-ish to brown color with a light tan head. In the aroma, big candy sugar and a small fruitiness. In the taste. a small roast, almost chocolate like, and a small candy sugar in presence. A smooth and medium bodied mouthfeel, with a dry small candy sugar in the aftertaste. Big candy sugar and a nice small roast. Nice but nothing exciting.
★
357 characters

3.65
/5
rDev
-2.4%
look: 3.5 | smell: 3.5 | taste: 3.5 | feel: 4 | overall: 4
Coming in a 330ml short brown bottle, BB 15/06/2013, served lightly-chilled in a short-stemmed goblet.
A: dark copper with ruby hues, lightly hazy, with a pillowy/foamy off-white head settling slowly to a thin sheet to last.
S: aromatic amber malts, crystallised sugar and fruit esters abound, not in the right-in-the-face way, but rather delicate. Exotic esters such as red bean paste joins force with prune jam and unidentified berries.
T: lightly sour-sweet, spicy, and yet at the same time rather malty (in an English way in fact, with that bit of stinky edge of Maris Otter pale malts to it, but also a little bready…) comes the foretaste, coupled with some old-ish notes as of woodiness, caramely sweetness and marinated prunes; mildly spicy and chewy in the finish, with only a wee touch of hop bitterness lingering, leaving a rather lubricating alcoholic feel down the throat.
M&D: mildly carbonated, medium-bodied, the balance is retained intact throughout the drink, and overall the hop contents seem to make some impact. Not bad, but all in all slightly boring to my taste.
★
1,087 characters
3.8
/5
rDev
+1.6%
look: 4 | smell: 4 | taste: 3.5 | feel: 4 | overall: 4
Had preceonceived notions that this was going to be disappointing.
Once de-capped with that typical Van Steenberge hiss, this beer conjured up aromas of some brown sugar, rum and alchohol and was equally rich in the glass. Orange and russet brown in the glass with some faint apple fruit there was some spritziness on the tongue but nothing overly acidic unlike some other beers from this brewery.
Taste wasn't bad ressembling the nose but the dominance of that brown sugar trace at the end was a nice surprise. Head throughout though it thinned over time.
Bit of an overachiever here. With some minor changes this could be an excellent beer.
Not disappointing at all really.
★
676 characters
4.12
/5
rDev
+10.2%
look: 4 | smell: 4.5 | taste: 4 | feel: 4 | overall: 4
Augustijn Brune, which the brewmaster considers a dubbel.
From a stubby bottle into a small snifter, pours a rich brown with an off white head with little lace. Aroma of caramel, malt, and some wood/oak elements. In the flavor, malt driven possessing a faint roasted quality. Muted fruit notes from the yeast and a semi-dry finish. Mouthfeel is medium bodied, with a chalky yeast presence. Overall, a nice abbey brew, authentic and very much a true Belgian.
★
458 characters
3.78
/5
rDev
+1.1%
look: 4 | smell: 3.5 | taste: 4 | feel: 3 | overall: 4
Pours clear brown with reddish tint and huge, foamy and rocky off-white head and patchy lacing. Aroma is strong malt, a bit of wood with hints of alcohol.
Taste is clean caramel malt, some wooden feel, lots of presence of dried fruit, spicy yeast and pleasant alcohol warming that slowly increases its presence. Mouthfeel is about medium with lively and rather high carbonation.
Overall, very refreshing and drinkable Dark Ale, maybe lacks body, but flavours compensate for that.
★
481 characters

3.73
/5
rDev
-0.3%
look: 4 | smell: 3.5 | taste: 4 | feel: 3.5 | overall: 3.5
A: The beer is very dark amber in color. It poured with a finger high creamy tan head that has good retention properties; a thin layer of bubbles consistently covered the surface. A moderate amount of carbonation is visible.
S: There are aromas of dark fruits and malty sweetness in the nose along with some notes of spices.
T: The overall taste is rather sweet and has flavors of apples, cherries and pears. There are also some hints of spices in the aftertaste.
M: It feels light- to medium-bodied and very smooth on the palate with a moderate to high amount of carbonation.
D: Although the beer is sweet, it's not entirely difficult to drink because the sweetness isn't cloying and is balanced to some degree by the spices.
★
726 characters

3.31
/5
rDev
-11.5%
look: 4 | smell: 3 | taste: 3.5 | feel: 3.5 | overall: 3
Asked for a good Oud Bruin at Bierbrasserie Cambrinus and this is what they served me. Poured it from a 33cl bottle into a stemmed tulip glass. Best by: 6/18/11
A: Pours a nice brown/reddish hue, with a solid head and real nice lace that coats the entire glass from start to finish.
S: Malt, wood, black liquorish and fresh baked bread. There's a very slight weird smell at the end though (like rubber hose) - something is kinda off.
T: Luckily what ever is causing the unpleasant smell doesn't effect the flavor at all - very nice aged brown ale flavors, chocolate, roasted malts with some slightly sour fruit and a faint taste of hop.
M: Light/medium bodied with mellow carbonation.
D: Average drinkability. I wouldn't be bummed if this is was the only beer at a party, but certainly wouldn't want it to be.
★
815 characters

3.41
/5
rDev
-8.8%
look: 4 | smell: 3 | taste: 3.5 | feel: 3.5 | overall: 3.5
Beer bottle (33 cl.), tasted in 2010.
Appearance : brown red color, with tan foamy head (not persistent).
Smell : burned caramel aroma (with other strange note : phenol ?).
Taste and mouthfeel : roasted malt and caramel flavours.
Drinkability : an average beer in the style Belgian dark ale.
★
292 characters
3.1
/5
rDev
-17.1%
look: 3 | smell: 3 | taste: 3 | feel: 4 | overall: 3
A nose that evokes esters and roasted malts that offer good odor smell. The palate is sweet without being lightweight and offers, especially in the finish, a spice that is not uninteresting, and offers a taste of some spices on the tongue. A fairly drinkable beer for its type without being extraordinary
★
304 characters
Augustijn Brune from Brouwerij Van Steenberge N.V.
84
out of
100
based on
63
ratings.