Dismiss Notice
Get FREE shipping on all US orders of $25 or more from the BeerAdvocate Store.
No promo code required. Offer valid through 4/30.
Ready to gear up? Start shopping →
Archa Beer
| Cosmos Brewery (Thai Beverage Plc.)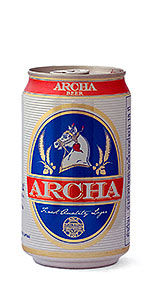 BEER INFO
Brewed by:
Cosmos Brewery (Thai Beverage Plc.)
Thailand
|
website
Style:
American Adjunct Lager
Alcohol by volume (ABV):
5.40%
Availability:
Year-round
Notes / Commercial Description:
No notes at this time.
Added by bark on 02-03-2010
Reviews: 8 | Ratings: 14

2.21
/5
rDev
-13.3%
look: 1.5 | smell: 3 | taste: 2 | feel: 2 | overall: 2
From notes Dec 10th 2010
A: Little visible carbonation but a huge soapy head with excellent retention. Golden yellow, transparent.
S: Musty astringent malt, somewhat sharp.
T: Very bland. AAL? Tastes like watered down beer. Neutral malt in the background. Not disgusting, but not good.
M: Almost a medium body oddly enough for being so watery. Barely astringent.
D: I suppose it's better than most AAL's but, not by much. It does goes down without me spiting it out.
★
471 characters
More User Reviews:

2.61
/5
rDev
+2.4%
look: 3 | smell: 2 | taste: 2.5 | feel: 3.5 | overall: 3
A: Orange gold colour, huge creamy white head which fades, looks well carbonated.
S: Smells of glue, malt, more glue, more malt, some hops.
T: Tastes of malt, glue, bitter hops present too.
M: Well carbonated, medium body. Not watery as I was expecting.
O: More bitter than most Thai beers I've had. Smell is a little strange to me. The overall look of the labelling, in my opinion, takes it down a bit. Good mouth feel, and cheap. Would go well with deep fried Thai food.
★
478 characters

2.67
/5
rDev
+4.7%
look: 3 | smell: 2.75 | taste: 2.5 | feel: 2.75 | overall: 2.75

2.78
/5
rDev
+9%
look: 2.5 | smell: 2 | taste: 3 | feel: 2.5 | overall: 3.5
330ml can poured into a pint glass with no detail about best before date.
A:
Transparent golden color with good frothy thick white head, it swiftly dissipates and leaves with almost no lacing. Visible soapy carbonation is subtle.
S:
Rather flat; faint malt, sweet grain and some synthetic note.
T:
Noticeably adjunct sweetness, grainy, slight hop bitterness lingers as an aftertaste.
M:
Light body, watery feel, sharp carbonated which is a bit too harsh.
D:
Just like typical Thai's AAL. Strongly rejuvenate character is the best attribute of this macro brew.
★
564 characters

2.9
/5
rDev
+13.7%
look: 3 | smell: 3 | taste: 3 | feel: 3 | overall: 2.5
The colour is yellow; the two finger head leaves a fizzing sound when poured. It sinks quite fast to an airy lid leaving no lacing.
The smell is quite clean. Some neutral hints of French loaf, alcohol and a synthetic bitterness.
The taste is neutral and smooth (on a bad day, I would have said "boring"). Creamy semi-sweet notes from the adjuncts. Just enough of neutral bitterness to keep it from being too sweet. The aftertaste is mild and unexciting with some notes of alcohol and dough. Finish is watery.
The carbonation is medium to mild; the bubbles small. The liquid is a bit smooth.
This one will probably be better off at a Thai beach in sunset than in a Swedish flat with half a meter of snow outside the window. Boring, but without any odd off flavours.
★
780 characters


2.47
/5
rDev
-3.1%
look: 2.5 | smell: 2.25 | taste: 2.5 | feel: 2.25 | overall: 2.75
Poured from a 33cL can into the wine glass.
Hazy pale gold with mild effervescence. It smells neutral and sour-sweet. It tastes similar; hint of mild fruitiness amidst the adjunct grains. Clean aftertaste. Watery, but refreshing. Pretty decent for a Thai lager!
★
263 characters
2.11
/5
rDev
-17.3%
look: 1.5 | smell: 2.25 | taste: 2 | feel: 2.25 | overall: 2.25
2.53
/5
rDev
-0.8%
look: 2 | smell: 2 | taste: 2.75 | feel: 2.75 | overall: 2.75
Can from Tops Market in Koh Samui. From notes.
Moddo across the can reads "True Friendship!" as well as a classy "Bigger Size! More Friends!" Love it.
A - Poured an apple juice sorta yellow. Bright with mild carbonation. Two fingers of white head gone really fast. No lace and no retention.
S - Corny, apple juice.
T - Grainy, some pear, apples, a lot less offensive than the aroma.
M - Decent carbonation, light to medium body, mildly sweet and a little dry in the finish.
O/D - Not a bad lager. Nothing really stands out but nothing offends. Decent and drinkable for the style, but I don't think that's really saying much.
★
630 characters
2.59
/5
rDev
+1.6%
look: 2 | smell: 3 | taste: 2.5 | feel: 2.5 | overall: 2.5
sampling all brews I can get hold of during my hols in Thailand ...
the nose gets flavors of white grapes, hints of cocoa
the taste is mentholic with some soury bitterness, rather light
this seems to be a sort of blue collar beer in Thailand even though with an ABV of 5.4% being rather on the strong (in alcohol rather than in taste) side ...
★
346 characters
2.46
/5
rDev
-3.5%
look: 3.5 | smell: 2.5 | taste: 2.25 | feel: 2.5 | overall: 2.5
640ml bottle on Koh Lanta from a minimart (40 Baht):
Straw coloured with a 1cm, bubbly white head that holds reasonably well.
Light & sweet with some lively adjuncts & grassy hops. Some faint malts as well, a little barely and a touch of skunk towards the end.
Bitter adjuncts and some skunk kick things off, followed by a little citrus and some light, lager malts. A bland, mellow taste that is a run-of-the-mill macro lager.
Light bodied & with lively carbonation & a semi-sweet palate. Nothing really out of the ordinary or worthy of note here I'm afraid.
This one wasn't all that bad a beer for a Thai pale lager. Not as good as Singha or Chang but a lot better than some of the crap out there.
★
702 characters

Archa Beer from Cosmos Brewery (Thai Beverage Plc.)
-
out of
100
based on
8
ratings.