BA SCORE
75
okay
39
Reviews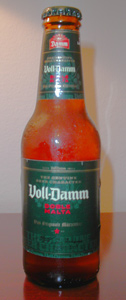 BEER INFO
Brewed by:
Damm S. A.
Spain
|
website
Style:
Märzen / Oktoberfest
Alcohol by volume (ABV):
7.20%
Availability:
Year-round
Notes / Commercial Description:
No notes at this time.
Added by Mitchster on 06-21-2003
Reviews: 39 | Ratings: 113

3.31
/5
rDev
+4.1%
look: 4 | smell: 3 | taste: 3.5 | feel: 3.5 | overall: 3
The first real beer in Catalunya after a horrible San Miguel from a dirty glass at the airport.
A: A beautiful copper/amber color with a 2 finger sized white head.
S: Very thin smell. Some hops and some sweet caramel tones. Some metallic note as well.
T: Floral hops, light roasted malts, citrus and some caramel. Slightly bitter and again a hint of metal.
M: Medium carbonation and a light body. Nice smooth finish though.
D: For a quad lover this is better than the average Spanish pilsener. Had this on many more occcasions. My main issue with this beer is that the taste is out of balance.
★
598 characters

2.36
/5
rDev
-25.8%
look: 3 | smell: 2 | taste: 2.5 | feel: 3 | overall: 2
The colour is pale gold, the large airy head is white, and it leaves some lacing while sinking.
The smell is weak. Some notes of sweet malt (cookies) and honey.
The taste is sweet and a bit malty. French loaf, some marzipan and alcohol. The aftertaste got notes of bread and dough, alcohol and turpentine. The taste is heavy and watery at the same time.
The carbonation is medium, the bubbles are large. The liquid is a bit sticky.
Another sweet strong euro lager... It doesn't get better just because it is from Spain.
★
525 characters

3.03
/5
rDev
-4.7%
look: 3.5 | smell: 3 | taste: 3 | feel: 3 | overall: 3
Beer bottle (33 cl.), tasted in 2000.
Appearance : amber color, with white foam head (not persistent).
Smell : hops aromas.
Taste and mouthfeel : hoped, malty body with alcohol presence, solft consistency.
Drinkability : an average beer in the style Euro strong lager.
★
269 characters
3.1
/5
rDev
-2.5%
look: 3 | smell: 3 | taste: 3 | feel: 4 | overall: 3
a clear medium honey small head leaves quickly slight soapy lacing
s slight malt vert subtle smell
t medium malt bitter slight tinny finish but not bad claen in end
m medium body nice mouth good carb
d first spanish not tiring - a nice beer to get in 6 pack form when visiting Europe.
★
288 characters
3.33
/5
rDev
+4.7%
look: 3 | smell: 2.5 | taste: 4 | feel: 3.5 | overall: 3
A: Pours a clear light amber with one finger head, which takes a couple minutes to diminish into a light lace.
S: light toasty malts and alcohol
T: probably my favorite Damm beer. Medium-toasted malts, a touch of fruitiness balanced well with a light hoppy/alcohol finish and after. As with all Spanish beers I've had, nothing too complex.
M: pretty good - relatively thick but not heavy
D: I feel like I could keep going on these for awhile, but like most Spanish beers I've had, better with food.
★
503 characters

2.55
/5
rDev
-19.8%
look: 3 | smell: 3 | taste: 2.5 | feel: 2.5 | overall: 2
Crystal clear light amber in color. Frothy white head that subsides to a mere after thought of a head but stays throughout the session.
Not much on the nose. a hint of hops, an ever larger hint of alcohol.
Taste almost all alcohol. Keep going back to look for something else, but there's just nothing there.
Mouthfeel-rough. Just this side of hard liquor. There was nothing done to hide the 7.2% alcohol in this beer.
End result: don't bother with this beer, nor any other "Damm" beer for that matter. They're all terrible.
★
528 characters
3.38
/5
rDev
+6.3%
look: 3.5 | smell: 3 | taste: 3.5 | feel: 3.5 | overall: 3.5
a: clear bronze color, steady carbonation stream in the middle, medium head that dissipates, no lacing
s: as advertised -- doble malta, slightly sweet, spicy hints
t: some mildly sweet fruit tastes to go with the malts, finishes with a quick dose of bitter hops
m: lots of carbonation, light to medium body
d: a rather well-balanced beer which at times was reminiscent of other too-funky euro strong ales, but never to enough to be bad, smooth to drink
★
452 characters
3.83
/5
rDev
+20.4%
look: 4 | smell: 3.5 | taste: 4 | feel: 3.5 | overall: 4
Voll-Damm pours with a deep burnished gold colour. The head has an almost off-white colour, moderate size, fair retention and is kind of creamy. Very clear appearance.
The aroma is very malty and presents some fruit notes. The taste is composed of sweet malts, some caramel hints and little hops. Kind of vinous.
The mouthfeel is creamy with a reasonable carbonation, fair alcoholic strength (despite its 7.2% ABV) and a full body.
The finish is sweet, only slightly bitter and quite lingering.
Overall: a great beer. Not oversweet as the majority of euro strong lagers in the market. Well-balanced and very tasteful. Top of the rate Spanish beer.
★
653 characters

3.6
/5
rDev
+13.2%
look: 3 | smell: 3 | taste: 4 | feel: 3 | overall: 4
This was the 2nd best beer I had while in Barcelona. The packaging says ¨doppel malta¨ and then something about the ëssense of beer¨, so I was originally afraid it was malta and not beer.
It also claims to be a marzen but pours too light IMO to be true to that style. It is however a very good beer. Malty, very tasty.
★
326 characters
3.6
/5
rDev
+13.2%
look: 3.5 | smell: 3.5 | taste: 3.5 | feel: 3.5 | overall: 4
Very good, the taste is very malty, and very strong too. HAd it beofre the standar Estrella and was very dizzy, maybe it wa sbecause I was a little tired. The foam is not very big but it is quite exceptional. The aroma is very alcoholic but with character.
★
256 characters
3.84
/5
rDev
+20.8%
look: 3 | smell: 4 | taste: 4 | feel: 3 | overall: 4
The joke goes that when on holiday in Spain only two lines are important, the first being: "Dos cerveza por favor", and the second: "Dos mas". So I discovered this brew while on holiday in Barcelona, and this particular bottle was broght to Amsterdam by friends.
The history of this beer seems to be that German brewers moved to Barcelona and then started to brew various styles. The Voll Damm (pron. "boy damm") is Deutsches Märzenbier. The brewers used a double dose of malt in the recipe ("se duplicó la cantidad de MALTA EN LA RECETA" as it says verbatim on the label) so hence the "Voll" (full).
My 25 cl bottle showed the BB date as 06/06, but since I kept it in the fridge it was still OK. It poured an amber color, almost no head (maybe because of said date) and just a few bubbles. The smell is strong and sweet, almost caramel. It has some bitterness but is very pleasant and drinks easy. The alcohol is noticable but not on the foreground. There's just a little carbonisation.
★
995 characters

3.35
/5
rDev
+5.3%
look: 3.5 | smell: 3.5 | taste: 3.5 | feel: 3 | overall: 3
Tasted a couple of bottles of Voll-Damm doble malta "das originale marzenbier" in Barcelona in May 2006.
It poured a clear amber brew topped by a white head that remained throughout. Smelled only slightly malty, but detected nonetheless. It was the best of a mediocre bunch of Spanish beers sampled; tasted quite refreshing with a decent enough bite to it. Slightly bitter, ahcohol well disguised. Overall: not bad.
★
418 characters

3.2
/5
rDev
+0.6%
look: 3 | smell: 3 | taste: 3.5 | feel: 3 | overall: 3
I guess Voll Damm's double malt gives it a flavour edge over the mediocre Estrella. in all fairness, it's not too bad.
The beer profiles as a munchen helles because of the slightly darker toned golden colour and the scarce head it boosts at first. the smell is clearly malty, and I guess that's what you expect when the beer is sold for being double-malt.
the taste was actually quite decent, a sweet strong euro lager type with a decent bitter ending. nothing too fancy I mussay, but still, on to be drunk a few times in beer-deprived south Spain.
★
554 characters
2.16
/5
rDev
-32.1%
look: 3 | smell: 2 | taste: 2 | feel: 3 | overall: 2
Drank outside of Barcelona, Spain.
Immediately vinous aroma, fruity with hints of grapes. Carbonation is moderate. Taste is fruity, alcoholic, moderately sweet and very vinous. Mouthfeel is tangy, bright. Finish is low on any bitterness with a metallic note and spritzy. Harsh, intended for getting wasted. Yuck.
★
315 characters
Voll Damm from Damm S. A.
75
out of
100
based on
39
ratings.