Dismiss Notice
Dismiss Notice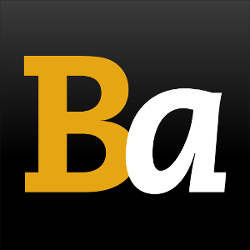 Join Our Email List →
And we'll send you the latest updates and offers from BeerAdvocate, because knowing is half the battle.
Dismiss Notice
Turmoil Black IPA
- Barley Brown's Brewpub
Reviews: 9 | Hads: 30

3.95
/5
rDev
-4.4%
look: 4.5 | smell: 3.75 | taste: 4 | feel: 3.75 | overall: 4
growler into SN IPA Glass.
Pours black with a thick, craggy, billowy beige head. Great retention, thick lacing.
Resiny, slight oniony hops, roasty backbone.
Similar taste as the aroma, though there is a bit more of a cocoa element to the roasty malt finish.
Medium+ body, foamy carbonation.
A very well done black ale. Well balanced hop and malt character. Certainly worth drinking again.
★
393 characters

4.59
/5
rDev
+11.1%
look: 4 | smell: 5 | taste: 4.5 | feel: 4.5 | overall: 4.5
Appearance- Black with a beautiful dark, tan head. 4/5
Smell- I don't want to go any further. Huge piney/grassy hop aroma. A roastiness is in the background. 5/5
Taste- Outstanding bitterness up front. Roasty backbone. Bits of chocolate. Grassy hop flavor at the end. A little "edgy". Very good. 4.5/5
Mouthfeel- Thin mouthfeel, but there is a lot that sticks with you as well. I can't figure out that, but I like it a lot. 4.5/5
Overall- This is my first Barley Browns that I have had and it is delicious!! Great hop aroma and flavor and very good roastiness. One of my favorite CDAs. 4.5/5
★
595 characters
3.24
/5
rDev
-21.5%
look: 3.5 | smell: 4.5 | taste: 2.5 | feel: 3.5 | overall: 3
A bottle left over after GABF judging and given to me as a reward for my volunteer efforts. Pours a finger of dark tan head over a pitch liquid that showed ruby-brown edgings. Smells potent pine, sharp fresh spruce needles, lemon, pineapple, oranges, green onion, and baby aspirin. Complex and inviting, despite the green onion character. I can't remember what hop that is, but , damn people, you gotta stop using the piece of shit hop. The pine and lemon are so dominant that this beer can pretty well get away with it.
Tastes stingy pine with lemon wax and contrasting grassiness. Clean hop bitter, few light-fruit esters, and basically no malt character. Drying, grassy, and stinging. Basically just a bottle of pine juice. Light in the mouth and moderate clean alcohol sting.
★
780 characters
4.08
/5
rDev
-1.2%
look: 4 | smell: 3.5 | taste: 4.5 | feel: 4 | overall: 4
A solid beer. I had this on-tap at the brew pub in Baker City. Pours black/brown with a creamy head. Smells somewhat lightly of citrusy hops, but quite heavily of roasted grains- I'd prefer if it were the other way around for my taste. The taste is intensely roasty, almost coffee like, and with some earthy and piney hops. Very intense, but once again I'd like to see the hops pumped up here. Still, very nice. Smooth in the mouth, in fact, surprisingly so. Pretty good stuff, and one which certainly blurs the line of the style from the direction of a stout.
★
560 characters

4.47
/5
rDev
+8.2%
look: 4.5 | smell: 5 | taste: 4.5 | feel: 4 | overall: 4
On tap at Bailey's today.
The beer pours a blackish brown color with very good head retention and lots of sticky lacing all around. On the nose... good grief! Once again, welcome to hop heaven gentlemen. The nose is incredibly perfumy, with the hop profile completely dominating the coffee, chocolate and brown sugar I pick up. The flavor profile replicates the nose, with the coffee, brown sugar and chocolate sitting on the sidelines while the hoppy bitterness takes center stage. There is some initial sweetness in this beer, but it's shoved aside pretty quickly by the avalanche of hoppy bitterness, leading to a dry, hoppy finish. This is another stunner from the talented folks at Barley Brown. Mouthfeel is medium bodied with a long, drawn out, bitter finish. Drinkability in this beer is pretty good, all things considered. The hoppy bitterness wears out the palate, but this beer is so damn tasty and delicious, who cares? Otherwise, the alcohol is completely unnoticeable in this well crafted, hophead's wet dream. There are few IPA's or DIPA's that can match the level of hoppy goodness one finds in this beer.
I'm starting to feel like a Barley Brown groupie, but it's hard to deny the talent of the brewer here. Another mindblowing beer from these guys... ho hum, what's next.
★
1,291 characters
4.54
/5
rDev
+9.9%
look: 4 | smell: 5 | taste: 4.5 | feel: 4 | overall: 4.5
On tap at Bailey's Taproom PDX, 6.11.2010, $4.50 for imperial pint. Score!
Dark brown/black opaque body, 1 finger tan head, medium dissipation and huge lacing, no visible carbonation. Nose features tropical fruit salad, mango, papaya, guava. Taste mirrors noes, big tropical fruit hit up-front, firm malt backbone in middle, subtle roastiness, noble pine bitter not cloying finish. Mouthfeel is fairly full, noticeable effervescence, not sticky despite fruity character. Drinkability is high, I came back the next day and killed the keg. Another winner from Shawn Kelso, the Pope of Baker City, and king of big-ass hoppy beers. Awarding winning brew, and for good reason, IMHO the quintessential CDA. Very highly recommended.
EDIT- Upped smell score to maximum. A most worthy winner to first gold medal in IDA category at GABF.
★
829 characters
4.38
/5
rDev
+6.1%
look: 4.5 | smell: 4 | taste: 4.5 | feel: 4.5 | overall: 4.5
Poured into a snifter at Belmont Station. Pours a very dark black that allows no light through. Huge bubbles in the head that lasts around the sides and leaves a distinct lacing on the glass. Nose is dank with resinous vines and syrupy leaves coming to my imagination, followed by a sweeter almost plastic smell, but the kind of plastic I wanted to chew on as a kid. Taste is hops up front as characteristic for every great Barley Browns beer. BB makes the most beautiful unbalanced beers in the world, and this is a great example. It is toned down from Chaos, but still supports a medium-heavy body and a lasting bitter aftertaste. The best single CDA I've had, another wonderful creation from Shawn Kelso.
★
707 characters
3.83
/5
rDev
-7.3%
look: 4 | smell: 3.5 | taste: 4 | feel: 3.5 | overall: 4
Note: I posted a review of this beer back in October 2004.
Somehow it got deleted from the BA database along with 3 other BB beers. Here it is again:
A difficult beer to categorize. Some might call it a black IPA or a dark pale. Personally, I like "black IPA" but find too much irony in either designation. (A dark pale?) The bartender could offer no clear definition though I've since learned that Turmoil is Barley Brown's regular IPA brewed with enough roasted barley to darken the color and is affectionately thought of as a "Moxee-style black ale" after the region near Yakima where the hops are grown. But just for fun, let's deconstruct this unit and see what we come up with.
To begin with, it's very dark - essentially opaque brown - with a good showing of head and a wide display of camel hair lace. It's easily darker than an IPA or an amber. But the flavor is neither roasted, acidic, nor coffee-like. There are no overtures to porter and the hop bitterness is solid but not dominant.
So the taste says pale ale and the appearance says porter. In spite of this Turmoil is well balanced with notes of cherry in the nose and flavor. It's rounded and fruity and a fine beer to drink. Just don't let 'em tell you it's an IPA.
★
1,240 characters

4.32
/5
rDev
+4.6%
look: 4 | smell: 4.5 | taste: 4.5 | feel: 4 | overall: 4
When I asked the owner about this beer... he said it wasn't on tap at the time.... but again, a short time later, he returns with another goblet for my immediate enjoyment... huge thanks.
Black brew only reveals crystal clear garnet highlites when held to a nearby bulb... long lasting lite tan head with good lacing.
Fruity citrus hoppiness with some background lite roast coffee.
Flavor mirrors the nose with a pronounced bitterness... more citrus hops than the aroma... and again some nice albeit minor roasty elements... good body...
I really liked this one... I love this "style".
★
597 characters
Turmoil Black IPA from Barley Brown's Brewpub
-
out of
100
based on
9
ratings.