Dismiss Notice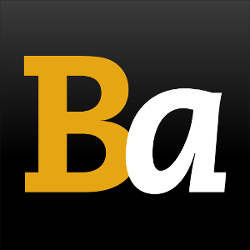 Site Performance Updates: We're aware of the nightly site outage, and working on resolving the issue.
Tennent's Stout
| Tennent Caledonian Breweries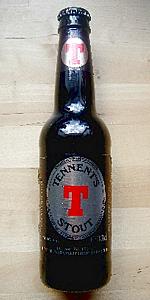 BEER INFO
Brewed by:
Tennent Caledonian Breweries
United Kingdom (Scotland)
|
website
Style:
Milk / Sweet Stout
Alcohol by volume (ABV):
4.70%
Availability:
Year-round
Notes / Commercial Description:
No notes at this time.
Added by BeerAdvocate on 01-30-2001
Reviews: 8 | Ratings: 24
3.2
/5
rDev
-21.6%
look: 3 | smell: 3.5 | taste: 3 | feel: 3.25 | overall: 3.25
Pours dark color with fast disappearing head and minimal lacing. Smell offers caramel, roasted malts, and hints of something herbal. Taste goes on the same lines with the smell. Aftertaste is a bit bitterish and the carbonation is medium strong.
Just to note that I had Tennent's Export Stout.
★
294 characters

4.1
/5
rDev
+0.5%
look: 4 | smell: 4 | taste: 4.25 | feel: 4 | overall: 4
Dark brown with a ruby tinge, a finger of light brown foamy carbonation bubbling like taffy cooking over a stove.
Chocolate, molasses, malts, taffy, Guinness.
Brown paper bag, hint of cocoa, taffy, Halloween chews, coffee. Molasses and licorice in there as well.
Medium thick body, light foamy carbonation.
Found it at a corner shop in Nimenhamein, Chiang Mai. Very enjoyable. Being Scottish myself, I love the name and thistle emblems on the label. Drank May 17th, 2015.
★
480 characters

3.57
/5
rDev
-12.5%
look: 4.5 | smell: 3.75 | taste: 3 | feel: 4 | overall: 4
This stout is very acid, couldn´t enjoy this beer. Pours deep black with a brown foam head that doesn´t persist. Smell is right for the style but taste is definetely wrong, It might have been contaminated or oxidized from shipping and handling.
★
246 characters

4.2
/5
rDev
+2.9%
look: 4 | smell: 4 | taste: 4 | feel: 4 | overall: 5
A - Poured out an opaque, jet black color with a small, capucino-like, tan head. It left soapy residue on the sides of the glass.
S - It smelled of rich chocolate malts, molasses, and caramel. Some floral notes, too.
T - It tasted very sweet with chocolate, caramel, toffee and some subtle bitter hop bites to off-set the sweetness.
M - It was soft, creamy and a little chewy. A medium-bodied beer.
D - This is a very good stout. Very easy drinking and delicious.
★
467 characters

3.97
/5
rDev
-2.7%
look: 3.5 | smell: 4 | taste: 4 | feel: 4 | overall: 4
I found this bottle at just 59p in a local offie; it seemed nobody wanted to drink this stuff that it had to be reduced to clear at this price? BB 11/08/2007, served cool in a large tulip-shaped wine glass.
A: deeply dark brown in colour, a slowly dissipating brown froth comes on top of a rather low carbonation.
S: the aroma features richly chocolatey malts with a slight syrupy edge of black-fruits and dates, while the soothing malt roastiness in the form of smoked nuttiness hides at the back. Hops, apparently, are pretty restrained, but still give a hint of aromatic fruitiness.
T: assertively bitter-sweet roasted malts expands on the palate from the first second onwards, followed closely by a light tinge of berries and spiciness; the aromatic mid-taste is full of chewy nuts, burned coffee and bitter chocolates (with its ever-so-important sourness), until reaching a long finish with a soothing flow of lingering malt bitterness and roasted aroma.
M&D: pretty light in body and never heavy or oily in texture, with soft, albeit a bit loose, carbonation to boot; this flavoursome stout fares pretty well actually, showing a pretty decent balance b/w roasted bitterness and sourness, while maltiness never reaches a level of being heavy for a 6.0%abv. dark ale. All in all, I would've bought more bottles at that shop if I knew this ale to be this enjoyable~~
★
1,370 characters

4.15
/5
rDev
+1.7%
look: 4.5 | smell: 4.5 | taste: 4 | feel: 4 | overall: 4
This beer has an awesome label. The black and silver background with a big red T looks like something from the first days of bottled beer.
This stout pours a pure black with only minimal glints of sherry around the edges of the glass. The deep tan head is a chunky though rather small. Lacing is good but not glass draping like some other stouts (for one, the Guinness Foreign Export I also got from the Caribbean).
The aroma is of soft roasted barley with lots of chocolate malt and dark fruit sweetness. Theres also a bit of black malt bitterness and just a trace of hops. Coffee and chocolate mingle well with fruit (plums, prunes, damsons?).
The taste is bold with a sharp bitterness up front, more of a malt astringency than hops. Then a strong sweetish fruit flavor washes through with a spicey alcohol zing in tow. The alcohol is quite immodest for 6% ABV. the finish is pleasantly bitter with eucalyptus and a little metallic tinge. This beer is very strong on the roasted barley/black malt flavors, I was surprised. The mouthfeel is watery and a little thin. Carbonation is pretty sparse.
This is a great beer but it could use a little more body, some more malt 'thickness'. Still I recommend trying it. Its sweet, but not as sweet as I expected.
★
1,270 characters

3.97
/5
rDev
-2.7%
look: 3.5 | smell: 4 | taste: 4 | feel: 4 | overall: 4
have to say this is a really good stout. ive panned their strong lager recently, so credit where credits due. enjoyed every aspect of this beer from top to bottom.
poured with the robust dark color youd expect from a quality stout, and had a long lasting creamy tan head. smell was sweet with licorice notes and some burnt aromas and a trace of chocolate. the same reflected in the flavor, but in a stronger manner that made this beer very flavorsome. quite oily in the mouth, and had a delicious hop bitterness that finished on the dry side in an extremely pleasant manner.
a beer that satisfies at any time, but is particularly appropriate in the colder months, tennents stout is a beer that forms the basis any stout should aspire to in the quality department. its got everything present in all in the right places. a very good brew.
★
842 characters

4.94
/5
rDev
+21.1%
look: 4 | smell: 5 | taste: 5 | feel: 5 | overall: 5
Presentation: 33cl brown bottle with the infamous red "T" and a gold foil neck. There's also a cow on the label to imply its style.
Appearance: Black with deep, rich looking dark brown hues. Head is a chunky, foamy tan that relaxes into a sticky, bubbly lace.
Smell: Upfront metallic-like aroma with earth notes. Roasted malts and dark ripe fruits follow. Meld this with the alcoholic esters and you get a nice dark rum-like nose.
Taste: Smooth, creamy, semi-chewy with a fruity candy-like malt sweetness. Butterscotch hard candies come to mind as creamy, milky butterscotch/toffee flavours coat the palate. For a moment, there's a slight roasted astringency and hop bite. This is quelled by rip plum flavours, bitter chocolate and mild lacto notes. Finishes a touch roasted dry with some slickness.
Notes: One of the best Milk Stouts to date. Oh so enjoyable. Breakfast in a bottle, or a great dessert drink. 6%abv.
Purchased and reviewed in Tortola, British Virgin Islands.
★
990 characters
Tennent's Stout from Tennent Caledonian Breweries
-
out of
100
based on
8
ratings.