Ram Restaurant & Brewery
BEER STATS
Beers:

14

Reviews:

Ratings:
PLACE STATS
Reviews:

9

Ratings:

Avg:

3.02

pDev:

16.89%

Taps:

0

Bottles/Cans:

0

Cask:

N

Beer-to-Go:

N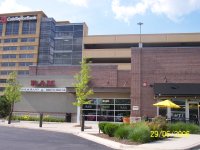 PLACE INFO
Type:
Brewery, Bar, Eatery
9520 W Higgins Rd
Rosemont
,
Illinois
, 60018
United States
(847) 692-4426 |
map
www.theram.com
Notes:
Not brewing on site, kegs received from Wheeling & Schaumburg locations.
Added by Dogbrick
Reviews: 9 | Ratings: 14
More User Reviews:





3.55
/5
rDev
+17.5%
vibe: 3.5 | quality: 3.5 | service: 3 | selection: 4 | food: 4
I have been to a few Rams, but this was my least fav. Its a decent atmosphere full of convention center folk. I have only eaten burgers here, which are great and you can make it "prime" for $3 more, which I do. The prices are decent.
I hate that they serve every beer in a frosty oversized 16oz pint glass. (Note to key Ram personnel, because I know you read these). Bring back the PB burger! And serve beer in appropriate non frosted glassware! A hefe should be in a hefe glass...period.
If you want to be taken seriously in the beer world, youb will take pride in your beer. You are so close to being good...but I fear your beer is and has been on the decline. Kinda smells like "Rock Bottom"...
★
700 characters
1.8
/5
rDev
-40.4%
vibe: 1.5 | quality: 2 | service: 1 | selection: 2 | food: 3
Stayed in Rosemont for the weekend with my wife for a PhD conference she needed to attend, visited Ram near O'Hare. We picked this place for two reasons: it is a brewpub, and it is listed on Open Table. Figured we'd kill two birds with one stone; try some decent brews & obtain dining points in the process.
We arrived at the restaurant at the scheduled time, and were shuffled into the dining room by the manager. The atmosphere reminded me of any average family-oriented national chain, like Chilis or TGIFridays. We were seated in a booth although my reservation requested a table.
The server seemed distracted, but did advise us of the seasonal beers, one of which was an 'Imperial Pilsner'. Having never tried this style of beer, I assumed it would feature a nice hop bite with a larger malt backbone (thus the 'imperial'). Further research on BA after the visit confirmed my suspicions. When it arrived, it tasted like an MGD. I asked the waiter about it. His response was to act as if I was kicking his dog, and asked me if I wanted something else. He brought me a replacement house IPA that was average. My wife had no complaints about her Hefeweizen.
The food was straight out of Fuddruckers. It seems they focus on their specialty burgers, with a couple dozen varieties. The burgers we had were fine. Prices were in line for what one would expect in the area.
When we finished with the meal, I wanted to order a second IPA, but was never offered one.
On the way out, I asked the hostess at the front desk to check to see if we had been checked in for our dining points. She remarked that she could not find a reservation in our name. When we returned to the hotel, my email indicated that our reservation had been cancelled by the Ram 10 minutes after we had been seated. It is not the end of the world, but it is a glaring example of the service of this place.
Overall, if you find yourself in Rosemont, do yourself a favor. Take the train for a few dollars into the city to a real establishment that serves good beer and knows how to treat customers with respect. Chicago and its suburbs have numerous great tavern/restaurant choices for great beers and outstanding atmosphere. Ram is not one of these locales. Avoid.
★
2,236 characters
3.51
/5
rDev
+16.2%
vibe: 2.5 | quality: 3.5 | service: 4 | selection: 3.5
Went on a Tuesday night when their regular lineup of brews is $2.50 for a 20oz pint. The place was packed. Sports bar atmosphere with a huge screen and 4 smaller ones surrounding it at the back of the horseshoe bar area with seating for 20? Very lively early around 6pm, an after work watering hole and meat market with decent beer.
Can't speak to the food, but the beer quality was good, had a large pint of Vienna lager quite good, and a 12oz pour of the Belgian tripel in a flute glass, both served at a nice tempurature, not to cold as you might expect.
The lady bartender was overwhelmed by the massive crowd, with seating full and standers demanding service as well. She coped nicely, having time to explain the bomber situation ($10 plus the bomber itself ($5), but refills on Friday and Saturday are only $5, a bargain indeed.
Selection was pretty good, with a full bar, decent bottle selection, and along with 8? regular offerings they had 3 "seasonals". The seasonals I had were quite nice.
They have specials all week, but Tuesday at $2.50 seems a steal if you can find a regular brew you like, I didn't sample any, my VLager was $3.50 and the Belgian $5.50, good not great.
★
1,190 characters

3.23
/5
rDev
+7%
vibe: 2 | quality: 3 | service: 4 | selection: 3.5 | food: 2.5
This was about the last place I expected to find myself, but I had some time to kill, and didn't want to sit in the airport.
Walked in, found no one at the host station, so I peered around the corner and saw the bar. To quote rhoadsrage below: "The bar is a giant Omega shaped aluminum that was enhanced by someone with an angle grinder." Haha, so true. Giant 4-quadrant projection screen wall with multiple excessive flatscreens flanking. Do you care to watch fútbol in color or black & white? They have both. Also pro-wrestling, which must have been at the request of the blue shirt khaki clones that were high-fiving each other near the bar. So your atmosphere is a large space with high ceilings, bathed in the glow of neon and television. Kind of loud with top 40 music playing.
Beer was kind of a mixed bag, as expected. Luckily there was a few seasonals, Lotsahops Imperial IPA (brewed by Wheeling), a Witbier, and "Summer Time". The porter was passable, IIPA was great, Big Red IPA, Hefe, and '71 Pale Ale were average. The others were forgettable, making the beer about 60% decent. Too bad they don't even brew here, their beer is brought over from Wheeling & Schaumburg locations.
The tall bartender was very helpful and attentive. She explained what their seasonals were, and how much growler prices were ($5 growler + $5.50 for a DIPA refill on fri/sat special?? Holy crap that's dirt cheap. Special also valid daily through the end of July 2009.) She came around several times and didn't mind chatting about beer.
The buffalo wings were the very same you can find in the freezer section at the grocery store, and small to boot. Not sure i'd return for the food here, but it's probably better than your hotel's room service.
If you're staying at O'Hare and are looking for something to take back to your hotel room, consider a growler here. The liquor store across the street has Two Hearted, Orval, Sam Smith, and a few other basic craft items, but stick to the coolers, it was about 80º in there :(
★
2,024 characters

3.75
/5
rDev
+24.2%
vibe: 3.5 | quality: 4 | service: 3.5 | selection: 3.5 | food: 4.5
I frequented the RAM back in Tacoma, WA quite often and loved it, so I was excited when I moved to Chicago that I could still go. This location is not as good as their Washington ones. Unlike most locations, they don't brew on site. Service is adequate. There are a couple of good beers the Ram brews that I enjoy quite a bit: Buttface Amber and the IPA. Had a really nice seasonal Witbier once as well. Other house beers can be hit or miss. The food, however, is quite good. Great burgers, and real Alaskan seafood (not the farm raised crap you get in the midwest). Sandwiches might be priced a little high, but entrees are actually a good deal when you consider the quality of seafood. I dare you to find another place with entrees of wild salmon and wild shrimp for under $25.
★
779 characters

2.5
/5
rDev
-17.2%
vibe: 3 | quality: 2.5 | service: 3 | selection: 2 | food: 2
There is plenty of parking with an open lot and a parking garage both free if you go for a drink. Inside the space is very long and wide but doesn't have the huge towering ceilings of the other RAM in Illinois. To the right is the bar and straight ahead is the restaurant. The bar has lots of small tables and plenty of T.Vs playing sports and 24 hr news. The bar is a giant Omega shaped aluminum that was enhanced by someone with an angle grinder.
They had the typical beers that the other Ram had but they had three flavored Pilsners a Cherry, Strawberry and Smashing Pumpkin Pilsner. I was intrigued so I asked about the different Pilsners. The bartender said they were the regular Pilsner with syrups added. I thought of a Pilsner with a sugary pumpkin syrup and it made me sick. The were out of the pumpkin so I stuck to "regular" beers. The had all of there year round beers and seasonal on a chalkboard. They had a large tub of ice with about 6 different BMCs in bottles which seemed to be the big sellers. The big hoppy IPA was nice but the rest of their brews were pretty boring. They are served in ice cold Imperial pint glasses which hide much of the flavor.
I had some chips that were fresh cut potatoes but a bit too thick and over seasoned which made them chewy. The plates were much hotter than the food that was on them.
★
1,344 characters
2.6
/5
rDev
-13.9%
vibe: 2 | quality: 3 | service: 2 | selection: 3 | food: 2.5
Was in town with wife for a wedding and was told about Ram's Restaurant and Brewery. Came in to try the brew and food and left umimpressed. The place was near empty and the waitress took 10 minutes to greet us. We place an order for several beer samples and little to our dismay the waitress forgot. Once we received our beer we ordered our food. I was not impress with there brews. When our food came to the table we ate quickly and left. I'm sure this is a great established restaurant but we just had a bad experience and it properly added to the dismay.
★
557 characters

3.78
/5
rDev
+25.2%
vibe: 3.5 | quality: 3 | service: 5 | selection: 3.5 | food: 4
This place was BIG! Get the idea? It began with a long entryway with the maitre d' station at the head of it. The bar area was to the right and the bar itself was a huge, elongated, inverted Omega-symbol, surrounded by high tables and chairs. I sat down and took in the nice admixture of vintage and current neon. I really loved the brushed-aluminum bar. They also had an immense back bar with a projection screen and four monitors as its centerpiece. There was no library ladder here. Instead, the servers had a short, foldable stepladder and then they have to climb around on the back bar. If I were management, I'd rethink this design and I left a comment card with this feedback. I had a great server: Natalie B., who was funny, ebullient, but not stifling, plus she was looking out for my welfare – "Look out, that plate's really hot!" I defy you to find a better server! The washrooms were to the left of the maitre d' station and the kitchen was aft and to th right and the dining area was aft and to the left.
As to their food: they served fresh-cut fries to go with their signature Ramburgers. I looked at the special salmon menu, but nothing jumped out at me as a salmon lover.
Beer: Nothing terribly special, but I was getting smarter about those frosted glasses. My pick – the Big Red IPA, again.
★
1,324 characters
2.83
/5
rDev
-6.3%
vibe: 2 | quality: 2.5 | service: 3.5 | selection: 3 | food: 2.5
I was forced to come here during a recent business trip to the area, it was either this, or the hotel bar....honestly, the hotel bar may have been better. This is a chain brewpub, and knowing that, I wasn't expecting much.
The place is located right off the 190/90/294 interchange and it's big. The place reminded me of a Friday's/Applebees...typical pub swag on the walls, very unmemorable.
I had some sort of Club sandwich which was okay...your local Perkins or Denny's could probably do it better.
They offer the typical samplers of their beers...pretty cheap- 10 3oz samples for 1.99. I had their IPA, which was okay. I won't belittle it because it was a better option than the macros on tap at the hotel. I also sampled the Belgium tripel seasonal and it was absolutely terrible. The Maibock was palatable, but honestly the best offering was probably the IPA.
Go here only if you don't have access to a car (like me) and don't want to drink macros. I'm not sure how they stay in business...
★
1,010 characters
Ram Restaurant & Brewery in Rosemont, IL
-
out of
100
based on
9
ratings.