Dismiss Notice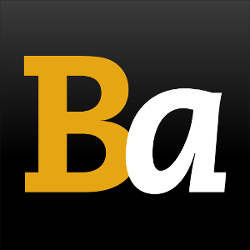 Site Performance Updates: We're aware of the nightly site outage, and working on resolving the issue.
Lemongrass Luau
| Kona Brewing Co.
BA SCORE
81
good
12
Reviews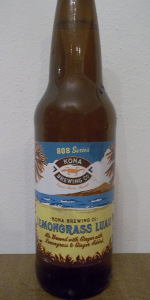 BEER INFO
Brewed by:
Kona Brewing Co.
Hawaii
,
United States
|
website
Style:
Herbed / Spiced Beer
Alcohol by volume (ABV):
5.00%
Availability:
Rotating
Notes / Commercial Description:
No notes at this time.
Added by Lovely85 on 11-05-2013
Reviews: 12 | Ratings: 95

3.75
/5
rDev
+9%
look: 3.75 | smell: 3.75 | taste: 3.75 | feel: 3.75 | overall: 3.75
Pours a nice golden yellow with a small white head. Aromas and flavors of ginger root and lemongrass are present with a slight white bread/crackery sweetness to balance. The spicy ginger dries the palate and paired quite nicely with a sandwich featuring sprouts, stone ground mustard, and sliced red onion. A pretty good beer.
★
326 characters

3.46
/5
rDev
+0.6%
look: 3 | smell: 2.5 | taste: 3.75 | feel: 4.25 | overall: 3.75
Appearance: Sunshine yellow in color, with lots of bubbles. This is one you can listen to once you've poured it. The minimal head dissipates quickly, but leaves a ring.
Aroma: Ginger ale soda, a little malt. Doesn't have a huge aroma, really have to stick your nose into the glass (at least while cold).
Taste: Sweet ginger is the biggest flavor, but it's not overwhelming. Behind that, lemon, breadiness and a citrus pithiness that creates a clean finish without being too bitter. I was worried that this would be too sweet and heavy like a lot of beers that utilize ginger, but they managed to balance the flavors really well and keep it crisp.
Mouthfeel: It's quite effervescent, which is great for a summer beer. Medium-light-bodied, clings a little to the inside of your mouth, but doesn't coat it.
Overall: I think it would be a nice beer to share with a friend on a warm evening, or a good addition to any summer mix-n-match six pack. Definitely refreshing, as advertised. Kona's got a good lineup and this is a solid addition to it.
★
1,044 characters
4.01
/5
rDev
+16.6%
look: 3.75 | smell: 4.5 | taste: 4 | feel: 3.5 | overall: 3.75
The Lemongrass Luau from Kona is good....perfect summer beer. The beer poured a straw yellow with white head that is not leaving a lace. The scent is lemon and ginger. The taste follows suite and is evenly balanced. The mouhtfeel is lighter in body with good carbonation. Overall its a winner and worth a try.
★
314 characters

2.22
/5
rDev
-35.5%
look: 2 | smell: 2.5 | taste: 2.5 | feel: 1 | overall: 2
Poured into a Lagunitas large mouth glass.
Look: Hazy straw yellow body with a fizzy white head that recedes to absolutely nothing. No lacing.
Aroma: Heavy on lemongrass and ginger, it smells a lot like hot herbal tea. No other noticeable beer ingredients.
Taste: Light and watery notes of lemongrass, lemon drop candy, spicy ginger. Somewhat medicinal.
Mouthfeel: Absolutely the worst part of this beer. Watery and carbonated like seltzer water.
Overall: Not my thing. Market this as a radler at the very least, but don't pass it off as "Ale brewed with ginger and lemongrass added." I feel like I'm drinking lemon flavored Alka Seltzer.
★
643 characters

3.5
/5
rDev
+1.7%
look: 3.5 | smell: 3.5 | taste: 3.5 | feel: 3.5 | overall: 3.5
Aroma is ginger and lemons/citrus. The flavor is ginger, spices/lemongrass, malts, citrus and a mix of slight heat and slight sourness in the finish.
★
150 characters

3.33
/5
rDev
-3.2%
look: 3.25 | smell: 3.25 | taste: 3.25 | feel: 4 | overall: 3.25
Bottled 4/12/16. 5% ABV per the label.
Pours a hazy yellow with a foamy white head that settles to wisps of film on top of the beer. Small streaks of lace form around the glass on the drink down. Smell is of candied ginger, ginger juice, lemongrass, and grain aromas. Taste is much the same with lemongrass, ginger, and earth flavors on the finish. There is a mild amount of bitterness and heat on the palate with each sip. This beer has a good level of carbonation with a crisp mouthfeel. Overall, this is an above average beer that is drinkable, but the lemongrass and ginger qualities get more subdued as the beer warms up.
Serving type: bottle.
★
651 characters
2.79
/5
rDev
-18.9%
look: 4 | smell: 2.5 | taste: 2.75 | feel: 3 | overall: 2.75
Strange and malty with light hints of ginger. Searching for lemongrass, maybe grasping at a tiny bit? Far from the best lemongrass beer, more of a subtle ginger wheat.
★
167 characters

3.9
/5
rDev
+13.4%
A moderate pour produces a half inch white head that dissipates quickly but leaves a ring around the edges with islands of lace in the center. The beer is an extra pale golden with light carbonation.
Definite notes of lemon and ginger in both the aroma and overall flavor. Light floral hop notes serve to accentuate the light citrus aroma-flavors. Cracker-like malt flavors provide the base. Very light bodied with a seltzer-like feel on the tongue. A touch of light citrus lingers into the finish, which is fairly dry.
If you want an adult version of a ginger ale shandy, this would be it. A more subtle presentation of light fruity flavors than a shandy, it would provide a nice alternative to the latter on a sultry day or as a lunch beer. Earlier, I was imbibing some rather rich flip drinks, so this light brew is a welcome change-up. Near excellent and quite unique.
★
884 characters

3.56
/5
rDev
+3.5%
look: 3 | smell: 3.25 | taste: 3.75 | feel: 3.5 | overall: 3.75
Kona Brewing and their 808 series beer the Lemongrass Luau - I like it. It wasn't overly impressive out of the bottle (gosh, lately none of the beers I've been trying wow me out of the bottle). Anyway, it has a weak head and no lacing, but it was still halfway decent. Feel-wise I liked the crisp and full flavor rolling around the tongue. The smell was there with the lemongrass, but ginger - which is a powerful scent - I didn't really detect. The taste of the beer was good though, very refreshing - sessionable if you're inclined to this sort of beer. A very nice job by Kona.
★
586 characters

3.32
/5
rDev
-3.5%
look: 4 | smell: 3.25 | taste: 3.25 | feel: 3.5 | overall: 3.25
Poured from a brown 12 oz. bottle. Has a golden color with a 1/2 inch head. Smell has some hints of ginger, not much else. Taste is mild, ginger, some lemon, not bad but nothing special. Feels medium bodied in the mouth and overall is a mediocre beer.
★
251 characters

3.52
/5
rDev
+2.3%
look: 3.75 | smell: 3.5 | taste: 3.5 | feel: 3.5 | overall: 3.5
Pours a semi-cloudy golden with a thick head of white bubbles. Lovely tree-line lace.
Aroma is ginger with some citrus underneath. Very pleasant and refreshing, really.
Taste is quite unusual and unique, with the ginger being up front and foremost, but with a well-integrated touch of the lemongrass and citrus. I enjoyed this one as a tasty take on ginger beer.
★
364 characters

3.81
/5
rDev
+10.8%
look: 4.25 | smell: 3.75 | taste: 3.75 | feel: 4 | overall: 3.75
Pours a hazy, golden color. 1/2 inch head of a white color. Great retention and great lacing. Smells of lemongrass, ginger, slight pale malt, slight sweet malt, and a hint of hop. Fits the style of an herbed / spice beer. Mouth feel is smooth and clean, with an average carbonation level. Tastes of lemongrass, ginger, sweet malt, pale malt, hint of earthy malt, and slight hops. Overall, good appearance, aroma, and blend. Nothing unique, but a refreshing brew.
★
462 characters
Lemongrass Luau from Kona Brewing Co.
81
out of
100
based on
12
ratings.