Lösch-Zwerg Würzig
| Brauerei Josef Schimpfle
BA SCORE
78
okay
12
Reviews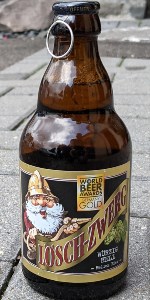 BEER INFO
Brewed by:
Brauerei Josef Schimpfle
Germany
Style:
Euro Pale Lager
Alcohol by volume (ABV):
5.20%
Availability:
Year-round
Notes / Commercial Description:
No notes at this time.
Added by stcules on 04-26-2005
Reviews: 12 | Ratings: 20

2.32
/5
rDev
-25.9%
look: 2 | smell: 2.5 | taste: 2.5 | feel: 2 | overall: 2
Straw colored yellow, scarce head, just half inch.
The smell is quite light: a slightly hint of malt and hops.
Anonimous taste, too: a ligh malty, and nothing more. A hint of hiop in the finish...
Medium-light body.
Some light malt and hops in th aftertaste, again. Maybe just a bit too carbonated.
Nothing remarkable.
★
319 characters

2.35
/5
rDev
-24.9%
look: 3.5 | smell: 3.5 | taste: 1.5 | feel: 3 | overall: 2
Another sweetish, pale world beer. This is another one where it looks good, pours good, tastes like sweet beer; sort of like taking a bud with a little more hop and lots more sweet. Poured with a nice foamy, frothy, fluffy, white head that slowly fades and lots of lace. Color is a clear yellow with no bubble trails. Nose is a slightly hoppy grain, grass. Flavor is like nose but lots more sweet. Body is ok and so is carbonation. Finish is like flavor and I can't drink any more.
★
481 characters

2.89
/5
rDev
-7.7%
look: 4 | smell: 2.5 | taste: 3 | feel: 2.5 | overall: 3
Appearance: The beer pours an amazingly clear, straw body. The head is small but retention is good.
Smell: A hint of hops is overtaken by a cracker and sweet malt aroma. There is nothing complex about this beer but the unpleasant sour aroma I have noticed in other Euro Lagers is not as noticeable.
Taste: It mainly follows the nose but there is a surprising hop bite at the end that is pleasantly unexpected. It is nothing like say, an IPA but there are more hops present than I have experienced with other Euro Lagers.
Mouth feel: Light bodied but not too watery. Carbonation is extremely light.
Overall: To be perfectly honest, I have never been too fond of Euro Lagers; they just lack personality in my opinion. This brew did not change my mind but it did make me realize there are some drinkable brands within the genre.
★
832 characters
2.9
/5
rDev
-7.3%
look: 3 | smell: 3 | taste: 3 | feel: 3 | overall: 2.5
33cl Belgian stubby bottle with a pull-top. MHB 05.11.11.
It is a golden color, pretty nondescript with an average white head.
The smell is fruitier and more alcohol than the general Helles or pils.
The flavor is tangy with some basic malt flavors but mostly an overriding sweet fruitiness. Though the label advertises hops, there isn't much hop prevalence here.
Just a random generic lager.
★
395 characters
2.97
/5
rDev
-5.1%
look: 2.5 | smell: 3 | taste: 3 | feel: 3 | overall: 3
Dumpy brown 33cl rip-top bottle, best before 29 July 2010. Drank and reviewed after watching England lose to Germany in the World Cup, Sunday 27 June 2010.
The beer was poured into two 'Veltins' pilsner glasses.
The whole experience was mid-pilsner/lager.
The non-smell, the bright, clean, clear golden body and fast leaving snow white head all shout out 'Germans Pils' to me.
Not as dry as some and sweeter than most, but still just an average beer for the style. Ideal for a sunny hot day (like today), but not a beer I will seek out again.
★
546 characters

3.03
/5
rDev
-3.2%
look: 3.75 | smell: 3.25 | taste: 2.75 | feel: 3.25 | overall: 3
Pours a bright, golden color with a dense white head, leaving back a small ring of lacing.
Smells of floral, herbacious hops among toffee malts. Provides a faint but pleasant lemon crispness, settling onto the hop foundation.
Has an unusual low carbonation for a Pils, with a nice aqueous softness to it, leading to refreshing, hop accompanied finish.
Tastes of straw, hay, white bread malts and a toffee peak, gently entangled into herbal hops. Finishes with a bubbly, sweeter maltiness providing a faint hop balance.
Quite sweet, while managing to produce a decent hoppiness at the beginning. Easy drinking as for its light body, while not as refreshing as expected, due to the prominent toffee flavor.
★
708 characters

3.2
/5
rDev
+2.2%
look: 3.5 | smell: 3.5 | taste: 3 | feel: 3.5 | overall: 3
33cl stubby, grenade style rip-off cap, Germany.
Pale gold with a tight creamy head and pretty good lacing throughout.
Aroma is dank and Noble-hoppy, bordering on skunky, but nice.
Flavor consists, basically, of sweet mustiness. Grainy malts meet skunky hops, but the result is nothing offensive, thank God. It's just not very impressive. Decently spicy hop flavor. Mouthfeel is fine: good carbonation, smooth finish. This beer kind of sits on the palate though, and is not as drinkable as others.
Dry this one out, and it would be a good beer given the signs of hop character.
★
582 characters

3.31
/5
rDev
+5.8%
look: 4.5 | smell: 3.5 | taste: 3 | feel: 4 | overall: 3
This lager pours a nice clear, golden color with a white frothy head and a good stream of carbonation rising from within. A very pretty beer to pour. The aroma is distinctly hoppy with just a hint of malt underneath. The scent of this beer is a good indicator of the taste. A sharp, hop flavor hits right off the bat with spices I was unable to identify following suite and very little malt to balance out the flavor. A medium body and nice carbonation burn round out this lager pretty well.
In summary, I found this to be a very drinkable beer.
★
546 characters
3.6
/5
rDev
+15%
look: 3 | smell: 3 | taste: 3.5 | feel: 4 | overall: 4.5
Interesting cap design: there's a circular ring/tab hanging to the side, which pulls off a thin aluminum cap. Have never seen such a thing before, but it's pretty cool and the beer gave a nice "ziss!" with the pressure release. Pours a pale yellow color of very good clarity and tons of bubbles meeting a thinnish bone white head.
Clean and fresh aroma, even if it doesn't really excite. Straw, mineral, mild lemon, powdered sugar...your standard lager smell.
Standard lager flavor too, thankfully leaning on the clean and natural side. Has a faint corn-like vibe; more powdered sugar; straw; peach & pear come out rather strongly; fruity hops; only faintly bitter in the finish. Dry, but not overly so. Mouthfeel is just a tad heavier than I might've imagined from the appearance and flavor, but only a tad. Slick, slippery, perfectly carbonated (ie. not too much).
Would never crave this, and there are many better lagers in Germany, but it certainly puts to shame those American adjunct lagers that attempt to flaunt their Germanness only to fail miserably. Glad for the opportunity to try this.
★
1,103 characters
3.62
/5
rDev
+15.7%
look: 3.5 | smell: 4 | taste: 3.5 | feel: 3.5 | overall: 3.5
Paid .55EUR + .08EUR glass deposit for a 330mL bottle.
*Reviewed on 10.07.2005
The beer pours a pure golden base with a medium white head, very good retention and a few lacing effects on the side. This one has a pleasant mix of hops that is very nice to the nose.
The taste is solid, hops dominante but it's very mellow as well, aftertaste is a little dry. It's nice to the palette but nothing revolutionary. This is a beer that would be enjoyed during a session, however, after the second, I may start to seek for a different beer.
Final Thought: This is of the few solid beers across the board, no amazing characteristics but the beer is itself is a special one.
★
677 characters

3.82
/5
rDev
+22%
look: 3 | smell: 3.5 | taste: 4 | feel: 4 | overall: 4
I picked up a bottle of this at a gas station on my way to Zugspitze. I cracked it open on the Gipfelalm Observation Deck. Drunk from small bottle.
Well balanced sweet malty brew that complimented the -14 degrees Celsius on the observation deck.
Aroma of sweet malt/mild hops.
Color unknown - drunk from bottle.
Be careful at 2964 meters - the altitude + beer will get to you fast!
★
384 characters
4.42
/5
rDev
+41.2%
look: 4 | smell: 4.5 | taste: 4 | feel: 5 | overall: 5
I received this bottle from my brother who is currently stationed in Germany. This bottle is uber fresh.
Color is a pale straw with little starch white head.
The aroma is very clean and hoppy much like duvel. This is definately a session lager done right. The flavors are clean and well done. This is a great beer to enjoy while watching the game. Overall I am fairly impressed.
★
379 characters
Lösch-Zwerg Würzig from Brauerei Josef Schimpfle
78
out of
100
based on
12
ratings.