Dismiss Notice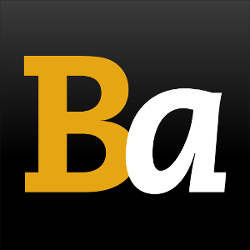 Site Performance Updates: We're aware of the nightly site outage, and working on resolving the issue.
Cuvée Des Trolls (Speciale)
| Brasserie Dubuisson Frères sprl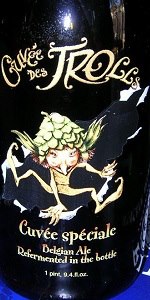 BEER INFO
Brewed by:
Brasserie Dubuisson Frères sprl
Belgium
|
website
Style:
Belgian Strong Pale Ale
Alcohol by volume (ABV):
7.50%
Availability:
Limited (brewed once)
Notes / Commercial Description:
No notes at this time.
Added by BDTyre on 03-09-2011
This beer is retired; no longer brewed.
Reviews: 10 | Ratings: 39

4.03
/5
rDev
+5.5%
look: 4 | smell: 4 | taste: 4 | feel: 4.25 | overall: 4
750ml Bottle from the Quebec SAQ for $8
Appearance - Slightly hazy golden yellow colour with a large size fizzy white coloured head. There is a very high amount of carbonation showing and there is some decent lacing. The head lasted for around 4-5 minutes.
Smell - Breads/grains, clove/coriander, hops, lemons
Taste & Mouth - There is an above average amount of carbonation and I can taste breads/grains mixed with some lemon and some clove/coriander. There is also some hop and corn flavours. It ends with a nice balanced bittersweet aftertaste.
Overall - A well crafted delicious very drinkable beer. Had my bottle while sitting on a patio on a warm evening and it was perfect. I haven't tried the non special edition of the beer, so I don't know how much better it is.. but this is a winner for me.
★
805 characters

3.8
/5
rDev
-0.5%
look: 4 | smell: 4 | taste: 3.5 | feel: 4 | overall: 4
Pours a cloudy pale yellow with lively carbonation leaving a thick white collar. Smells of lemon and white pepper. Very lively and effervescent. A touch of grass and spiciness in the nose as well.
The taste is similar, but a bit more muted. The lemon picked up in the nose is imagined at best on the palate. The flavor begins with candied sugar and gives way to a peppery and spicy hop finish. Very dry and snap quick finish. Would make for a very versatile pairing with food, but lacks depth and complexity. It is thought to judge the balance between well executed simplicity and complexity found in other beers.
★
615 characters

4
/5
rDev
+4.7%
look: 4 | smell: 4 | taste: 4 | feel: 4 | overall: 4
A smooth Belgian ale with stronger lemon tones than others, though not so much that it hijacks the experience. Nice even profile with fairly even consistency. I mean, it's an "okay" ale for an anniversary release, but not something that's really blowing me away. Very nice drinker though. Smooth.
★
296 characters

3.58
/5
rDev
-6.3%
look: 4 | smell: 3.5 | taste: 3.5 | feel: 4 | overall: 3.5
A-Pours a cloudy straw yellow/golden body with a small 1.5-finger head that, while a small for the style, lasted for a long time.
S- Yeasty, grassy, some spicy hop notes, a little sweet, maybe some green apple as well. A little horse blanket and slight funk. Not too much really stands out, and while nice, nothing special.
T- Slight green apple, yeasty, bready, some more spicy hops, a little peppery. Some bubblegum sweetness. Again, while not bad, but it really leaves you waiting for more but it never comes out. Pretty bland. A little woody towards the end.
MF- Moderate bodied with a lot of carbonation, but not too much. Carbonation makes it feel a little lighter on the tongue when you first take a sip.
★
714 characters

3.43
/5
rDev
-10.2%
look: 3.5 | smell: 3 | taste: 3.5 | feel: 4 | overall: 3.5
750mL corked and caged bottle into a Mikkeller tulip glass.
A: Pours a light golden / orange, with an effervescent, white head - about two fingers; no lace.
S: Light Belgian estery-ness / yeast aroma; bready; a little spicy; a touch of alcohol.
T: Bread / dough; white pepper; coriander; some medicinal notes toward the finish; pretty dry and earthy.
M: Light-bodied and champagne like; tingly and zingy; nice.
O: Not too exciting; good, but kind of a blend between a Belgian Pale Ale and a witbier.
(from notes)
★
518 characters

3.6
/5
rDev
-5.8%
look: 4 | smell: 4 | taste: 3.5 | feel: 3 | overall: 3.5
A: Pours a hazy gold with a tight, clinging white head.
S: Aromas of orchard fruits, citrus, and grass are present on the nose. Of the ales produced by Dubuisson, this one has by far the mildest smell.
T: Notes of green apple, spiced pear, lemon, lime, grass, herbs, biscuits, nougat, and roasted almonds make their way across the palate. The finish is balanced with an even mix of biscuity, nutty malt and grassy, herbal hop flavors.
M: Medium bodied, very dry, and prickly. Though it is initially lively, this beer quickly wilts in the mouth. Overall, it feels rather thin and watery.
O: This beer is solid as is, but would be greatly improved by a heftier, thicker mouthfeel. It simply doesn't have the feel of a bottle conditioned strong ale. In the end, I'm glad I tried this one, but would not likely purchase it again. I just don't see it as being a significant improvement over the regular Cuvee des Trolls.
★
919 characters
4.03
/5
rDev
+5.5%
look: 4.5 | smell: 4 | taste: 4 | feel: 4 | overall: 4
Best before end 2013 - poured from a caged-and-corked 750mL bottle into my Troubadour tulip.
Lightly cloudy naples yellow body with a pearling fist of magnolia merengue. Dense sticky, undulating lacing - superior retention.
Grassy faintly spicy noble hop aroma backed by a biscuity malt note and hints of lemon zest and yeasty phenols. Hay and light funk emerge as the ale warms.
Gentle yeast-based flavors accompanied by star fruit, melon, and lemon notes. Well integrated and light profile overall. Finishes medium-dry with a touch of candi sugar. Delicate and refreshing (though I could see how some might call it weak).
Soft, effervescent, and well carbonated. Alcohol is very well hidden.
Usually anniversary editions pile on the flavor, but this seems to emphasize the lighter qualities of the original recipe...not sure I could distinguish between the two really...still quite tasty none the less.
★
911 characters

4.03
/5
rDev
+5.5%
look: 4.5 | smell: 4 | taste: 4 | feel: 4 | overall: 4
I had no idea Cuvee des Trolls was 10 years old. I had never heard of it, until kegs were offered a couple of years ago. Those Belgians and their love of little people. The gnomes of Brasserie d'achouffe, the "erthels" of Urthel, and one of the most famous cartoon character out of Belgium, Peyo's Smurfs.
To get myself in the proper mood, I put on a movie. Not "Troll 2", that's about goblins, no matter what the director will tell you. I'd never seen the original "Troll" from 1986, but what a delight. Swinging Sonny Bono, lovely June Lockhart, a surprisingly non-wooden Michael Moriarty, and an evil Troll trying to turn an apartment building into a fantasy forest /alternate dimension. He just about turns every tenant into a horrible rubbery creature, except Julia Louis Dreyfus, who becomes a scantily clad wood nymph, which is how it should be, of course.
Ah, but the beer. Here's what I had to say:
Cuvee' des Trolls Cuve'e Speciale, Belgian Ale Refermented in the bottle. I pint, 9.4 fl. oz. , 10th Anniversary Cuvee Speciale, Product of Belgium, 7% Alc., by Vol.
From Brasserie Dubuisson, makers of the Bush/Scaldis line. I like them.
Brewed in limited quantities, Troll's 10th Anniversary special edition accentuates the delicate qualities and fruity aroma of Cuvee des Trolls thanks to it's secondary fermentation in the bottle. Enjoy!
Brewed with: water, malt, sugar, hops, and yeast.
Clouded, golden-hue, large, snowy-white head, lacy and long-lasting.
Aromatics of yeast, light malt, light hops, citrus-y hops and considerable spice. Air-y, lemon-y, and delightful. Mmm, mmm.
Now, let's taste it: light, spritzy, carbonated, lemon and orange, yeasty. Mmm. Now, how is this different from regular Trolls? I can't think of it. I don't have a regular Trolls next to me to compare to it. But, what can I say, it's Mmmm, mmm.
So good. A little sharp, a little smooth, a bit creamy, and altogether mmmm.
Another gulp, another sip, and it's more mmm, yeah.
Again, I can't say there's anything better than the regular Trolls, and I tried it for the first time two years ago….more yeast, more smooth, more creamy, more Mmmm.
Light bodied, light textured, fluffy mouthfeel…mmm, and yum, I just keep saying'…cream and orange, lemon and yum, not too this, not too that, just altogether ahhh….
★
2,317 characters

4.03
/5
rDev
+5.5%
look: 4.5 | smell: 4 | taste: 4 | feel: 4 | overall: 4
750ml->Unibroue Tulip
A ~ Opens with a contained POP revealing a cork adorned with hops. Pours a translucent bronze with a sunset hue. Fantastic head that never quits, but fades into a creamy cap on top.
S ~ Hops, Lemon Peel, Grass, Musk, Pale Malt
T ~ Underripe Pears, Dry Grass, Baguette, Hay, Dry lemon peel. Phenols are interwoven nicely. There's a hint of rolled-oats & crackers. Yeast character is excellent, albeit subdued.
M ~ Very crisp & easy to drink. Good amount of hops on the finish. Good balance.
D ~ A quality Belgian Strong. Really drinkable.
★
567 characters
3.82
/5
rDev 0%
look: 3.5 | smell: 4 | taste: 4 | feel: 3.5 | overall: 3.5
10th anniversary bottle conditioned version of the standard brew. Similar golden apple juice colour with a thin, white head. Candi sugar, bananas and apples on the scent. A bit more mellow than the regular version, and more evenly balanced.
A slight bit hoppier taste, and the fruitiness is toned down. The malt profile is noticeably more bready and yeasty. Smooth brew, a bit thicker and all-in-all a more drinkable product (even in a 750ml bottle).
★
453 characters
Cuvée Des Trolls (Speciale) from Brasserie Dubuisson Frères sprl
85
out of
100
based on
10
ratings.