Old Ale
| Iron Hill Brewery & Restaurant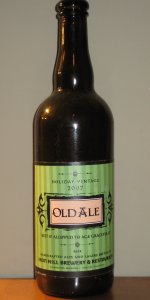 BEER INFO
Brewed by:
Iron Hill Brewery & Restaurant
United States
|
website
Style:
Old Ale
Alcohol by volume (ABV):
7.20%
Availability:
Rotating
Notes / Commercial Description:
Traditional English-style brown ale with a distinct malty sweetness and fruity aromas that deepen with age.
Added by nomad on 02-15-2004
Reviews: 14 | Ratings: 32
3.89
/5
rDev
-2%
look: 4 | smell: 4.25 | taste: 3.75 | feel: 3.75 | overall: 3.75
Holiday vintage 2012. Popped open the corked & caged bottle on New Year's Eve 2014. Pours a cloudy dark copper/hazy light saber with very large white head that sticks around quite a bit and loves a fair bit of lacing. Smells of candied dark fruit with brown sugar and a faint vinous quality. Must have held really well in the bottle. Tastes sweet upfront with raisins and figs. A tiny bit of oxidation is present, but not enough to distract. No hops whatsoever, but the sweet melt character of this beer does still show some balance with a lingering bitterness. Overall, a very nice Old Ale that seems to have held up well. Cheers to the IH brewer who gave me this beer!
★
671 characters

3.97
/5
rDev 0%
look: 4 | smell: 3.75 | taste: 4 | feel: 4.25 | overall: 4
Old Ale - bomber bottle vintage 2008
Dark reddish-brown but not opaque with a durable head.
Lots of dark fruit, especially dates.
Head has great retention. Very smooth feel with good but light carbonation.
Good sweet/bitter balance.
Lingering pleasant aftertaste.
O: Excellent for style.
★
292 characters

4.47
/5
rDev
+12.6%
look: 4 | smell: 4.5 | taste: 4.5 | feel: 4.5 | overall: 4.5
Holiday Vintage 2007. Purchased at the brewery during the same year. Cork and caged.
A: clear, copper color, poured with head that dissipated
S: medium to full-bodied, true aging with prunes, dates, and leather, very nice
T: deep roasted malt, malt dominates, a tinge of oxidation but it really adds to the beer, this beer tastes well beyond its 4 years
M: mellow, incredibly balanced
★
386 characters

4.03
/5
rDev
+1.5%
look: 4.5 | smell: 4 | taste: 4 | feel: 4 | overall: 4
Bottle from 2009. This beer poured outs with a big creamy white head on top. The color of the beer is a deep brownish orange, that is a little cloudy. The smell of the beer has some boozey sweetness and some earthy malts on the nose. The taste had a little bit of a pine and cinnamon mixed with the malts. The mouthfeel is roughly medium bodied and is pretty smooth. Overall I found this beer to be quite good.
★
410 characters

3.67
/5
rDev
-7.6%
look: 3.5 | smell: 4 | taste: 3.5 | feel: 4 | overall: 3.5
Transcribed from notes dtd Sa, 04 Dec 2010. It was IH Media's Old Ale served at IHLNC.
Brought with a wispy head upon arrival. Color was a cloudy light-brown. Nose was sugary-sweet with notes of green apples and raisins. Mouthfeel was effervescent with an initial rush of heat on the tongue. The taste was quite malty with a sharpness that seemed indicative of its youth. Finish left me with a sugary rush and a lingering heat. This beer reminded me of the kiddie candy, Now & Later, in that you may try some now, but definitely save some for later. Like down the road later. This is one that will almost certainly improve with age.
★
633 characters

3.68
/5
rDev
-7.3%
look: 4 | smell: 3.5 | taste: 3.5 | feel: 4 | overall: 4
The 2010 version from IH Media. Served on-tap at IH Lancaster.
A: The old ale is a coppery brown color, lighter than I recall the bottled versions being. The cuprous hue supports a thin off-white head that leaves no lace behind.
S: The nose is malty with toffee leading the charge. Sweetness from the malts and yeast add a pleasant finish to the nose.
T: The old ale, despite being a recent vintage, doesn't skimp on the old flavors. Toffee and fruit (thanks to the yeast) rise to the surface. The maltiness is warming and soothing with a bit of a musty flavor. The mustiness isn't wild, rather it supplies vinous flavors to the ale, giving it an older taste that a fresh beer should have.
M: The mouthfeel is toffee and fruits, sweet but not cloying. This beer could easily sit around for a few years and be just as good.
D: Not as strong as I remember the bottles being. This ale is a nice holiday tradition.
★
915 characters

3.9
/5
rDev
-1.8%
look: 4.5 | smell: 4.5 | taste: 3.5 | feel: 3.5 | overall: 4
2008 "Holiday" bottle with a blue label from the North Wales location. I'm very happy to see all the Iron Hill entries merged into one group as opposed to each separate brewpub, much better.
Pours a clear chestnut, reddish, with a creamy head. Quite attractive. Nose is a nice, heavy English malt that Iron Hill does so well, a bit of peat, toffee, dates. Flavor is maybe not quite as expressive as the nose, quite sweet but not cloying, another thing Iron Hill really nails with these heavy, malty ales. This one just kind of has a thin flavor profile though, some sweet dark fruits, nice English malt, but a bit lacking in expression. Nice, decent, not close to the Fe10 when that was good, or the Barleywine and some others.
★
728 characters

3.92
/5
rDev
-1.3%
look: 3.5 | smell: 4 | taste: 4 | feel: 3.5 | overall: 4
Holiday vintage 2007, consumed March of 2010.
A: Poured into a pint glass. Body is cloudy, turbid brown with a small ivory head. No lace.
S: Malty sweetness: butterscotch and caramel malt dominate.
T: Pretty much follows the nose: Butterscotch, toffee and caramel malt, with a touch of fruit. Finishes surprisingly dry (I attribute that to the alcohol, which otherwise isn't really noticed) and clean. "Very English," I wrote.
M: Feels lighter than expected, but it's still at least medium in heft, leaning towards the fuller side of medium. Slight bit of buttery slickness is there too.
D: Pretty good. A bit sweet, but balanced in the finish. Curious as to what this tasted like when fresh.
★
699 characters

4.03
/5
rDev
+1.5%
look: 4 | smell: 3.5 | taste: 4.5 | feel: 3.5 | overall: 4
Thanks to guinnessdoc for the bottle.
Vintage 2007
Old Ale is a murky clash of ruby and copper. It's extremely cloudy. Backlighting gives it an orange tint. A cream colored head tops it off. It's about a finger in depth and recedes to a surface covering quickly. Lacing was sticky, but light.
The nose is pretty good, but is a little underpowered. It smells very sweet and malty. There's certainly no shortage of caramel and toffee. A little cocoa-ish chocolate malt is present to a lesser extent. Not that that's a bad thing by any means. Light brown sugar and dark fruit scents are secondary. Raisin and fig complement the malty scents nicely. Yeast and a spicy scent rounds it out. Alcohol is not noticeable at all. A little more strength would really improve its score here.
The flavor is impressive. This is good stuff. It is extremely malty and sweet. Caramel and toffee flavors are abundant. There is a slight cocoa flavor attributable to chocolate malts. Collectively, they create an excellent malt profile. It is a little yeasty and some light spice flavors are noted. They're not strong for me identify. Dark fruit flavors of raisin and fig are subtle and secondary. They add quality depth and add a little pizzazz to the overall flavor. Alcohol is blended very well and is barely noticeable. I'm really shocked at how good this tastes. I wasn't expecting it to be nearly this good.
Old Ale has a light/medium body that's too thin. It grows a little more substantial with warming. Carbonation is light and helps smooth it out. Drinkability is good. This is a really tasty old ale. I like it a lot. It's probably a little too sweet to handle more than this 750, but it's going down easy.
This is my first experience with Iron Hill beer and it's been a good one. Old Ale doesn't really have any glaring flaws. I believe the nose would benefit from more strength and more body would help a little. That's about it though. This really is good stuff. I don't know if two years in the bottle has helped, but it sure hasn't hurt anything. Easily recommended. Thanks, Josh.
★
2,083 characters
4.36
/5
rDev
+9.8%
look: 5 | smell: 4 | taste: 5 | feel: 5 | overall: 3
Doing this mostly from memory. We had this one last night at my brother in laws house over some games and good food.
Also this was a 2007 vintage old ale.
Poured into snifter with small off-white head. It kept its lacing all the way down.
Appearance - A cloudy deep copper. Looks like it could be unfiltered. A good looking beer.
Smell - Mostly malt and some roasted barley. Little bit of alcohol but nothing over powering.
Taste - A very smooth almost chewy mouth feel. Like the scent, this beer definitely tastes of malt, roasted barley, little bit of a grape taste that I just cannot put my finger on exactly what it is. I also picked up some coffee notes.
This is definitely one of the best Old Ales I've had! Most others I've had taste and smell are more alcoholic (because they are). Sometimes too much so. I really enjoyed this beer! Cant recommend Iron Hill enough!
★
879 characters

4.42
/5
rDev
+11.3%
look: 4 | smell: 4.5 | taste: 4.5 | feel: 4 | overall: 4.5
2007 vintage
a: This was a dark ruby/coppery color. It poured with a medium sized, off-white head.
s: Rich, malty aromas of raisins, toffee, and a little chocolate plus some mild, flowery heat.
t: Subtle, mellow sweetness in the form of raisins, caramel, and a hint of milk chocolate. The finish is a flowery toffee flavor.
m: Long lasting, gentle carbonation and a decent body for the size.
d: Definitely worth trying if you can stomach the $19 price tag. Overall, this was subtle, refined, and delicious.
★
511 characters
4.47
/5
rDev
+12.6%
look: 4 | smell: 4.5 | taste: 4.5 | feel: 4.5 | overall: 4.5
so as my last of the reserve cellar brews from Iron hill I decided to go for the old ale. as usually happens to me with restaurants that have a beer cellar, they were out of the advertised gold medal winning 2004 old ale but still had the 2005. So, with that preface I dust off the 750ml bottle, pop the cork and see what there is to see:
A - With a solid pop, the brew pours a hazy reddish brown color with a nice thick offwhite head.
S - rich dark fruits, raisins, figs and light hints of what I am beginnig to suspect is a house yeast.
T - similar to the aroma but with additional hints of honey, toffee and a slight warming note.
M - medium full bodied, nicely carbonated, slightly sweet, in line with the style.
D - drinks quite well! It's obvious this beer has been stored well and is drinking very easily.
A very nice old ale just very pricey. I lost my note but I believe it was $20 for a bottle at the restaurant.
★
924 characters
3.95
/5
rDev
-0.5%
look: 4 | smell: 4 | taste: 4 | feel: 3.5 | overall: 4
2002 750 ml purchased in Deleware branch.Lots of malts and toffee and complex sweetness with old ale, nicely mellowed.I can't believe I drank the whole bottle, it just get going with a multi-course meal. Perhaps the best I have had from this brewer.
★
249 characters
3.43
/5
rDev
-13.6%
look: 4 | smell: 3.5 | taste: 3.5 | feel: 3.5 | overall: 3
Pours a transparent dark brown with a mocha head on top, it has some fair though thick lace sliding about. Smells of a slew of dark malts, and earthy sweetness, and, distinct from these, faint molasses scents. Also, something akin to an old pot of coffee.
Tastes of molasses, strong and apparent, with a grainy and dark presence through out. Earthy malts wash around with a spare British hop bitterness and small sweet burnish. Same old pot of coffee flavor in the finish, though. Thin mouthfeel.
Seems like it need more time in the cask to come together. Decent now but otherwise it seems like it could, eventually, come together - an event I'm eagerly awaiting. Brewed with blackstrap molasses and damerara sugar, and added oak chips in the secondary (which is probably where the old coffee flavor comes from).
★
819 characters
Old Ale from Iron Hill Brewery & Restaurant
87
out of
100
based on
14
ratings.