Muskoka Twice As Mad Tom IPA
| Muskoka Brewery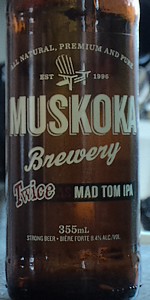 BEER INFO
Brewed by:
Muskoka Brewery
Ontario
,
Canada
|
website
Style:
American Double / Imperial IPA
Alcohol by volume (ABV):
8.40%
Availability:
Year-round
Notes / Commercial Description:
While the legend of Mad Tom is laden with mystery and intrigue, one thing remains clear - Mad Tom did things his own way. Twice as Mad Tom is an aggressively twice dry-hopped Imperial India Pale Ale, that delivers a definitive hop aroma and unabashedly big bold flavor. We brew this beer with the road less traveled in mind, and in the spirit of old Mad Tom, we make no bones about it.
71 IBU
Added by CAMRAhardliner on 10-28-2012
Reviews: 64 | Ratings: 257
4.32
/5
rDev
+7.2%
look: 4 | smell: 4.5 | taste: 4.5 | feel: 4 | overall: 4
Thanks to jrenihan for this one.
Poured from a 355ml. bottle, enjoy by 22 Mar13.
Appearance: A honey colored rather clear body with a nice mountainous head and strong lacing afterwards.
Smell: Floral a bit, shy at first but then clementines come in strong and vivid. Like peeling one open and the release of the aroma after.
Taste: Slightly sweet but more of a tangerine/clementine sweetness rather than sugar. Bit of honey, caramel nut. The ripe and fresh fruit is again present like the aroma and actually gives me the craving for clementines!
Mouthfeel: Strong upfront, medium body, restrained bitterness and fairly smooth.
Overall: Well balanced, not a bitter DIPA but loved it. The fact that this is a year-round offering is even better.
★
748 characters
4.17
/5
rDev
+3.5%
look: 4 | smell: 4.5 | taste: 4 | feel: 3.5 | overall: 4.5
A - clear dark golden, one finger of white head retained respectably, good amount of random lacing as I took it down
S - hints of grapefruit, tangy lime, subtle perfumes, sweet bubble gum, and a faint hint of caramel
T - earthy with sweet citrus, quickly followed by a distinctive bubble gum or cotton candy type thing, light mineral quality, and mild sweet malt
M - medium to light body with ample carbonation, although no real hop bitter or dry to speak of, very easy drinking just missing a bit of the punch that I enjoy in a DIPA
O - gentle but diverse hop flavours with a crazy and inviting sweet candy flavour that makes it tough to put down, I will be buying more of this for sure
★
687 characters
4.3
/5
rDev
+6.7%
look: 4 | smell: 4 | taste: 4.5 | feel: 4 | overall: 4.5
A: Clear copper colour. Pours a nice 1/4 inch foamy head that then settles to a thin white layer. Lacing is low.
S: Unripened pineapple mixed with pine needles. hints of caramel is present.
T: In your face bitter grapefruit followed by malt sweetness. Later in the sip you get some nutty flavours. The bitterness and malt are very well balanced throughout.
M: Med body, good carbonation, a bit silky and oily on the palate.
O: This is a very well balanced DIPA. Sweetness to bitterness is perfect, you get a nice bitter finish, flavours are great and nothing takes away from anything else.
★
593 characters

4.18
/5
rDev
+3.7%
look: 4 | smell: 3.5 | taste: 4.5 | feel: 4 | overall: 4.5
bottle into duvel tulip
A - Deep orange coppery pour with 2 fingers of bright white head, big sticky bubbles. nice lacing on the glass
S - Just massive piney in your face nose with a sweet smell. Little bit of pineapple, but a really nice smelling beer.
T - Really nice hoppy beer, I usually find DIPA's to be too malty (other then FFF's) but this one is extremely well balanced. Not too much malt and a great hoppy bite.
M - Nice mouthfeel nice carbonation, but not too bubbly. Medium bodied beer. Can't taste the alcohol.
O - Happy to finally have a good DIPA being made in Ontario. This is a huge movement in the right direction for our province.
★
654 characters

3.97
/5
rDev
-1.5%
look: 3.5 | smell: 4 | taste: 4 | feel: 4 | overall: 4
A special thanks to "maika" for making a special stop in Whitby and picking this one up for me (and surprising me with a bonus GLB black IPA- Yum).
(3.5) A: Pours a crystal clear amber with a healthy creamy white foam head. Very good retention and similar lacing.
(4.0) S: Fresh baked bread, sticky pine needles, grapefruit, pineapple, hints of banana, caramel, and nutty elements. Nicely balanced and smooth with a fairly gentle overall aroma which is nice.
(4.0) T: Sweet caramel-like malt base with a piney and tropical fruit (banana & pineapple) wave that follows. Some spices in there too providing a nutty quality in the finish. Similar to aroma with an overall balanced taste profile. Alcohol is quite well hidden. Well done.
(4.0) M: Medium bodied with a medium carbonation. Quite chewy and resin-like with an appealing oily sheen that coats the mouth. A hefty load of bitterness with very little dryness.
(4.0) D: This is very easy-drinking and well balanced for a DIPA. Rich with malt and not overpowering with the hops, this could find it's way into my fridge rotation.
★
1,091 characters

4.2
/5
rDev
+4.2%
look: 4 | smell: 4 | taste: 4 | feel: 5 | overall: 4.5
Twice as Mad Tom pours a medium brassy amber colour that is neither entirely clear nor entirely hazy. Despite a good deal of head being generated initially, what is actually retained amounts to little more than a bold ribbon. Perhaps suiting, however, Mad Tom leaves lacing that looks like 'outsider art'.
Imagine someone sliced an over-ripe papaya down the middle, opened it up and shoved your nose right into the center of it. They then did the same with an over-ripe grapefruit and an over-ripe mango and an over-ripe pineapple. And a perfectly ripe nectarine. That's pretty much the experience here. It is citric and tropical but also bitter and a bit rank. At this point malt hardly factors in to the equation.
The taste offers a fine replay of the aromas - papaya, grapefruit, mango, pineapple, nectarine - but also features a zesty note of orange peel, pine serum and a chamomile-like herbalness. Beyond all the hoppy, fruity notes lies traces of nutty, toffee-ish malt and a baled hay graininess. While these are appreciated easily enough, the primary tropical juiciness forms the principle theme of the beer.
The mouthfeel is possessed of an uncompromising bitterness, the result of oily hop resins that are sticky as wet clay. What I like about it, however, is that it's not superficially bitter - notes of bread pudding, peach preserve and baked honey-apple accompany on the finish, lending a medium-sweetness that helps to slightly offset the long and lingering resins. Wonderfully balanced!
Muskoka Twice as Mad Tom is the brand of DIPA that allows you to really get in touch with your inner fruit vendor. It offers a dazzling array of hoppy, citric flavours that is sure to refresh (provided one is comfortable with the bitterness). It's the kind of beer I grab intending to have just the one... but then can't resist opening another. The entire four pack will disappear in no time.
★
1,904 characters

4.19
/5
rDev
+4%
look: 3.5 | smell: 4.5 | taste: 4 | feel: 4 | overall: 4.5
Pale golden-amber colour, cap of white head, some ligh lace here also. Smell is full of citrus as well as pine, tropical fruits, orange, tangerine, grapefruit, a bit of sweet malt, really quite a vibreant and fruity nose. Taste is citrusy and tropical like the nose, orange, grapefruit, a bit of white grape, a bit of sweetness, malt there, pine toward the finish as well. Light carbonation, oily, medium bodied. A solid DIPA here, something will keep in my fridge pretty often, very drinkable.
★
494 characters

4.27
/5
rDev
+6%
look: 4 | smell: 4.5 | taste: 4 | feel: 4.5 | overall: 4.5
Bottle poured into a Bellwoods snifter. I bought the bottle two weeks ago at the Beer Store, before they hit the LCBO shelves.
Appearance: It's a very clear orange-hued amber. Light off-white, broken head.
Smell: Earlier this year I was in Southern California for a week and while there I drank about two world class double IPAs a day, much to the protest of my liver. So the first thing this beer smells like to me is California. I digress. The first thing is a pineapple and tropical fruit mix (I always say mango) from the hops, but after that it's really malt-driven with a light toffee sweetness. A little pinecone, like the normal Mad Tom, is there too.
Taste: Rich piny hops on the start, followed by some of those more fruity pineapple and mango west coast hops. I get that familiar honey sweetness with a little caramel in the very formidable malt body. The bitterness leaves a little light for me. I almost feel like the regular Mad Tom's got a richer grapefruit bitterness. This bitterness is a little more smooth, with just a little hint of coppery-ness.
Mouthfeel: Fairly low carbonation with a very rich and thick body. There is very little heat on the beer too.
Overall: I really enjoy this beer. My only fault with it is that I would like a little more bitterness, because, as it stands, the regular Mad Tom seems a little more aggressive in that department. Aside from that minor quibble, this beer is outstanding. It's got that great hop-forward aroma with a strong, thick, malt-driven body. As far as DIPAs go, this is right on the money. A beer Ontario can point to without saying that "it's really good... for Ontario." It's just really very good.
---
Afterthought: In the "Smell" section I mentioned a DIPA binge in Southern California in February, 2012. After I came home from that I did sit down with a Mad Tom (just off the plane) and wrote a review of it while still in IPA shock (http://beeradvocate.com/beer/profile/661/69458/?ba=Groulxsome). Overall I said "Maybe if there was a double Mad Tom (Crazy Tom? Committed Tom?) where the tastes could be ramped up beyond what might be expected in Ontario this might help bump this "good" beer into the "exceptional" category." Now I'm drinking this beer, which I think is exceptional, so I'd like to thank Muskoka Brewery for making my little wish come true (though certainly not because of me!).
★
2,377 characters

3.58
/5
rDev
-11.2%
look: 4 | smell: 3.5 | taste: 3.5 | feel: 4 | overall: 3.5
Fresh bottle reviewed on 11/11/12. Poured in to tulip.
A - Translucent medium orange. One finger of tan coloured head with good retention.
S - Sweet caramel malts up front that immediately give way to a moderate hop bitterness and some grapefruit, pine and orange peel aromas. Fairly well balanced nose.
T - Sharp bitterness at first that is followed by a big caramel malt sweetness. Some grapefruit, pine and lighter lemon zest flavours are present. Well balanced.
M - Medium body. Light carbonation. Lots of sticky hop oils.
O - A well made beer but not my kind of DIPA. Would like more hop assertiveness.
★
617 characters

4.18
/5
rDev
+3.7%
look: 4.5 | smell: 4 | taste: 4 | feel: 4.5 | overall: 4.5
Bottle from the LCBO, into a tulip.
Slightly darker orange, filtered with off white head. Good retention, excellent lace. Nose has apricot, honey, some peach and juicy hop notes. Mild herbal, but mostly sweet malt and tropical hops. Taste has apricot, honey, cedar, sweet malt, oranges and more tropical hop notes. Malt has some Dreadnaught-like flavours (albeit not as immense), and hopping has character mildly reminiscent of Red Racer. Medium full feel, moderate bitterness and no alcohol. Will regularly stock this in my fridge.
★
533 characters
4.1
/5
rDev
+1.7%
look: 4 | smell: 4 | taste: 4 | feel: 4 | overall: 4.5
Don't see a date on the bottle, but this couldn't be much more than a couple of weeks old.
Beer is a clear copper/amber colour. Small off-white head. Head does not last long but there is a good amount of lace.
Nose is focused on citrus hops. Orange, tangerine, grapefruit. Quite juicy. Pine resin. Caramel malt. Quite a full nose. Nice.
Taste is very good. Grapefruit, tangerine and orange are all strongly present. Some pine. The malt presence is fairly strong, with a big caramel flavour accompanying the hop profile. Booze is rather noticeable, but not in a bad way. Fairly bitter, but not absurdly so.
Medium bodied, moderate carbonation. Oily.
Overall, very good! I like the regular Mad Tom. but I definitely prefer this one. Pretty amazing that this is now a regular (?) listing at the LCBO- first of its kind and a great start.
★
842 characters
4.07
/5
rDev
+1%
look: 3.5 | smell: 4 | taste: 4 | feel: 4 | overall: 4.5
Bottle just arrived at the LCBO. A good drinking DIPA. Millennium, Chinook, Cascade, Columbus and Aurora hops. Orange and tangerine, a complex and interesting melange. Smooth for a DIPA, not a palate eraser. Something I would certainly drink again, and again.Hazy orange.
★
271 characters

4.12
/5
rDev
+2.2%
look: 4 | smell: 4.5 | taste: 4 | feel: 4 | overall: 4
12oz bottle from the Ottawa LCBO - 12.95$ for a 4 pack
Appearance - Clear copper colour with an average size fizzy/frothy beige coloured head. There an average amount of carbonation and there is some decent lacing. The head lasted for 4-5 minutes.
Smell - Malts, hops, caramel, grapefruit, resin
Taste & Mouth - There is a below average amount of carbonation and I can taste hops and malts mixed with an apricot sweetness. There is also some resin and some grapefruit and a touch of guava/strawberry. It ends with sugary sweet aftertaste with a medium amount of hoppy bitterness.
Overall - Very west coast tasting and definitely the best DIPA the LCBO has ever seen. I'd like more hoppy bitterness though. Special thanks to Muskoka for getting a readily available DIPA into the market here.
★
794 characters

4.2
/5
rDev
+4.2%
look: 4 | smell: 4 | taste: 4.5 | feel: 4 | overall: 4
Picked up a 4 pack of this at the Beer Store's new 'Beer Boutique' in Liberty Village. Its exciting to see a locally made DIPA. This might be the second one brewed commercially in Ontario, after Black Oak's Ten Bitter Years. Exciting times for Ontario brewing!
Its 71 IBUs and will be brewed year round (awesome!).
The pour reveals a clear rustic orange liquid with a frothy just off-white head. It recedes quickly but coats my pint glass in sheets of foam. The aroma is not the pungent room filling hoppiness I was hoping for, but very nice and citrusy nonetheless. Boom! loads white grapefruit rind and pine needles fill the first sip. Hop bitterness is high, but balanced out with toasty, toffeeish malts. Tangerine and perfumey floral notes fill out the hop flavors. The finish is bitter with some sweet fruityness. the mouthfeel is pretty light-bodied for the ABV with a light carbonation. Hops are not as mouthcoatingly ruinous as I would like. I like DIPAs to take over my palate. ABV is kept well in check throughout.
I recently went to Southern California on vacation - trying some of the hoppiest (and most perfect:) ) beers in the world, so I reviewed this against a very high bar. It is indeed like a super charged version of Mad Tom, very similar hop flavor, just more intense. Still conservative by Cali standards - it could benefit from even more bitterness and hop complexity, but that's coming from a debauched hophead.
Seek this out. Kudos to Muskoka for brewing something for the hopheads.
★
1,513 characters
Muskoka Twice As Mad Tom IPA from Muskoka Brewery
89
out of
100
based on
64
ratings.