Dismiss Notice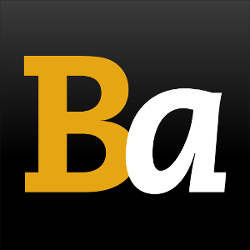 Site Performance Updates: We're aware of the nightly site outage, and working on resolving the issue.
Muddy River Stout
| Pump House Brewery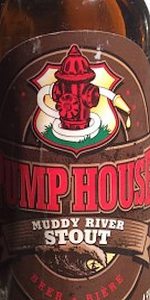 BEER INFO
Brewed by:
Pump House Brewery
New Brunswick
,
Canada
|
website
Style:
Oatmeal Stout
Alcohol by volume (ABV):
5.00%
Availability:
Year-round
Notes / Commercial Description:
Our oatmeal stout is deep midnight black coloured with a roasty aroma of malts, espresso and chocolate. Full and velvety with more sweet flavours of malt, coffee and chocolate as suggested in the aroma. Lightly acidic with a big finish, oatmeal surely isn't just for breakfast anymore!
Added by PiratePete on 11-18-2003
Reviews: 8 | Ratings: 14

3.62
/5
rDev
-4%
look: 3.75 | smell: 3.5 | taste: 3.75 | feel: 3.5 | overall: 3.5
Pours an oily near-black with ruby highlights only at the very edges of the glass when held up to light. Limited mocha coloured head has good retention, but results in little lacing.
Mild aroma of smoke and roasted chocolate malts, with underlying bitter coffee beans. The flavour has a nice depth for the relatively low 4.5% ABV. A brief initial sweetness transitions quickly into smokiness and a full coffee spectrum, from roasted bean to ground to espresso. The smoke lingers in the finish along with a respectable bitterness.
Fell in love with the Pump House IPA several years ago in Halifax and was sad our eastern traveling friends couldn't find any to bring back with them, but definitely glad to have tried this stout.
★
730 characters
More User Reviews:

4.3
/5
rDev
+14.1%
look: 4 | smell: 4 | taste: 4.5 | feel: 4 | overall: 4.5
Had on tap at the brewery. Served into a pint glass.
Appearance: black in color with a 1/2 inch head, opaque, moderate carbonation
Smell: roasted malt and dark chocolate—very Guinness like
Taste: milk chocolate that gives way to smoky dark roasted malt
Mouthfeel: medium bodied, medium carbonation, sweet and dry
Overall: A sweeter and more complex version of the original Guinness. One of the better dry stouts I have had in a while. I could certainly do a six while watching football.
★
493 characters
4.15
/5
rDev
+10.1%
look: 4 | smell: 4 | taste: 4.5 | feel: 3.5 | overall: 4
This is the beer I enjoyed most during my dinner at the Pump House Brewery. It is black in the glass, with and inch of tan head that stayed around for a while.
Dark roasted coffee aroma, almost gives a charred impression.
Roasted malt gives a flavour that leans a bit towards the bitter. Dark coffee and a hint of chocolate. Faint impressions of smokiness. A bit astringent to finish. I like it quite a bit, it is much more complex than I had expected.
Medium to full mouhtfeel, almost a chewy body. Just a touch more carbonation to it than I'd like for this style.
I'd recommend this one without hesitation. Very nice.
★
623 characters
4.22
/5
rDev
+11.9%
look: 4 | smell: 4.5 | taste: 4 | feel: 4 | overall: 4.5
This is my favorite beer to drink every time I go there (especially with their BBQ Pork Chipole Sandwich!).
It's a black beer with a nice and tick brownish head. Kinda reminds me of Guiness or Killkenny but better tasting and less "flat".
The beer have a taste a little bit like coffee and chocolate with a hint of vanilla. I really recommend it. The best tasting beer that Pump House produce in my opinion.
★
409 characters

3.88
/5
rDev
+2.9%
look: 4 | smell: 3.5 | taste: 4 | feel: 4 | overall: 4
A: Poured with a spare, tan head. Some actual lacing throughout drinking. Body is a very dark brown, almost black, and murky.
S: Aroma is of roasted malt and burnt coffee, with some very slight hints of chocolate. Overall the aroma is a little weak, but I liked what I could smell.
T: Very nice flavor of roasted coffee and semisweet chocolate, with a light bitterness in the finish.
M: Light-bodied with a creamy texture, and average carbonation.
D: A little light for an oatmeal stout, but overall very solid and tasty. Definitely something I'd order at the Pump House again... any chances of bottling this one?
★
617 characters
3.62
/5
rDev
-4%
look: 3.5 | smell: 4 | taste: 3.5 | feel: 3.5 | overall: 3.5
Deep dark brown where no light shall pass. Bar-poured head settles a single layer of minute bubbles. The lace starts as a blanket but ends up
Dark, burnt caramel aroma. 
Semi-sweet dark chocolate flavor.  Think coffee with half a lump of sugar.   Thin body, similar to the Irish versions.   This is an easy stout to drink,  a good one to be introduced to. It's flavorful without being overpowering. 
★
407 characters
3.59
/5
rDev
-4.8%
look: 4 | smell: 3 | taste: 3.75 | feel: 3.75 | overall: 3.75
3.54
/5
rDev
-6.1%
look: 3.5 | smell: 3.75 | taste: 3.5 | feel: 3.25 | overall: 3.5
Serving Type: 341 mL Bottle
A- Pours an opaque, black colour that is topped with a tan 1 1/2 finger head that quickly goes away. Gives off a slight tint of ruby around the edges. A pretty stout for sure. Not great retention but that doesn't take away much from how great this Stout looks in a glass.
S- Roasted malts (chocolate) with an ever so slight bitter hint of coffee. A little bit of caramel and peaks through but the dominating flavours are the roasted chocolate malt.
T- Much of the aroma shows up in the taste of this brew. Lots of chocolate malts. Unlike a lot of other Stouts I've tried, Muddy River gives of a creamy, almost milk chocolate taste. It's almost too sweet for my liking but it does give a great flavour. A little bit of caramel makes its way into the finish.
M- Body is light and the carbonation is low to medium. I tend to like my stouts a little meatier but the thinner body works pretty well here.
O- Pump House's Muddy River Stout could be a great session beer if it wasn't so darn sweet! That's not to say it's a bad brew because that's not what it is. I happened to really enjoy this Stout but the sweetness prevented myself from getting anything else out. This brew would really benefit with more coffee like bitterness to put a dimmer on the sweetness.
★
1,294 characters

3.43
/5
rDev
-9%
look: 3.5 | smell: 3 | taste: 3.5 | feel: 3 | overall: 4
This seems to be the favourite of the beer nuts who frequent the Pump House. There is a reason for that. Dark - black even, with an off white head. Mmm, coffee and chocolate. Not only in the smell but in the taste too. The sugars and bitterness are reasonably well balanced. Not the best stout but a good stout.
★
311 characters
Muddy River Stout from Pump House Brewery
-
out of
100
based on
8
ratings.