Sneak Attack Saison
| 21st Amendment Brewery
BA SCORE
81
good
112
Reviews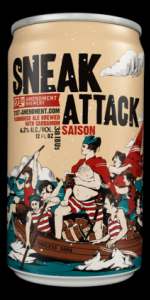 BEER INFO
Brewed by:
21st Amendment Brewery
California
,
United States
|
website
Style:
Saison / Farmhouse Ale
Alcohol by volume (ABV):
6.20%
Availability:
Winter
Notes / Commercial Description:
You might not expect a Saison in winter. But the enemy didn't expect Washington to cross the icy Delaware, either. Expectations be damned, we say. We're sneaking up on winter with a boatload of bravado and this Belgian-style farmhouse ale. Dry hopped with whole organic cardamom pods, our Saison has an assertive spiciness. In your face, winter.
Added by Hoptometrist on 01-04-2013
Reviews: 112 | Ratings: 607

4.23
/5
rDev
+18.8%
look: 4 | smell: 4 | taste: 4.25 | feel: 4.25 | overall: 4.5
Pours a dark golden brown with a nice head. Smell is biscuit malt and grass with a little bit of yeast. The flavor is dry but not bitter, with a clean finish and strong cardamom flavor with overtones of biscuit and wild yeasts. Other saisons I've tried tend to be herbal (sometimes too much so) but the spicy cardamom is more crisp and perfectly fits a winter brew. The balanced flavors and body make this an extremely drinkable, tasty, original beer.
★
451 characters
3.16
/5
rDev
-11.2%
look: 3 | smell: 3.25 | taste: 3.25 | feel: 3 | overall: 3
Canned on 1/14/13
Pours cloudy straw yellow with a small head smells of lemon and grapefruit taste follows the nose with a hint of grass and black pepper. Mouthfeel and carbonation are both on the soft side. Good seasonal but here in ny I think its the wrong season for it.
★
274 characters

3.31
/5
rDev
-7%
look: 3.25 | smell: 3.5 | taste: 3.25 | feel: 3.25 | overall: 3.25
Pours a lightly hazy yellow with a white head. In the aroma, cardamom, lemon citrus, and small tart earthiness.. In the taste, lemon citrus and cardamom, with a small tart and dryer end. A small spice bite and a lighter bodied mouthfeel, with a dry cardamom and lemon citrus in the aftertaste. Dry and small earthy tartness, big lemon citrus, just above average.
★
362 characters

3.46
/5
rDev
-2.8%
look: 3.25 | smell: 3.5 | taste: 3.5 | feel: 3.25 | overall: 3.5
A: shiny, golden bubbly body, trace white head, slight lacing
S: lemon peel/grassy, Belgian yeast, floral, light spice
T: lemon peel/grass, yeast, malt, floral, mild bitter/semi-dry finish
M: med/light body, bubbly/semi-dry mouth
O: Nice; enjoy 21st Brewery. Good intro Saison,
but could be improved.
QUITE NICE; NOT MUST HAVE!
★
332 characters

3.52
/5
rDev
-1.1%
look: 3.5 | smell: 4 | taste: 3.5 | feel: 3 | overall: 3.25
A- Pours straw yellow with a foamy white head.
S- straw, some sugar, a little honey, earthy
T/M- some banana, a lot of dry grain, a little Belgian yeast, not too much else
O- not too bad but nothing stands out here.Glad I tried it but also glad I bought a single can.
★
267 characters

4.33
/5
rDev
+21.6%
look: 3.5 | smell: 4.25 | taste: 4.5 | feel: 4.5 | overall: 4.25
A-pale yellow with a thin white head. lots of bubbles
S-bitter grassy grains. slightly tart. some corn. strong decent scent.
T-comes in with a fruity tart flavor of corn and grassy grains. fairly bitter. Actually I had this once before and i hated it, but i had an extra can so i decided to just drink this one quickly but it's a lot better than i remember. it's actually a very decent drinkable saison. the flavors are all there and are pretty strong. it's quite savory. matching strong after-taste
M-medium creamy carbonation with a creamy finish
O-this is a good, easy drinking saison. it drinks a lot lighter than the abv suggests. i don't know why but i had it once and it was terrible, but right now i'm loving it. honestly one of the better saisons i've had from an american brewery. especially surprising from 21st amendment.
★
837 characters

3.33
/5
rDev
-6.5%
look: 4 | smell: 3.5 | taste: 3.25 | feel: 3.5 | overall: 3
Canned on 12/16/2012 and cracked open one month later. The can says "hand crafted & canned by 21st Amendment Brewery, San Francisco, CA."
This pours a light hazy golden wit color with a light foam that rapidly dissipates. I get a delicately floral aroma with some cardamom notes, maybe a little honeyed-basil hints. The aroma doesn't come out & grab you, tho.
The flavor has an upfront bitter bite which quickly blunts, a light spice & some more cardamom notes.
The 38 ibus on it helps. As it opens I get an almost soapy, cilantro vegetal note to the aroma and flavor. There's some coriander seed as well. And is this a whisper of cinnamon? The elements are there but they don't result in an end product that stands out. Ultimately however this is more middle-of-the-road than anything exciting. While it's perfectly mundane and I wouldn't think twice about this in a session but under scrutiny it doesn't hold up.
★
930 characters

3.01
/5
rDev
-15.4%
look: 3.25 | smell: 3.5 | taste: 3 | feel: 2.25 | overall: 2.75
12 oz can into a Samuel Smith pint glass.
A: Pours a golden yellow color that's seemingly clear at first. Some exposure to light will reveal a hazier body. The head is a one finger white color. It's kind of disappointing by style standards, as it doesn't have the supreme retention or lacing qualities I expect.
S: Well spiced. And I really mean well spiced. Aside from the strong lemongrass quality the aroma provides, many spices - such as ginger, nutmeg, cinnamon, and the advertised cardamom - come through in an almost explosive manner. If there any such thing as a winter saison, this would be it.
T: There is a lot of lemon flavor in general, with a finish that evokes not only cardamom, but both gingerbread cookies and fresh cut grass as well. Complexity is muted at best. Works as simple refreshment quite well. Let's be honest, though, it's not a great saison.
M: A bit on the syrupy side - which is usually a deal breaker in a saison. I'm almost content to blame the slight undercarbonation (though it seems to perk up as the wet finish builds up), but I'm thinking its caused by the general sweetness. The texture features excellent initial crispness, but that syrupy, vaguely sweet linger comes close to ruining things completely. Dryness tries to accumulate past the aftertaste to no avail.
O: Those looking for a complex, thought evoking saison, look elsewhere. Those looking for a simple thirst quenching beer in a can, give it a try. I have to dock points for not being a good representation of the style, but as a regular 'spiced beer', it's solid.
★
1,572 characters
4.39
/5
rDev
+23.3%
look: 4.25 | smell: 4.5 | taste: 4.25 | feel: 4.5 | overall: 4.5
This beer is another in a set I picked up on a whim while I was out of state (West Virginia doesn't have a lot of great options). I'm glad to present a fairly positive review on a 21st Amendment beer because I really didn't like their Back in Black I just reviewed.
A: Poured into a pint glass from a can. The beer is golden in color and poured a very light head. Carbonation is quite visible after the initial pour.
S: The smell of the beer is sweet like a fruity candy smell. Banana really jumps out to me. A really deep smell does yield a spring-like cut-grass odor.
T: Taste is great. It's very spicy but the advertised cardamom is present on the back end. I taste a bit of lemony flavor that at first tastes like a hard-lemonade, but does unfortauntely sort of fade off into a harsher bitter lemon zest.
M: Light, crisp and refreshing. Borders on watery, but I thought it was a comfortable drink. The beer does kind of cling a bit after the swallow, but it's not bad at all.
O: This beer is great. I'll admit I can sometimes be a sucker for nifty packaging and aside from being a farmhouse ale in a can, it's also a pretty great beer. I'd definitely consume this again.
★
1,183 characters

3.69
/5
rDev
+3.7%
look: 3.5 | smell: 4.5 | taste: 3.5 | feel: 3 | overall: 3.5
12oz can with a freshness date.
LOOK: Hazed pale yellow, thin ring of lace
SMELL: Semi-agressive cardamon, peppery, faint juicy fruit, medicinal, grassy
TASTE: Spicy, smooth, slick, nutty yeast, grassy, medicinal, herbal, ghost-like ginger, green peppercorn, bready, semi-dry spicy finish
A good Saison, don't know of many canned Saisons which is cool and all but on the flipside it does detract from the crispness I look for within this beer style. This pulls away from the flavor a bit as well, perhaps I am used to the bottle conditioning and big dryness in most.
★
570 characters
4.39
/5
rDev
+23.3%
look: 3.5 | smell: 4.5 | taste: 4.5 | feel: 4 | overall: 4.5
Appearance: (3.5)
- A very nice light and clear straw-yellow brew with a quickly fizzing white head that settled to a small thick ring and some hazing over the brew. Out of a can especially, I was hoping to see a much more frothy and lasting head. But where can you get many saisons in a can?
Smell: (4.5)
- The wonderful cardamon is rather present, but well placed with a nice funky farmhouse yeast. Much like a berliner weisse, you get a slight funky rubber mat sort of nose. That's not in a bad way! Light bread and biscuit, grassy and herbal aromas, and more funk. Super solid. Surprised.
Taste: (4.5)
- This is a great saison. Nice light funky yeast and bready character, with a perfectly placed amount of cardamon to lighten things up. A very zesty, yet lemon-like sweetness adds great character to this brew. The after-taste is fantastic, and one may find awesome floral flavors lingering behind. Zesty, lightly sweet, floral, and bready all in one balanced shot. I am very impressed.
Mouth Feel: (4.0)
- Overall this is a light to medium bodied brew. It has only the slightest syrupy feel to it, but it is hard to grasp. It is well carbonated and has nice little tiny sparkling bubbles. It's a touch chewy and cloying, but overall well played.
Overall: (4.5)
- I have finally found another beer from this brewer that I like. I found myself a bit partial to their Back in Black (though I find many other local CDA's to topple it). Others I have had I wasn't very impressed. This however, and even in a damn 6-pack of cans, is fantastic. This is a must have. I really think this is something they should brew year-round. I would love this brew on a summer day.... just being outside drinking killer beer.
★
1,722 characters
3.15
/5
rDev
-11.5%
look: 3.5 | smell: 3.5 | taste: 3 | feel: 3 | overall: 3
Served from the can into an oversized wine glass
A- Poured a very clear light golden yellow with a frothy head that dissipated instantly into a little ring that stuck around for a while. No visible carbonation and some minimal lacing.
S- Huge cardamom and cinnamon notes, some light hay aroma, cracker and pilsner malt aromas
T- Huge cardamom and cinnamon notes up front with some lemon and pilsner malt from the middle to the finish. Some saltiness on the finish that really lingers
M- Some prickly carbonation but not as effervescent as many other saisons, semi-dry, finishes slightly watery, lighter bodied
O- Cardamom in a saison is a unique addition. Unfortunately the caradmom overwhelms the beginning of the sip and is completely absent in the finish. Each sip tastes different, but not in a complex way, just more disjointed.
★
848 characters
Sneak Attack Saison from 21st Amendment Brewery
81
out of
100
based on
112
ratings.