Blue Point Spring Fling
| Blue Point Brewing Company
BA SCORE
82
good
115
Reviews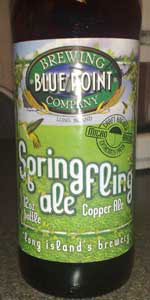 BEER INFO
Brewed by:
Blue Point Brewing Company
New York
,
United States
|
website
Style:
American Pale Ale (APA)
Alcohol by volume (ABV):
6.00%
Availability:
Spring
Notes / Commercial Description:
No notes at this time.
Added by lehows on 03-25-2007
Reviews: 115 | Ratings: 300

3.91
/5
rDev
+8.3%
look: 4.5 | smell: 3.5 | taste: 4 | feel: 4 | overall: 4
Got it on tap at the Lionheart in Albany.
A: Light copper/amber with plenty of small bubbles. Light beige 1-finger head that retains well, leaving a decent amount of lace.
S: At first, almost all hops -- citrus/grapefruit -- with just a hint of fruit. As it warms I get a little more grain in the nose.
T: Again, first impression is the hop kick at the end -- citrus and pine coats the mouth but doesn't destroy the palate. As it warms I get a little bit of the rye and grain in general up front. Good balance, nice bitter but tasty finish.
M: Decent creaminess, let's call the heft a little bit lighter than medium.
D: Very good; went down pretty easily.
Notes: A solid IPA-style Rye Ale. My only complaint is that the hops overwhelmed the rye a bit too much. Still, definitely worth checking out, just think of it as a hoppy rye ale or a Rye IPA.
★
854 characters
3.54
/5
rDev
-1.9%
look: 4.5 | smell: 3 | taste: 4 | feel: 3.5 | overall: 3
A_pours a hazy orange with a frothy nice looking white head. Halos of white lace cling together like rock strata here. Real nice looking
S_smell is mild. Slighlty malty
T_the taste is not what I was quite expecting. Tastes kind of like grape juice but not sweet. Nice citric/grassy hop buzz behind it and a faint black pepper spice in the aftertaste.
M_moderately creamy in feel.
D_I had this not knowing what it is and I thought it was an ale brewed with grapes. Very distinct taste here. Not quite sure if I like it or not.
★
532 characters

3.71
/5
rDev
+2.8%
look: 4 | smell: 3 | taste: 4 | feel: 3.5 | overall: 4
Split a growler with friends while BBQ over the weekend.
A - Poured a light copper with a decent sized white fluffy head into an imperial pint glass.
S - A bouquet of floral and piney hops, with an earthy malt nose to complement.
T - A solid APA with great balance and a bready finish.
M - A great light / medium body, semi creamy and very balanced.
D - A highly drinkable APA, solid for the category. Blue Point makes some pretty good beer and this is no exception. Recommended.
★
485 characters
3.48
/5
rDev
-3.6%
look: 4 | smell: 3.5 | taste: 3.5 | feel: 3 | overall: 3.5
Served on-tap in a pint glass.
Appearance: Clear light amber color with a medium off-white head.
Smell: Mild roastiness with some peppery undertones from the rye.
Taste: Definite rye spiciness. Some caramel and roasty notes in the middle. Decently smooth with a lingering mild hop and roasty bitterness.
Mouthfeel: Light to medium body. Some resinous hops on the tongue.
Drinkability: Goes down well, mild hops and carbonation presence.
★
441 characters
3.7
/5
rDev
+2.5%
look: 3.5 | smell: 3.5 | taste: 4 | feel: 3.5 | overall: 3.5
Blue Point- Spring Fling
On tap at Isaac Newton's- Newtown, PA.
A- Solid golden copper brown with a small light lacing head.
S- Light caramel malt with a touch of pine hops.
T- True to its aroma, sweet creamy caramel malt with a subtle but nice rising pine hop flavor.
M- Heavy carbonation with a smooth solid body. A touch of bitterness in the end.
Overall- A solid session beer. Easy to drink and at 6% these could quickly add up!
★
435 characters
3.83
/5
rDev
+6.1%
look: 4 | smell: 3.5 | taste: 4 | feel: 3.5 | overall: 4
Served at Union Jack's Manatawny
Poured a clear golden amber with a nice cream colored head, good retention, and good sticky lacing. Smells of rye malts and a grassy/citrus hop combo. Tastes of lite grapefruit with a nice sweet malty backbone and a fresh cut grass finish. Medium in body with good carbonation and a dry bitter finish. A good balance of flavors though pushing a little more towards the hops end of the spectrum. A good Spring brew, easy to drink.
★
463 characters

3.75
/5
rDev
+3.9%
look: 4 | smell: 4 | taste: 3.5 | feel: 3.5 | overall: 4
on cask at Mahar's...
A- Poured a clear red-gold with a one finger of foamy white head. Good retention throughout session.
S- Heavy on the floral hops with a woody scent coming through.
T- Sweet malt with herbal/floral hops. Slight bitter finish.
M- Medium bodided with some creaminess.
D- Very drinkable- here come the spring ales!
★
339 characters

3.98
/5
rDev
+10.2%
look: 4 | smell: 3.5 | taste: 4 | feel: 4 | overall: 4.5
Cask at Mahars
A: Nice copper color with expected cask head. Quite a bit of lacing.
S: Not too much of a nose. Some citrus from the hops and a few notes of malt.
T: Very much a cask beer. Notes of wood from the cask as well as the hops. The malt is there but it compliments the beer in a weird way.
M: Cask carb. Nice solid light to med body.
D: Great session beer on cask. One of the better Blue Point cask offerings I have had.
★
434 characters

4.36
/5
rDev
+20.8%
look: 4.5 | smell: 3.5 | taste: 4.5 | feel: 4.5 | overall: 5
On cask, gravity keg, same day as being opened.
This beer poured an orange-tan color that was lightly cloudy. Head wasn't too large and laced like foamy milk down to minimal bubbling which did not completely disappear.
The smell from this cask was not overpowering. Roasted Malt aroma was present along with a pine and citrus smell from the hops.
First sip was completely smooth and impressive. Toasted grains hit the tongue immediately followed by a pleasant and proud hop bitterness that was not strong. This beer is brewed with rye but it's difficult to taste perhaps due to it mingling well with the hops.
As I just stated, the first sip was extremely smooth which is to say there was absolutely nothing harsh in the experience. The carbonation sensation was missing but this is to be expected from a cask-conditioned ale. The middle tastes that were apparent, for me, came from the malt. This was really the best opportunity to get a sense of the rye that was used. The finish had a mild hop bite typical for a pale ale along with some sweetness from the roasted malt. The two were very well balanced. Over time, some slight mild citrus flavors come through at the very end.
I had three imperial pints ... the first went down extremely fast and the second didn't take much longer. The third required some disciplined nursing on my part because I could've easily drank it fast as well. Overall, I'd have to say this is an excellent session beer for those that are fond of Pales and/or IPAs.
On a final note, I think the name of this beer is very misleading. Spring Fling suggests a seasonal style much lighter than what this beer is. I would argue that instead of being a spring seasonal, this could easily be a year-round offering as a Pale Ale.
★
1,756 characters

3.88
/5
rDev
+7.5%
look: 4 | smell: 3.5 | taste: 4 | feel: 4 | overall: 4
On tap at Holy Smokes BBQ in Mahopac, NY last night as part of their Blue Point weekend event. Got to speak to the Head Brewer Andy, who called this one a "Rye" beer. Poured pretty clear, typical almond amber, under a long lasting light tan head, that leaves well developed and plentiful lacing nice. Bready malts in the nose, more malt ( I did not pick up any Rye notes) and balancing hops late. Andy said he's a "balanced beer" kind of guy and this pleasing offering fits the bill. Nice sessioner.
★
499 characters
3.6
/5
rDev
-0.3%
look: 3.5 | smell: 3.5 | taste: 3.5 | feel: 3.5 | overall: 4
Was able to try this on cask last evening, which was a bonus in my book! The brew was pulled to a golden color with amber highlights and possessed a fair sized white head that had good retention which was surprising, but think that the cask was very fresh. The aroma had a nice hop scent which was by no means overpowering while having a backbone of light malt which gave it a slight grain smell. The taste is quite light, at first I noticed a perceived hop taste but as I continued to drink this beer it seemed to lessen and just became a part of the whole. The malts seem to give off a slight sweet flavor with a biscuit like taste. Overall this is a good brew, nothing to write home about but with it being on cask I could not resist. Easy drinking.
★
752 characters

3.3
/5
rDev
-8.6%
look: 3.5 | smell: 3.5 | taste: 3 | feel: 3.5 | overall: 3.5
Pours a clear golden amber color with a minimal white head. Aroma is hops, pine hops, and citrus hops.
The taste is more of the same. hops, hops, hops. A bit watery too, to be honest. Like many other APAs out there, this one just goes a bit too hop crazy and never finds the right balance. The flavors are light and crisp, so it's not a bad beer for a picnic or something, but it's a bit too unbalanced for my liking.
★
420 characters
3.1
/5
rDev
-14.1%
look: 4 | smell: 4 | taste: 3 | feel: 3 | overall: 2
Bought on tap and from the looks of the lack of info on the site. It think it is on tap only.
appearance - Nice copper color, and a nice foamy head with some lacing.
smell - grainy and hoppy.
taste - Taste was sweet with a small touch of malt and then ended with a bitterness and hop flavor.
mouthfeel - light medium body with some carbination.
drinkability - Nice spring beer. I rated this average because I do not like beer that is bitter and taste like grapefruit.
★
487 characters
3.6
/5
rDev
-0.3%
look: 3.5 | smell: 3.5 | taste: 3.5 | feel: 3.5 | overall: 4
Poured a light copper hue with a one finger foamy white head. There was good lacing and retention.
The smell featured a muted grassy hop and a good grainy malt.
The taste consisted of a smooth light herbal hop with a sweet, yet balanced malt. Good biscuity finish.
The mouthfeel was of medium fullness, slightly creamy and with some lingering sweetness.
Overall a good drinkable ale. Not so sure on its status as an APA, but perhaps a golden ale.
★
458 characters
4
/5
rDev
+10.8%
look: 4 | smell: 4 | taste: 4 | feel: 4 | overall: 4
On tap at Farmer Bar in Cutchogue, LI. Poured an amber color with a small white head, and left some good lacing on the glass. Nice aromas of lemony hops and some mild grain, very clean smelling. Taste was much of the same with a refreshing tart hoppiness dominating the palate and a decent display of mild malt too. Very drinkable and a good spring beer, refreshing enough to quench the thirst but just enough malt in there to remind you its not yet summer. Paired well with some chopped BBQ bisket. Get it while it lasts!
★
522 characters
Blue Point Spring Fling from Blue Point Brewing Company
82
out of
100
based on
115
ratings.