Blue Point Spring Fling
| Blue Point Brewing Company
BA SCORE
82
good
115
Reviews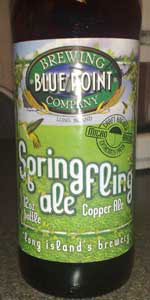 BEER INFO
Brewed by:
Blue Point Brewing Company
New York
,
United States
|
website
Style:
American Pale Ale (APA)
Alcohol by volume (ABV):
6.00%
Availability:
Spring
Notes / Commercial Description:
No notes at this time.
Added by lehows on 03-25-2007
Reviews: 115 | Ratings: 299

3.51
/5
rDev
-2.5%
look: 4 | smell: 3 | taste: 3.5 | feel: 3.5 | overall: 4
Appearance: Clear copper body, one finger head with great retention. Lacing is right on.
Aroma: Sweet malt mostly. Not a lot going on here.
Taste: Mild hops and sweet malt. Pretty low-key taste but easy drinking.
Feel/Drink: Nice crisp mouthfeel, great drinkability.
★
269 characters
3.98
/5
rDev
+10.6%
look: 4 | smell: 4 | taste: 4 | feel: 3.75 | overall: 4
12 oz into pint glass. My mom just picked this up for me, so I know its not fresh. Close to a year old I bet. But not bad. Copper in color, true to title, and crystal clear. I dont know what a copper ale is supposed to be like, but I think I like this beer. I'd give it another try fresh, and rated it higher here to reflect that (not the brewers fault Trader Joe's don't move their inventory).
★
394 characters
3.71
/5
rDev
+3.1%
look: 4.5 | smell: 3.5 | taste: 3.5 | feel: 4 | overall: 4
A - Pours a pretty deep crystal clear reddish amber with a thick fluffy head and plenty of lacing.
S - Very sweet smelling for a pale ale. You get alot of the maltiness with a bit of the grapefruit on top. Very thick smelling, but a little refreshing.
T/M - The malt definately hits you first. Smooth rich malty flavor. For a pale ale though, the hops come on top not too strongly, not cutting the malt enough. Mouthfeel is good, not too thick, nice and smooth, but not crisp.
D - Nothing getting in the way of drinking a few of these.
★
540 characters
3.48
/5
rDev
-3.3%
look: 3.5 | smell: 3 | taste: 3.5 | feel: 3.5 | overall: 4
Thanks to JoeyBeerBelly for the opportunity.
A- 12oz brown bottle poured into an American Pint. Pours orange-copper with a smallish head. Poor head retention and very little lacing.
S- Very mild aroma of grassy hops.
T- Some biscuit flavor from the malt up front, but not sweetness. Hops in the finish, but a more grassy, spicy hop flavor reminiscent of an English brew. Good balance, maybe leaning a little bit toward hops.
M- Low carbonation and a light, crisp body. Could benefit from a little more active carbonation.
D- It would be easy to put a few of these away on a hot day. More of a daytime beer than a nightcap, but very drinkable. I don't know if I'd buy this beer, but if offered I wouldn't turn it down.
★
722 characters
3.76
/5
rDev
+4.4%
look: 4.5 | smell: 3.5 | taste: 4 | feel: 3.5 | overall: 3.5
I put my Brooklyn Pennant Ale back on the shelf and bought this on a whim. Then my wife yelled at me because she was waiting at the register.
The beer has a nice copper color with good lacing and an off white head.
The smell is malty with some new car hops thrown in. Biscuity vinyl hops.
Taste: Round malt is offset and broken by a sharp, slightly sour hop finish. The final taste is a sour flash and slight puckering bitterness
Mouthfeel/Drinkability- Slightly peppery carbonation. The vinyl taste hinders drinkability.
★
527 characters
3.38
/5
rDev
-6.1%
look: 3.5 | smell: 3 | taste: 3.5 | feel: 3.5 | overall: 3.5
"Long Island's Brewery" calls this copper ale, really just colorful American pale. Amber hue, tight bubbles, thin head. Dry aroma, some caramel malt. Tastes like wheat toast, rye, brown sugar. Creamy feel, drinkable. Like a nice day at a baseball park watching two teams you don't care about.
★
292 characters
3.18
/5
rDev
-11.7%
look: 3 | smell: 2.5 | taste: 3.5 | feel: 3 | overall: 3.5
A- Pours a nice translucent copper color with a finger width white head. Some thin lacing sticks to the glass.
S- I'm getting some slight citrus hop aromas with some bread like malts in the back. Aroma is very faint to me right now.
T- Decent hop bitterness with some citrus like flavors carrying threw. Also getting a decent malt character.Good balanced flavors create an easy drinking beer.
M- Body is on the lighter side with clean refreshing taste. Good beer choice for the warmer weather coming.
O - Solid beer with easy drinkabilty. Would definitely pick this one up again. Cheers!
★
593 characters
1.97
/5
rDev
-45.3%
look: 4 | smell: 2 | taste: 1.5 | feel: 2.5 | overall: 2
Decent color and good head retention. Nice clear dark golden or light copper color. Reasonably mild characteristics, though a bit heavy for something associated with a "spring fling". I can't get around a metallic smell and taste I'm getting from it. I don't know if it's hydrolysis from bad grain, something from the brewing equipment or just poor water quality going into it. Whatever the case, nickel on the nose and on the tongue. I think it'd be a decent brew otherwise.
★
475 characters

4.36
/5
rDev
+21.1%
look: 4.5 | smell: 3.5 | taste: 4.5 | feel: 4.5 | overall: 5
On cask, gravity keg, same day as being opened.
This beer poured an orange-tan color that was lightly cloudy. Head wasn't too large and laced like foamy milk down to minimal bubbling which did not completely disappear.
The smell from this cask was not overpowering. Roasted Malt aroma was present along with a pine and citrus smell from the hops.
First sip was completely smooth and impressive. Toasted grains hit the tongue immediately followed by a pleasant and proud hop bitterness that was not strong. This beer is brewed with rye but it's difficult to taste perhaps due to it mingling well with the hops.
As I just stated, the first sip was extremely smooth which is to say there was absolutely nothing harsh in the experience. The carbonation sensation was missing but this is to be expected from a cask-conditioned ale. The middle tastes that were apparent, for me, came from the malt. This was really the best opportunity to get a sense of the rye that was used. The finish had a mild hop bite typical for a pale ale along with some sweetness from the roasted malt. The two were very well balanced. Over time, some slight mild citrus flavors come through at the very end.
I had three imperial pints ... the first went down extremely fast and the second didn't take much longer. The third required some disciplined nursing on my part because I could've easily drank it fast as well. Overall, I'd have to say this is an excellent session beer for those that are fond of Pales and/or IPAs.
On a final note, I think the name of this beer is very misleading. Spring Fling suggests a seasonal style much lighter than what this beer is. I would argue that instead of being a spring seasonal, this could easily be a year-round offering as a Pale Ale.
★
1,756 characters
3.38
/5
rDev
-6.1%
look: 3.5 | smell: 3 | taste: 3.5 | feel: 3.5 | overall: 3.5
Bought a single bottle from Trader Joe's. Poured into a ikea glass. Poured a nice copper color with a quickly dissipating white head, left not lacing. Not much at all on the nose. Taste is average, mainly pine. Overall, there is nothing compelling about this beer.
★
264 characters
3.01
/5
rDev
-16.4%
look: 3.5 | smell: 2.5 | taste: 3 | feel: 3 | overall: 3.5
Served out of a bottle and poured into a chilled glass
A Has a nice amber color with a subtle creamy head.
S Slight malty aroma, not much else...I will wait a bit for this to warm up and see if there are any other notes.
T Has a sharp bitterness up front with a lingering bitter finish/ after taste. Not really to much to get excited about.
M A bit zinggy on the tounge
Overall this is an average beer. Spring ales are supposed to be too complex but I cant see myself drinking more than one or two of these. Probably more worth the try on a warm summer day.
★
562 characters
4.5
/5
rDev
+25%
look: 4.5 | smell: 4.5 | taste: 4.5 | feel: 4.5 | overall: 4.5
I'll admit I am a fan of most of Blue Point's beers. I picked up a six pack of this on the way to a friends house the other night, along with a couple of other random six packs. I was expecting to like the beer, I love Ales and I love Blue Point. I was really blown away, I loved this beer!
A great copper Ale. Perfectly Hoppy, sping ales usually lack enough hops for me. I'd love if they rebranded this and kept it all year round. It is a nice beer in their lineup, less hoppy than their Hoptical Illusion (which is in my top 10 beers), but more hoppy than their Pale Ale.
I will be buying much more of it!
★
611 characters

4.55
/5
rDev
+26.4%
look: 4 | smell: 4 | taste: 5 | feel: 4.5 | overall: 4.5
An extremely easy drinking copper ale. In my experience, copper ales are a little tough to predict the final flavor. Blue Point balances flavor and mouth feel perfectly in this spring offering. This is one of those beers I wish they made year round. My go to spring beer.
★
271 characters
3.02
/5
rDev
-16.1%
look: 3.25 | smell: 3 | taste: 3 | feel: 3 | overall: 3
Used to like this a lot more - not sure if my tastes have changed, or it has. Either way, this is still a decent Spring Copper Ale, but there is nothing special about it.
★
171 characters

3.65
/5
rDev
+1.4%
look: 4.25 | smell: 3.5 | taste: 3.5 | feel: 3.5 | overall: 4
Drank out of standard pint glass. I love me some carbonation, so this beer is great. fizzy and awesome. copper color just like stated on label! smell is pretty neutral. very close to the right amount of hops/malt ratio for this to be a great session beer. a little malt heavy though for serious work. anyways, this is a great beer and I will gladly drink more of it!
★
366 characters
Blue Point Spring Fling from Blue Point Brewing Company
82
out of
100
based on
115
ratings.