# 100
| Nøgne Ø - Det Kompromissløse Bryggeri A/S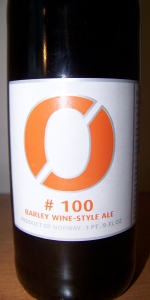 BEER INFO
Brewed by:
Nøgne Ø - Det Kompromissløse Bryggeri A/S
Norway
|
website
Style:
American Barleywine
Alcohol by volume (ABV):
10.00%
Availability:
Year-round
Notes / Commercial Description:
23,5° P, 80 IBU.
First brewed to celebrate the 100th batch.
Ingredients: Maris Otter, wheat, and chocolate malt; Columbus, Chinook, and Centennial hops; English ale yeast, and our local Grimstad water.
Added by bark on 03-01-2005
Reviews: 257 | Ratings: 446
4.25
/5
rDev
+5.5%
look: 4 | smell: 4 | taste: 4.5 | feel: 4.5 | overall: 4
Much thanks to Phyl21ca, a great trader for this rare brew.
A huge 4 finger light tan coloured head formed on the pour of this beast. Quite clear, yet dark for the style, almost a deep mahogany with blood red hues. Very mildly carbonated, yet quite decent retention considering the absence of carbonation to support its head. Gradually settles to leave a decent collar and somewhat fine yet full, almost clingy, clumps of lacings.
Caramel, hints of a red wine like vinous character, toffee and cocoa make for a complex malt bill, especially for an IPA. Perhaps some oxidation has taken place? Yet the hops are certainly not skunked, with a pronounced floral and citrus (mostly orange) character.
Wow, more like a hoppy barleywine, and a fine one at that, than an IPA with its deep, tasty and complex malt backbone. Reminiscent of Old Crustacean in this respect. Rich toffee, some caramel, rich vinous notes, leather, and powdery cocoa round out the solid malt backbone. The hops are there, but this is no hop bomb with its 80 IBUs balanced against such rich malts. Some grapefruit and pine notes that almost but not quite reach a stripping, resinous level, as well as a pronounced floral, earthy quality, with hints of oak and vanilla. Time to stop rating this as an american DIPA and go with its own strong merits. A woody hop bitterness and notes of a rich, dry red wine or even port carry on long into the aftertaste.
A very richly malted brew, with just the right amount of oxidation of the wort to produce a rich vinous character that adds to the overall presence of this ale. Rich, full bodied, smooth and creamy in feel, nicely contrasted by a sparkly low level of fine carbonation. Nicely hopped, but the 80 IBUs are barely noticeable against the rich and complex malt backbone. The hop bite, characteristic of both american and english hops gives way to the vinous qualities that linger long after the swallow.
Very drinkable for such a big, rich, bold brew. Certainly not very approachable or sessionable, but is a deep and complex sipper, that just may appeal to afficionados of red wines and port. Im glad i got to try this incredibly rich and complex brew. Way too much going on maltwise to be an american DIPA, but this is a great beer nonetheless. Ill be dishing out the bucks for more brews from Nogne, if i can still find their offerings at a store I've visited previously.
★
2,405 characters
4.17
/5
rDev
+3.5%
look: 4.5 | smell: 5 | taste: 4 | feel: 4 | overall: 3.5
(Bottle conditioned, 500 ml. Courtesy of Erik Dahl, Venner av Nøgne Ø.) I received this remarkable beer with awe, mixed with great anticipation. Very few litres of #100 have been for sale to the public. Would I like it, or would the massive hops (80 IBU!) be too much for me? The cost of brewing it (= the massive amount of malts and hops required for a batch) made the brewers certain that it would be unprofitable as a permanent brew, particularly with Norwegian alcohol taxes. This impenetrable cloudy dark brown beer pours with a large to moderate tan head. Aroma is simply wonderful - Colombus hops galore, dark chocolate, leather, cigars, pipe tobacco, tar. The complexity remains in the flavour - extremely malty, very sweet, but also extremely bitter. The bitterness (which becomes medicinal and wormwood-like in the aftertaste) prevents me from giving this beer a full score. On a regular basis, I'd prefer Nøgne ؒs God Jul (which is world class this year, IMHO) and also their Porter. But what a great experiment #100 is!
★
1,038 characters
3.53
/5
rDev
-12.4%
look: 3.5 | smell: 3 | taste: 4 | feel: 3 | overall: 3.5
Bottle from Barley Wine in Copenhagen, then consumed later in the hotel. Described as Triple IPA by the owner of Barley Wine and the bartender at Lord Nelson, it sure seemed much more like an American Strong Ale to me. Dark brown color (too dark for the style) with a expressive nose and a super bitter hoppy flavor. A good brew, but not great.
★
344 characters
4
/5
rDev
-0.7%
look: 4 | smell: 4 | taste: 4 | feel: 4 | overall: 4
Bottle: Poured a dark brown color ale with a nice medium foamy head with slightly better then average retention. Aroma of bitter and slightly piney hops is mix with some nice caramel malt. Taste is somewhat reminiscent of an hoppy porter (maybe because of the color) with load of roasty/sweet caramel malt and a bitter and slightly piney finish. Body has real creamy texture with medium carbonation and no alcohol could be detected. If I had to rate to style, then I'm not sure this would score very highly since it is quite off for the style. Since I am not rating to style, I thought this was a really good beer that doesn't really fit into a define style.
★
660 characters
3.85
/5
rDev
-4.5%
look: 4 | smell: 4 | taste: 4 | feel: 3.5 | overall: 3.5
Shared pint bottle thanks to JSquires via Papsoe. Big head with soapy bubbles on brown, lacing. Very bitter, carbonation tingle the tongue. Hop oily, herbal character. Warming alcohol. Did not get the malt and the balance, rather astringent hop leaf.
Second bottle via Boutip, fresher and 8 months later, An imperial pale, quoting Old Faithful. Dark, piney, lacey. Well done and upgraded substantially.
Had it again two years later, appearance of black with lots of lace and big head. Aroma of barley and hops. Just as big and different.
★
537 characters
3.71
/5
rDev
-7.9%
look: 2.5 | smell: 4 | taste: 3.5 | feel: 4 | overall: 4
50 cl bottle at Delirium Cafe in Gothenburg, Sweden.
New at May 13.
Dark brown color, small white head. A bit hazy.
Very hoppy (American) scent mixed with some chocolate. Some acid smell as well.
Acid and dark malt taste, some non-hops bitterness.
Good (hops) bitterness.
★
279 characters
4
/5
rDev
-0.7%
look: 4 | smell: 4 | taste: 4 | feel: 4 | overall: 4
Deep copper, nicely displayed beige head. Big earthy nose, highly hoppy. Toffeeish choco and caramel malt. Gentle toastiness pleases the nose with makes you think of a good breakfast as soon as you grasp those maple notes. greeny hops remain moderate at this point, but in mouth, it feels far more floral, barky and sweaty. A mild alcohol aftertaste surprises the drinker as this seemed so drinkable. Big brown ale base, woody and smoky flavors, rooty. Creamy medium malty palate. Very good indeed.
★
498 characters
# 100 from Nøgne Ø - Det Kompromissløse Bryggeri A/S
90
out of
100
based on
257
ratings.