Imperial Brown Ale
| Nøgne Ø - Det Kompromissløse Bryggeri A/S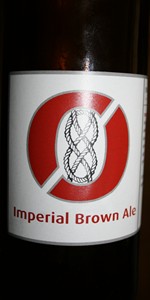 BEER INFO
Brewed by:
Nøgne Ø - Det Kompromissløse Bryggeri A/S
Norway
|
website
Style:
American Brown Ale
Alcohol by volume (ABV):
7.50%
Availability:
Year-round
Notes / Commercial Description:
18°P, 30 IBU.
Ingredients: Maris Otter, wheat, brown, amber, Munich and caramel malt; Columbus, Chinook and E K Golding hops; English ale yeast, and our local Grimstad water.
Added by Phyl21ca on 03-01-2007
Reviews: 62 | Ratings: 118
3.79
/5
rDev
-6.7%
look: 5 | smell: 3.5 | taste: 4 | feel: 3.5 | overall: 3.5
Bottle: Poured a deep brown color ale with a huge medium brown color head with good retention and lacing. Aroma of caramel malt with some buts and light hops is very interesting. Taste is maltier then expected with huge caramel malt with some nuts. The finish is slightly bitter but less then expected for an Imperial brown ale; it appear that the imperial is related to the malt as opposed to the hops which is quite interesting. Body is above average with some medium carbonation. Overall, I would say that this was a well done beer in what is often a boring style.
★
567 characters
3.73
/5
rDev
-8.1%
look: 4 | smell: 3.5 | taste: 4 | feel: 3.5 | overall: 3.5
A - Poured from the 500ml bottle into a pint glass a dark amber colour with a substantial inch of light beige head that hangs around for a fair while.
S - Chocolate & dark fruit predominately. A toffee touch. Some nutty hints & very vauge floral hop notes.
T - Chocolate & toffee maltiness comes through - quite sweet. Dark fruit is there but more muted.
Floral and herbal hoppiness comes through more in the taste too.
M - Light to medium bodied, fairly low carbonation. Some warming alcohol at the end.
D - Decent but not something I'd rush about to buy again. Unless your a fan of sweet brown ales there are better choices from this brewery.
★
644 characters

3.73
/5
rDev
-8.1%
look: 4 | smell: 3.5 | taste: 3.75 | feel: 4 | overall: 3.75
Yields a mohagony brown color, with a decent, stable head.
Smells of chocolate, cane sugar, toffee, together with a fair amount of wood. Reveals a note of matured, fruity hops among a bready malt foundation.
Has a medium body, with a fitting, lively carbonation.
Tastes of coffee, toasted malts and sugar, along with hazelnuts and a spiced note. Coffee is well pronounced, providing a convincing balance to sugar and molasses. Finishes fairly sweet, with a slick dryness shining through.
Tastes great, ranges between sweet and bitter in a convincing, complex way. Charred malts, old hops and coffee exhibit a convincing balance to molasses and caramel.
★
657 characters

3.68
/5
rDev
-9.4%
look: 4 | smell: 3.5 | taste: 3.5 | feel: 4 | overall: 4
Spicy, fruity aroma with notes of American hops. Darker fruit esters and bready melanoidins.
Hazy, brown colour with a creamy, tan head. Good.
Smooth, bready malt. Raisiny esters. There's a few hops here but not much. This is pretty malt focussed for an American brown.
Medium-full body with moderately-low carbonation. Good.
This is an interesting, malt focussed ale. I expected more hop character and the ester profile is a little odd.
★
441 characters

3.66
/5
rDev
-9.9%
look: 4.5 | smell: 3.5 | taste: 3.5 | feel: 3.5 | overall: 4
0.5L bottle poured into a Darkness snifter.
A- Pours a gigantic tan frothy four fingers worth of head that dissipates REALLY slowly, dark brown almost black color, red hues come off the bottom, really nice bubbly lacing.
S- Dark malts upfront, nice roasted notes, coffee, cocoa, nice bitterness comes through, not much else going on, the aroma is fairly muted.
T- Roasted malt right away, slight cocoa, coffee, sweet bitterness comes out as well, nothing really special or unique coming out of this beer.
M- Medium mouth feel, well carbonated, dry finish, smooth drinking, easy drinkability.
O- It's a solid offering from Nogne, nothing unique or that stands out but I enjoyed every sip. It was a satisfying beer on this cold winters night.
★
744 characters

3.6
/5
rDev
-11.3%
look: 4 | smell: 4 | taste: 3.5 | feel: 4 | overall: 3
A: The beer is clear dark brownish amber in color and poured with a thin off white head that faded away, leaving a ring of bubbles around the edge of the glass and some lacing down the sides.
S: There are sweet aromas of caramel and nutty malts in the nose.
T: The taste is very sweet with flavors of caramel and hints of nuts and roasted malts. No bitterness is discernible.
M: It feels medium-bodied and very smooth on the palate with a moderate amount of carbonation. There are some hints of a sticky and syrupy feel.
O: Overall, the beer comes across as being too sweet and the sweetness isn't balanced off by any bitterness from the hops. It's like drinking an extremely sweet Belgian Abbey Ale with some flavors you would expect from a Brown Ale.
★
756 characters
3.58
/5
rDev
-11.8%
look: 4 | smell: 3.5 | taste: 3.5 | feel: 4 | overall: 3.5
Pours black with a large light tan head.
Nose shows lots of nutty and softly roasted malt along with spicy, earthy and slightly resinous hops. Later on some chocolate and diacetyl enters. Very gentle, nothing harsh or aggressive, quite well done.
Flavours show more roasted character but this quickly subsides into nutty malt and dark chocolate only to resurface in the finish as a pleasant roasty bitterness. Again, very well executed without twisting the style to much.
Moderately low carbonation works well.
Halfway between a stout and a porter really.
★
555 characters

3.58
/5
rDev
-11.8%
look: 4 | smell: 3.5 | taste: 3.5 | feel: 4 | overall: 3.5
From 08/26/10 notes. Had at a local DC tasting.
a - Pours a mahogany brown color with 2 inches of brown head and light carbonation evident.
s - Smells of caramel malts and roasted malts mostly. Some nuts, dark fruit, and spice as well.
t - Tastes of roasted malts, chocolate, caramel malts, and dark fruits.
m - Medium body and low carbonation.
d - A pretty good brown ale. Would try again.
★
395 characters
3.56
/5
rDev
-12.3%
look: 4.5 | smell: 3.5 | taste: 3.5 | feel: 3.5 | overall: 3.5
Pours a hazy, dark chestnut brown color and a 2.5 finger, light beige head that very slowly settles into a lasting cap/ring. The glass is left coated with chunks of soapy lacing.
Roasted malt aroma with a surprisingly prominent floral hop presence. Slightly earthy with some grass, pine and hop resins countered by hints of caramel, toffee, toast and a bit of chocolate. Decent amount of roast but not burnt smelling at all with sweetness and hops balancing things out.
On the fuller end of medium bodied with a strong earthy hop flavor that's countered by a lightly roasted malt backbone. It's surprising that the hops are the dominant flavor in an imperial brown ale. Dry and bitter with grass and resinous pine needle flavor lingering throughout into a pretty dry finish. Subtle roasted malt character countered by a touch of sweetness toward the end of the palate. Hints of toffee, caramel, nut and light chocolate rounding things out. Not a bad beer but too hoppy for the style in my opinion.
★
1,001 characters

3.5
/5
rDev
-13.8%
look: 3.5 | smell: 3.5 | taste: 3.5 | feel: 3.5 | overall: 3.5
This beer poured out with a nice deep brown color, the head was a nice creamy tan color. The head left behind a pretty nice lacing. The smell of the beer was sweet and heavily roasted. The taste of the beer had some ice dark roasted nut flavors mixed with some sweet caramel. The mouthfeel wasn't too thick for being an imperial. Overall it was a very flavorful beer and I found it to be pretty good.
★
400 characters
3.41
/5
rDev
-16%
look: 3.5 | smell: 2.5 | taste: 3.5 | feel: 4 | overall: 4
Brought back by my parents from their trip to Norway, though I could've sworn I just saw this at Chevy Chase liquors a week ago. But I've been wrong before...
A: Dark, almost opaque brown, with a small off-white head that quickly recedes.
S: Pretty weak. A little bit of mustard spiciness.
T: Spicy at first, with a mild malty sweetness that pervades throughout. There is some roastiness that is especially prevalent at the end, with some coffee notes as well. There is a small, bitter aftertaste.
M: Light, appropriate carbonation that stays throughout the sip. Fairly creamy, though a little watery at times as well.
D: Good - nothing offending or too intense.
Perhaps slightly more interesting than some others of the style, but nothing special or worth seeking out.
★
775 characters
3.33
/5
rDev
-18%
look: 4 | smell: 3.5 | taste: 3 | feel: 3.5 | overall: 3.5
500mL bottle thanks to
[email protected]
Has quite a bit of age on it and a design that precedes the one pictured.
Chocolate brown, two-finger, milky looking mocha coloured head. Gravity defying raised ring and film.
Sweet and stouty nose. Some pungent roasty notes, sweetened dark chocolate, touch of tar, raisins, sour cherries and candy cane. Hops where are you?
Dominated by milk chocolate, caramel and confectionery sweetness. Nice enough for what it is, but I'm bemused by the absence of hops.
Smooth and syrupy. Bit of carbonation tingle on the tongue and very mild bitterness.
Dead set presents like a stout in every way. Nary a hop in sight. This bottle is more than 18 months old so perhaps unsurprising.
★
712 characters
Imperial Brown Ale from Nøgne Ø - Det Kompromissløse Bryggeri A/S
90
out of
100
based on
62
ratings.