Holy Smoke
| Nøgne Ø - Det Kompromissløse Bryggeri A/S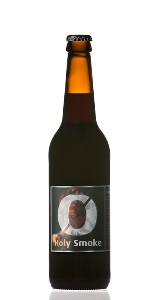 BEER INFO
Brewed by:
Nøgne Ø - Det Kompromissløse Bryggeri A/S
Norway
|
website
Style:
Rauchbier
Alcohol by volume (ABV):
6.00%
Availability:
Limited (brewed once)
Notes / Commercial Description:
No notes at this time.
Added by TMoney2591 on 01-13-2012
This beer is retired; no longer brewed.
Reviews: 15 | Ratings: 44

3.85
/5
rDev 0%
look: 4 | smell: 4 | taste: 3.75 | feel: 4 | overall: 3.75
Pours an almost opaque super dark brown with a foamy dark khaki head that settles to a puffy island on top of the beer. Small streaks and dots of lace form around the glass on the drink down. Smell is of smoked malt, smoked meat/cheese, and a caramel aroma. Taste is much the same with campfire flavors on the finish. There is a mild amount of hop bitterness on the palate with each sip. This beer has a good level of carbonation with a crisp mouthfeel. Overall, this is a pretty good beer with a nice smoke flavor but I think it smells slightly better.
★
553 characters
4.33
/5
rDev
+12.5%
look: 4.5 | smell: 4 | taste: 4.5 | feel: 4 | overall: 4.5
Pours deep brown with a huge towering rocky foam head. Holy foam Batman! Tons of sticky globs of foam and lace.
Fighting thru the foam for the nose. Smoky charred sugars. Some molasses. Some rich malt. Best part is that this smoke smells like smoke, not bacon.
Not as deep as a traditional German Rauchbier. The sugars dry out early. Sweetness of the malt is in the background. Some charred malt, dried...dark (?) flavors? Great balance to the bitterness and smoke. This is really becoming very enjoyable as I sip the pint. Friggin gobs of lace as rings down the glass. Beer has a pucker at the end. Dries right out. Not overly bitter, not overdone anywhere. Great balance on the front and back ends.
Well carbonated. A little on the light side (!). Almost...grainy in texture.
Wow. Been staring at this on the shelf for years. What great beer. $12 for the bottle, but absolutely fantastic. Not like the traditional version, or the domestic attempts. Right in the middle in interpretation, and very very well done.
★
1,019 characters
3.92
/5
rDev
+1.8%
look: 3.5 | smell: 4 | taste: 4 | feel: 3.5 | overall: 4
A - Dark oily color, with a small, creamy, foamy, cafe head. Average retention leaving a patchy lacing.
S - Definitely smokey with BBQ pork, wood (lighter wood, not a strong one), but this isn't the smokiest Rauchbier. Some light, bittersweet chocolate in the background. Nice roasted malty backbone.
T - Like the nose, smokey but not the smokiest one out there. BBQ pork, smoked wood, smoked chocolate malt. Faint sweet nutty and maple flavors.
M - Medium to light body. Average to slightly below average carbonation. Slick and oily.
D - Fairly easy to drink Rauchbier. Not too smokey with a nice roasted malt backbone. Not dominated by the smoke/meat which is nice.
Notes: Overall a very nice Rauchbier. Not too intense but enjoyable. Easy to sip. Not amazing but worth a shot.
★
784 characters
3.73
/5
rDev
-3.1%
look: 4 | smell: 3.5 | taste: 4 | feel: 3.5 | overall: 3.5
Deep ruby brown body, thin offwhite head.
Some smoke in the nose but not particularly pungent.
Dry, kinda ashy smoke, dry and a tad bitter.
Decent feel.
Another decent rauch, but not particularly remarkable. It says 'lager' but means 'baltic porter.'
★
254 characters

4.45
/5
rDev
+15.6%
look: 4.5 | smell: 4.5 | taste: 4.5 | feel: 4 | overall: 4.5
A: Pours an opaque black color. A two finger tightly packed, well formed beige head forms with excellent retention. Ultra fine bubbles keep rising. Nice lace as well. This is a looker.
S: Smoke up front and center as it should be. Though not overwhelming. Milk chocolate and a great toasted malt aroma. Bread, light coffee. Everything works great.
T: Follows the nose. Smoke is always on the tongue, but not over barring at all. Slightly meaty with a bit of charred wood, maybe tobacco. Milk chocolate and toasted malts make for an awesome balance. This is great.
M/D: A medium body and very fine carbonation. Creamy and smooth. So easy and enjoyable to drink. The bottle will be gone in no time, and I need to get some more bottles while I can.
A great Rauchbier. I am not typically a fan of the style, but this is excellent. One of my favorites of the style because of the great balance. Highly recommended.
★
910 characters

4.3
/5
rDev
+11.7%
look: 4 | smell: 4 | taste: 4.5 | feel: 4 | overall: 4.5
A - Pours with one finger of light tan foam on top of a black body with some brown highlights. The head settles fairly quickly and leaves light lace on the glass.
S - A moderately smoky aroma with a touch of peat, caramel and molasses.
T - Brown malty notes of bread and dry caramel up front. Some brown sugar in the middle as the smoke begins to creep in with a peat fire note. Finishes with molasses, light peat, and an earthy character that lingers in the aftertaste.
M - Medium-thick body, moderately low carbonation, and a balanced finish.
D - A nicely made smoked beer and one of the few I've had that managed to make something good out of peat character. The smoke it unmistakeable, but smooth and subtle enough to let other aspects shine through and keep the beer drinkable. This is really quite good and I would put it up there with the like of Schelkerla.
★
869 characters

4.5
/5
rDev
+16.9%
look: 4.5 | smell: 4.5 | taste: 4.5 | feel: 4.5 | overall: 4.5
A: very thin head on a dark brown body with red hues when held to the light.
S: nice and not overpowering mesquite and smokey aroma with a subtle hickory sweetness.
T: this is a very nice smoked beer. so many smoked beers are over powering but this one allows you to decipher the complexity. Mesquite and smokey notes up front followed by a sweet hickory and mild roasted malt finish.
M: moderate carbonation and medium to full bodied. very smooth.
Overall: one of the more drinkable beers in this genre. It captures the smoked beer flavor without a dominating smokey presence. very well-balanced.
★
601 characters

3.5
/5
rDev
-9.1%
look: 3.5 | smell: 3.5 | taste: 3.5 | feel: 3.5 | overall: 3.5
A: The very is very dark red in color and has a light amount of visible carbonation. It poured with a thin dense tan head that quickly died down, leaving some lacing on the surface and a thick ring of bubbles around the edge of the glass.
S: There are moderately strong aromas of smoked malts in the nose along with some hints of chocolate and roasted malts.
T: The taste is similar to the smell and has flavors of smoke along with notes of dark and roasted malts, soy sauce and wood. There is a slight amount of bitterness and some hints of sweetness.
M: It feels light- to medium-bodied on the palate and has a moderate amount of carbonation.
O: This beer is easy to drink because it's neither full-bodied nor overly smoky. It's a good selection for someone who wants to try a Rauchbier, but might not be ready for intense smoky flavors.
★
843 characters

3.85
/5
rDev 0%
look: 4 | smell: 4 | taste: 4 | feel: 3.5 | overall: 3.5
Pours a very dark brown with ruby highlights. The head is thick, foamy and beige, like a fluffy khaki blanket. Lees on the bottom of the bottle, but the beer is too dark to note any haze, regardless. I quite like the aroma, though it's not smokey enough for my taste in rauchbier. The smoke is more subtle than a Bamberg beer but still a bit hammy. The smoke flavor has a pleasant sweet, earthy quality. There's also some nice chocolate and light roast notes in the mix. The taste is sweet with a smokey twang and a chocolate undertone. It drinks easily and sits lightly on the palate. Carbonation is moderate. It's a tasty beer. I love smokier beers, but this one has a tasty mix of flavors that I really can't complain about.
★
727 characters

3.97
/5
rDev
+3.1%
look: 3.5 | smell: 4 | taste: 4 | feel: 4 | overall: 4
Wow, that is one enormous hand-rolled cigar (or is it a spliff?) the viking dude on the label is smoking behind the company logo!
Pours out a very dark brown with a corona of tiny tan bubbles which leave behind some minor lacing patterns. Once the initial heavy blast of smoke aroma upon cap removal gets a chance to settle down in the glassful, I get a very strong olive scent combined with hardwood smoke in about equal amounts...so pronounced in olive that I find myself wondering if they actually used olive wood charcoal to smoke the malt.
Given a bit more time to warm up, the aroma (and flavor) of all the specialty malts underneath the smoke appear in firmly supportive roles. The flavor does not have much of the olive characteristic from the nose, rather it sticks to the malts and woody tannic smoke, finishes up really quite crisp, dry and "ashen" as another BA member has already nailed down. The light and bubbly texture and mouthfeel seem directly descended from the lager textbook.
It is also worth mentioning that the level of smokiness in the flavor and aroma are kept rather restrained and reigned in compared to most other Rauches, especially for a brew named "Holy Smoke" I would have expected more...well...smoke! But they made the right choice by focusing more on balance than 'gimmick' in this regard IMO.
★
1,333 characters

3.46
/5
rDev
-10.1%
look: 4 | smell: 3 | taste: 3.5 | feel: 4 | overall: 3.5
500ml. Really dark brown, thin layer of light tan.
Aroma, mostly nutty malt. Some peat and lighter dark chocolate. Lightest smoke. Where's the rauch??
A little more here. More wood and peat than smoke, but it is a nice flavor. Balanced pretty well with the malt and molasses. There's kind of a black walnut bitterness as well. Also some cardboard/plastic that detracts a bit. Finishes pretty dry with the nut, burned peat.
Body is nice, a just right amount of carbonation. Drinks easily, if it is your sort of thing. Drinks plenty easy, but there are better for thr price. Try it once. Doing something to make the aroma stand out more would really elevate this and removal of the off notes.
★
693 characters

3.5
/5
rDev
-9.1%
look: 3.5 | smell: 3.5 | taste: 3.5 | feel: 3.5 | overall: 3.5
On tap at Beer Revolution. Pours a dark brown small white head settles to a ring and leaves very little lacing on the glass. The aroma is smoke, a bit of roast, and a little bit of bacon. Initial taste has a bit of sweetness with some smoky and woody flavors. The finish has a bit of ash and is quite drying. Medium body. Medium carbonation. Not but, but I've certainly had better smoked beers.
★
394 characters

3.43
/5
rDev
-10.9%
look: 4 | smell: 3.5 | taste: 3.5 | feel: 3.5 | overall: 3
First had: on tap at Capone's, Norristown, PA
Poured a very dark brown--I thought maybe this was a porter by the appearance--and a wisp of small off-white bubbles for a head. Aroma of smoked malts, bacon, and charcoal. More of the same in the taste, not overly smokey, but definite hints of smoked meats and malts, charcoal, toasted nuts, and a hard to ignore medicinal/BandAid sensation in the background that might be an off-flavor. (Is there something wrong with NogneO's brewing processes lately?) Mouthfeel is on the lighter side of medium, fairly easily drinkable, but not too impressive overall.
★
603 characters
3.03
/5
rDev
-21.3%
look: 4 | smell: 3.5 | taste: 2.5 | feel: 3.5 | overall: 3
Draft at Farmers' Cabinet.
Pours a dark ruby/chestnut brown color with mahogany edges and a one finger off white head that slowly settles into a thin ring.  Spotty lacing left behind.
Smokey, meaty aroma with hints of burnt malt and charcoal balanced by sweeter notes.  Hints of BBQ, bacon and charcoal along with caramel, toffee and nut.  Could use a bit more smoke character.
Medium bodied with a balance of smoked and sweeter malt notes.  The smoke is there but subtle with hints of ash, charcoal and bacon but it's quickly countered by an overpowering sweet malt presence.  Hints of caramel, toffee, hazelnut and some dark fruit.  Too balanced for its own good with the sweetness killing off most of the smoke.  I like my rauchbiers/smoked beers to be intense smoke bombs but this one is pretty tame.  Decent but the smoke is too subtle for my liking.
★
868 characters

3.97
/5
rDev
+3.1%
look: 3.5 | smell: 4 | taste: 4 | feel: 4 | overall: 4
Served in a Dogfish Head snifter.
According to the label, this thing was the winning entrant in a homebrewers' competition; the prize was getting the recipe brewed at Nogne. Right on. Good choice, my man. It pours a slightly murky sunset amber topped by a finger or so of light ash-tan foam. The nose comprises dry smoked wood (sorta like beech, but woodier, almost as though pressed fiberboard was the wood employed here), light toffee, and a drop or two of light maple syrup. Very pleasant, even if not the most in-your-face smoke around. The taste brings in more of the same, though there's more of a hammy quality now (not too much of one, but it's there). Nice. The body is a light medium, with a light moderate carbonation and an ever-so-slightly slick feel. Overall, a nice rauchbier, something a lot mellower than I expected, given Scandinavia's experience with smoke (mostly the Haand's brews and whatnot). Good times.
★
930 characters
Holy Smoke from Nøgne Ø - Det Kompromissløse Bryggeri A/S
86
out of
100
based on
15
ratings.