Dismiss Notice
Get 12 monthly issues of BeerAdvocate magazine and save $5 when you select "auto-renew."

Subscribe now →
Dismiss Notice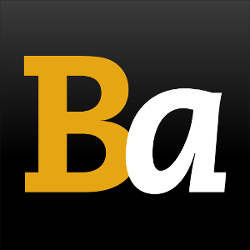 Join our email list →

And we'll send you the latest updates and offers from BeerAdvocate, because knowing is half the battle.
Peabody's Blendiculous Series #1 - Lock, Stock And Bourbon Barrels
- Olde Hickory Brewery

Educational use only; do not reuse.

Brewed by:
Olde Hickory Brewery
North Carolina, United States | website

Style | ABV
English Barleywine | 10.20% ABV

Availability: Limited (brewed once)

Notes & Commercial Description:
Beer added by: roywilliams on 06-27-2013



This beer is retired; no longer brewed.



This is a collaboration with Peabody's Wine and Beer Merchants, and is the first in a series of blended one-off brews. Series #1 entitled Lock, Stock and Bourbon Barrels is a blend of several vintages of barleywine that have been aged in bourbon barrels and then blended back in together for the ultimate layered experience! Only 480 bottles were made of series #1!
Reviews: 15 | Hads: 113

4.36
/5
rDev
-2%
look: 4 | smell: 4.25 | taste: 4.5 | feel: 4.5 | overall: 4.25
Barley wine bottle share on 1/31. This was one of the hits of the evening, lots of chocolate notes, blending perfectly with the malts and bourbon barrels. Smooth, delicious, and tasty.
★
184 characters
4.84
/5
rDev
+8.8%
look: 4.25 | smell: 4.5 | taste: 5 | feel: 5 | overall: 5
One of the best blended beers I have ever had produced by Olde Hickory. Beer was aged in a barrel bought by Peabody's beer shop. Wonderful overall taste and mouthfeel. Bought this at the store release and aged it until the 4th of July 2015. Just now getting around to the review so it's brief. If you can find this beer you must have it. I heard they sold for 50 dollars at the last Peabody's sale. I paid 18.99.
★
419 characters

4.01
/5
rDev
-9.9%
look: 3.5 | smell: 4.25 | taste: 4 | feel: 3.75 | overall: 4
650 mL bottle poured into a snifter.
Appearance - Clear deep amber body. Small khaki head and a thin collar.
Smell - Lots of bourbon and oak. Very nice bourbon and vanilla. Malty.
Taste - Sweet caramel. Sharp bourbon. Lots of oak. A little bitter. Straightforward.
Mouthfeel - Oaky and boozy. Astringent.
Overall - Really nice barre, but it masks any complexity.
★
369 characters
4.42
/5
rDev
-0.7%
look: 3.5 | smell: 4.5 | taste: 4.5 | feel: 4.25 | overall: 4.5
thanks to egrace84 for sharing this bottle!
poured into tulip glass.
Appearance: mucky dark nasty(in a good way) looking brown that is almost black bodied beer. Thin khaki cap that quickly settles down to no head at all.
Smell: Sharp oak notes. Chocolates, toffee, caramel, baker cocoa, butterscotch. Rich, layered, decadent, and inviting nose!
Taste: Lots of layers of complexity that lets the barleywine shine along with well integrated and big barrel notes. Toffee, butterscotch, caramel. Lots of oakiness. Belgian candied sugars and dark fruits. Light booze kick. Molasses is very present as well. The finish on this beer reminds me of a heath candy bar!
Mouthfeel: medium bodied beer almost nearing full bodied beer status. Low carbonation levels. Slightly boozey, but definately appropriate for the style. Chewy and smooth drinking.
Overall: This is a fantastic barrel aged English Barleywine! It is my favorite Olde Hickory beer that I have had to this day and it is definately by a long shot.
★
1,008 characters

4.14
/5
rDev
-7%
look: 4 | smell: 4.25 | taste: 4.25 | feel: 3.75 | overall: 4
A- Short lived head leaves a thin tan collar. Body is a brownish red hue. Thin alcohol legs.
S- Deep toffee/caramel notes. "Oaky."
T- More toffee and caramel. Chocolate chipy aftertaste. I get thin barrel notes for some reason. Would guess around it's stated ABV.
M- Medium mouthfeel...probably over carbonated for my taste per the English Barleywine style.
D\O- Doesn't match up to the top tier of the style in my opinion but worth a try if youre a big fan of the style. Thanks for the share egrace84!
★
506 characters

3.62
/5
rDev
-18.7%
look: 3 | smell: 3.5 | taste: 3.75 | feel: 3.5 | overall: 3.75
Thanks to GRG1313 for sharing this one at his tasting.
Pours a hazy dark brown with a foamy beige head that settles to wisps of film on top of the beer. No lacing on the drink down. Smell is of dark roasted malt, cocoa, caramel, and bourbon aromas. Taste is much the same with caramel and bourbon flavors on the finish. There is a mild amount of woody bitterness on the palate with each sip. This beer has a lower level of carbonation with a slightly crisp mouthfeel. Overall, this is a pretty good beer with a nice bourbon barrel aged presence that is slightly better in the taste.
★
584 characters
4.55
/5
rDev
+2.2%
look: 4.25 | smell: 4.75 | taste: 4.5 | feel: 4.5 | overall: 4.5
So excited to finally open one of my two bottles! Poured into a Brewery 85 tulip.
A: Reddish, brown with some haziness. A small amount of off-white head.
S: Huge coconut/bourbon notes. Some very ripe dark fruits also poke their way through.
T: Coconut, very ripe plums, raisins, caramel, some hop/booze bite on the very back end. Sweet but not overly so. Without a doubt, it's the best tasting barelywine I've ever had.
M: Coats the mouth as you would expect given the sweetness but it dries out fairly quick.
O: I was hopeful, but skeptical, of all the hype. Even though Chris from Peabody's told me it was absolutely amazing I had a hard time believing it. Well, it lives up to all the hype. It's just an amazing BA english barleywine. If King Henry really is better than this, then I want to avoid it at all cost because I would probably die from an overdose of beer ecstasy! If you are ever lucky enough to have this beer, consider yourself lucky! It's amazing!
★
970 characters
4.96
/5
rDev
+11.5%
look: 4.75 | smell: 5 | taste: 5 | feel: 4.75 | overall: 5
Thanks to the crew at Peabody's for saving me one of these little gems. This is probably the best example of a barrel aged Barleywine that I have ever had, and after reading some of the reviews I see that I am not alone. The beer smells like chocolate cake and the soft notes of sweet caramel bourbon are fantastic! 10% abv is incredibly woven into the beer with a nice warming, sweet (but not to sweet) finish. Olde Hickory and Peabody's nailed this one, this one lives up to the hype, truly one of the best brews I have had to date. I wish I had more!!!
★
555 characters
4.68
/5
rDev
+5.2%
look: 4.5 | smell: 4.5 | taste: 4.75 | feel: 4.75 | overall: 4.75
Ya right, we're all homers over rating this brew to drive up the trade value.
Bullshit.
Sorry, your wrong and this is great beer, coulda had it for a shelf beer. This is a tremendous brew, as most from Olde Hickory. Very complex, maybe from the duel barrels. I have a hard time with appearance as it looks good like it should, smells where it's what's expected to be , hence no 5. This is a great tasting brew smooth complex, lots of fruit, sane ABV. I have one I'm saving for a one day in the future vertical. Fully worth the time money or both. The best BW I've had to date.
★
578 characters
5
/5
rDev
+12.4%
look: 5 | smell: 5 | taste: 5 | feel: 5 | overall: 5
First off thanks to brother_kenneth for bringing this to the small bottle share/get together last night! This beer is remarkable in every aspect and is a must have to be in every cellar!
A - Pours a murky, dark mahogany brown with little to no head
S - Tons of toffee and raisins right away followed by bourbon, wood and maybe a little bit of chocolate. This is one beer I could leave in front of my nose day after day and not get tired of the beautiful aroma.
T - Like the smell I am tasting all of those notes and as it hits room temp., those flavors develop even more strongly. This is a blend of different barleywines, meaning that it has some older (aged) barleywine as well as some fresh BA barleywine so its definitely not "too hot" or boozy by any means. With that said it is definitely ready to be drank now or if you prefer leave one in your cellar and 'forget it', because either way those flavors will continue to develop even more so!
M - I've heard people say that the mouthfeel was thin and that the finish wasn't much but I tend to disagree. I think most people are expecting more of a 'hot' bourbon flavor and that isn't the case here, being that it already has some age on it being a newly bottled beer. I enjoyed every aspect of the mouthfeel as well as the finish because it satisfied my tastebuds to a tee!
O - This is one beer that I feel will not get the recognition it deserves, which is complete and utter bullshit if you ask me! By far one of my top 5 beers of all time and I am so glad I have been able to try it multiple times now. With only 480 bottles produced this one will not be around much longer so if you want to obtain a bottle better hurry up! Chris from Peabody's (Boone, NC) and the guys from Olde Hickory did a marvelous job on creating such a phenomenal brew, one that I believe is in the top beers for 2013! So keep your King Henrys, I will take a Blendiculous!
★
1,909 characters
4.75
/5
rDev
+6.7%
look: 4.75 | smell: 4.75 | taste: 4.75 | feel: 4.75 | overall: 4.75
Stopped by Peabody's to pick up some beers and was pleasantly surprised to see the shelves stocked back up with Event Horizon. When I reached the counter Kirbtology Mellott said that Olde Hickory came out with a Peabody's beer "Blendiculous". I didn't even think twice about it...Olde Hickory? YUP....and Peabody's? SOLD. Needless to say I was not disappointed. This was a fantastic beer. I would buy a case of it right now if I could. A+++
★
440 characters
4.75
/5
rDev
+6.7%
look: 4.75 | smell: 4.75 | taste: 4.75 | feel: 4.75 | overall: 4.75
Thanks to Chris Riley @ Peabody for turning us onto this beast while we were in Boone on vacation. This is a monster. We drank 4 or 5 bombers during our stay. It is STRONG. It is WONDERFUL. Going to age a couple bottles further and see what happens... If you get a chance, don't miss trying this one.
Eager to see what the next round will be!
★
343 characters
4.89
/5
rDev
+9.9%
look: 4 | smell: 5 | taste: 5 | feel: 5 | overall: 4.75
Appearance: Pours out without a lot of carbonation, but given the beers that were used in the blend this is not surprising; the liquid is a cola brown color with a ringlet of bubbles around the edge that dot the tulip
Smell: Bourbon, oak, caramel, figs, dates and tobacco
Taste: Bourbon and caramel, up front, with dark fruit (figs and dates) building; earthy hops arrive, at mid-palate, along with tobacco tones; after the swallow, the complex sweeter flavors dominate along with the Bourbon and a growing oaky character
Mouthfeel: Medium to full body with low to moderate carbonation
Overall: If this is not the best beer I have ever tasted, it is the best beer I have tasted in a long, long while
★
703 characters

5
/5
rDev
+12.4%
look: 5 | smell: 5 | taste: 5 | feel: 5 | overall: 5
Poured from a bomber into a Brawley's tulip glass.
A: A vigorous pour yields a small head that dissipates quickly, thin lazy lacing remains constant. On first blush I thought the brew was jet black - a good flashlight beam didn't pierce the liquid at full pour; but as the glass emptied it revealed itself, dark garnet.
S: Where to start? Bourbon sweetness, caramel, oak, charred wood, ripe dark fruit, butterscotch and figs. Amazing nose.
T: To paraphrase Toucan Sam... It follows the nose, it always knows! Sweet, warm and inviting. Beautifully designed beer.
M: Wonderfully viscous.
O: Everyone's talking about cellaring this brew but it's fantastic right now. I was lucky enough to snag a couple, so I guess I'll hold one back a spell but I can't imagine it getting better than this. Not sure how that would be possible but I can't wait to find out.
Notes: My girlfriend and I paired some Blendiculous with fresh black cherries, what a treat. I also sipped a bit of 21 year old Bushmills with the brew, for the hell of it, which was interesting - but the smoothness of Blendiculous rendered the previously conceived smoothness of the much stronger Bushmills inept. I'd stick with the cherries, although good chocolate and/or cheese would be fun too.
We're lucky to live close to Olde Hickory and we're usually able to secure a bit of everything that comes out of the brewery (with a bit of effort and the help of a great friend). I've often said that nobody in the state of NC is brewing on the level of Olde Hickory. I'm close to extending that thought to the nation as a whole. My girlfriend called this the best beer she's had from Olde Hickory, and she's been spoiled rotten by multiple years of The Event Horizon, Lindley Park, Irish Walker, Imperial Stout, Seven Devils, etc. Fantastic beer.
★
1,809 characters

5
/5
rDev
+12.4%
look: 5 | smell: 5 | taste: 5 | feel: 5 | overall: 5
One of the best beers I've ever enjoyed from Olde Hickory. This is right up there with the 2011 Event Horizon I aged for 2 years. Extremely well balanced, yet full flavored. Great barrel integration. Extremely pleasant long finish. Drinking really great now.
★
258 characters
Peabody's Blendiculous Series #1 - Lock, Stock And Bourbon Barrels from Olde Hickory Brewery
93
out of
100
based on
15
ratings.