Dismiss Notice
Get 12 monthly issues of BeerAdvocate magazine and save $5 when you select "auto-renew."

Subscribe now →
Dismiss Notice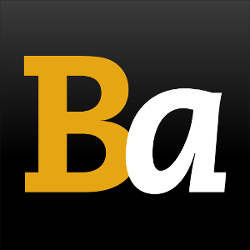 Join our email list →

And we'll send you the latest updates and offers from BeerAdvocate, because knowing is half the battle.
Blackbeary Wheat
- Long Trail Brewing Co.

Educational use only; do not reuse.

Brewed by:
Long Trail Brewing Co.
Vermont, United States | website

Style | ABV
Fruit / Vegetable Beer | 4.00% ABV

Availability: Year-round

Notes & Commercial Description:
Beer added by: BeerAdvocate on 05-08-2002



This beer is retired; no longer brewed.



This brew combines 2-Row Pilsen malt, a hint of Crystal malt, and of course, plenty of malted wheat. A hint of blackberry at the finish makes this beer a real thirst quencher! For the health conscious, Blackbeary Wheat has less than 6 grams of carbs and only 110 calories per bottle!

10 IBU
Reviews: 314 | Hads: 702
3.23
/5
rDev
+5.6%
look: 3.5 | smell: 3 | taste: 3.5 | feel: 3 | overall: 3
Pours to a pale gold body with a thin white head. Very still. Nice wheat smell but not much else. I don't even smell the blackberry.
Tastes of bright wheat malt with a cold dry finish. Not much aftertaste. I do like that they have not overpowered the actual beer flavors with blackberry. That being said, it a very light and unremarkable ale. Quite drinkable and refreshing. Does make a good beer for a hot day.
★
414 characters
2.03
/5
rDev
-33.7%
look: 2.5 | smell: 2 | taste: 2 | feel: 2 | overall: 2
Let me just say up front that I am a big fan of Long Trail ales, but this is a dog going down the wrong path. The beer looks and smells as if you took some blackberry flavoring and dumped it in a bud, miller lite, etc...
The taste is unremarkable at best. The berry quickly leaves and there is no discernable wheat texture or taste. Mouthfeel is akin to tap water.
There are some really good fruit ales out there, this isn't one of them.
★
444 characters
2.7
/5
rDev
-11.8%
look: 3 | smell: 3 | taste: 2.5 | feel: 3 | overall: 2.5
This brew pours a straw color with no head. Small bubbles roll from the bottom of the glass to the top.
The aroma is very fruity, blackberry, hops are very low in aroma. Maltiness is non existent.
I am not a big fruit guy so I have a hard time drinking this one. The berry flavor is so strong the hops and malts leave. As the beer warms still more of the same.
I think a girl would be able to drink these like water but I can't.
Cheers
★
448 characters
2.74
/5
rDev
-10.5%
look: 2 | smell: 3 | taste: 2.5 | feel: 3 | overall: 3
Very light all around. Light color, light aroma, light flavor. Color was as if someone put a drip of yellow egg coloring liquid into tap water. Head was low and white and left the scene quickly. Aroma was of blackberry, but nothing else. Flavor was of light, sweet blackberry, but nothing else. Wouldn't even have guessed that it was a wheat. No malt or hop profile. Watery mouthfeel, a bit of fizzy carbonation. Disappointing selection.
★
437 characters

2.3
/5
rDev
-24.8%
look: 3 | smell: 3 | taste: 2 | feel: 2 | overall: 2
There is something about fruit beers that I just don't like. With the Blackbeary Wheat it was the overall taste and mouthfeel. The pour was straight golden with not too much in the way of head and no lace to speak of. Smell was dominitated by Blackbeary, but that is to be expected. The taste was nothing but glorified, berry flavored selzter water. No malts, no hops, no nothing. Just very corbonated water. If I want that I'll buy Poland Spring. I wouldn't mind seeing a fruit beer that had a thicker more maltier taste with just a slight aromoa of the designated fruit. I trust that this beer is not indicitive of the entire Longtrail line.
★
643 characters
3.12
/5
rDev
+2%
look: 2.5 | smell: 3 | taste: 3 | feel: 3.5 | overall: 3.5
Poured a small head that quickly dissapeared into nothing.A clear light straw yellow in color.A malty fruit aroma that didnt smell distinct of blackberries.Overly crisp mouthfeel that has the feel and harshness of a seltzer water.Wheat finish with a citrus twist.Very dry finish with a tiny hint of bitterness.Light bodied and somewhat watery.No lacing present on the appearance.A fruity taste which doesnt have a "berry" flavor to it.Tastes of lemon,wheat,fruit,citrus,
with a highly carbonated mouthfeel.Overall average but I think long trail could do better.
★
562 characters
3.48
/5
rDev
+13.7%
look: 3.5 | smell: 3 | taste: 3.5 | feel: 3.5 | overall: 4
Poured a clear gold color with a foamy white head - plenty of carbonation, looks very light. Aroma is soft and crisp, with a hint of blackberries - not as much as I expected. The same is true with the flavor as the fruit taste is much more slight than say, Pete's Strawberry Blond. The majority of the flavor is like a mix between a pilsner and a wheat ale, with a sweetness of blackberry on the far finish. The mouthfeel is very light and bubbly, goes good with the style. I think an unfiltered version of this would add to the character, but this is a good light drinking summer beer that anyone would enjoy.
★
610 characters
2.97
/5
rDev
-2.9%
look: 3 | smell: 3.5 | taste: 2.5 | feel: 2.5 | overall: 3.5
I should start this off by saying, I'm not much of a fan of fruit beers, and this beer did nothing to change my opinion. It poured a very light yellow, with a fairly abundant white head that dissipated very quickly. The smell was very sweet with the blackberries dominating. The taste; well I didn't find that there was much of one. There was a hint of blackberry, thankfully not as strong as the smell, and then there was some malt, but nothing all that interesting. I was hoping for some nice yeasty and wheaty flavor, but I didn?t find it. This particular bottle also seemed a bit flat, and didn't give much for mouth feel. All in all this was a very light bodied, sweet beer, that was fairly crisp and somewhat refreshing, but just not my thing.
★
749 characters
2.55
/5
rDev
-16.7%
look: 2 | smell: 2 | taste: 2.5 | feel: 2.5 | overall: 3.5
This was not exactly what I was exspecting, and by that I mean, I am disappointed.
Poured with a pretty nice white head, but it disappated quickly. This beer is very very light, much like a bud or coors or any other boring lager type beer. Smells like a lager with strong blackberry notes.
The tast of this beer is just not impressive. Tastes like Bud with a dash of blackberries. I'm not a fruitbeer guy and if your gonna put fruit in your beer you need to at least compliement it or have SOMETHING else going on. This beer tastes like what they call a "snakebite" over in England, Lager with syrup in it.
If I saw this in the store again I'd pass.
★
660 characters
3.94
/5
rDev
+28.8%
look: 3.5 | smell: 4.5 | taste: 3.5 | feel: 3.5 | overall: 4.5
I loved the aroma on this beer. Don't be misled, though. Very little blackberry flavor is evident. It poured a clear golden color and was very clean. This is a beer I could drink for hours during the summertime. Very light and refreshing. Perfect for a hot summer day.
The label is pretty humorous, too.
Like I said in my review of the brewery, I wish we could get this beer in Virginia.
Edited 1/21/03
★
411 characters

3.59
/5
rDev
+17.3%
look: 3.5 | smell: 4.5 | taste: 3.5 | feel: 3 | overall: 3
Nice crystal clear golden color with just a ring of white foam, although it may have been the pour or an older keg. Wonderful aroma of berries that you can pick almost up as soon as they put the glass in front of you. The taste was crisp and clean, but the great berry scent was hardly evident in the flavor. Beer seemed flat and the flavor, though sweet with a bit of malt and berry fruitiness, seemed a bit weak and watery. Other than the smell, I wasn't much impressed with this. I'll have to try a bottle and see if my opinion changes.
★
539 characters
3.92
/5
rDev
+28.1%
look: 3.5 | smell: 4 | taste: 4 | feel: 3.5 | overall: 4
kick ass for the summertime, this brew is clean and smooth. the blackberry aroma is delightful, but a bit misleading because the beer itself does not have a strong blackberry flavor. that is not a bad thing because it is still a great-tasting brew.
★
248 characters
4.04
/5
rDev
+32%
look: 3 | smell: 4 | taste: 4 | feel: 4 | overall: 4.5
As a guy who likes fruit beers, I was pleasantly surprised to come across this at a packy I dont normally go to. The smell of the blackberries is quite evident in the smell, but not so much in the taste. In fact, you have to try hard to pick out the blackberry flavor in the aftertaste, but it is there. It certainly does not overpower the qualities of the wheat ale, but I might have asked for a little more fruit flavor.
All in all, this is a very refreshing summer brew. Extremely light and smooth, perfect for a hot summer's day, just as the bottle suggests. In addition, I also find the cartoon on the bottle amusing. Heh heh.
★
635 characters
4.33
/5
rDev
+41.5%
look: 4.5 | smell: 4 | taste: 4.5 | feel: 4 | overall: 4.5
This beer presents with a nice deep golden color adn a foamy white head that emanates a light sour fruit maltiness. The flavors meld smoothly in the body. The blackberries do not overpower the true brew qualities; a very refreshing light brew.
★
245 characters
Blackbeary Wheat from Long Trail Brewing Co.
71
out of
100
based on
314
ratings.