Great Lakes Beard Of Zeus
| Great Lakes Brewery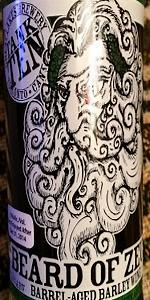 BEER INFO
Brewed by:
Great Lakes Brewery
Ontario
,
Canada
|
website
Style:
American Barleywine
Alcohol by volume (ABV):
13.00%
Availability:
Limited (brewed once)
Notes / Commercial Description:
No notes at this time.
Added by spinrsx on 01-09-2014
This beer is retired; no longer brewed.
Reviews: 7 | Ratings: 14

3.94
/5
rDev
-3.9%
look: 4 | smell: 3.75 | taste: 4 | feel: 4 | overall: 4
Deep brown with a ring of tan head, spots of lacing as well. Smell is massive bourbon and oak, vanilla and caramel, brown sugar sweetness lingers throughout, a bit of coconut as well at warmer temps. Taste is of lightly sweet malts, caramel with some chocolate, oak a bourbon, marshmallow-vanilla flavours in the finish, suprisingly light alcohol considering its massive strength, bourbon-woody finish. Light-medium carbonation, full body and a bit sticky. Quite good now even so far before it's recomended "best after" date, the alcohol goes largely undetected and the bomber was handeled quite easily, could see some benefit coming from a bit of time on this one, has the overall feel of a less good BA 4D.
★
708 characters
More User Reviews:
4
/5
rDev
-2.4%
look: 4 | smell: 4 | taste: 4 | feel: 4 | overall: 4
Bottle: Poured a deep cloudy brown color ale with a nice foamy head with good retention and some lacing. Aroma of caramelized sugars is well balanced against the vanilla from the bourbon. Taste is a complex mix of caramelized sugars, vanilla, oak and bourbon with quite a bit of residual sugar. Body is full with good carbonation and light warming alcohol. Very solid barleywine with nice barrel-again characteristics to hide some of the rough edges. My only complaint would be the amount of residual sugars.
★
508 characters

3.92
/5
rDev
-4.4%
look: 4.25 | smell: 4 | taste: 3.75 | feel: 4 | overall: 4

4.15
/5
rDev
+1.2%
look: 4 | smell: 4 | taste: 4.25 | feel: 4 | overall: 4.25
Bomber from the Ottawa LCBO for $10
Appearance - Hazy brown colour with a good size frothy beige coloured head. There is a low amount of carbonation showing and there is some good lacing. The head lasted for around 5-6 minutes before it was gone.
Smell - Malts, caramel/butterscotch, dark fruits, leather, anise
Taste & Mouth - There is a below average amount of carbonation and I can taste malts, butterscotch/caramel, and dark fruits. There is also some vanilla and quite a bit of boozey heat.
Overall - I know it says to wait on the bottle, but I am really enjoying this now. I love barley wines and I love barrel aged stuff, so this is right up my alley. I need to get more to tuck away
★
694 characters

3.91
/5
rDev
-4.6%
look: 3.75 | smell: 4 | taste: 4 | feel: 3.75 | overall: 3.75
Best after December 31, 2014. I will not wait that long until trying it. If it actually is best after then, wait before releasing it!
Beer is dark brown in colour, with a small beige head. Head fades quickly but not totally, leaving a rim.
Nose is nice, a mix of bourbon and sweet, bready malts. Vanilla is strong.
Taste-wise, the beer is quite hot. Not sure if it needs a year to calm down as suggested, but that is the brewer's concern. Bourbon, vanilla, oak and some bready malts. A mix of sweet and booze. The oak gives a toasted flavour, a bit like burnt caramel.
Full bodied and heavy. Medium carbonation. Very hot.
Overall, decent but too extreme. Perhaps it will be better in a year but I doubt it will calm down enough to be first rate.
★
752 characters

4.36
/5
rDev
+6.3%
look: 3.5 | smell: 4.25 | taste: 4.5 | feel: 4.25 | overall: 4.5
4.13
/5
rDev
+0.7%
look: 3.75 | smell: 4.5 | taste: 4 | feel: 3.75 | overall: 4.25
650ml bomber poured into tulip 24/6/14, thanks liamt07 for sending the bottle
A deep maroon liquid when held to the light, a thumbs width of tan foam falls after a few sips leaving no lace, some legs trying to form, about what I expected from 13%
S burnt brown sugar. vanilla, lots of bourbon and a little bit of barrel, nutty, dark bread, lots of raisins, some dark fruit I can't place, dark toffee and more bourbon, a hint of unburnt tobacco, and the booze is well hidden, smells amazing
T more booze, bourbons still strong, much more barrel then then nose, a little coco I didn't smell, rum raisin cake, tastes good the nose easily takes it
M I expected it to be a little thicker but still far from thin, some heat hitting the chest, just a little sticky on the lips, some tannins, bourbon barrel lingers on the finish
O I had my nose buried in this one for a while, drinkable for 13%, lots of bourbon barrel and that suits me fine, I wish I had another to age as time would treat this well
this one could go for years, I couldn't wait until the best after date to try it but it certainly wouldn't have done it any harm. I loved the nose and its not lacking elsewhere, one of those beers I want to drink freshly bottled and 5 years down the road.
★
1,259 characters
4.25
/5
rDev
+3.7%
look: 4.5 | smell: 4.5 | taste: 4 | feel: 4 | overall: 4.5
2013 vintage, sample pour at the glb tap takeover at barvolo in toronto, aug 22 2015
a: dark & dull mahogany-ruby
s: super sweet aroma. tons of caramel, vanilla, and tart dark fruits
t: close to the nose -- burnt brown sugar, vanilla-y bourbon, figs, hints of cinnamon. decadent
m: medium mouthfeel with low carbonation
o: i love this because of how sweet it is. a delicious barleywine
★
392 characters

4.27
/5
rDev
+4.1%
look: 4 | smell: 4.5 | taste: 4.5 | feel: 3.5 | overall: 4
Pretty sure I got this one from Peensteen this past summer. Cheers man!
From a bomber into a snifter
IBU: 28
Aged in bourbon barrels for almost a year
Toronto Beer Week homebrew winner Kyle Teichart apparently came up with this one
APPEARANCE: Pours a two finger, medium looking, creamy, off-white head with great retention. Head slowly fades to a full cap and leaves sheets of nice lacing down the glass. A splotchy wisp and ring remain until the end leaving decent lacing down the glass as it empties. Good looking stuff.
SMELL: Huge nose on this one. Lots of bourbon, oak, vanilla, sweet cream, coconut, toffee and caramel with notes of butterscotch as well. Lots of barrel and candy aromas on this one. Preview of sweetness to come, but this should be pretty tasty based on the nose.
TASTE: Yup. Here we go. Plenty of bourbon, oak, caramel sweetness and coconut up front. Lots of alcohol and bourbon at the swallow with a big and lingering finish of bourbon, wood, coconut, sweet vanilla, toffee and some dried fruits. Sweet and plenty of barrel character and alcohol on this one, but not overly boozy, per se. Really, really nice.
PALATE: Medium body and medium levels of carbonation. Creamy enough on the palate, a touch prickly perhaps, goes down fine with a good burn at the swallow and finishes a bit sticky. Decent heat lingers long after the swallow.
OVERALL: This is great stuff. Big characterful profiles on this one, with lots of decadent aroma and flavor all over the place. The feel is just a touch harsh still, which might smooth out over another year or so, but as it is now, it's well worth the trouble. Enjoyed this one just as much as I did their 25th Anniversary BA Imperial Stout a couple years back. In terms of quality, you can rank this one up there with the best in the biz for this style. Thanks again Peensteen. Highly recommended.
★
1,871 characters

4.59
/5
rDev
+12%
look: 4.5 | smell: 4.75 | taste: 4.5 | feel: 4.75 | overall: 4.5

Great Lakes Beard Of Zeus from Great Lakes Brewery
-
out of
100
based on
7
ratings.