Scarborough Fair IPA
| Wold Top Brewery
BA SCORE
82
good
11
Reviews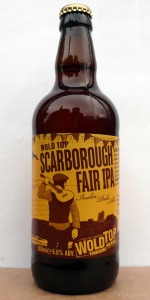 BEER INFO
Brewed by:
Wold Top Brewery
United Kingdom (England)
|
website
Style:
English India Pale Ale (IPA)
Alcohol by volume (ABV):
6.00%
Availability:
Year-round
Notes / Commercial Description:
No notes at this time.
Added by jazzyjeff13 on 09-22-2012
Reviews: 11 | Ratings: 21

3.53
/5
rDev
-0.8%
look: 4 | smell: 3.5 | taste: 3.5 | feel: 3.5 | overall: 3.5
500ml bottle. Quite the leap for a Gluten-free style choice, I would heartily opine. It apparently contains barley malt, so they must have gone with an enzyme catalyst removal method, of some sort.
This beer pours a slightly hazy medium golden straw colour, with one finger of thinly foamy and bubbly dirty white head, which leaves a solid rocky shoreline of painted lace around the glass as it evenly sinks away.
It smells of mildly biscuity, grainy cereal malt, a fleshy, pithy citrus fruitiness, lemongrass, a bit of perfumed florals, and some earthy weediness. The taste is pale, grainy cereal, an indistinct floral/vegetal bitterness, some soft stale butter notes, mild cooked maize, black pepper, and a subtle underlying metallic stony essence that never quite intrudes, but one that you can't seem to shake either.
The bubbles are average, just doing their job and nothing more, the body an adequate medium-light weight, and actually fairly smooth, with a mild grainy tackiness. It finishes off-dry, the gritty graininess, faint blotted citrus, and muddled bitterness all melding, for the most part.
A whole lot more enjoyable than any of the, uh, other G-F IPAs I've yet encountered. Oh, right, this is actually the first, and as such comes off rather underwhelming, choppy, and well, strange - but that's just the English nature of it through my filter. Sure, it wouldn't fare well in comparison to your average well-made IPA, but against all others in the G-F realm, it performs remarkably well, and is actually more flavourful, minor defects included, than a lot of these new contract 'IPAs' now being pushed as the real deal at the big local liquor chain.
★
1,671 characters
3.65
/5
rDev
+2.5%
look: 3.25 | smell: 3.75 | taste: 3.75 | feel: 3.5 | overall: 3.5
500ml Bottle: BBD end of Aug 2013. Poured into a UK pint sleeve on 1 Jul 2013 at home.
Orange to light amber body, almost clear: on top a full and deep uneven carpet of white bubbles.
Mixed bag of flavours and smells: the nose was both fruity and spicy with a malty backbone. The taste also both fruity and spicy, again with malts hanging around, however the hops also added a new dimension, a semi-dry bitterness that pushed the malts into the background even further than in the aromas. Some yeasty notes in the taste also.
Good body depth and the alcohol level suited the brew. All in all a good beer.
★
607 characters
3.75
/5
rDev
+5.3%
look: 4 | smell: 4 | taste: 3.5 | feel: 4 | overall: 3.75
A: Clear yellow with a white head, some retention & lace.
S: Fresh leafy hops, somewhat grassy, marmalade, figs.
T: An old-school IPA that probably just has bittering & dry hop additions (there isn't any noticeable 'flavour'). Bitterness is good, alcohol is hidden. Really more of a big pale ale than a modern IPA. Unfortunately it seems a bit oxidized.
M: The corn hasn't lightened it much, good moderate body with a crisp finish.
O: It's a good drinker, but not a spectacular IPA.
★
488 characters

3.56
/5
rDev 0%
look: 3.5 | smell: 3.75 | taste: 3.5 | feel: 3.5 | overall: 3.5
An updated review of this beer (Nov 2014). 500ml bottle with BB of Nov 2014. Picked up a while back from a supermarket. No obvious recipe change - a triple hop addition along with maize for head retention and gluten-free status.
A: Poured into a tulip pint glass. A bright golden-amber hue with faint haze and medium carbonation. Yields a large head of creamy white foam with decent stability; this steadily reduces to a patchy surface layer. Slight lacing.
S: Aroma of fruity hops with hints of white grape, mild melon, citrus, peel, subtle grass, grain, faint caramel malt and earthy yeast. Pretty good.
T: Tastes of fruity aromatic hops with a crisp bitter finish. Notes of grapefruit, citrus, peel, white grape, mild melon, grass/hay, grain, caramel malt, earthy yeast and stewed hops. Well-attenuated, followed by a balanced hoppy bitterness upon swallowing.
M: Mouthfeel is smooth and tingly, with soft carbonation and decent body. Slightly astringent, accompanied by an aftertaste of bitter aromatic hops, earthy yeast and subtle grain.
O: Tasty, and certainly better than I found on my original review 2 years ago. Looks alright, while the aroma and flavour are a satisfying blend of fruity aromatic hops, subtle caramel malt and well-judged bitterness. Body is OK. Goes down easily enough - a drinkable IPA. Worth sampling if you come across it.
Previous review from Sept 2012 (rating 2.8):
A 500ml bottle with a BB of August 2013. Picked up the other day as a contender in the Sainsbury's Great British Beer Hunt. The label mentions that it contains a triple hop blend, maize, and is certified gluten free.
Poured into a tulip pint glass. A clear golden-amber colour with plentiful carbonation. Yields a large head of white foam that hangs around for a few minutes before settling. Aroma of faint malt with notes of stewed hops, overcooked veg and light fruit notes (white grape/melon). A dry, faintly sulphurous quality in the background.
Tastes of weak malt with a harsh, dry bitterness. Notes of stewed hops, overdone veggies, corn, faint aromatic hops and a mild hint of diacetyl. A dry bitter finish with a harsh, leafy quality. Possesses an artificial, almost chemical character that is hard to place - possibly the result of tinkering to remove the gluten. Mouthfeel is spritzy and tingly, but rather watery and very dry. Highly astringent - dries the palate. Aftertaste of harsh stewed hops and a faint sulphur note.
None too good - I can't help thinking that if they'd not tried to make it gluten-free the result would have been better. It's appearance is it's best feature, which says it all. Faint aromatic hops on the nose, but plenty of unpleasant harshness in the background. The taste is particularly poor - all dry, acrid stewed hops and off-notes with none of the aromatic hops that one might expect from an IPA. Mouthfeel is weak and thin. All said, the finished product is unimpressive. It's a pity, as I know this brewery can make quality beer, but this is best avoided.
★
3,011 characters
3.22
/5
rDev
-9.6%
look: 3.75 | smell: 3 | taste: 3.25 | feel: 3.25 | overall: 3.25
From a 500 ml brown bottle. Pours out a hazed copper hue with a frothy white head that settle to a thin film.
Some sour, dry grains in the aroma along with spicy and earthy hops.
The flavour is much more inviting. Dry grains up front, some sweetness perks up in the middle, with dry earthy hops on the finish. It has that gluten-free sour twang in the aftertaste, however the hops do a decent job of taming it.
Light-bodied mouthfeel, slippery texture, spritzy carbonation.
Probably the most drinkable gluten-free beer I've sampled to date, still has telltale signs of it's true nature (sour grains, tartness) but the use of hops helps integrate them into the whole mix a bit better.
★
687 characters

3.36
/5
rDev
-5.6%
look: 3 | smell: 3.75 | taste: 3.25 | feel: 3.25 | overall: 3.25
Hey Wold Top, would you please let me know why you put maize in this beer. Yes yes, I read on the bottle that it was used for "foam retention", but I don't get why a beer with good potential is made with maize. The maize turns the color of this beer into a transparent golden color (not nice), the smell with unplesant maize notes, the taste with just some hints of malt notes (not tasty in fact) and the body extremely light. I would say that the trade off for the foam retention (in fact, this beer leaves a nice lace) is not worthy.
Well, it's not bad actually.. it just could be better. Bitterness, hoppiness and fruitiness are at good level, making the beer not unpleasant at all. It might be better in sunny days.
★
719 characters

3.17
/5
rDev
-11%
look: 3.5 | smell: 2.75 | taste: 3.5 | feel: 3 | overall: 3
Served cool from 500ml bottle into pint mug.
L) Deep golden colour, clear, no head, and only a very thin film.
S) Hardly anything, a mere hint of hops.
T) Up first is a caramel smoothness, then a sharp slightly metallic bitterness. An intriguing citrus freshness there too. A lot going on, some good, some not so good.
F) Easy drinking, carbonation is light, there is a bitter aftertaste and it does dry your mouth.
O) Not sure how to right this one up, if it was in the 4 for £6 offer at Asda, it would be ok, but it never is, it is out on its own as a premium beer at £2+, so struggling to recommend it.
★
616 characters

3.98
/5
rDev
+11.8%
look: 4 | smell: 3.5 | taste: 4.25 | feel: 4 | overall: 4
500ml bottle - half served into tulip glass for tasting notes.
Look: Deep, dark golden yellow - no trace of sediment or other cloudiness. Single fingers-width of white head with good retention. Receded to a bubbly foam cap and left behind a moderate amount of lacing.
Smell: Slightly sour, which I found rather odd given the 'best before' date of December 2015. Get past that, however, and there are metallic hints along with the grains and earthy hops. Slightly offputting, but by no means unpleasant.
Taste: Slightly firmer ground here - get past the smell and there's a nice balance of spiciness (cloves, pepper, maybe something coriander-ish?) and fruits with a nicely balanced hoppiness to finish. The hops aren't as in-yer-face as, say, an American IPA, but then this isn't an American IPA - it's more like the traditional British variety.
Feel: Quite nicely dry and bitter - good balance of hops and malt and a sensible amount of carbonation. Quite a light feel given the ABV.
Overall: To be fair, I'd not have known that this was gluten-free if I'd not read the bottle blurb - this might explain the slightly sour smell; my experience with gluten-free beer is limited to, well, this one. Even so, as British-styled IPAs go it's not bad. Not as aggressively hopped as its American counterparts but I don't think it suffers for that. Even better, it's another fine example of the beers put out by local (to me, at least) breweries. Not bad. Not bad at all.
★
1,467 characters

4.26
/5
rDev
+19.7%
look: 4 | smell: 4.25 | taste: 4.25 | feel: 4 | overall: 4.5
Pours a light amber body with a soft white head that dissipates to a thin film. The scent provides very delicate tones of citrus, floral, and pine notes, nowhere near as overpowering as American IPAs but more appreciable than many English IPAs. The taste carries an echo of the citrus and pine from the aroma, along with a dominant bitterness that spreads across the tongue. The feel is fairly smooth, though if I had to make a complaint it would be on the lingering bitterness. Overall one of the best English IPAs I've had, and it's gluten-free? Man, sign me up for more of this!!!
★
588 characters

3.8
/5
rDev
+6.7%
look: 3.5 | smell: 3.5 | taste: 4 | feel: 4 | overall: 3.75
Pours golden straw into a tulip glass from a half pint bottle. Offwhite head dissipates quickly down to froth after a few moments leaving minimal lacing. Beer is visibly carbonated, and resembles a lager.
The nose is very subdued but one can detect creamy citrus, particularly lemon and grapefruit, and some biscuity malt. There's an astringent quality to the aroma as well as a mineral water freshness.
The flavour comes across quite bitter on the sip with plenty of pithy flavours, grapefruit zest, lemon peel, and sour citrus. Languidly this evolves into more of those biscuity notes and light malts, but not before taking you through lemongrass, florals, some vegetal bitterness, and ending with aromatic hops. There is a distinct lack of sweetness in this beer, with the stress mainly on those bittering flavours, which - for me - doesn't disguise the alcohol that well, but those bitter flavours do bleed away giving a pleasant aftertaste.
It feels light bodied, lightly carbonated, and with a tingly tangyness that lingers on the tongue. The body is a nice balance of wet and oily giving it good feel in the mouth. Despite the noticeable 6% is isn't drying.
I find this beer a good match for the style with a nice refreshing quality to it. Very nice.
★
1,261 characters
5
/5
rDev
+40.4%
look: 5 | smell: 5 | taste: 5 | feel: 5 | overall: 5
Look: Fresh, clear golden color, no sediment. Usually a one finger head (sometimes more depending on the temperature of the beer) that slowly fades like most IPA's and leaves a ring that clings to the side of the glass. Light carbonation, perfect for the style.
Smell:Fresh, sweet hops; hint of citrus.
Taste: Very balanced, hoppy, slight bitterness, and fruity. Sweet hop taste but not sugary.
Feel: The alcohol is almost untraceable despite being 6% abv. Perfect carbonation that works well with the balanced flavors. Dry finish.
Overall: This is the best British, bottled IPA I've tried, it's a perfect beer in my opinion. It always sells well in my area and it's not hard to see why. Highly recommended.
★
716 characters
Scarborough Fair IPA from Wold Top Brewery
82
out of
100
based on
11
ratings.