Dismiss Notice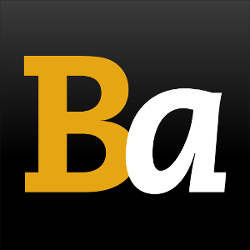 Site Performance Updates: We're aware of the nightly site outage, and working on resolving the issue.
Freedom Of '78
| Short's Brewing Company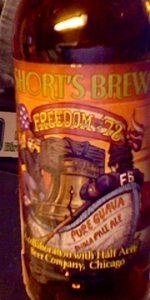 BEER INFO
Brewed by:
Short's Brewing Company
Michigan
,
United States
|
website
Style:
American IPA
Alcohol by volume (ABV):
7.00%
Availability:
Rotating
Notes / Commercial Description:
No notes at this time.
Added by surlytheduff on 12-16-2010
Reviews: 136 | Ratings: 510

3.54
/5
rDev
-13%
look: 3.75 | smell: 3.5 | taste: 3.5 | feel: 3.75 | overall: 3.5
This ale pours a golden copper color with very little head but a decent white lacing. The nose is packed with guava and tropical fruit notes. There is some citrus and pine and also a note that I can only describe as BO. Its not overpowering but does add a slightly off note to the aroma. The body is medium with a little chew but mostly just smooth sippable ale. The flavor follows the nose perfectly. Lots of guava and tropical/citrus hops upfront. A slight amount of malt to balance the beer. And unfortunately that BO note lingering on the tail end of the beer. I keep trying Shorts but the results are always the same....mediocre. I feel like if they focused on making a handful of great beers they would succeed, but instead they try to make sooo many different offerings that they all just turn out middle of the road.
★
824 characters

3.52
/5
rDev
-13.5%
look: 3.75 | smell: 3.5 | taste: 3.5 | feel: 3.5 | overall: 3.5
12 oz bottle poured into a shaker pint.
Appearance
Blonde with 1 finger of tight white head. Good clarity with lively carbonation.
Nose
Guava, pineapple, and candied lemon.
Taste
Loads of guava juice. Eucalyptus, bright florals, and pine with lesser notes of pineapple and lemon zest. Slight biscuit maltiness. Finishes with resin, potpourri, and garlic.
Mouthfeel
Medium bodied, juicy, smooth, and dry with a moderate bitterness.
Overall
The guava juice really defines this beer. There is a nice balance between the juice and the hops.
★
541 characters

3.51
/5
rDev
-13.8%
look: 4 | smell: 3.5 | taste: 3.5 | feel: 3.25 | overall: 3.5
12oz into a tulip.
A: Pours a clear light brass with a small white head.
S: Perfumy guava juice dominates the nose with a hint of oily hops and alcohol.
T: Taste brings guava mixed with piney, earthy hop bitterness. Mild notes of tobacco, light fruity acidity, caramel malt.
M: Between light and medium-bodied with very light carbonation.
O: The guava came through nicely. The combination of guava with the hops used wasn't amazing, but it's drinkable and decent. A bit under-carbed, though.
★
496 characters
3.4
/5
rDev
-16.5%
look: 4 | smell: 4 | taste: 3 | feel: 3 | overall: 3.5
(12oz bottle courtesy of rayl101!). Pours a hazy apricot color with a massive off-white head. This thing was almost a gusher. Nice, active carbonation. Aroma has a nice, bright citrusy guava nose with some mango and a little bit of wood. Taste is very bitter that is like a citrus peel. It's also peppery and somewhat herbal. There isn't a ton of sweetness from the malt, or its been over powered by the bitterness. Medium bodied with oily texture and dry, bitter finish. The herbal notes were a bit distracting, but otherwise a pretty good beer.
★
550 characters

3.32
/5
rDev
-18.4%
look: 4 | smell: 4.5 | taste: 2.5 | feel: 4 | overall: 3
Picked up a bottle of this while visiting Northern Michigan. I'm always interested in collaborations.
Poured out into a pint glass. It's mostly clear orange/yellow. Medium sized off-white head. Visible carbonation.
The nose is a wonderful fruity hop blast. The guava really comes through. Pure and tropical. Pine resin.
Taste is a bit awkward. While the tropical/hops combo worked very well on the nose, it's a bit weird on the palate. Strong grassy hops and sticky sour guava mingle tenuously. Interesting, but not really successful.
Solid mouthfeel, but I just can't get over the weird intersecting flavors. I don't think guava was meant for beer.
★
653 characters
3.15
/5
rDev
-22.6%
look: 3.5 | smell: 3.5 | taste: 3 | feel: 3 | overall: 3
Pours a semi-cloudy dirty gold color with a loose and settled 1/4" off-white head. Even though I can see through the liquid, there is no visible uprising carbonation whatsoever. Lots of smattered splotches of sticky lace all the way down.
Evenly balanced tropical fruits are very up front. Because I'm not acquainted with the precise smell of Guava, and this IPA is made with pure guava, I'll conceed that it smells exactly like guava. This fruitiness, mixed with the earthy prevailing hoppy notes, eminates a sensual female odor.
A funky, fruity and hoppy combination greets the palate with a white peppery lining. An interesting salty undercurrent finishes this peculilar and flavorful experience. Another gulp or two and I perceive more of a pronounced salt and pepper backdrop. This is a very perplexing melding of flavors here.
Mouthfeel is almost medium bodied with a cask-like texture. Not a lot of carbonation, but what's there is prickly and welcomed.
Drinkability is okay. I'm trying to keep an open mind while drinking this, but mind is somewhat reeling from these odd and quirky flavors.
To say Shorts is 'at it again' is an understatement. I get the fruit and hop combo, but this salt and pepper element is downright interesting. I can't say I'd run out and buy more, but I would try it on tap. The smell on this thing is fun and funky. Good job on an interesting fruity tweak on an American IPA.
★
1,416 characters

3.12
/5
rDev
-23.3%
look: 4 | smell: 4.5 | taste: 2.5 | feel: 3 | overall: 2.5
Pours a clear golden orange with two fingers of thick head and lots of lacing.
The aroma is grapefruit and watermelon rind with a bit of earth and pine. Very clean.
The flavor is surprisingly lacking much hop character. A bit of an empty bitterness and some earthy nutty malt. Almost watery.
The body is light and carbonation is high. Overall this beer just doesn't have much going for it outside of the wonderful aroma, which does not translate into the flavor profile at all.
★
481 characters

3.06
/5
rDev
-24.8%
look: 4 | smell: 3 | taste: 3 | feel: 3 | overall: 3
Beer is yellow to light amber with haze and a diffuse white head that leaves some lacing and moderate carbonation.
Beer smells like tea, I don't know what hops are in here but it smells like tea.
Beer is thin and has this tea like flavor that dominates the back half of the beer. Not my favorite beer from shorts and I wouldn't call this an IPA. Whatever hops are present in this beer it is difficult to tease them apart from one another and the finish is too dry.
★
466 characters

3.05
/5
rDev
-25.1%
look: 3 | smell: 3 | taste: 3 | feel: 3.5 | overall: 3
12oz bottle, indeterminate bottling date. Thanks Kevin. Poured into an unlabeled snifter today, 4/12/2014.
App- Hazy orange body, small one finger white head with little retention, not much lacing.
Smell- Sticky but faint tropical fruit, a bit of burnt rubber, faint pale malt breadiness and sweetness.
Flavour- Pale malt sweetness up front, a little bit of citrus flavours dance on the palate, receding to a burnt rubber flavour accompanied by an unmistakeable tropical fruit flavour, probably guava or papaya. This is not a very tasty profile for me, but I see what they're trying to accomplish here.
Mouthfeel- Medium bodied, slightly undercarbonated, resinous body that isn't too bitter. Faint tropical fruit flavours on the backend. Solid.
Overall- Decent pale ale that certainly does incorporate some tropical fruit flavours into the beer, especially the good aspects. However, the faint burnt rubber-like off-flavours is taking a lot away from my enjoyment of this beer.
★
982 characters

2.69
/5
rDev
-33.9%
look: 3.75 | smell: 4 | taste: 1.5 | feel: 3 | overall: 3
I really wanted to like this beer after reading other reviews and buying into the hype. Picked up two Freedom of '78s in a mix-and-match 6 pack.
A: Light sunrise orange with just a tad of haze and a small dissipating head.
S: The smell was good. Standard sweet IPA smell with good hints of fruit. So far so good.
T: This is where it went down hill for me. The guava took over in the taste department and left a terrible aftertaste. Yuck!
M: Just a light carbonation on this one. Boarder line watery.
O: I have never had guava, now I know why. The after taste is like a seagull shit in my mouth. Freedom doesn't taste like that. Not sure If I am gonna drink the second one or dump in down the drain.
★
703 characters

2.47
/5
rDev
-39.3%
look: 4.5 | smell: 2.5 | taste: 2 | feel: 3 | overall: 2.5
A - Pours quite the head... Very think and full head, you cannot pour thsi brew in one full swoop. Head is white in color and fluffy in texture. Brew is slightly murky orange color. Head descends and leave splotchy lacing...
S - Initial scent is of strong mint, upon further investigation there's many different scents... You smell the guava. I also get hints of cinnamon, ginger, pineapple, and orange.
T - Holly bitterness Batman... WAIT, Holly sweetness Batman. WOW a mind blower. This brew is a lot to take on, there's many unique and complex flavors to decipher.
M - Very dry and complex. Wet, but still dry. Heavy and a think drinker. Heavy carbonation too.
O - An extremely bitter brew, one like no other I've had. This brew is a little all over the board. ok, but I wouldn't go out of my to find this one... This brew was a bit too much for my taste buds. Thanks for the brew in a great trade Another6Pack!
★
919 characters
Freedom Of '78 from Short's Brewing Company
91
out of
100
based on
136
ratings.