Dismiss Notice
Dismiss Notice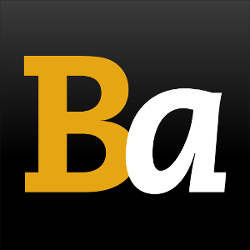 Join Our Email List →
And we'll send you the latest updates and offers from BeerAdvocate, because knowing is half the battle.
Dismiss Notice
B3K Black Lager
- Wynkoop Brewing Company
| | |
| --- | --- |
| Educational use only; do not reuse. | |
Reviews: 36 | Hads: 113

3.4
/5
rDev
-3.7%
look: 3.5 | smell: 3.5 | taste: 3.5 | feel: 3.5 | overall: 3
On draught at the brewpub, B3K Schwarz Bier is a dark brownish black with an small off-white head leaving light lace.
Smell is sweet, dark malt, acidic.
Taste is very similar, a bit grainy as well.
Mouthfeel is medium light and spritzy.
Drinkability is OK, I didn't love it, but warmed up to it somewhat after an off-putting first sip.
★
343 characters
3.4
/5
rDev
-3.7%
look: 3.5 | smell: 3.5 | taste: 3.5 | feel: 3.5 | overall: 3
poured into a chilled pint glass down at the pearl street grill. black with very little head, almost watery looking for a darker brew. nose is dark roasted malts, sharp hints of licorice in there as well. taste is slightly bland, coffee notes with the almost burned malt flavor. very low carbonation makes the mouthfeel a bti strange. i havent entirely figured this beer out yet, but i have never had more than one in a sitting. something is a little off here
★
459 characters
3.33
/5
rDev
-5.7%
look: 3.5 | smell: 3 | taste: 3.5 | feel: 3 | overall: 3.5
Sampled from a growler, fresh from the brewery tap.
Nice dark lager, not opaque but certainly quite dark. Not too much lasting head. Dark brown amber highlights to light. Smell is clean, dark malts, coffee notes, hint of spice, like caraway or cinnamon. Taste is of smokey charcoal, slightly sweet dark malts, some balancing hops. Clean finish. Thin in tastes, a little metallic. Not great, but certainly drinkable.
★
416 characters

3.3
/5
rDev
-6.5%
look: 3 | smell: 3 | taste: 3 | feel: 4 | overall: 4
On-tap in a 12 oz pint glass:
Served up a decent brown, reminded me of cola really, with an off white head that was not well retained. No lacing to mention. The head was light and fluffy. I would have expected this beer to be blacker that it was.
The aroma was light, a nice roasted barley but not much else to it.
The taste is good, follows the nose, but a little stronger. Roasted barley with some sweetness, not really sure what it was, and it also had some spice to it, but again, not really sure what it was. I didn't really find much hoppiness/bitterness to it, which I expected some of.
The beer feeling light, which is what was expected from the style, and it was smooth and easy to drink with a good carbonation feel to it. The beer finished with a dry aftertaste. Overall, not bad beer but not a great one either.
★
827 characters
3.23
/5
rDev
-8.5%
look: 3.5 | smell: 3 | taste: 3 | feel: 4 | overall: 3.5
Tried at Wynkoop, 4 Feb 2009.
Dark brown color. Small head. Moderate carbonation. Minimal aroma, slightly roasty, not much else. Fairly sweet, caramel to start. Some coffee roasty flavors, chocolate through the middle. Finish is lightly roasty. Easy to drink, good mouthfeel. Ethanol light.
★
291 characters

3.21
/5
rDev
-9.1%
look: 4 | smell: 3 | taste: 3 | feel: 3.5 | overall: 3.5
Ordered this on-tap at the Wynkoop Brewery in downtown Denver. Poured a dark black (hence the schwarz = German for "black") color. Nearly opaque. Little off-white head to it. Not a complex flavor or aroma - mostly hops in there. Flavors of hops linger just a bit, then fade. Light carbonation, good for sipping. Amongst the beers I tried at Wynkoop, this one wasn't exceptional, although it wasn't bad by any means. I would definitely try another pint of it.
★
458 characters

3.13
/5
rDev
-11.3%
look: 3 | smell: 3 | taste: 3.25 | feel: 3.25 | overall: 3
Appearance - pours with a rich white head the quickly goes away. Dark brown cola color and hue.
Smell - lots of malts with a hint of smoky flavor
Taste - front has lots of malts followed by that subtle smoky tint in the smell.
Mouthfeel - easy drinking for sure, but lacking a punch
Overall - maybe I'm not a huge fan of the style, but other than easy drinking just an ok beer.
★
381 characters

3.1
/5
rDev
-12.2%
look: 3 | smell: 3 | taste: 3 | feel: 3 | overall: 3.5
Had this with a tuna melt and bacon-potato salad. OK, not the best pairing, but hey I was craving tuna.
Light coffee color pour, black but kinda brown. Soapy head that was off white and stuck around a bit.
I smelled almond and toffee. Sweet a bit, but nothing overpowering or even noticeable. Taste follows, but the almond is gone and sweet malt comes up. I'm not a malt guy, yet this one had just enough to become noticed, and then died at the end, which for me is good. Clean finish, good with food as it won't dominate.
Would have again, but not my first pick at Wynkoop.
★
577 characters

2.78
/5
rDev
-21.2%
look: 3 | smell: 2.5 | taste: 3 | feel: 3 | overall: 2.5
I thought this beer was bland and unexciting when I had it on tap at Wynkoop's in Denver. It poured an opaque black, with a tan head that quickly faded. I couldn't pick up any aroma from the top of my glass. Flavor was lightly roasty, but that is me reaching for something to say about this beer. Mouthfeel was clean, which is easy to do when a beer doesn't taste like much!
Not really recommended.
★
399 characters

2.54
/5
rDev
-28%
look: 3.5 | smell: 2 | taste: 2 | feel: 3.5 | overall: 3.5
B3 ok? Pours a black hue with limited clarity. Red hues around the side when held to the feint light. A darker tan head with decent retention (great compared to their other beers) and limited lacing.
The nose is limited overall which is ok for style. Some roasty and astringent notes which is not ok for style. Some light bready notes. Subtle yeast smells as well.
The taste is mostly malt with a big roasted malt kick. Closter to a robust porter, there is a nice astringent/roasty kick which would be nice if it wasn't so out of place in a Schwartz. The roast really comes out through the full taste but some milky almost silky flavor balances a bit. Has a almost oatmeal characteristic. There is a light piney/earthy finish more along the lines of a English porter.
The body is light but leaves a sweet finish. Sweet but still feels full attenuated. Hard to explain I guess. Some silkiness and a very light carbonation. Overall a good beer but not a schwartz.
★
964 characters
2.18
/5
rDev
-38.2%
look: 3 | smell: 2.5 | taste: 2 | feel: 2 | overall: 2
You ever have a beer at a brewpub and think to yourself, "The brewer wouldn't know a [insert beer style] if it bit him in the ass?"
Me either until I had this Black Beer. It's just damn un-Schwarz...the schwarz is very not with this beer.
Has a porterish roast coffe aroma with mild stewed raisin notes that are more baltic porter than Schwarz....but hey maybe that suggests it is actually a lager. Red tinted black body with a pinky thin tan head. Light roasty flavor in the fore. Amazingly narrow flavor range and not much real taste concentration or or presence ont he tongue...a watery weak porter really. Shameful.
★
626 characters
B3K Black Lager from Wynkoop Brewing Company
81
out of
100
based on
36
ratings.