Mountain High IPA
| Mount Shasta Brewing
BA SCORE
81
good
58
Reviews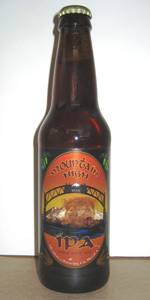 BEER INFO
Brewed by:
Mount Shasta Brewing
California
,
United States
|
website
Style:
American IPA
Alcohol by volume (ABV):
7.00%
Availability:
Year-round
Notes / Commercial Description:
No notes at this time.
Added by Crotor on 07-26-2004
Reviews: 58 | Ratings: 82

3.88
/5
rDev
+10.2%
look: 4 | smell: 3.5 | taste: 4 | feel: 4 | overall: 4
Pours a bright and slightly hazy orange color, nice head, and some carbonation visible.
Beer smells dusty, bitter, and a bit citrus like. Aromas are kind of muted though.
Beer is quite bitter and sour up front. A very grapefruit like quality in the flavor. This does finish nicely with a bit of creamy maltiness. Overall it is does have pretty good balance to it.
Mouthfeel is above average, good roundness on the front, and a nice finish.
Overall this is a pretty good IPA. Not one of the best, but it is solid and quite drinkable. Certainly not my first choice in the style, but still worth a try, and I do grab it off the store shelf from time to time.
★
667 characters
4.05
/5
rDev
+15.1%
look: 4 | smell: 4 | taste: 4 | feel: 4.5 | overall: 4
Picked up a six pack of some local stuff while driving through Redding last week. Pours a pretty orange hue topped by a good inch of creamy off-white head. Strong aroma of piney floral hops, tempered by just a bit of slightly sweet malt. A touch of biscuit and citrus peek through in the background. Palate is all about the hops, providing a nice piney backbone that doesn't let through much else. A little bit of orange, a little biscut, that's about it. Body is substantial and a little syrupy - great for conveying the lupulin. A tasty treat from the little brewery in Weed.
★
577 characters

3.88
/5
rDev
+10.2%
look: 4 | smell: 3.5 | taste: 4 | feel: 4 | overall: 4
Pours a deep amber topped with a thin khaki layer and containing some floaties and bubbles rising up.
Aroma is subtle yet bright with some orange peel and peppery lemon spice.
First swigs: Crisp orange and grapefruit with a backing of malt that creates a butterscotch and fruity meld with a touch of cedar. A sizzle on the tongue as the hops run around. Hops guess is East Kent & Cascade. A stright up version of an Am. IPA.
Feel is fmedium to full bodied with a thick syrupy sizzle. Aftertaste is bone dry and dusty.
Last swigs: Orange sherbert and piny. Worth trying for a hop head. I really enjoyed this one. Thanks to AKSmokedPorter for this as 1 of 24 in a trade.
★
682 characters

3.41
/5
rDev
-3.1%
look: 4 | smell: 3 | taste: 3.5 | feel: 3.5 | overall: 3.5
OK saw this at a local store..ive seen more of this brewer here in Salem in the last few months. And was impressed with their porter and amber..so this looked like a sure thing.
In appearance it is certainlly an attractive IPA deep orange/amber with a gorgeous bubbly ,creamy tan head.
the aroma however is puzzlingly subdued for a IPA..i really cant pick up much hoppiness at all..just some malts.
mmm again the taste is very mellow and mostly well balanced until the end where the hops eventually show through mainlly in the aftertaste..Nice enough on the palate..quite smooth ( though this is not a good thing for an American IPA).
Overall i found this drinkable..but in my opinion this is more an English styled IPA than an American one.
★
745 characters
3.43
/5
rDev
-2.6%
look: 4.5 | smell: 4 | taste: 3 | feel: 3 | overall: 3.5
Saw this brew at a local beer store and decided to give it a shot. I'm a fan of IPAs, and I had never seen this before. Please bear in mind that this is also my first review here, so if it looks a little bad, bear with me.
Served out of a bottle in a AB pint glass.
A - Look great. Medium amber color, clear with a nice one-finger had that last for a little while. Lacing is mininal, but that doesn't detract from the overall appearance.
S - Hops and a lot of them. Toasted malts come through and add a little sweetness to offset the brew. All in all, nice.
T - Different. Not saying that is a bad thing, but this doesn't taste like any IPA I have had to date. The very first sip was very metallic and the sweet malts didn't make much of an impression on the hops. After warming for a bit, it got a little better. Not bad, but not great either.
M - A little too much carbonation for me. The bubbles dancing across my tongue make it difficult to determine what is actually going on with this beer.
D - It would be easy to drink a few of these, but for an IPA, there are other selections that I would look to first.
★
1,131 characters
2.76
/5
rDev
-21.6%
look: 4 | smell: 3 | taste: 2.5 | feel: 3 | overall: 2.5
Recieved this as part of BIF 16.
Appearance: Pours a crystal deep amber color with an ivory head. Sticky lacings cling to the side of the glass and carbonation is noted throughout the body.
Smell: Very sweet smelling. Carmel, a touch of alcohol, and a little bittering hops noted.
Taste: Sweet up front, bittering hop presence immediately and throughout with a warming alcohol finish. I know this is weird but it tastes like a hoppy bock to me. Sweet and bitter but not balanced or blended well at all.
Mouthfeel: Medium bodied and a tad undercarbonated. Oily with a long finish.
Drinkability: As I continued to drink this, I was disappointed that the alcohol was not hidden well at all. Kind of suprising for a 7% ABV brew. Kind of messy. I think I would avoid this one.
★
787 characters

3.48
/5
rDev
-1.1%
look: 4 | smell: 3.5 | taste: 3.5 | feel: 4 | overall: 3
Pours a beautiful, brilliantly clear copper hue and is topped by a frothy thick light tan head. The aroma is dominated by the citrus notes and caramel that seems a bit stale, but subtly so. The aroma is actually quite malty, and the citrus hop notes are note quite as dominant as is typical. The beer is lightly sweet up front, but then moves to a malty sweet finish that has notes of caramel and toasted malt. There is a fair amount of hops here, but not as much as I would perhaps like. The hops are nicely bitter in the finish with notes of pine, basil and a bit of citrusy grapefruit as well.
★
596 characters
3.54
/5
rDev
+0.6%
look: 3 | smell: 4 | taste: 3.5 | feel: 3 | overall: 3.5
Mountain High IPA is as unique an IPA as I've encountered in recent times. I'm not, however, entirely sure how I feel about it...
The beer pours a *clear* med amber with but one finger of light tan head with good retention and low lacing.
The hop nose is the first thing one notices about this beer. It attacks with a big, green, piney, slightly-floral, pungent, citrus hop aroma reminiscent of the taste of grapefruit rind. This huge hop nose is, presumably, from the simcoe dry-hopping. The big hop aroma is certainly appropiate of the style, and is the one big plus of this beer...
Unfortunately, the beer is a big dry on the palate, without much malt backing to stand up to the hop assault. The beer has a medium body and clean, crisp malt, but these huge citrus hops demand more backing. The hops offer a lingering and cloying bitterness. The malt never has a chance to assert itself. This is a well crafted beer, but it could definately be balanced better.
To its advantage, I'd say the use of simcoe hops enabled the creation of an unmistakably Pacific NW yet highly unique beer. I'll certainly drink it again (largely because I'm intrigued by the monstrous and unfamiliar hops) but I wish it had a better balance and was less ruinous on the palate.
★
1,268 characters
Mountain High IPA from Mount Shasta Brewing
81
out of
100
based on
58
ratings.